Looking for a breakfast that's easy to make, but will keep you going on those busy weekday mornings? This steel cut oatmeal recipe is perfect for a healthy start to the day. Our Instant Pot Steel Cut Oats with Blueberries, Almonds and Honey recipe packs a big nutritional punch, thanks to the addition of superfoods like blueberries and almonds.
Cooking steel-cut oats on the stovetop requires approximately 30-40 minutes of hands-on time. But with the Instant Pot, it's done in only 4 minutes of cooking time. And, all you need to do is put the ingredients in the pot, set it, and walk away!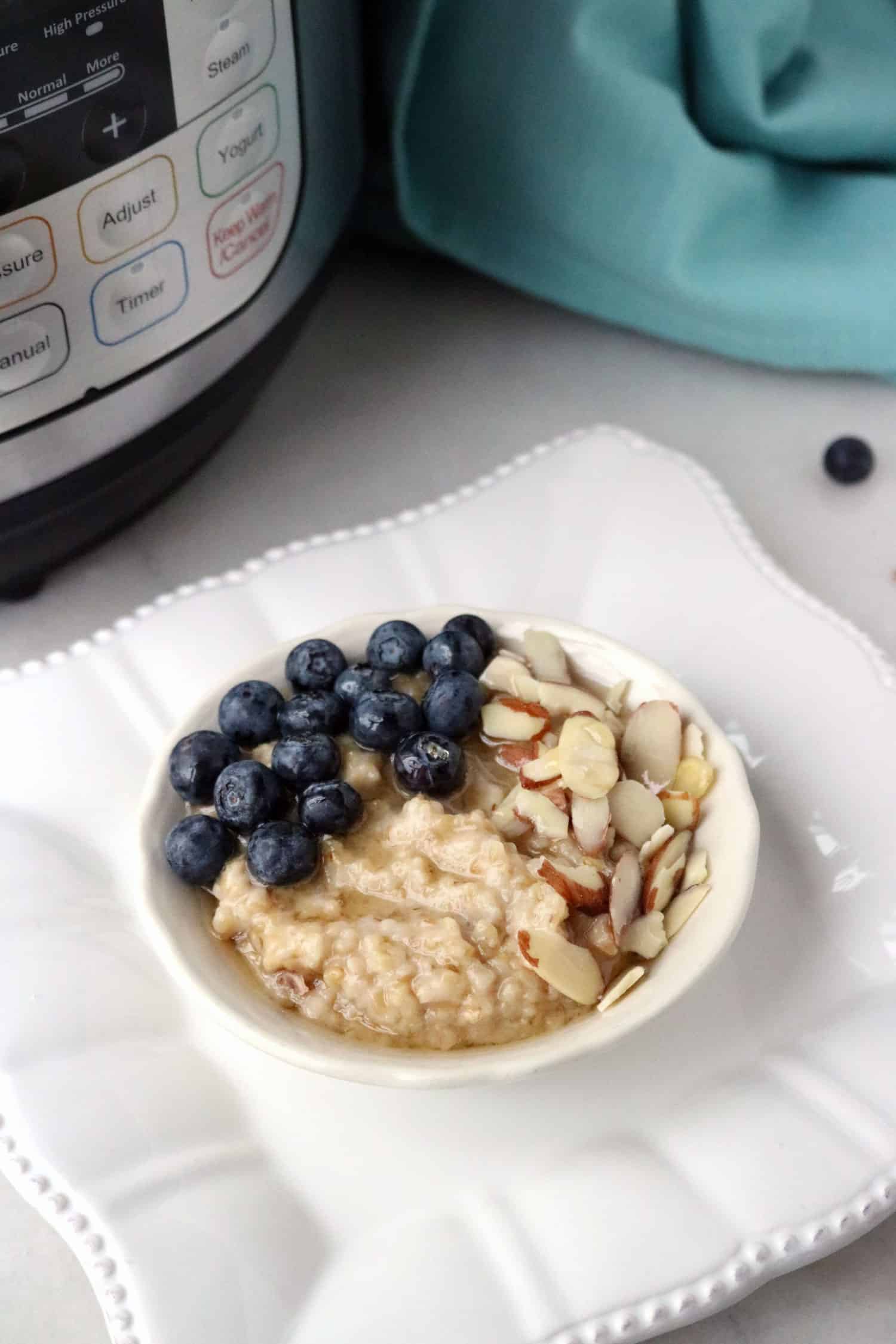 Finishing it off with a drizzle of honey gives you a sweet dose of flavonoids and antioxidants. And, choosing to use steel cut oats, instead of rolled or quick oats, provides even more health benefits.
Ingredients
steel-cut oats
water
topping choices: strawberries, blueberries, yogurt, bananas, nuts, etc.
What are Steel Cut Oats?
The main difference between steel cut oats and quick oats lies in the processing.
Steel cut oats are oat groats (an oat kernel without the husk) that have been cut into two or three pieces by a steel blade. Since they are less processed than quick oats, they have a lower glycemic index (GI) number.
This means they are digested more slowly and will provide sustained energy. Steel cut oats are also a good source of fiber, at 1/4-cup of uncooked steel cut oats contains 2 grams of soluble fiber and provides 15-percent of the U.S. Department of Agriculture's recommended daily allowance.
Benefits of Steel Cut Oatmeal
Traditional preparation of steel cut oats requires 30-40 minutes of cooking time. But in the Instant Pot, it's done in just 4 minutes (plus approximately 10 minutes for the pressure to build). And, all you need to do is put the ingredients in the pot, set it, and walk away!
Kitchen Tips
While cooking steel cut oats in the Instant Pot is quick and easy, it can leave behind stubborn stains and build-up. Here's an easy solution for returning the Instant Pot inner liner (the stainless steel pot) to its original sparkling state.
Sprinkle some Bar Keepers Friend in the bottom of the pot, add a touch of water, and give it a scrub with a Mr. Clean Magic Eraser. This simple combination really does work wonders!
How to Make
Step #1: Add vanilla almond milk, steel cut oats and honey to the Instant Pot inner pot.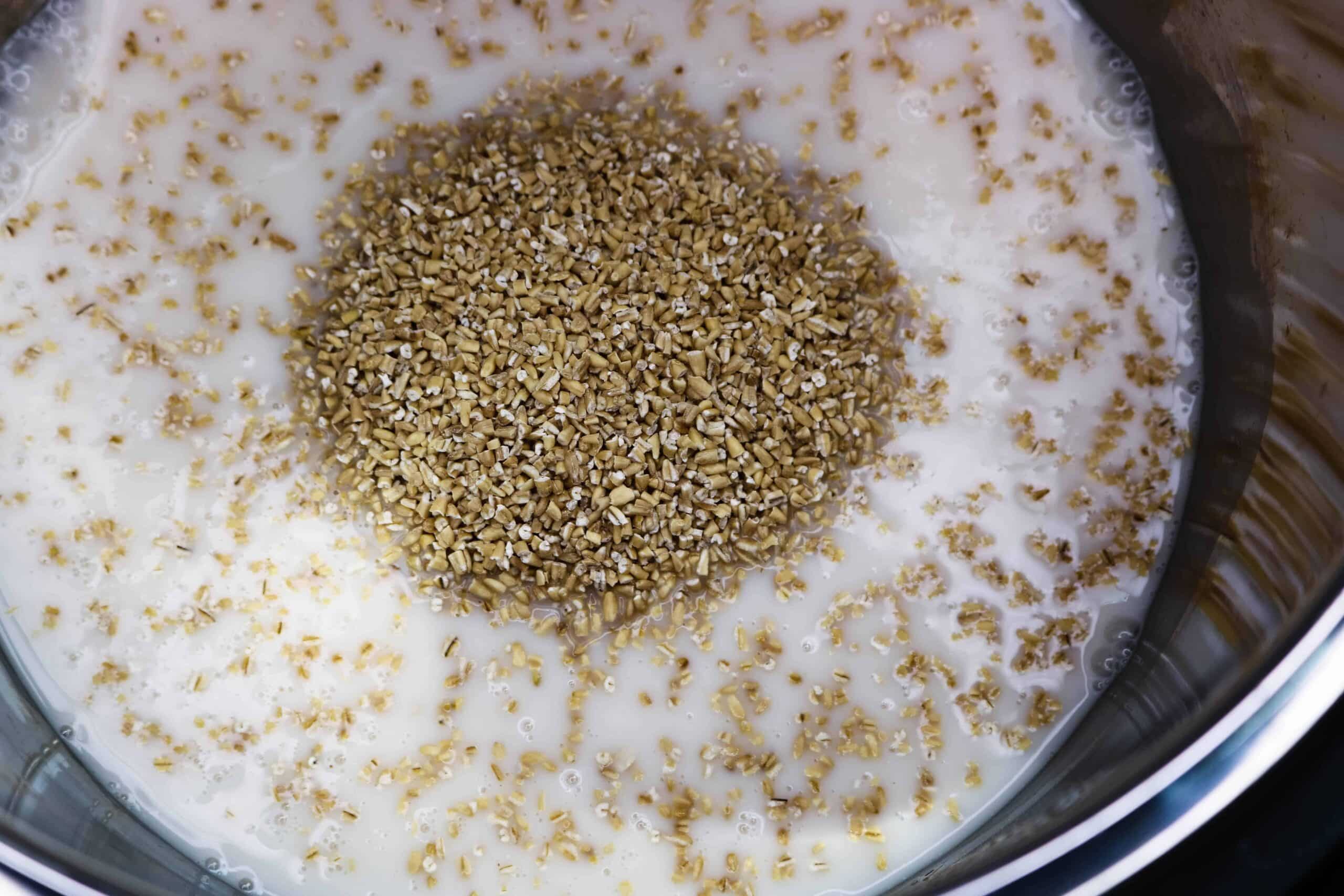 Step #2: Set manual pressure to 4 minutes. Make sure the release valve on lid is closed (not set to vent).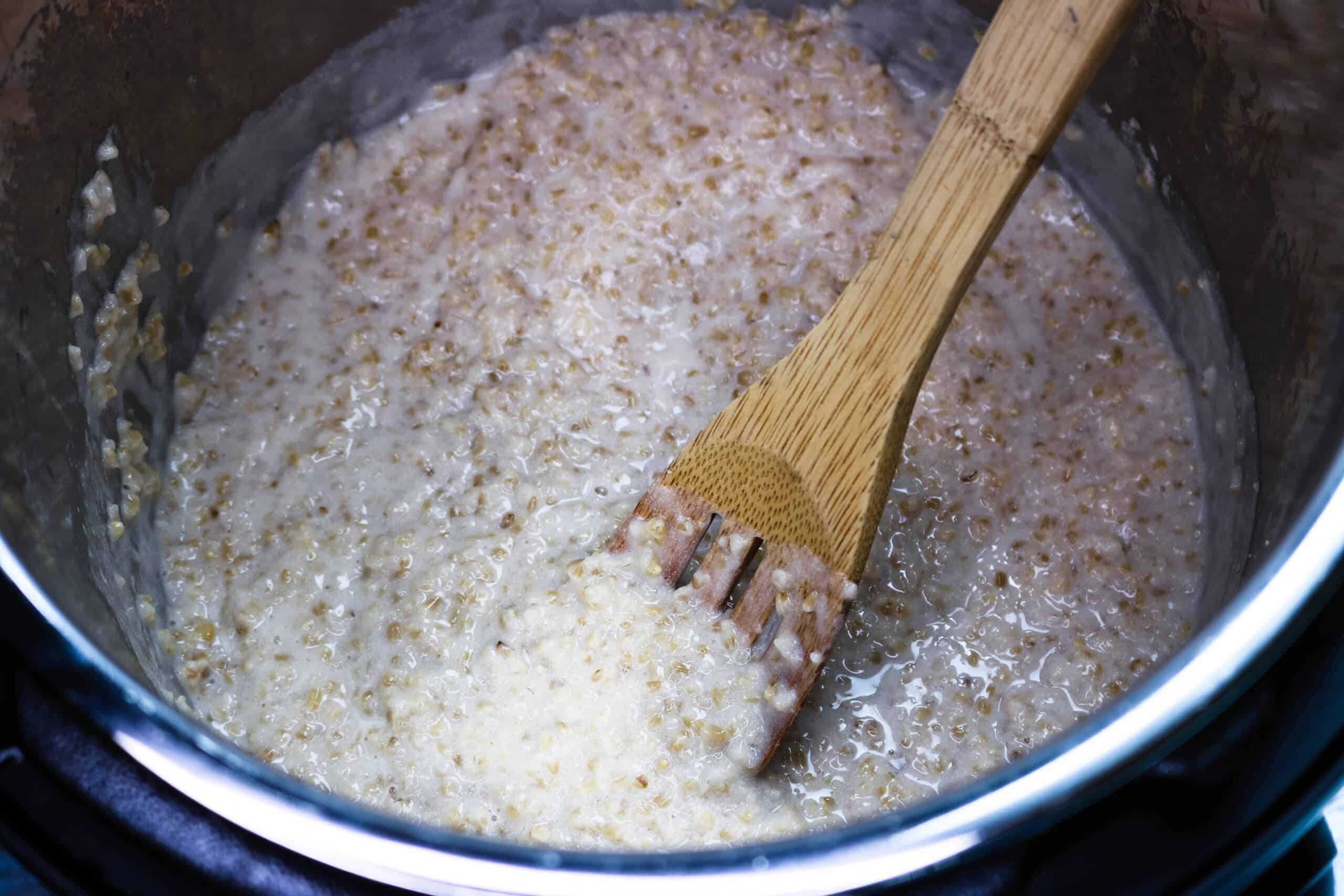 Step #3: After cooking time has elapsed, do a quick release, stir, and dish up into bowls.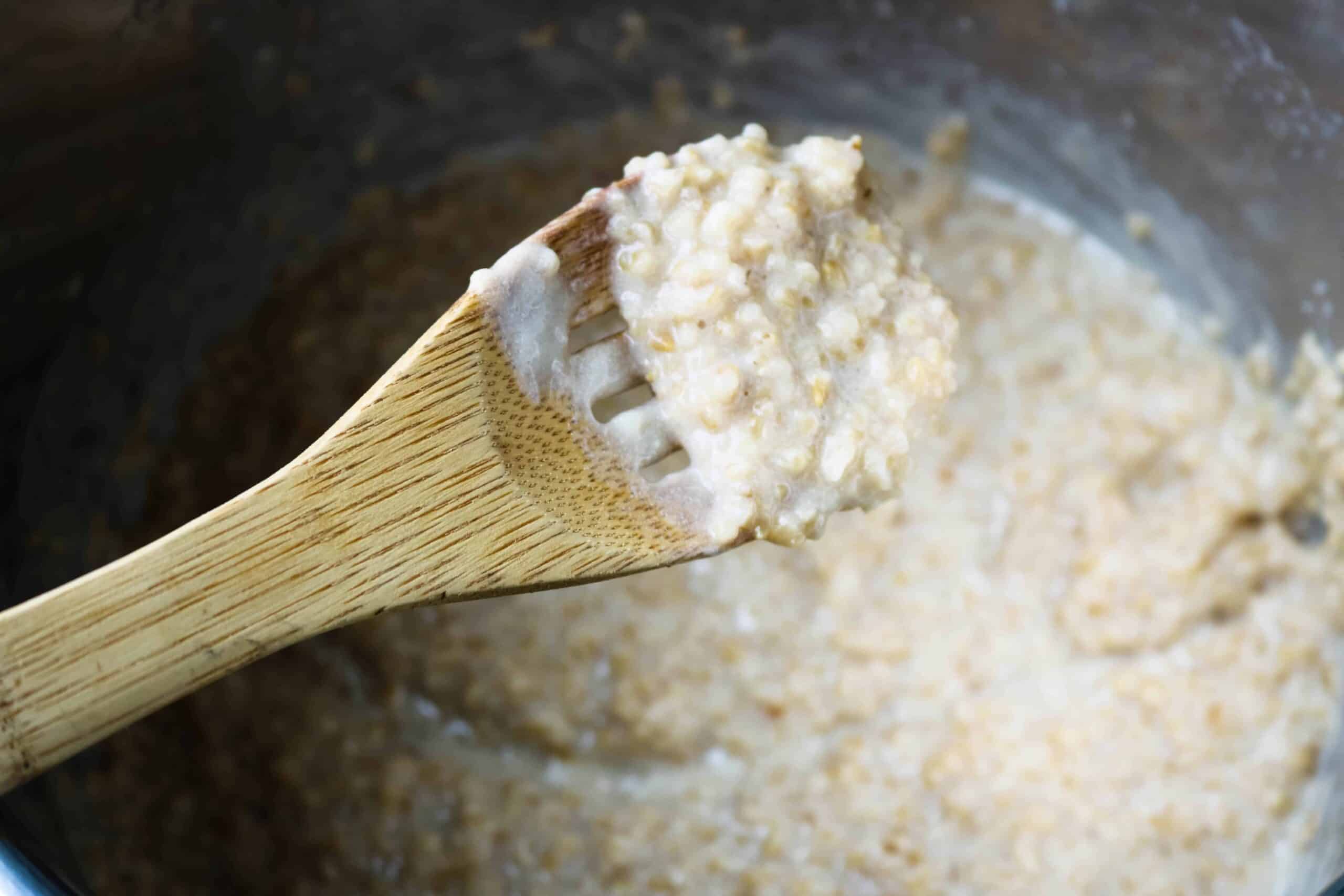 Step #4: Top with blueberries, sliced almonds and honey (or the toppings of your choice). Enjoy!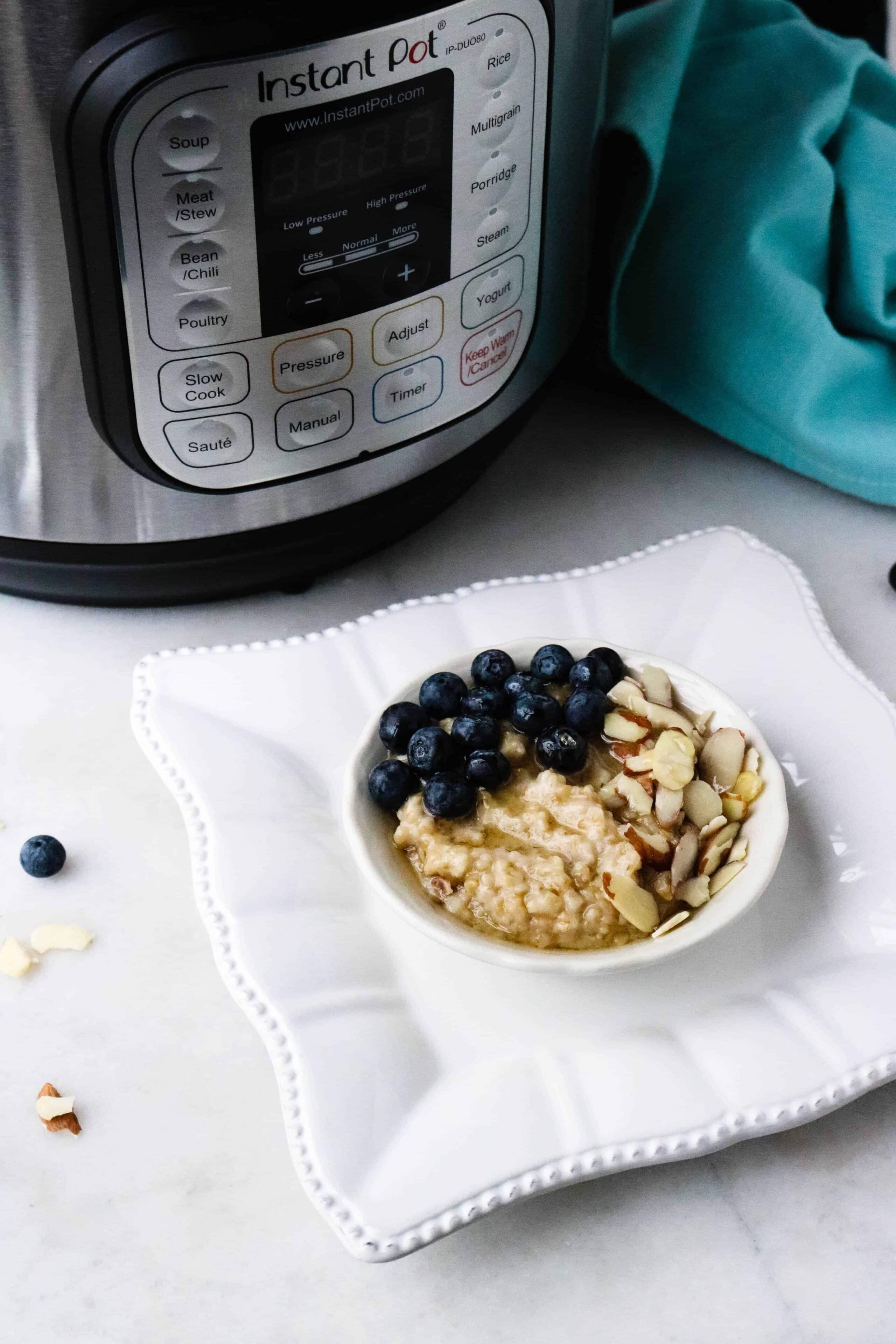 Bananas, blueberries, and pecans
Strawberries and brown sugar
Why I recommend.
It's crazy to think about how much time we wasted in the past cooking up oatmeal overnight. Who knew that the Instant Pot would cut that time down to less than 45 minutes total?
Now that I know I can have my oatmeal in a few short minutes after waking up, I'm never going to be going back to my old methods, ever again.
Healthy
Versatile in ways to flavor the oats
Delicious
Inexpensive
Easy Prep
Quicker Cook Time Compared to Traditional
Tender creamy oats
Loaded with flavor
Supplies Used
FAQs
What is the difference between steel-cut oats and rolled oats?
It all comes down to the texture. Rolled oats tend to soak up more liquid and can become mushier throughout the cooking process while steel-cut oats will stay firmer and have a more tough consistency.
What are the benefits of steel-cut oats?
There are many benefits of eating steel-cut oats but you'll find that people who are looking to eat healthier and cut down on their weight will choose oats because they're full of fiber and help them feel and stay full longer.
Is it OK to eat steel-cut oats every day?
If you want to eat them, eat them. And since they're so delicious and versatile to make, you can easily alter the flavor and the taste so that every bowl tastes different, too.
What toppings can you put on top of oatmeal?
Really anything that you'd want. Fresh fruit is always an amazing choice but you could easily add greek yogurt, a sprinkle of brown sugar, shredded coconut, mini chocolate chips, or more. This is why you should try out different toppings to see what your tastebuds will like.
Recipe