Make your own mouthwatering version of the classic Philly cheesesteak recipe using the Instant Pot. A healthy weeknight dinner ready in just about 30 minutes!
Melted provolone cheese, thinly sliced beef cooked to perfection, and sauteed peppers and onions, all served on a soft hoagie roll… sounds like something you'd grab from a local food truck, doesn't it? If you don't recognize the ingredients, I'm describing the classic Philly cheesesteak sandwich that was developed in, of course, Philadelphia.
Grabbing a Philly cheesesteak from a food truck or restaurant might make for a fun outing, but sometimes it's easier (and let's be honest, cheaper) to create classic recipes at home. You know exactly what's in it, and you get to serve it exactly how you want it. (A little more provolone cheese? No problem. A little less beef? You got it.)
And when you can make something at home that looks this good (and tastes amazing), why even bother with eating out? When you bite into one of these Philly cheesesteaks, you'll realize you definitely made the right decision.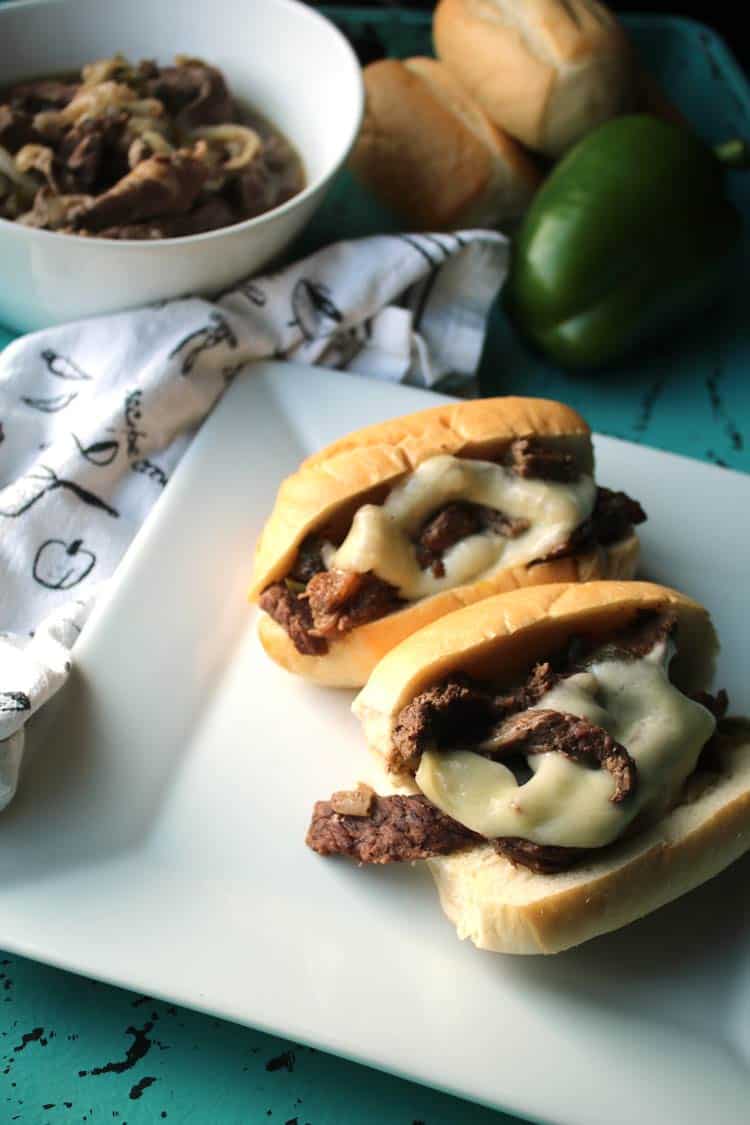 Why You'll Love This Instant Pot Philly Cheesesteak Recipe
It uses the Instant Pot to quickly prepare the Philly cheesesteak recipe filling. If you don't have an Instant Pot yet, you may not know that the Instant Pot has seven different functions. That means you can use it to both sauté the onions and peppers and to pressure cook the beef.
It's a one-pot recipe. One-pot recipes are very popular these days and for good reason. They simplify the cooking process and there is less clean-up to do when it's time to eat.
It will save you money. Eating out can get expensive, so you'll save money when you make this Philly cheesesteak recipe at home.
It has a great nutritional profile. This Philly cheesesteak recipe has a great balance of carbs, protein, and fat. It's a healthy dinner choice!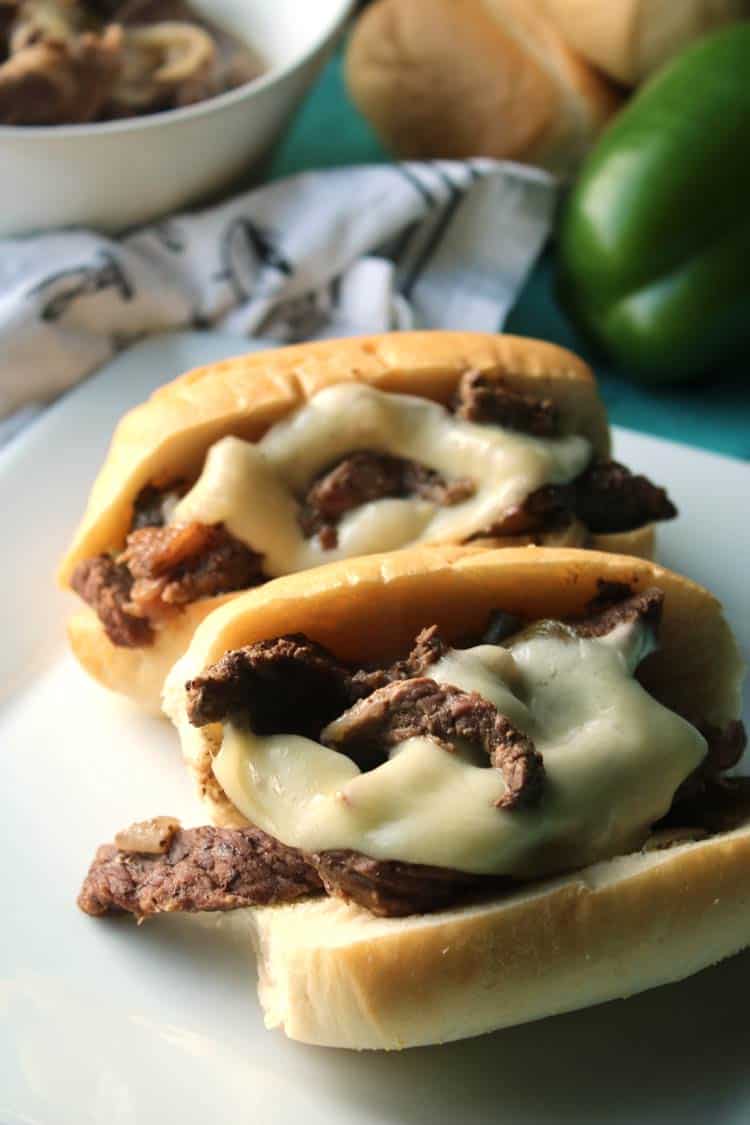 How to Make This Philly Cheesesteak Recipe, Step by Step
Step 1. Begin by thinly slicing your beef. Better yet, ask the butcher to do it for you! Most butchers will thinly slice beef for free if you ask.
(Awesome cheesesteak recipe tip: If you slice your beef at home, freeze it before you slice it. This will allow you to thinly slice it with ease!)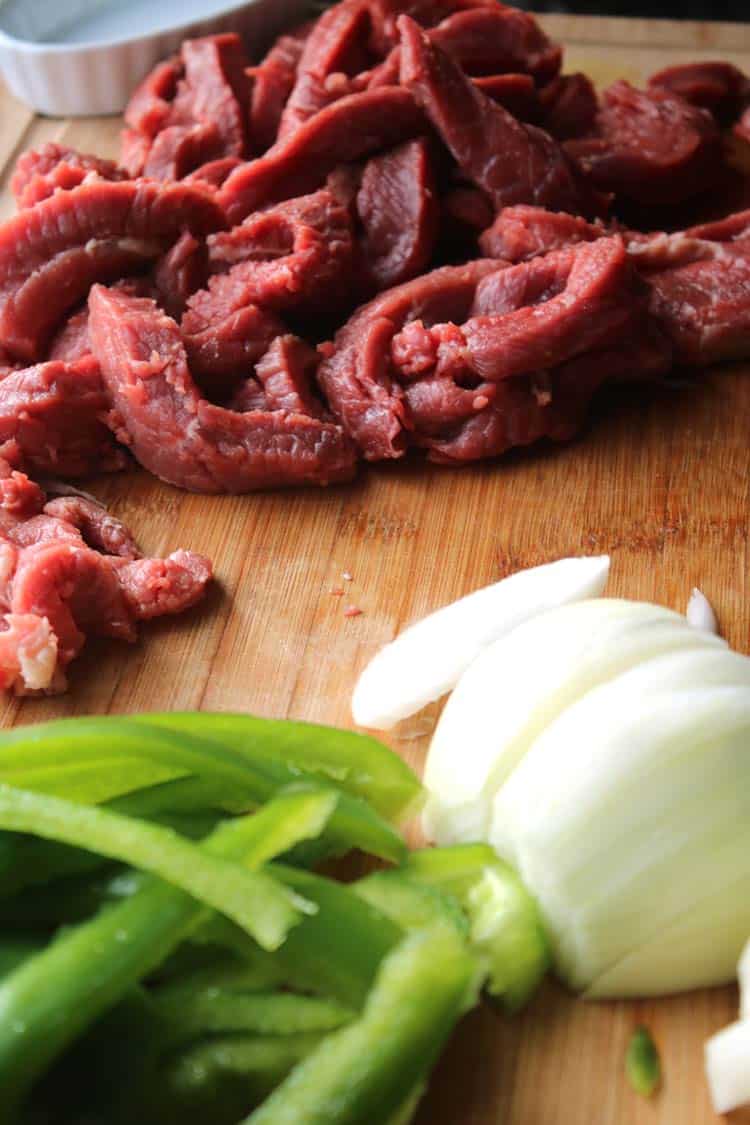 Step 2. Sauté onion and green bell pepper in the Instant Pot (using sauté mode).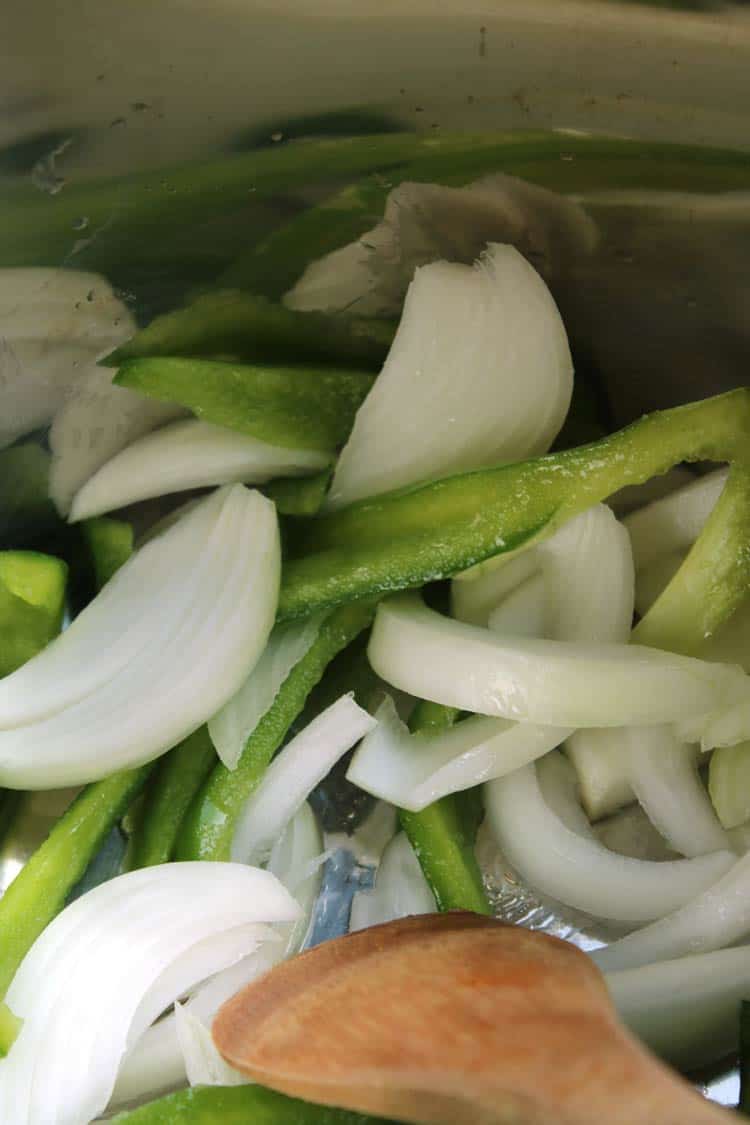 Step 3. Add the beef strips to the Instant Pot and brown them slightly. Do not cook them completely!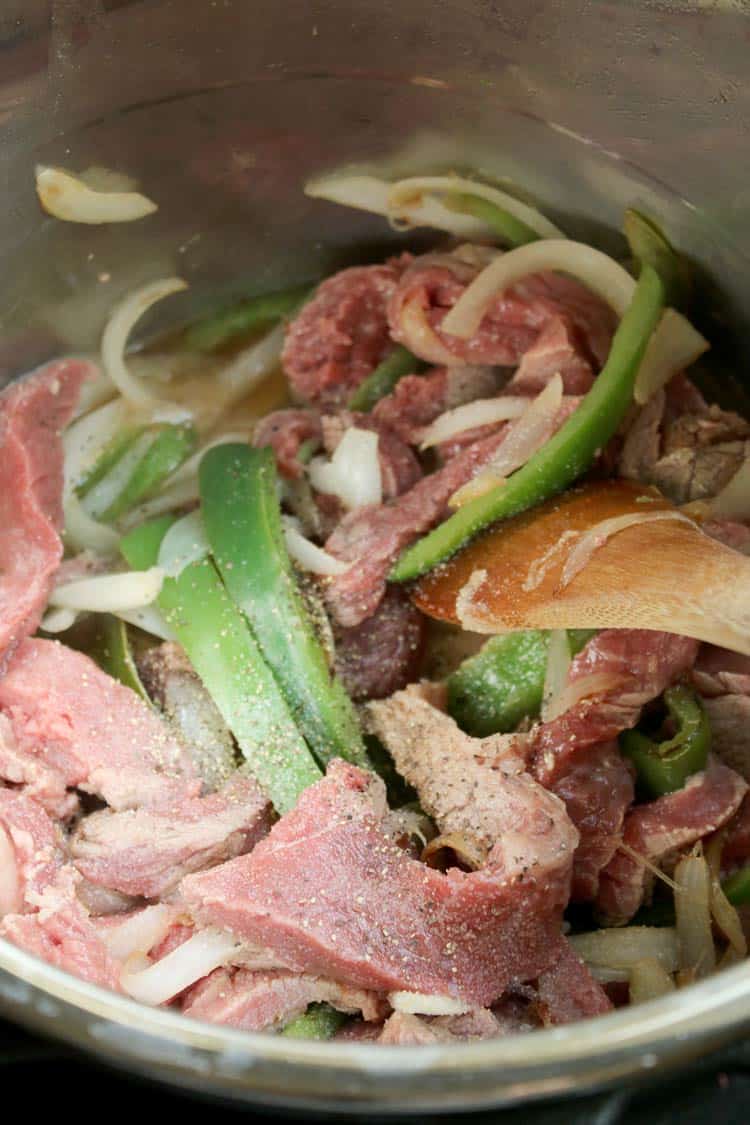 Step 4. Add 1/2 cup water, put on the lid, and cook on high for five minutes. When the pressure cycle is complete, do a quick release.
Step 5. Put the Instant Pot back on sauté mode and cook down the remaining liquid.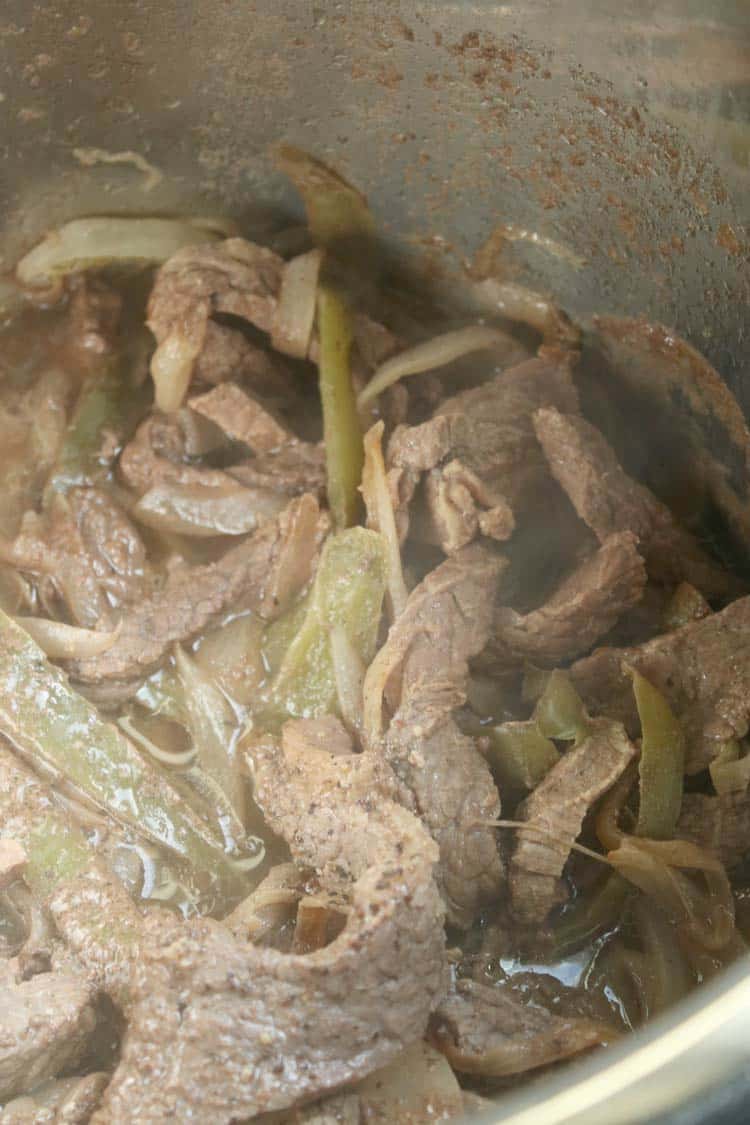 Step 6. Serve on rolls topped with sliced provolone cheese. Dig in and enjoy!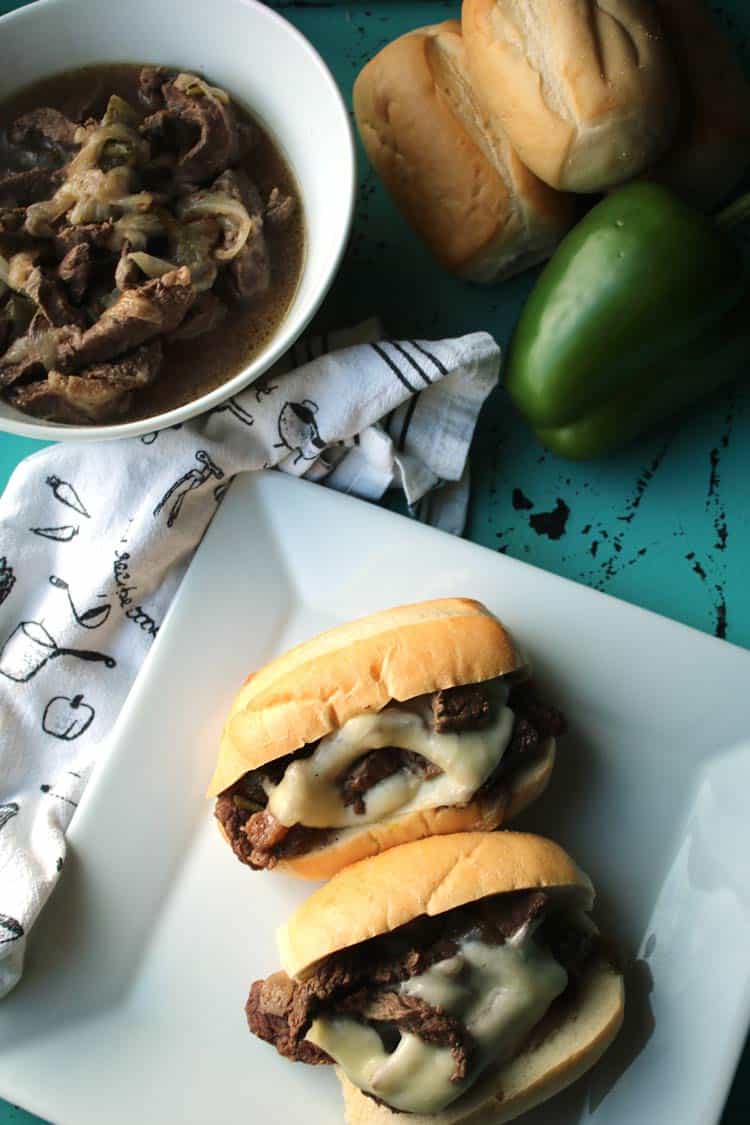 What kind of Philly Cheesesteak meat?
If you're wondering what kind of Philly cheesesteak meat to use, Philly cheesesteaks aren't always made with the same kind of meat. Philly cheesesteak meat choices include ribeye (arguably the most popular), top round, or skirt steak.

I hope you love this Instant Pot Philly Cheesesteak recipe!
Here are some more Instant Pot recipes to put on your meal plan:
Get more Instant Pot recipes in our Facebook group and by following APressureCooker.com on Facebook, Pinterest, and Instagram.
Have you tried this recipe? Don't forget to Rate This Recipe below!
Yield: 12 servings
Instant Pot Philly Cheesesteak Recipe
This Instant Pot Philly Cheesesteak Recipe is a winner! Easy, delicious, and full of flavor and protein.eal that is full of protein and flavor.
Ingredients
2 pounds thin sliced beef cut into strips
1 large green bell pepper sliced
1 large onion sliced
¼ teaspoon pepper
½ teaspoon salt
1 tablespoon oil
½ cup water
12 provolone cheese slices
12 rolls (preferably hoagie rolls)
Instructions
On sauté mode, heat oil. Stir in onions and peppers and cook until the onions are caramelized.
Add beef strips to pot along with salt and pepper. Stir the beef strips and brown them slightly, being careful not to fully cook the beef.
Add water and cover the pot. Set on high pressure for 5 minutes.
After pressure cooking cycle is done, perform a quick release. Set the pot to sauté again to cook down the liquid. Stir.
Serve on rolls with provolone cheese.
Recommended Products
As an Amazon Associate and member of other affiliate programs, I earn from qualifying purchases.
Nutrition Information:
Yield:
12
Serving Size:
1
Amount Per Serving:
Calories:

412
Total Fat:

25g
Saturated Fat:

11g
Trans Fat:

0g
Unsaturated Fat:

11g
Cholesterol:

85mg
Sodium:

529mg
Carbohydrates:

15g
Net Carbohydrates:

0g
Fiber:

1g
Sugar:

1g
Sugar Alcohols:

0g
Protein:

30g