This Instant Pot Swiss Steak is an insanely delicious comfort food meal that can be made in just a manner of minutes thanks to your Instant Pot!
Have you had Swiss Steak before? There are all kinds of ways to make it and so many recipes for it, but my favorite way to make it is with this easy Instant Pot Swiss Steak recipe.
The premise of what makes a steak Swiss Steak is that it is rolled or pounded and then smothered with a sauce or gravy. Whether you serve your Swiss Steak with a gravy or a sauce is up to you, but the basis of this Instant Pot Swiss Steak recipe is a sauce with either fire roasted or diced tomatoes.
The flavor of the sauce is SO good! Honestly, we like to pile the sauce onto our steak, just like we pile gravy onto Southern Mashed Potatoes or Sausage Gravy onto these Home-style Buttermilk Biscuits when we make those…which isn't nearly often enough.
In this recipe, cube steak is pressure cooked to make an easy weeknight dinner that is SO delicious.
Get more Instant Pot recipes in our Facebook group and by following APressureCooker.com on Facebook, Pinterest, and Instagram.
Have you tried this recipe? Don't forget to Rate This Recipe below!
Instant Pot Swiss Steak Tip
We especially love this recipe because it is so easy to pull together. Make it even easier by getting your steaks tenderized at the butcher and saving yourself from having to take care of that step!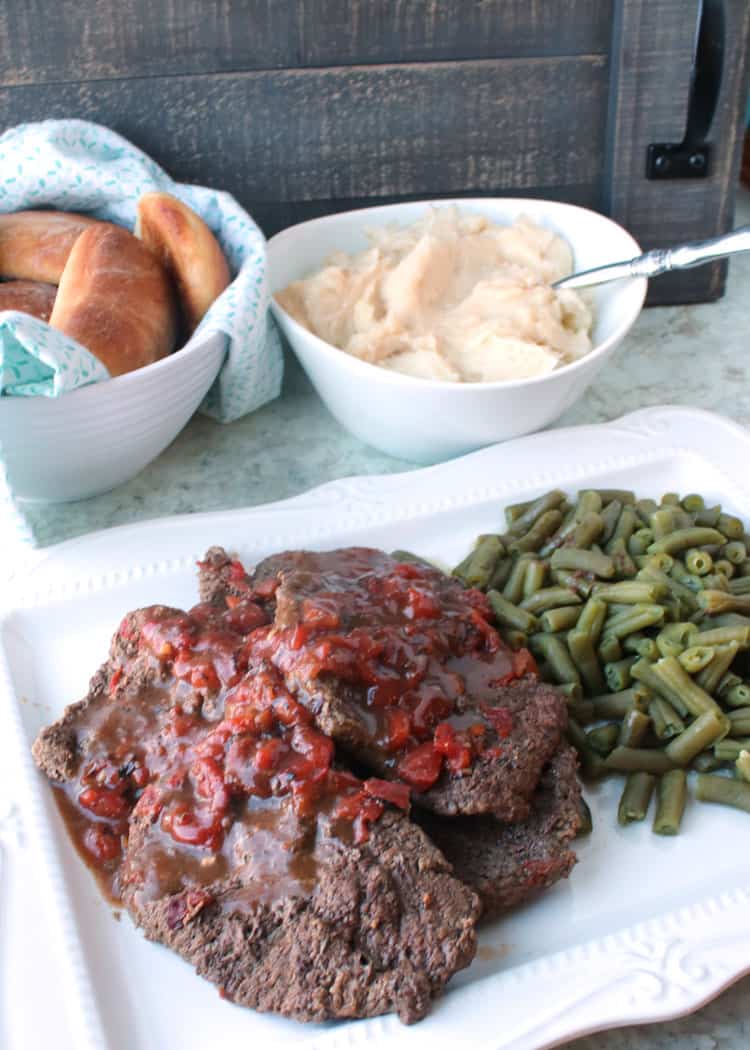 Easy Dinner Recipes, Instant Pot Swiss Steak
You could make Swiss Steak another way, but making Swiss Steak in an Instant Pot means making an easy meal. One of the reasons we love cooking in our Instant Pot so much is because we can put all our ingredients in the pot and then step away and let it do the cooking for us.
And not having to stand over a hot stove and keep a super close eye on dinner while we're cooking can sometimes be a good thing.
In this recipe, once we get to the high pressure step, we're able to step away from cooking and multitask while the timer is set.
Cleaning up the kitchen, running the vacuum really quick, even doing the dishes — these are all things that can be taken care of while cooking. Cooking Swiss Steak in the Instant Pot will give you time to spend on things other than making dinner!
Best Side Dishes to Serve with Instant Pot Swiss Steak
If you're not tossing potatoes and green beans into the Instant Pot to cook at the same time as your steak dinner, Garlic Mashed or Southern Mashed Potatoes both make great side dishes to serve alongside Swiss Steak.
For a tasty vegetable side dish, we've got a couple choice options for you. Parmesan Green Beans or Instant Pot Green Beans are both delicious vegetable recipes to add as a side dish.
We're pretty partial to potatoes and green beans as side dishes for Swiss Steak, but you could certainly go another route. Easy Yeast Rolls make a great side too!
New to cooking with a pressure cooker? Try out the Be the Boss of Your Instant Pot Video Course! It'll help take the pressure off and ease you into cooking with your Instant Pot.
Meal Plans Make Life Easier
Are you ready to get a handle on your grocery budget?
The easiest way to do that is two-fold.
First, you'll want to start looking at grocery store ads and deciding what meat to buy each week based off of what is on sale.
Secondly, and the more fun part if we do say so, find recipes that use those sale ingredients that you bought at the store. Easy peasy!
How to Save Money at the Grocery Store
The idea that shopping for whole food ingredients is beyond affordable for a lot of people has always bothered us. Yes, meat and vegetables can be more expensive than processed foods, but there are ways to make shopping for those items manageable for your food budget.
Buy groceries on sale, and stock up on them when you can. The freezer is GREAT to use for storing meat that you've purchased on sale.
Not only that, but meat that you pull out of your freezer and thaw in the refrigerator before cooking tastes just as good in all your favorite recipes.
Supplies for Instant Pot
Instant Pot Inner Pot – I like to have an extra inner pot available because of how much cooking I do in my Instant Pot. It comes in really handy when I want to put a lid on the inner pot and refrigerate the leftovers, or mix up ingredients the night before to save time at the end of the day.
Silicone Lid for Instant Pot– I'm not sure how I lived without this one. Having a silicone lid for my Instant Pot has made life so much easier. It is perfect for adding ingredients a day or two ahead of time.
101 Instant Pot Recipes for Beginners– If you are new to pressure cooking, this is a great ebook to get you started with basic recipes you will use over and over again.
How to Make Pressure Cooker Swiss Steak
Step #1: Mix dry ingredients together and sprinkle them on both sides of the steak.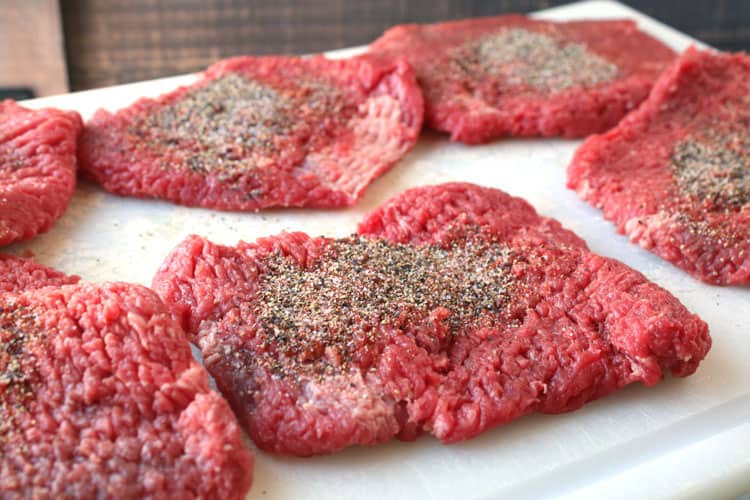 Step #2: Turn the Instant Pot on sauté mode and heat the vegetable oil. When the oil is hot, add the steaks.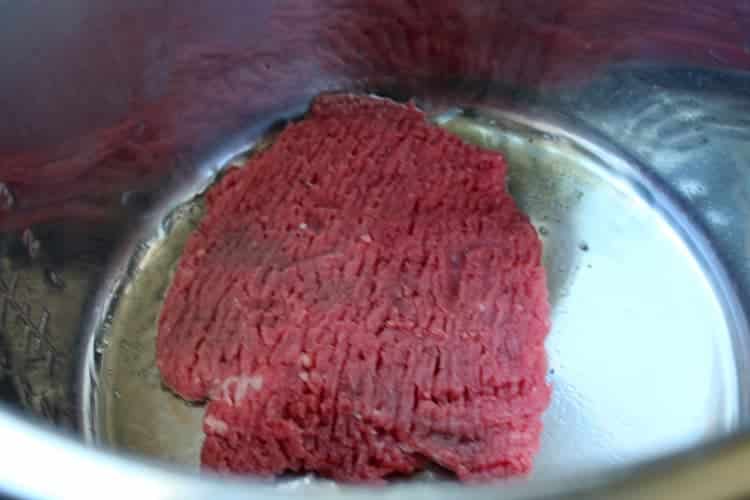 Step #3: Brown the steaks on both sides. When this is done, remove the steaks and set them aside.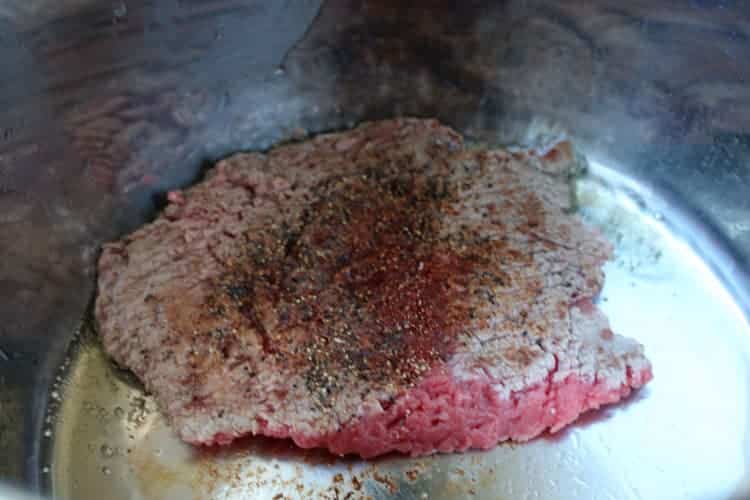 Step #4: Add onions to the oil and cook until they're softened. Then add the tomatoes, scrape up any brown bits, and add 1 cup of water.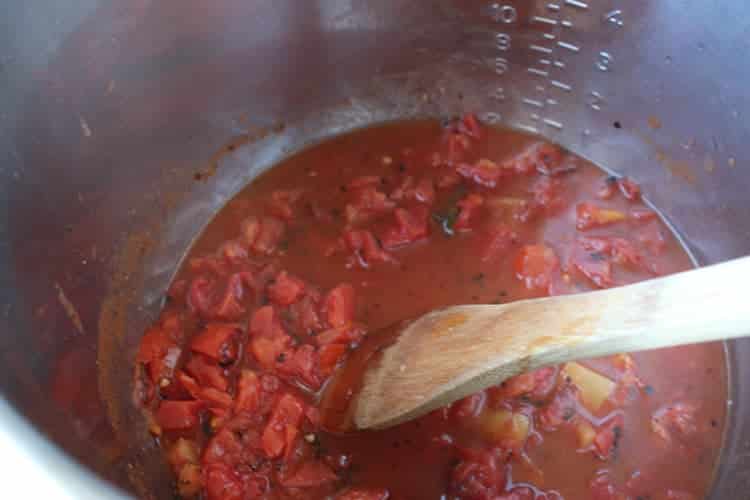 Step #5: Return the steaks to the Instant Pot. Cover them with the tomato mixture.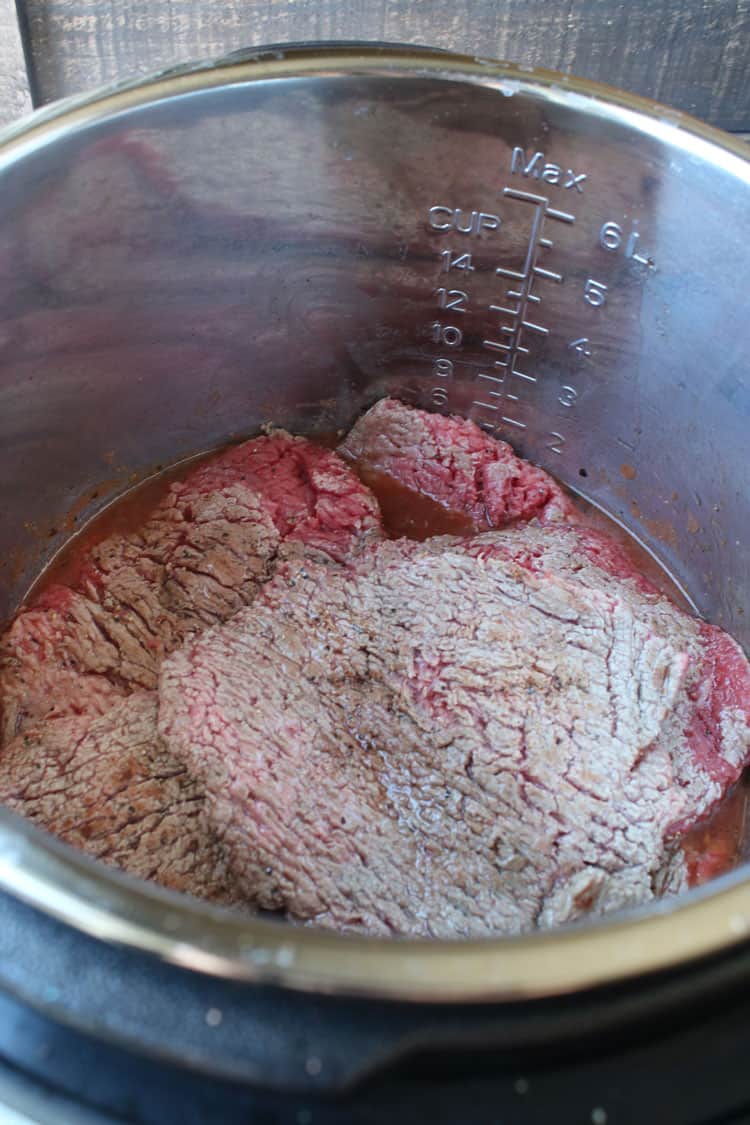 Instant Pot Swiss Steak Tip: If adding potatoes and/or green beans, add them on top of the steak, either in a steamer basket or in foil. Keep in mind that the pressure cookers will take longer to come to pressure the fuller they are.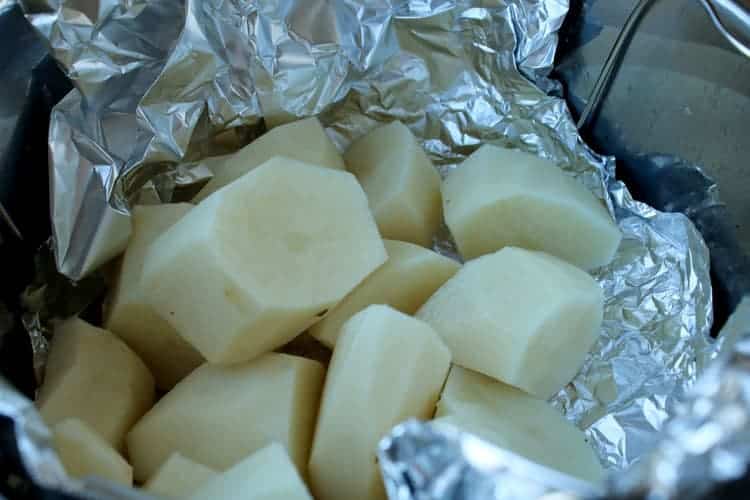 Step #6: When the cooking time is done, do a quick pressure release to release remaining pressure. Then remove potatoes, green beans, and steak. Set Instant Pot on sauté to cook the sauce down.
Pour 1 tablespoon of cornstarch mixed with a couple tablespoons water into the sauce and stir until thickened to make a gravy to pour over the steak.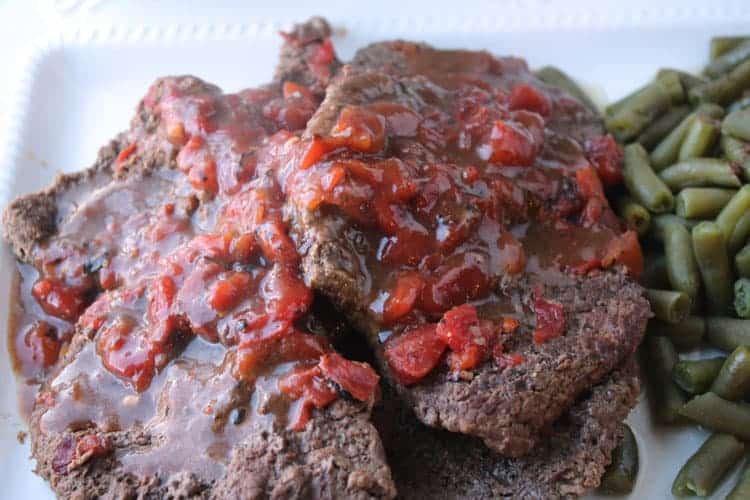 Now it's time to serve and enjoy your Instant Pot Swiss Steak!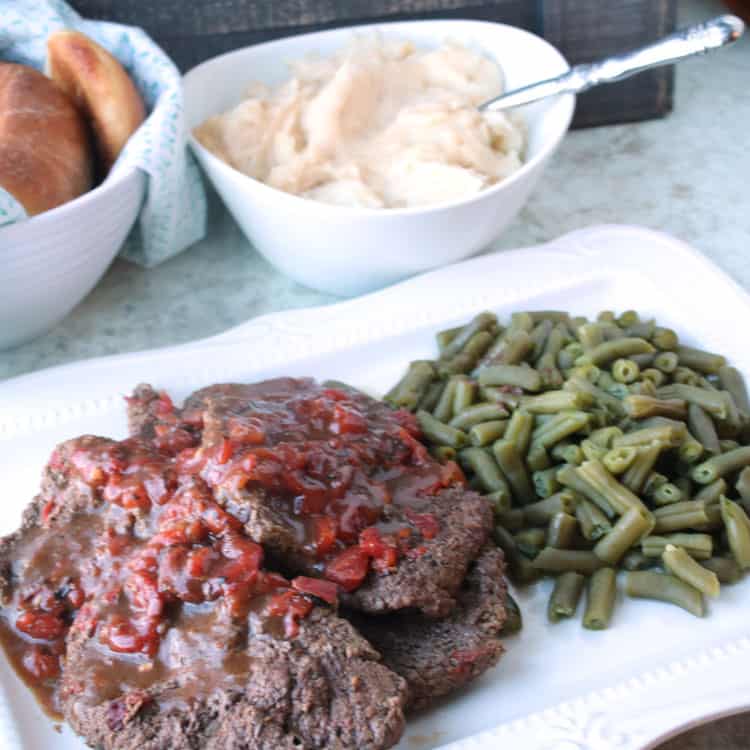 Instant pot dinners like this one are so great to have on busy weeknights. This recipe could also be cooked in a slow cooker or dutch oven, but I love the ease with how this recipe comes together in the Instant Pot.
Want More Instant Pot Recipes?
If you're like my family, we love to discover and try new Instant Pot recipes. Here are a few of our favorites:
Get more Instant Pot recipes in our Facebook group and by following APressureCooker.com on Facebook, Pinterest, and Instagram.
Have you tried this recipe? Don't forget to Rate This Recipe below!
Yield: 8
Instant Pot Swiss Steak Recipe
This Instant Pot Swiss Steak Dinner is insanely delicious comfort food meal that can be made in just a manner of minutes in your Instant Pot.
Additional Time
32 minutes
Total Time
1 hour
4 minutes
Ingredients
2 pounds cube steak
1 can fire roasted or diced tomatoes
1 cup water
1 medium onion cubed
1/2 teaspoon salt
1/2 teaspoon paprika
1/2 teaspoon garlic powder
1 teaspoon pepper
1 tablespoon oil
4 cups potatoes, cubed (optional)
1 tablespoon corn starch
2 tablespoons water
Instructions
Mix dry ingredients together. Sprinkle over both sides of steak.
Turn pot on to sauté mode. Heat oil. Once pot shows as hot, brown steak on both sides still in sauté mode.
Remove steak, set aside. Add onions to oil. Cook until softened.
Add tomatoes, scraping up browned bits if any.
Add one cup of water. Return steaks to pot, covering meat with tomato mixture.
Cover and cook on high pressure for 12 minutes.
After cooking time, use a quick pressure release and then remove any potatoes or green beans you've added in, as well as cubed steak.
Set Instant Pot back on saute mode to thicken sauce. Mix together corn starch and 2 tablespoons of water and pour into sauce in Instant Pot.
Stir together until you reach desired thickness and then pour over cubed steak on a serving dish or plates.
Notes
Serve with mashed potatoes and a side of vegetables.
Recommended Products
As an Amazon Associate and member of other affiliate programs, I earn from qualifying purchases.
Nutrition Information:
Yield:
8
Serving Size:
1
Amount Per Serving:
Calories:

383
Total Fat:

18g
Saturated Fat:

7g
Trans Fat:

0g
Unsaturated Fat:

9g
Cholesterol:

104mg
Sodium:

233mg
Carbohydrates:

21g
Net Carbohydrates:

0g
Fiber:

3g
Sugar:

2g
Sugar Alcohols:

0g
Protein:

33g