This recipe for Instant Pot Roasted Red Pepper Hummus takes the flavor up a notch with the addition of another popular, relative new-comer to the food scene, roasted red peppers.
It seems that hummus is suddenly appearing in refrigerator cases everywhere. And, why not? It's a truly delicious and healthy snack.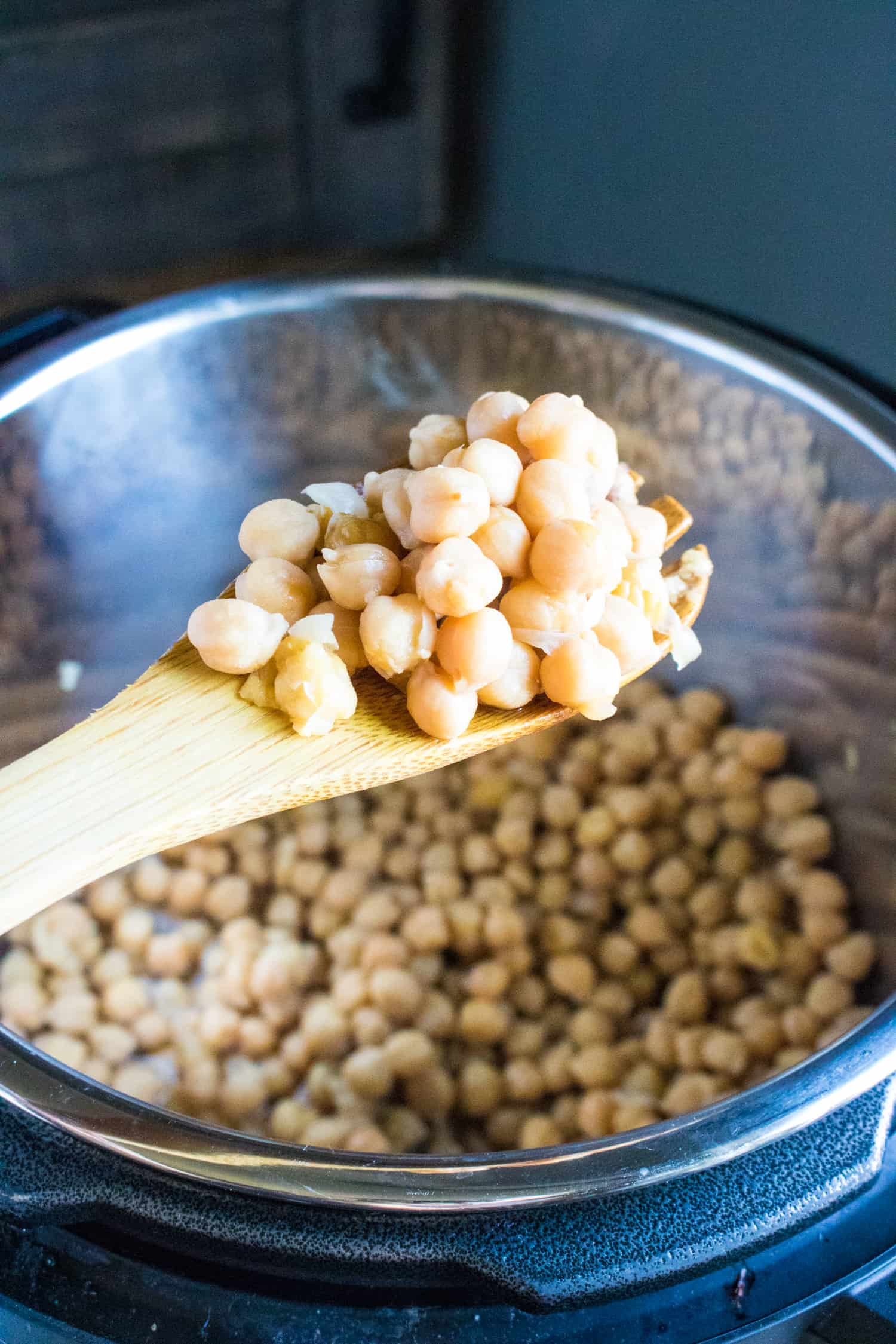 The addition of roasted red peppers, with their tangy quality and smoky flavor, provides an extra level of depth and interest to the classic hummus spread.
And, thanks to the multi-function wonder that is the Instant Pot, this Roasted Red Pepper Hummus recipe is so easy to make! There are tons of hummus flavors but this is a favorite of mine.
Why you will enjoy this red pepper hummus recipe...
Start with dry beans
Affordable
Quick cook thanks to the Instant Pot
Creamy
Rich
Hummus = protein packed snack
Smokey Flavor
More Recipes
Looking for more delectable dips, spreads, or snacks? Then you've got to check out these great suggestions: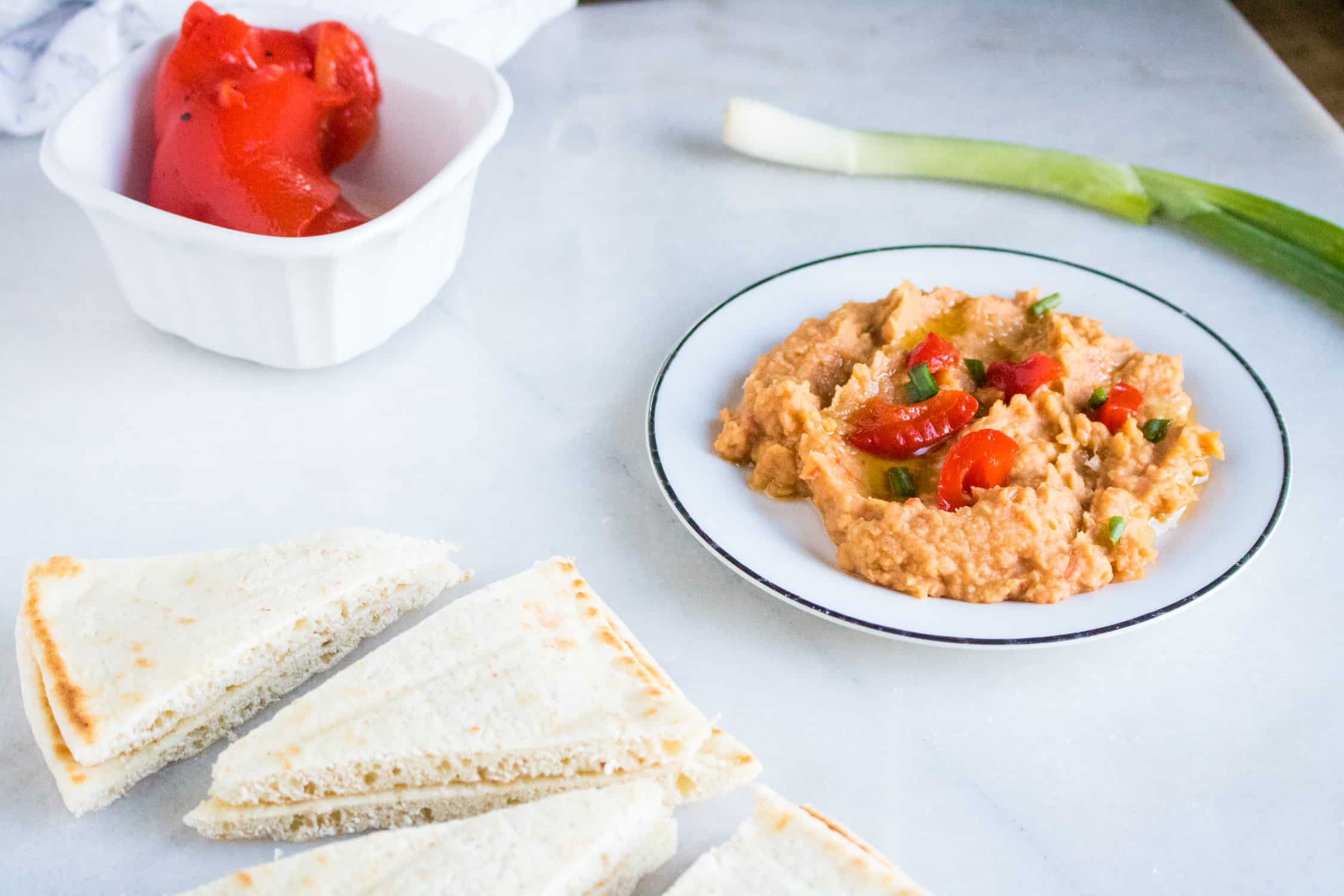 Ingredients
Chickpeas
Roasted Red Peppers
Broth
Tahini
Lemon Juice
Garlic
Salt
Cumin
Olive Oil
How to Make
Here is a quick overview how to make hummus. The full directions for this hummus recipe is in the printable recipe card below.
Step #1: Start by adding chickpeas and chicken broth to the inner pot of the Instant Pot. You want to make sure the chickpeas are submerged in the broth.
Step #2: Place the lid on your Instant Pot. Then, turn the pressure valve to sealing and set manual pressure on high for 40 minutes.

Step #3: Do a natural release when pressure time has finished, letting the rest of the pressure out after 15 minutes.
Step #4: Drain chickpeas and reserve a half cup of chicken broth to thin hummus. I just keep it in a measuring cup or bowl and set to the side.
Step #5: Using an immersion blender, blend chickpeas to a creamy consistency. You can also place ingredients in a blender if need be.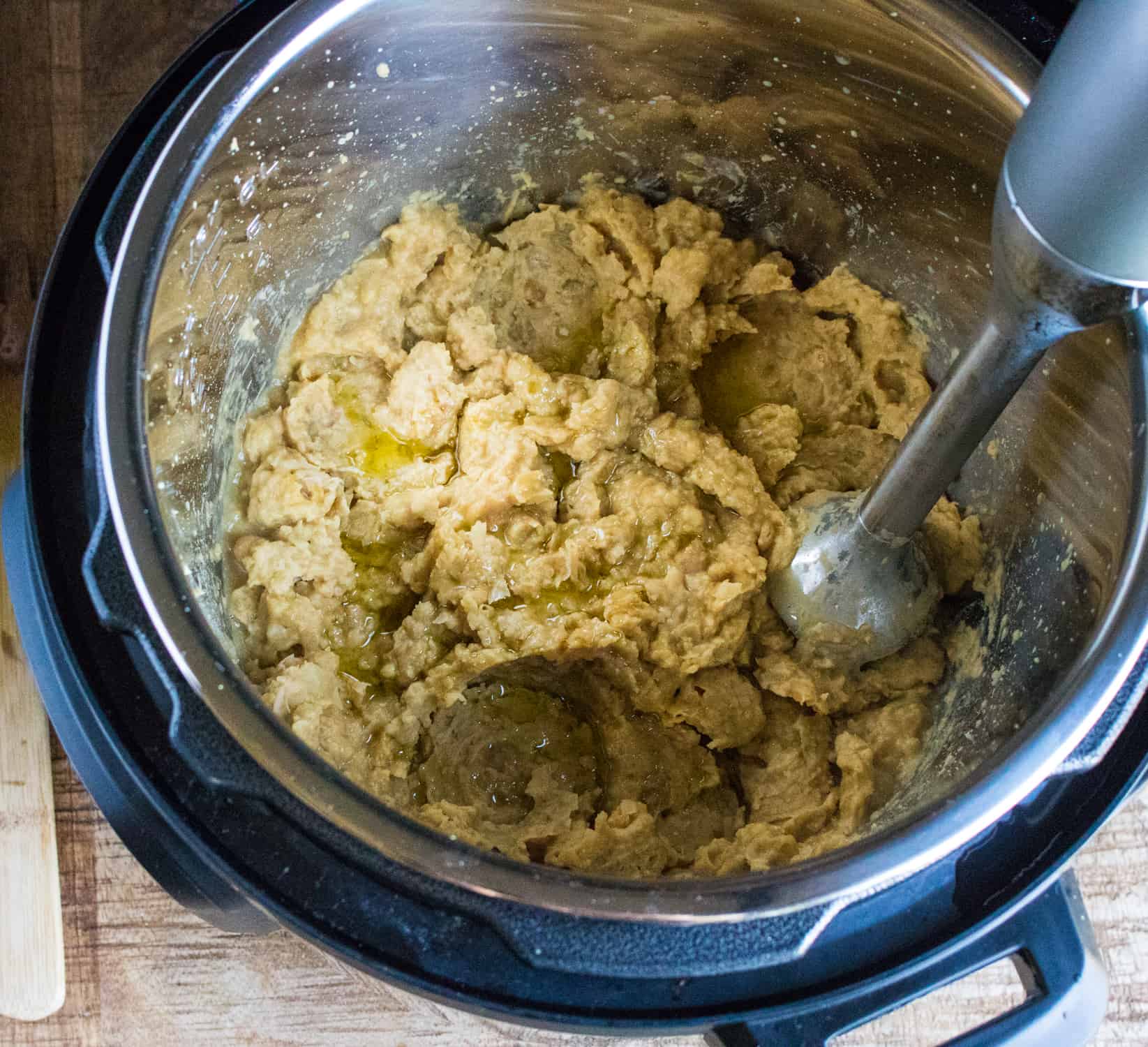 Step #6: Next, add in the roasted red peppers with the rest of the remaining ingredients.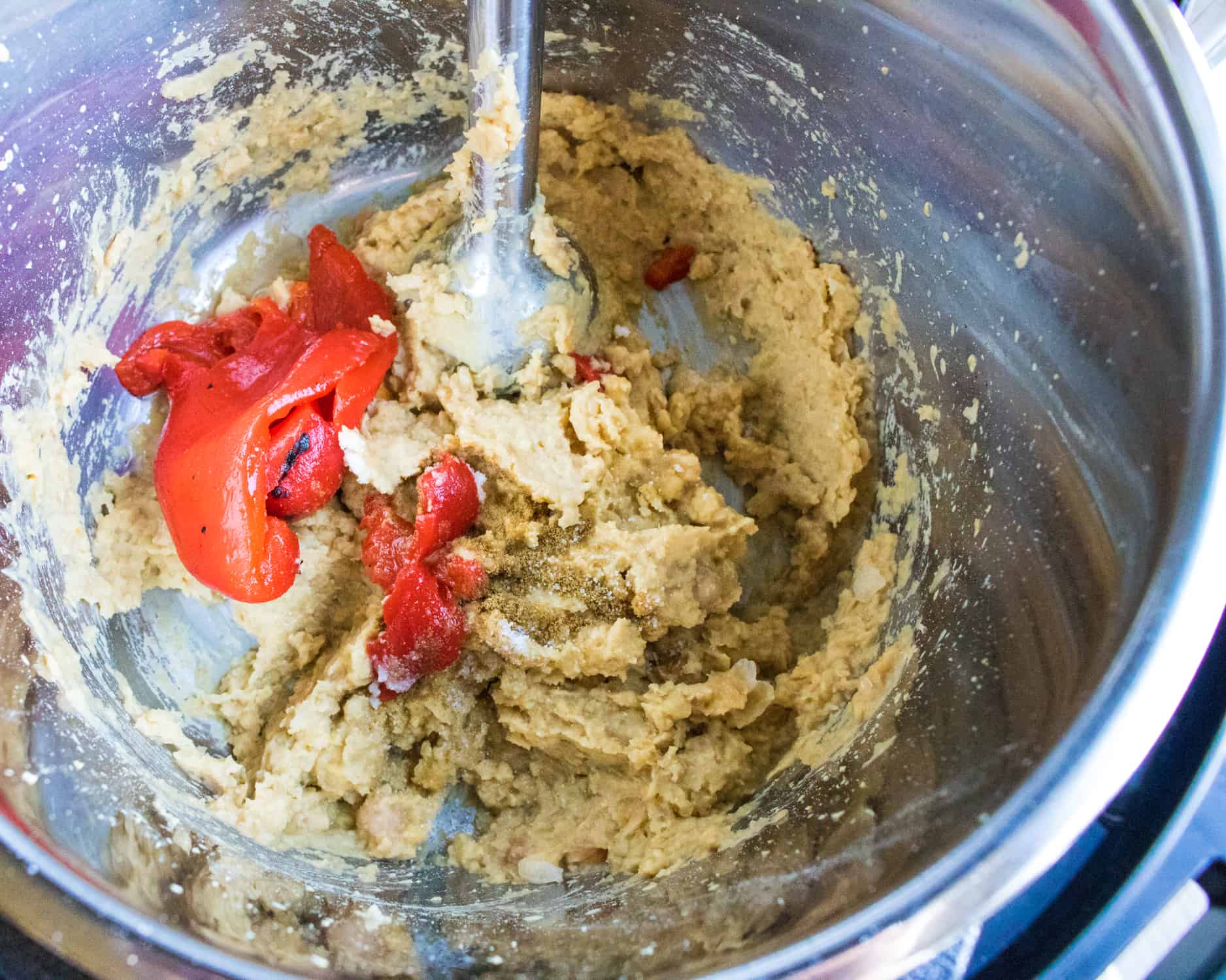 Step #7: Blend roasted red peppers and the remaining ingredients together until smooth.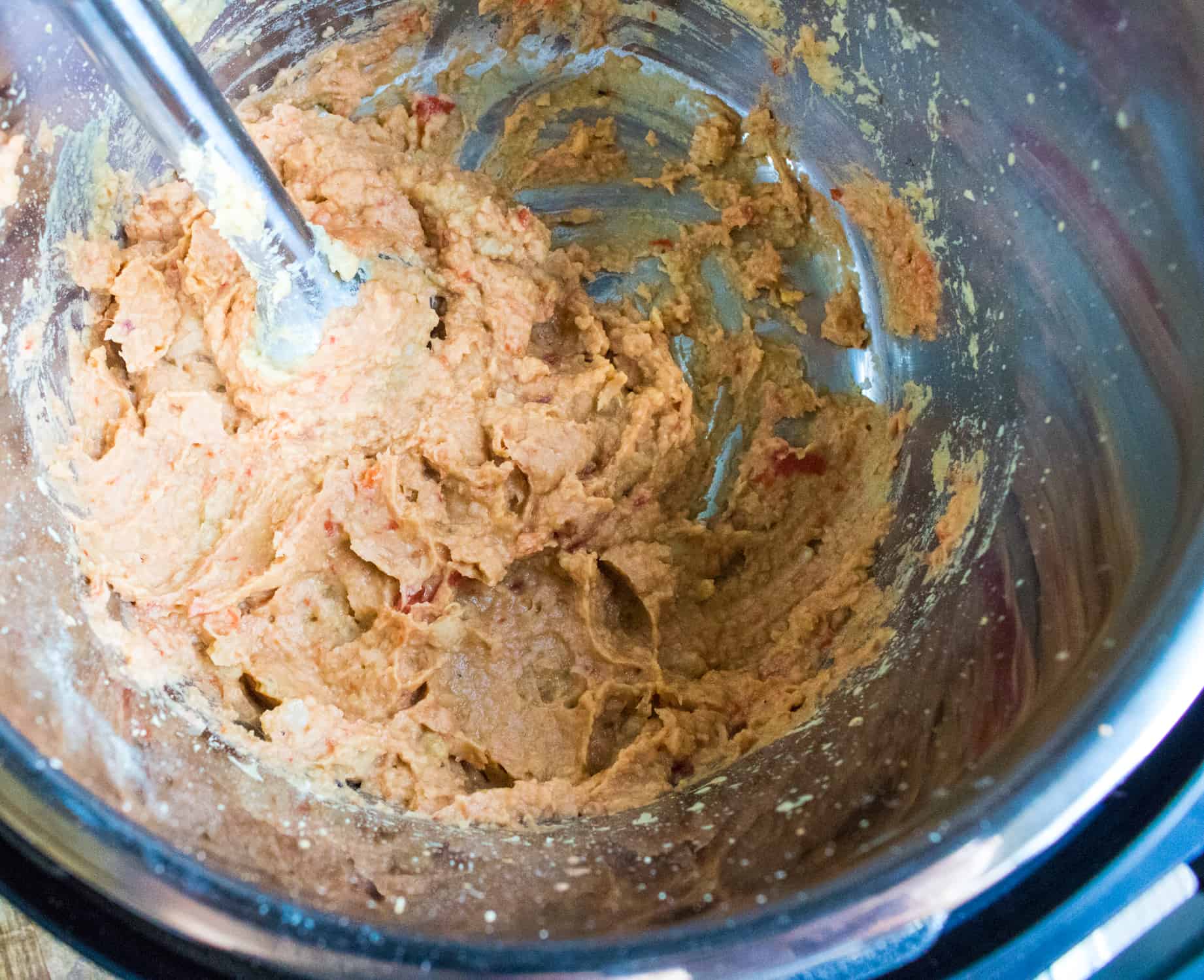 Helpful Tools for Instant Pot Cooking
Serve and enjoy!
Storage
You will want to store your hummus in an airtight container for 3-5 days in the refrigerator. Just spoon up and serve this delicious red pepper hummus as a snack, smear on a sandwich and more.
Variations and Tips For Recipe
Want a hummus recipe without tahini? Just leave it out!
Feel free to use canned chickpeas if you don't want to work with dried beans.
You can cook your dried chickpeas on the stove if you don't own an Instant Pot.
Swirl in olive oil on the top for added flavoring, along with roasted red peppers.
Make sure your chickpeas are fully cooked before moving to the next step.
A food processor or blender will help you get that ultra-creamy texture to the homemade hummus.
FAQs
What is Hummus?
Hummus is a dip/spread made of ground chickpeas that are mixed with lemon, garlic, olive oil, and tahini. If you are unfamiliar with tahini, it is a paste made from ground sesame seeds.
While tahini is often eaten on its own, it is also a key ingredient of hummus. Both hummus and tahini are popular staples of a Middle Eastern diet, and are delicious and healthy.
Is hummus vegan?
You will find that hummus is a vegan recipe. Now depending on the ingredients use you might run into a recipe that is not vegan. So just read the labels or if making homemade watch recipe ingredients.
Can dogs eat hummus?
Hummus is not safe for your dog to eat. While dogs could safely consume garbanzo beans, they should not eat ingredients like olive oil, garlic, etc. I do not suggest allowing your dog to eat the hummus.
Can you freeze hummus?
Hummus is freezer-friendly. Just cook up your hummus, place it in a freezer container, and store for 2-3 months. Just know that as your hummus freezes, it will expand. So make sure to leave some room.

Then for thawing just place in the fridge overnight for a slow thaw, then stir if needed and serve.
Is hummus gluten free?
Yes, this hummus is gluten free. If you buy hummus some brands make in factories that use gluten so read the labels to ensure it is safe.
Does hummus go bad?
Just like everything hummus does go bad. Make sure to toss it after 4-5 days of being stored open in the fridge. Smell and taste to ensure it is still good. When in doubt, toss it out.
What to Eat with Hummus
Not sure what to dip in hummus or how to eat it? No worries here are some ideas.
Hummus is a versatile dish that can be eaten in so many ways! Traditionally, hummus is spread on pita bread triangles, but check out some of the fun and different suggestions below.
Cut up assorted veggies such as carrots, celery, peppers, broccoli, cauliflower or green onions and use as a low-cal, healthy and delicious way to enjoy this Roasted Red Pepper Hummus.
Replace mayonnaise with this Roasted Red Pepper Hummus on your next sandwich. It will provide a unique and tasty flavor with a little extra zing!
You can get really creative, and use the Roasted Red Pepper Hummus as a substitute for traditional deviled egg filling. What a fun and original appetizer or side dish!
Try Our Most Recent Instant Pot Recipes