This recipe for Instant Pot Rib Tips is a perfect choice for any gathering! Flavorful, easy, quick and as much a taste of the summer months as hot dogs and hamburgers, but a little more unexpected. You will be the hit of the picnic with these gems because this is one of the best pork ribs recipes out there.
Skip boiling ribs and make fall off the bone ribs easily with this easy country-style pork ribs Instant Pot recipe. We use a simple baby back rib rub made with coarse salt and Adobe seasoning.
Then, you can top the pork ribs with either a storebought bbq sauce or a homemade Instant Pot bbq sauce or even an Asian bbq sauce. If you make a homemade sauce, add in 1/8 teaspoon liquid smoke to lend a smoky flavor to your bbq pork ribs.
We served this with a Jalapeno Mac and Cheese that was beyond good.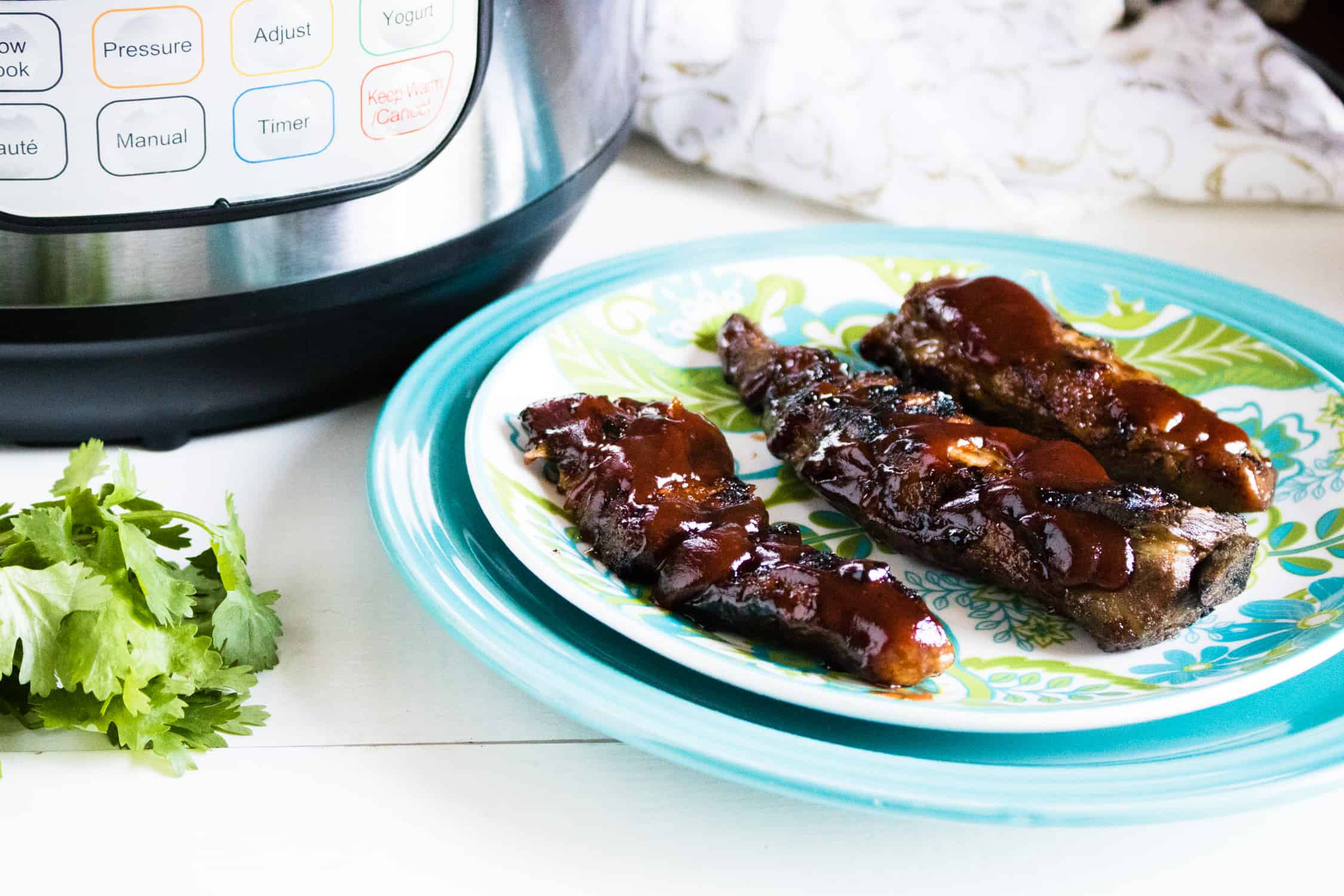 Why You Will Love Instant Pot Rib Tips
Rib tips are the short, meaty section of rib that is attached to the spare rib and usually cut off when ribs are trimmed. They are tender, delicious and, here's the best part, usually very affordable.
Rib tips or Instant Pot country style ribs are cut into individual ribs, so you don't normally have to worry about removing the membrane as you do when working with other grilled ribs recipes that use a rack of ribs.
This Instant Pot Rib Tip recipe is super easy!!! Rub the seasoning into the rib tips, drop them in the Instant Pot, and go have a cool drink while the Instant Pot does the work for you. 40 minutes later you have a perfectly cooked, satisfying entrée.
They are so versatile. You can eat them with just the Adobo rub. Or, if you want more flavor brush on your favorite barbecue sauce.
If you really crave the taste of meat cooked on the grill, plop these on the barbecue for a couple of minutes on each side to finish them off and give them a "cooked outdoors" flavor. You'll love these instapot ribs!
Even if it's raining or cold, and a picnic is just not going to happen, you can still have these delicious Instant Pot Rib Tips, since they are cooked indoors. This recipe lets you enjoy delicious barbecue flavor anytime, and in all types of weather!
Ingredients
Ribs
Coarse salt
Adobo all-purpose seasoning
Instant Pot Supplies
Instant Pot Inner Pot - I like to have an extra inner pot available because of how much cooking I do in my Instant Pot. It comes in really handy when I want to put a lid on the inner pot and refrigerate the leftovers, or mix up ingredients the night before to save time at the end of the day.
Silicone Lid for Instant Pot- I'm not sure how I lived without this one. Having a silicone lid for my Instant Pot has made life so much easier. It is perfect for adding ingredients a day or two ahead of time.
101 Instant Pot Recipes for Beginners- If you are new to pressure cooking, this is a great ebook to get you started with basic recipes you will use over and over again.
Great Side Dishes to Eat with Instant Pot Rib Tips
Looking for something yummy to complement these delicious Instant Pot Rib Tips? Check out the suggestions below for some awesome ideas:
A salad always goes well with a meal. Try these Mason Jar Salad suggestions for a healthy, colorful, and unique way to serve up a green salad!
Or, you could try one of our fabulous cheesecake recipes. Our Brownie Cheesecake is AMAZING, and our Peanut Butter Cheesecake gets rave reviews.
How to Make Instant Pot Rib Tips Step by Step
Our country ribs Instant Pot recipe uses rib tips that are already sliced apart. This means you don't need to worry about how many ribs in a rack when considering how many racks to cook. A good rule for country ribs is to cook 2-3 ribs per serving.
How to Cook Ribs
Step #1: Rub seasoning over pork rib tips.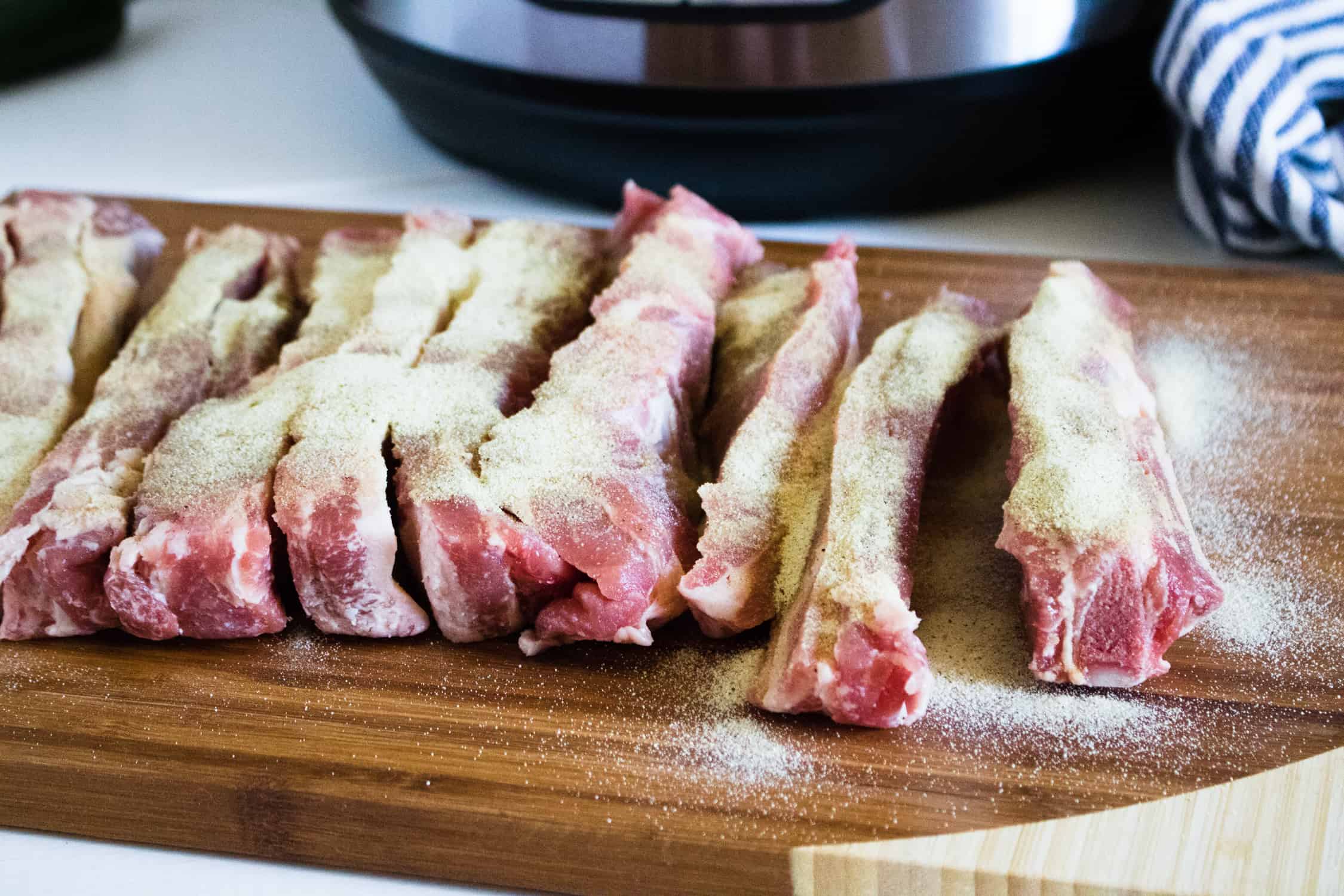 Step #2: Add 1 cup of water to the Instant Pot and then stack the rib tips on the Instant Pot trivet.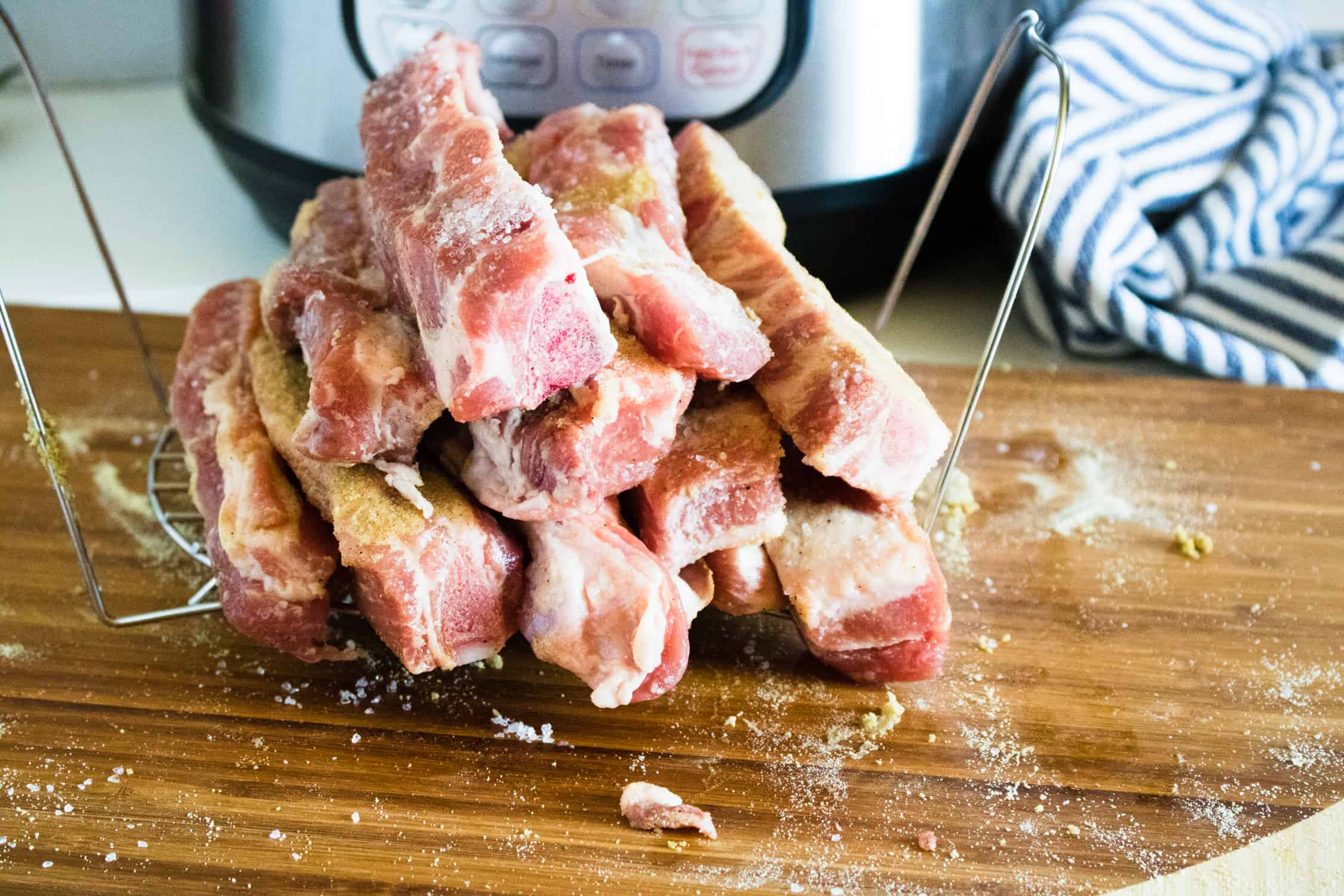 Step #3: Place the trivet in the inner pot.
How Long to Cook Pork Ribs
Step #4: Seal the Instant Pot and set to sealing. Add 40 minutes high pressure cook time.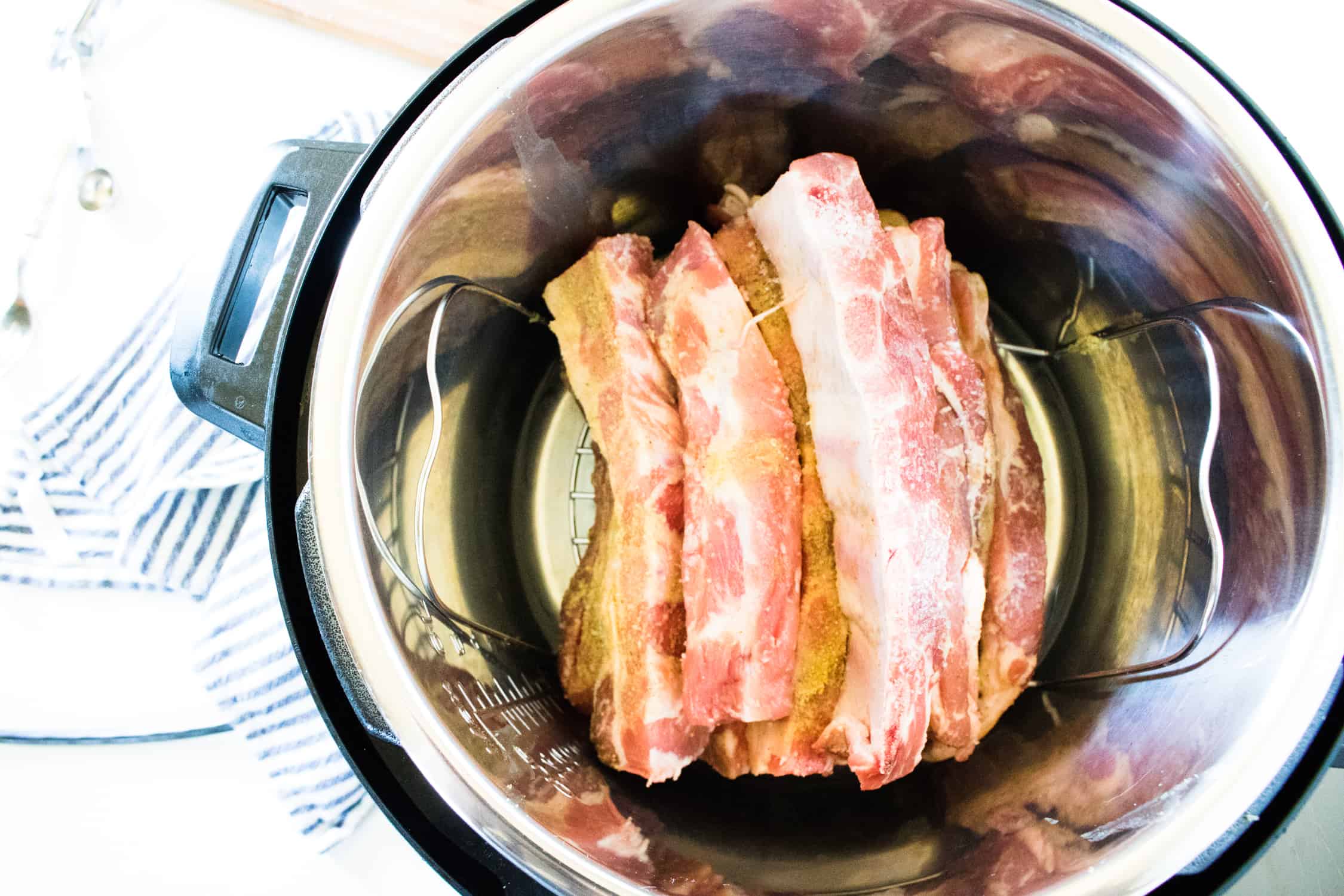 How to Grill Ribs or Finish Country Style Ribs in Oven
Step #5: Allow for a natural release and then when the pressure has all been let out, either serve with barbecue sauce or finish on a charcoal or gas grill or under the oven broiler for 1-2 minutes on each side and then serve.
You could also finish these up using your Instant Pot Duo Crisp with an air fryer lid.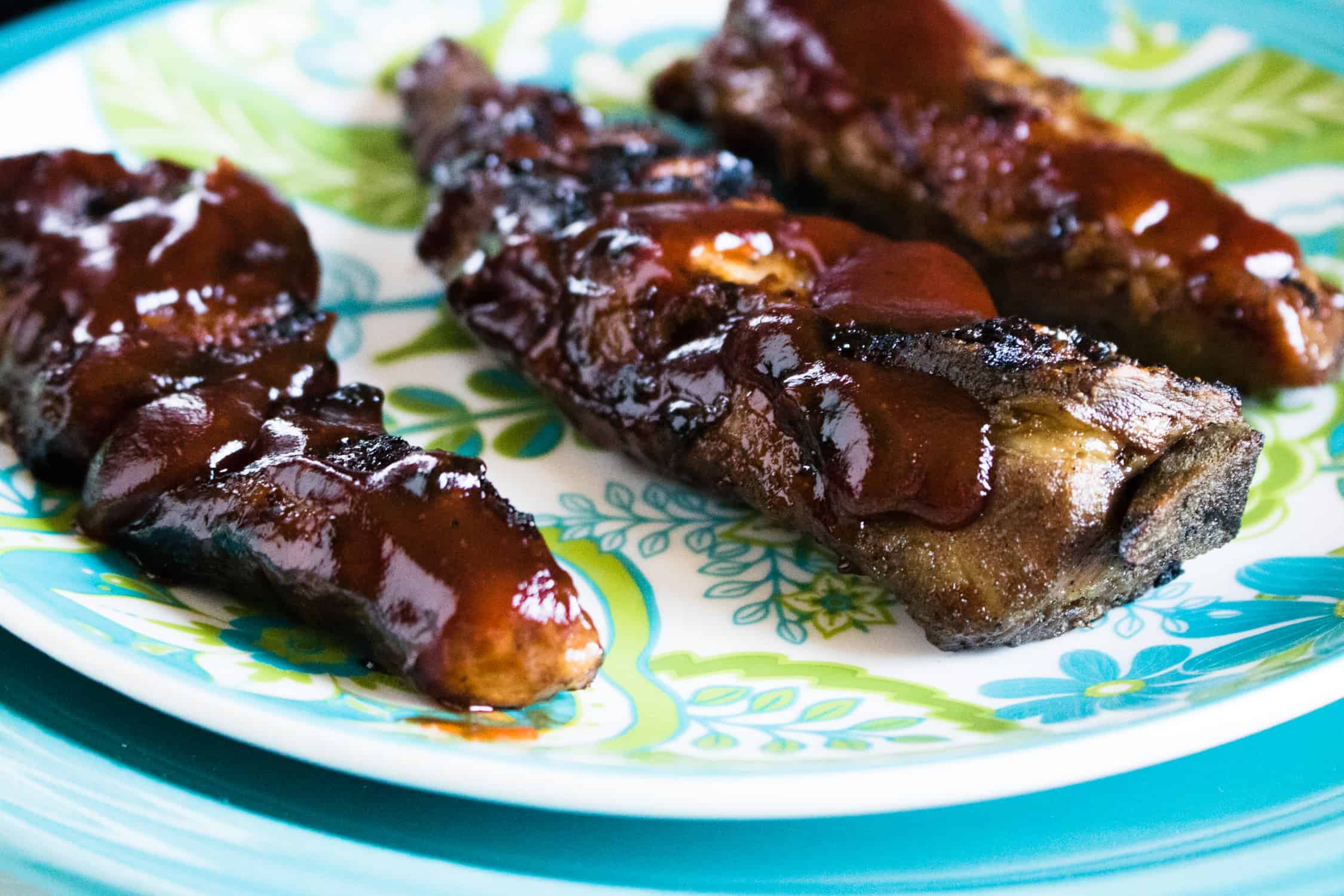 Frequently Asked Questions
What is the difference between baby back ribs vs spare ribs?
Baby back ribs are made from the top of the rib cage. Spareribs are cut from the bottom of the rib cage. Sometimes they include brisket.

The rib tip is a small part that comes off the spare ribs when a butcher is making a squared-off cut of the meat.

Country-style ribs don't actually come from the rib area of an animal. Instead, they come from the shoulder area.

For our Instant Pot country ribs recipe, it's really about cooking the ribs in a country style than the cut of meat. You can use any of these rib cuts (or country-style 'rib' cut) to make our country-style ribs recipe.

Can I make this a country style pork ribs slow cooker recipe?
Cooking country-style ribs is easier than you might think. We've made crockpot country-style ribs many times using this recipe, with just a few adjustments.

Instead of the water in the recipe, add your homemade BBQ sauce with the ribs in the slow cooker after you season the ribs. Cook on low for 6-8 hours or on high for 3-4 hours. Low and slow is the best way to go.

Finish the country-style pork ribs in the oven under the broiler. You could also finish the ribs for a couple of minutes on a gas grill.
How to tell when ribs are done?
Ribs are ready when they are tender and flavorful, but technically pork is done when the internal temperature reaches 145 degrees Fahrenheit. Instant Pot pork ribs normally will reach a temperature close to 190 degrees before they are fall off the bone tender.

The ribs toothpick test can be done for a pressure cooker rack of ribs recipes. This is done by inserting a toothpick in between the ribs in the connective tissues. If the toothpick goes through the tissue easily and with little resistance, the ribs are done.
Can I make this a boneless pork ribs Instant Pot recipe?
You certainly can make this recipe with boneless pork ribs. This is the best ribs recipe we've tried, but you can certainly make adjustments to the recipe and even use it as a base for a beef ribs Instant Pot recipe.
Recipe
More of Our Recent Recipes