Thanks to the Instant Pot and this amazing recipe for Instant Pot Pork Chops with Tomato Cream Sauce, that problem is quickly solved! So simple and quick to make, but so full of rich and satisfying flavor! If you've never had pork chops in red sauce or pink sauce, you'll want to give these chops in the Instant Pot a try.
We all have a lot on our plates, which means that sometimes it difficult to get a healthy and nourishing meal on the table for your family at the end of the day.
If you're looking for other low-carb recipes, check out our air fryer pork chops. They are delicious!
You will also love this boneless low-carb pork chops recipe. All our pork chop recipes are especially good with our Instant Pot rice.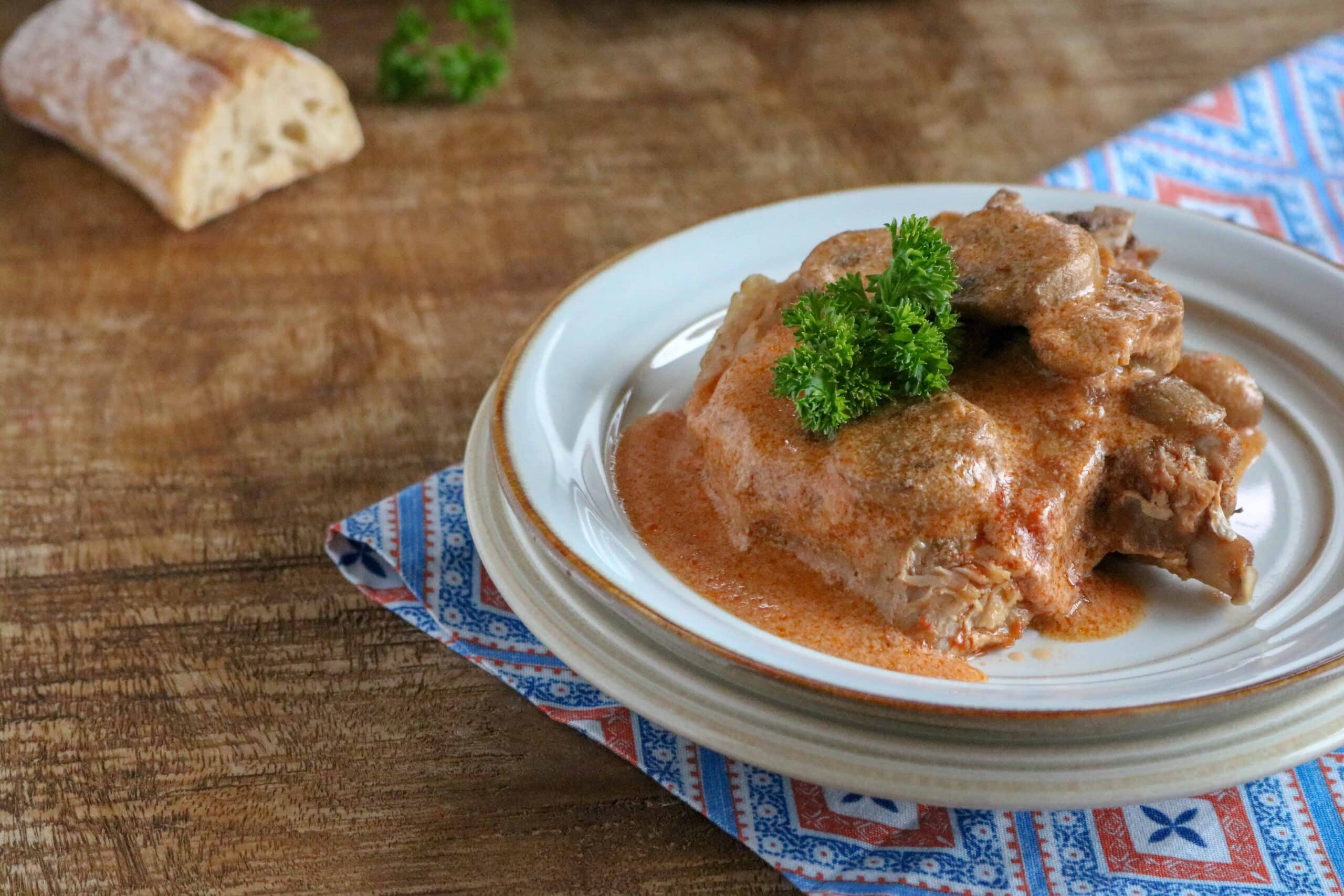 Ingredients
vegetable oil
pork chops
onion
tomato paste (without added sugar if on the keto diet)
sliced mushrooms
Worcestershire sauce (consider reducing by 1/2) and using this lower-carb Worcestershire sauce option
water
half and half (alternatives: heavy cream or cream cheese)
cornstarch
Why You Will Love This Instant Pot Pork Chops Tomato Cream Sauce Recipe
It's Easy to Make. There are only a handful of ingredients to gather for this meal and very minimal slicing, dicing or chopping.
Slice some mushrooms and onion, open and measure some tomato paste, add a little Worcestershire sauce, half and half, the pork chops, and you are ready to get cooking! Simple!
They're so tasty! Don't think for a minute that minimal ingredients mean minimal flavor. The tomato cream sauce on these instant pot pork chops is rich and flavorful. It may be easy to pull together, but it definitely tastes like it took some work.
Using the Instant Pot. Thanks to the multi-function wonder that is the Instant Pot, not only is this dish easy to put together, but it's done in the blink of an eye!
Once you set the Instant Pot to cook, walk away — it's never been easier to make a quick and tasty dinner entrée.
It's so Versatile. Another reason to love these Instant Pot pork chops is that they lend themselves to pairing up with so many different dishes.
Serve them up with delicious red mashed potatoes, homemade flavorful green beans with bacon, or even ranchero beans.
No matter what you choose to serve along with these Instant Pot pork chops, this tasty dish will earn lots of smiles and compliments!
Can I Make Instant Pot Pork Chop Recipes in a Slow Cooker?
Yes! Low and slow is a great way to cook food when you plan and start your slow cooker recipe early in the day.
However, if you're like many busy home cooks, sometimes the day gets away from you, and you're ready to get a meal on the table that cooks for just 30 minutes as this Instant Pot recipe does.
Can I Use Sun Dried Tomatoes?
You could use sun-dried tomatoes, but not if you are following a keto diet. Sun-dried tomatoes have a higher sugar content than fresh tomatoes.
Also, the keto tomato paste used in this recipe has no additives, so it is a good low carb ingredient.
How to Make Pink Sauce Recipe
This creamy tomato sauce is a pink sauce that perfect top these pork chops Ninja Foodi or Instant Pot recipe with. In fact, it is a keto friendly cream sauce because it uses half and half to make the cream.
If you want to add more cream to the sauce, you could substitute the half and half and make it a cream cheese tomato pasta sauce or even use full heavy cream instead.
Not concerned about low carb, use this recipe to learn how to make a creamy pasta sauce with pork. However, you could just as easily make chicken in tomato cream sauce. That would also be a delicious variation.
How to Make Tomato Cream Sauce
First, cook the pork and mushrooms according to the directions below. To make the fresh tomato cream sauce, remove the pork chops in tomato sauce and mushrooms from the pot at the end of the pressure cooking time.
Then, combine tomato sauce with heavy cream or half and half. Or, you could mix up a cream cheese tomato sauce. Whichever of these three you have on hand will work: half and half, heavy cream, or cream cheese. The recipe calls for half and half, but you can use what you have.
Is This a Healthy Instant Pot Pork Chops Keto Recipe?
Yes, it is. You might ask yourself, 'Are tomatoes keto friendly?", and the answer to that question is yes. The Healthline article linked to above goes into all the whys, but what you need to know for this recipe is, yes. And so are mushrooms.
This is one of our favorite Ninja Foodi pork chops, and the fact is, it is also at the top of our list of keto pork chop recipes to make. It is so full of flavor. You can pair these chops with spaghetti squash or zoodles if you really want to have some noodles with this dish on a keto diet.
How to Make Instant Pot Pork Chops with Tomato Cream Sauce
Step 1#: Turn the pressure cooker on to sauté mode, add oil and then brown the pork chops on both sides.
You can also make this a boneless pork chop recipe low carb with just a couple of adjustments. The major change would be to use boneless pork chops to make this one of your favorite boneless pork recipes, and Ninja Foodi recipes for that matter.
Use tomato paste with no added sugar if you are on a keto diet.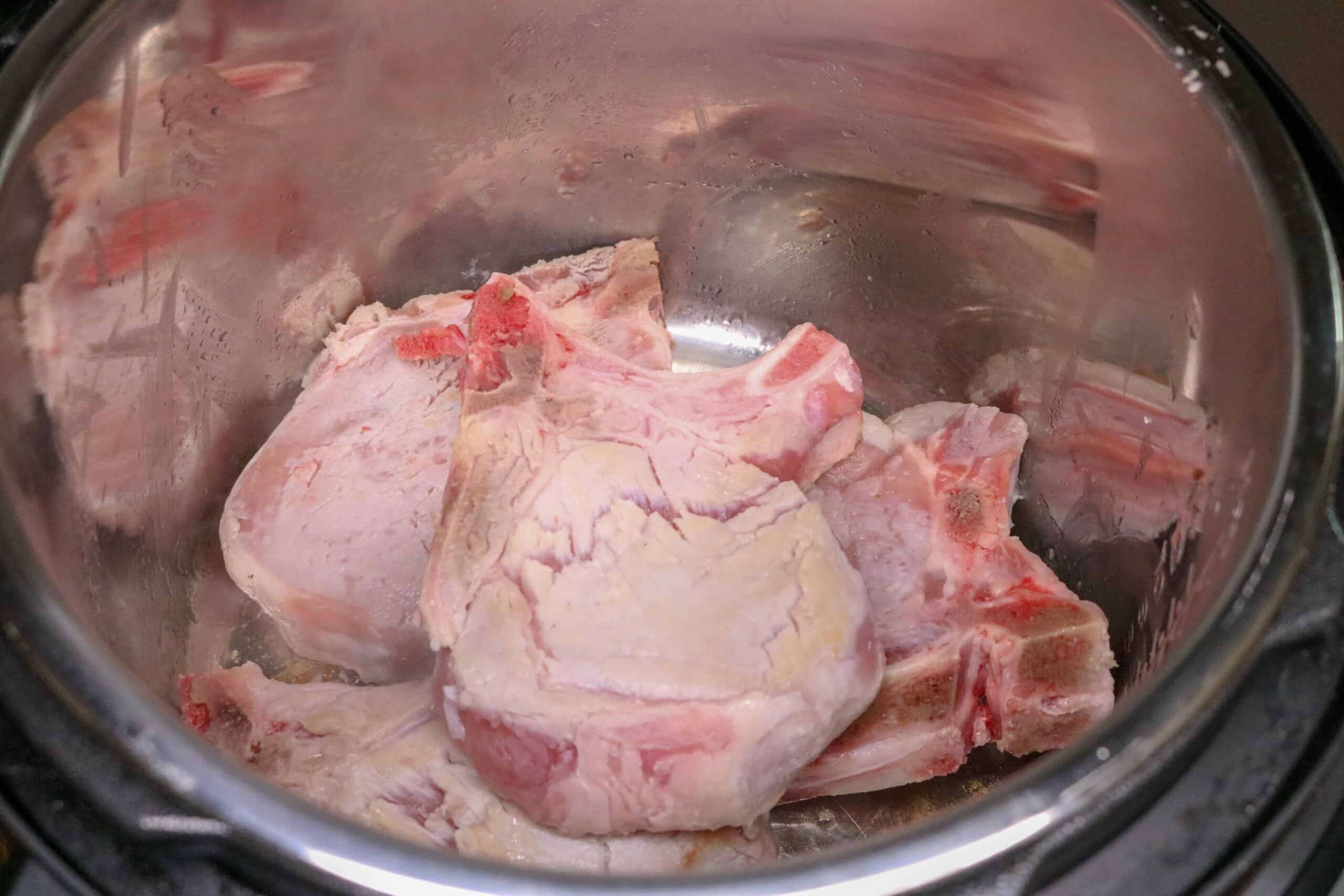 Step #2: Add next 5 ingredients to the Instant Pot, and then cover.
Step #3: Turn pressure valve to sealed.
Step #4: Set manual pressure to 12 minutes.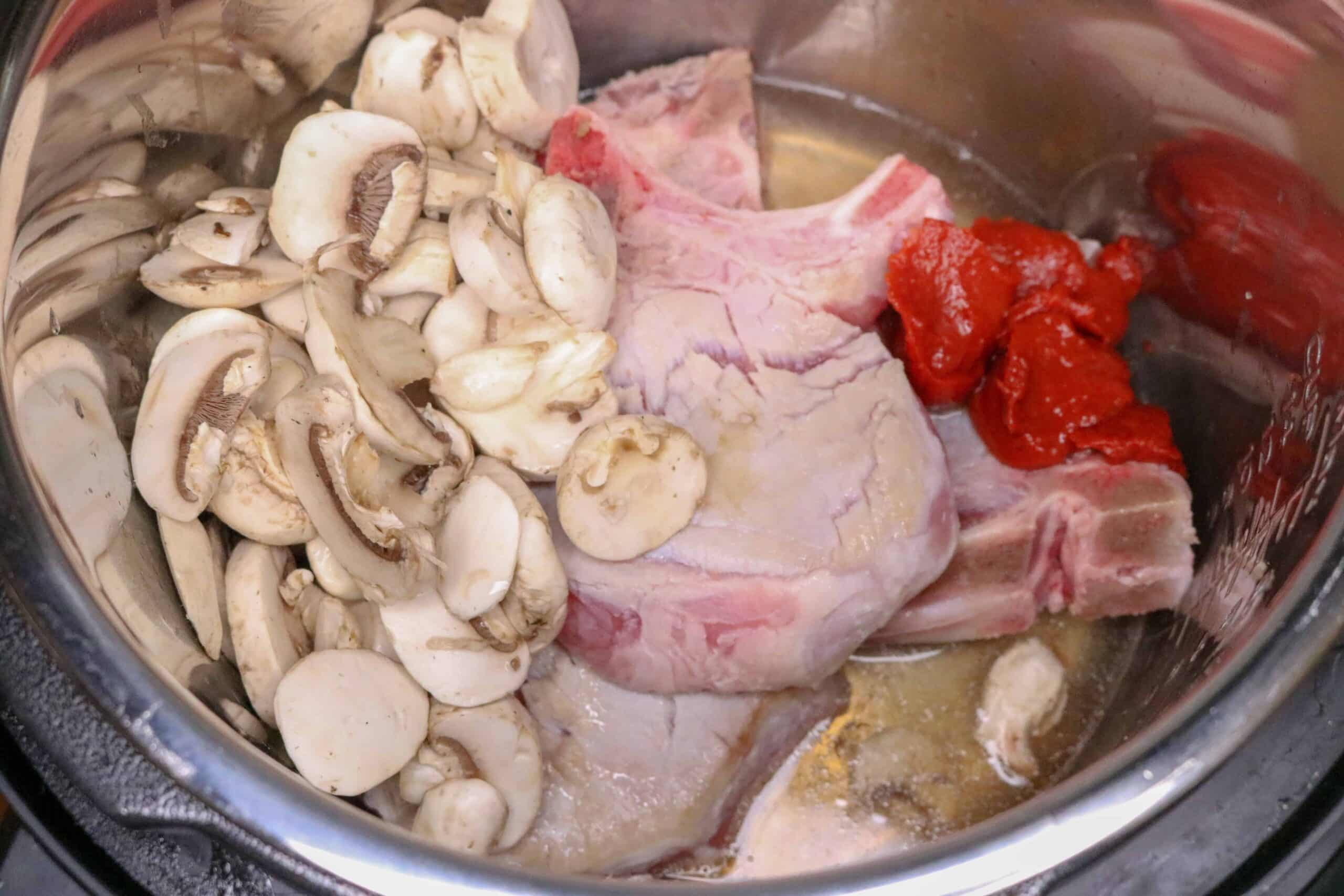 Step #5: Once pressure cooking time has elapsed, do a quick release of pressure.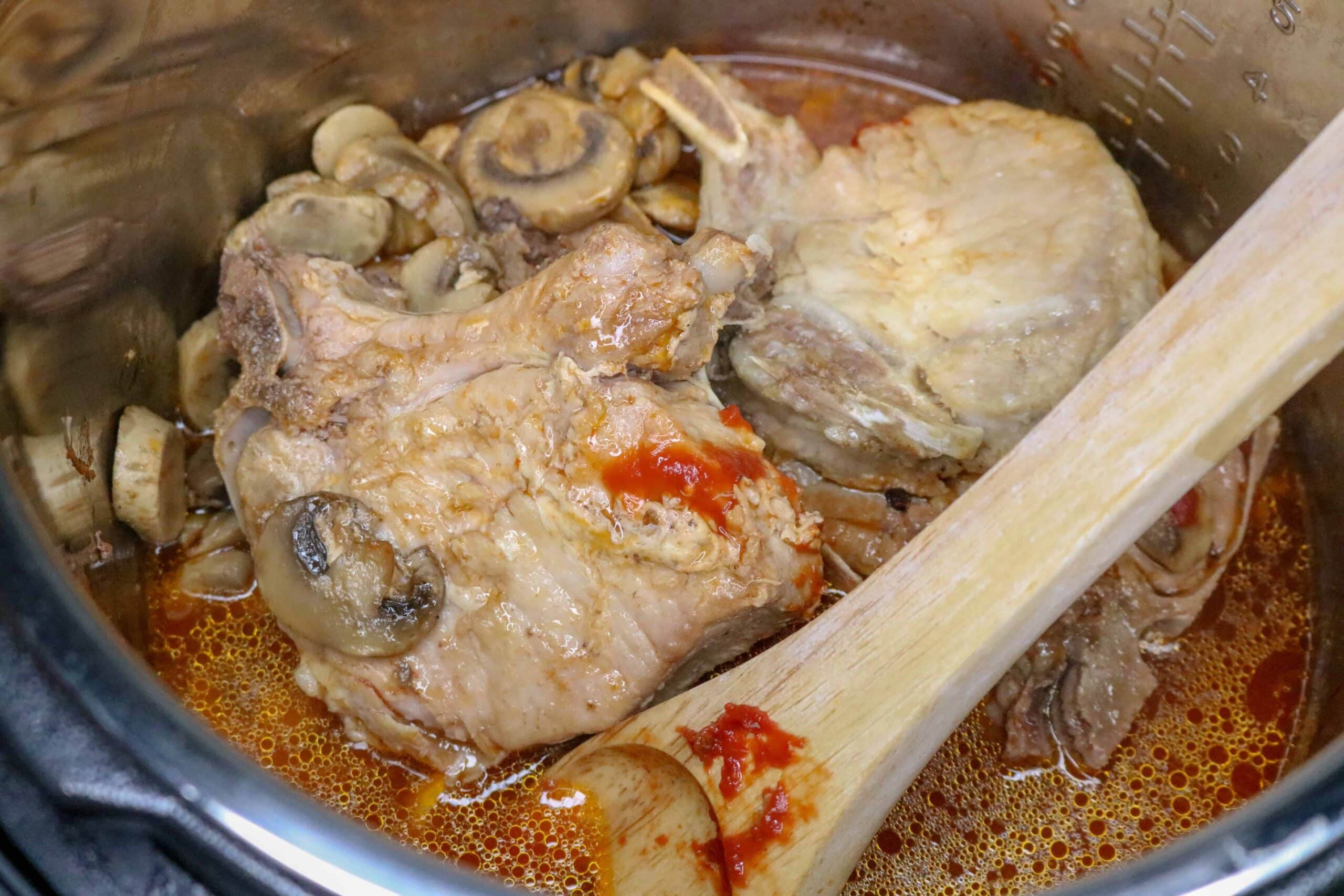 Step #6: Remove pork chops and turn the pressure cooker back on to sauté mode.
How to Make a Cream Sauce for Pork Chops
Step #7: Mix together cornstarch and half and half and then pour into the instant pot and mix together to form a creamy rose sauce for pork chops. Cook on sauté mode to thicken.
Step #8: Plate the keto boneless pork chops and top with the pork cream sauce. If desired and not on a low carb diet, you could also add noodles on the side and top with the rose pasta sauce.
Try Some of Our Latest Instant Pot Posts
Recipe