This recipe for Instant Pot Peanut Butter Cheesecake brings together smooth, velvety cheesecake with our childhood friend, peanut butter. A chocolate peanut butter cheesecake, that is loaded with flavor.
Americans certainly have a love affair with peanut butter. Many of us have been eating it since childhood; bringing it in our lunches, eating it with breakfast, and having it with our snacks.
Whether you prefer your peanut butter chunky or smooth, it's a true staple of American eating,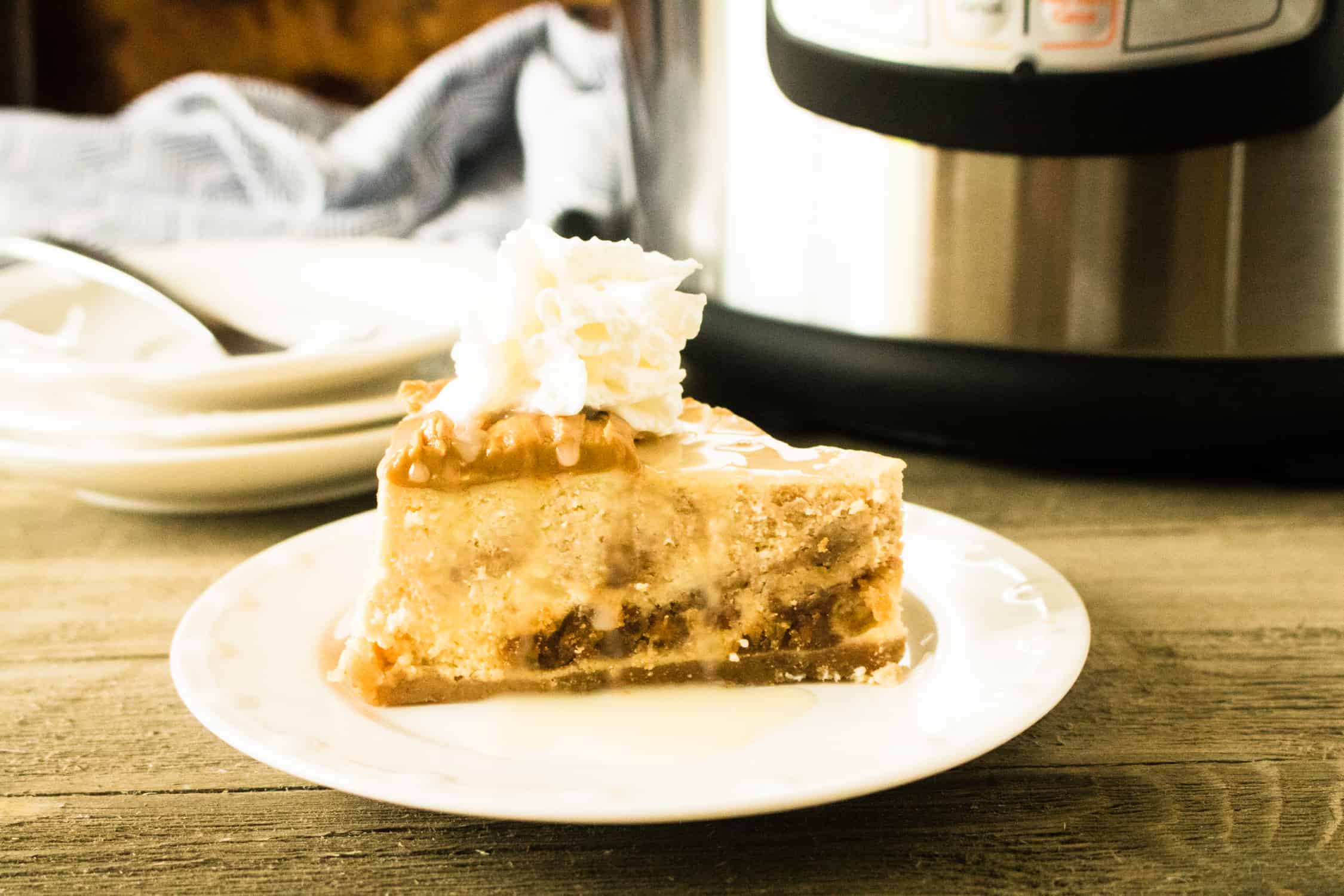 While peanut butter dates back to the Aztecs, we really have Dr. John Harvey Kellogg (of the cereal fame) to thank for introducing it to the masses. He patented the process of turning raw peanuts into a paste that was presented as a protein substitute for patients without teeth.
This Instant Pot Peanut Butter Cheesecake gives you two ways to add in delectable peanut butter flavor. If you want a more traditional cheesecake, you can mix the peanut butter right in with the cheesecake batter.
If you're feeling a little more artistic, and want to bring out a showstopper, you can swirl the peanut butter into the batter. This option gives a beautifully-presented cheesecake that is sure to wow your friends and family.
Why Make Cheesecake in the Instant Pot?
Ever since it made its market debut, cooks have been raving about making cheesecake in the Instant Pot.
And it remains at the top of the list of popular Instant Pot recipes, because of the steamy pressure cooking environment that creates such an amazingly smooth and creamy cheesecake.
Plus, it is so much faster! Traditional cheesecake recipes require over an hour of baking time, while this Instant Pot cheesecake recipe cooks in just 35 minutes (plus another 12 minutes of natural release time).
More Recipes Like Instant Pot Peanut Butter Cheesecake
If you're a fan of Instant Pot cheesecake, check out this round-up of 15 Instant Pot Cheesecake Recipes - The Best Cheesecake Recipes. Why not challenge yourself to try them all?
And, this Instant Pot Oreo Cheesecake recipe combines delectable cheesecake with another one of our childhood favorites, Oreo cookies!
When you're craving the taste of cheesecake but don't want the fuss (or the leftovers), this recipe for No-Bake Chocolate Cheesecake for Two is the perfect solution.
Like this recipe? Check out all off our Cheesecake Recipes. We're adding more extraordinary flavors all the time! A couple of our favorites, besides this one, are Orange Creamsicle Cheesecake and Oreo Cheesecake. Then, there's our Peanut Butter Cheesecake and Peppermint Cheesecake. And our Creme Brulee Cheesecake...WOW!
Ingredients For peanut butter cheesecake instant pot
Graham Crackers
Sugar
Butter
Cream Cheese
Peanut Butter
Eggs
Vanilla
Sour Cream
You can use a low-calorie peanut butter if you would like in this recipe.
How to Make Instant Pot Peanut Butter Cheesecake
Combine graham cracker crumbs with sugar and melted butter and pat down on the bottom of a 7-inch springform pan sprayed with non-stick cooking spray.
Cream together the cream cheese and sugar until smooth and then mix in the eggs one at a time. Mix in the vanilla extract and sour cream until smooth.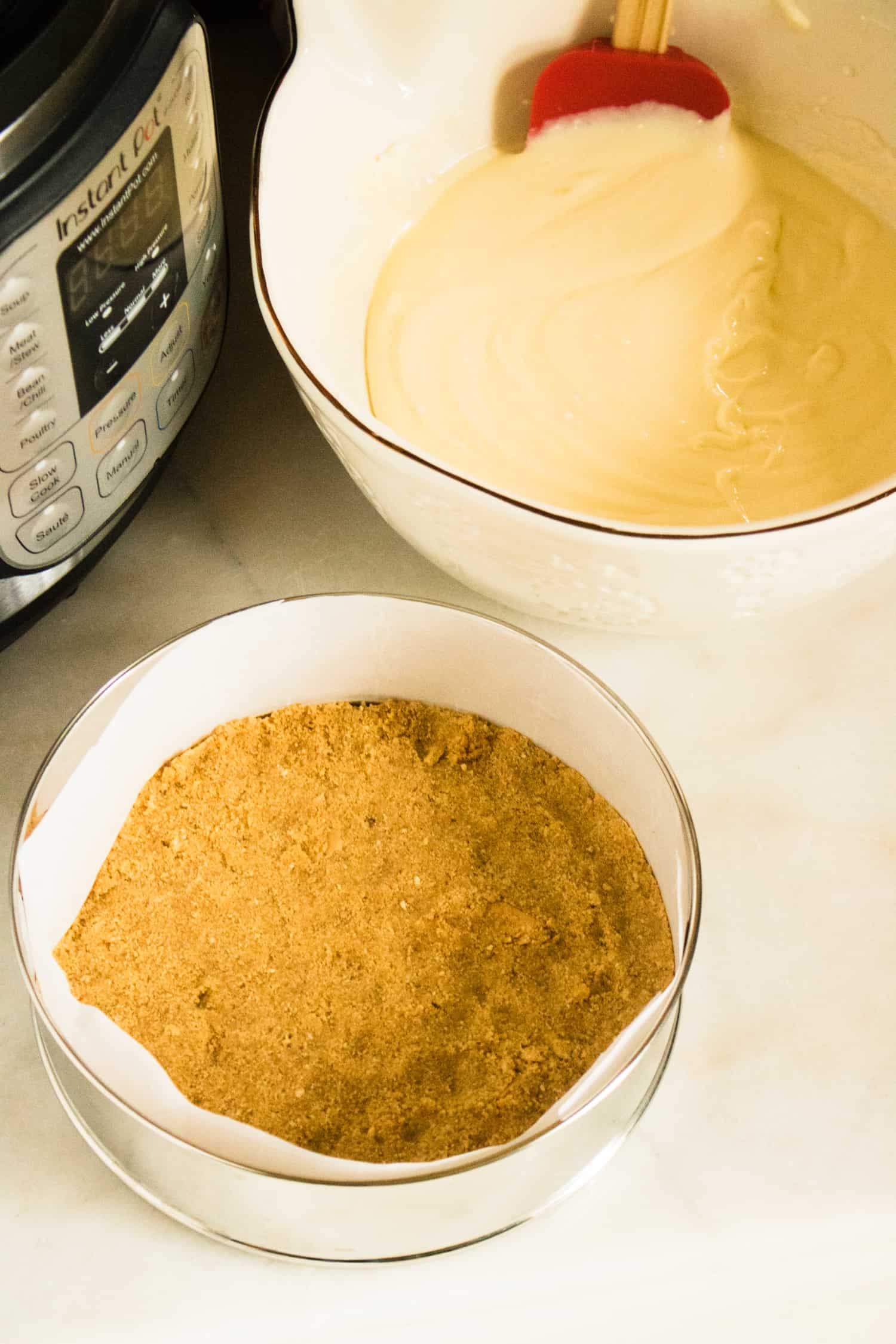 Mix in the peanut butter, OR set it aside to swirl into the cheesecake.
Pour mixture into the springform pan on top of the graham cracker crust.
Now, swirl the peanut butter into the cheesecake (if you decided to use this method).
New to cooking with a pressure cooker? Try out the Be the Boss of Your Instant Pot Video Course! It'll help take the pressure off and ease you into cooking with your Instant Pot.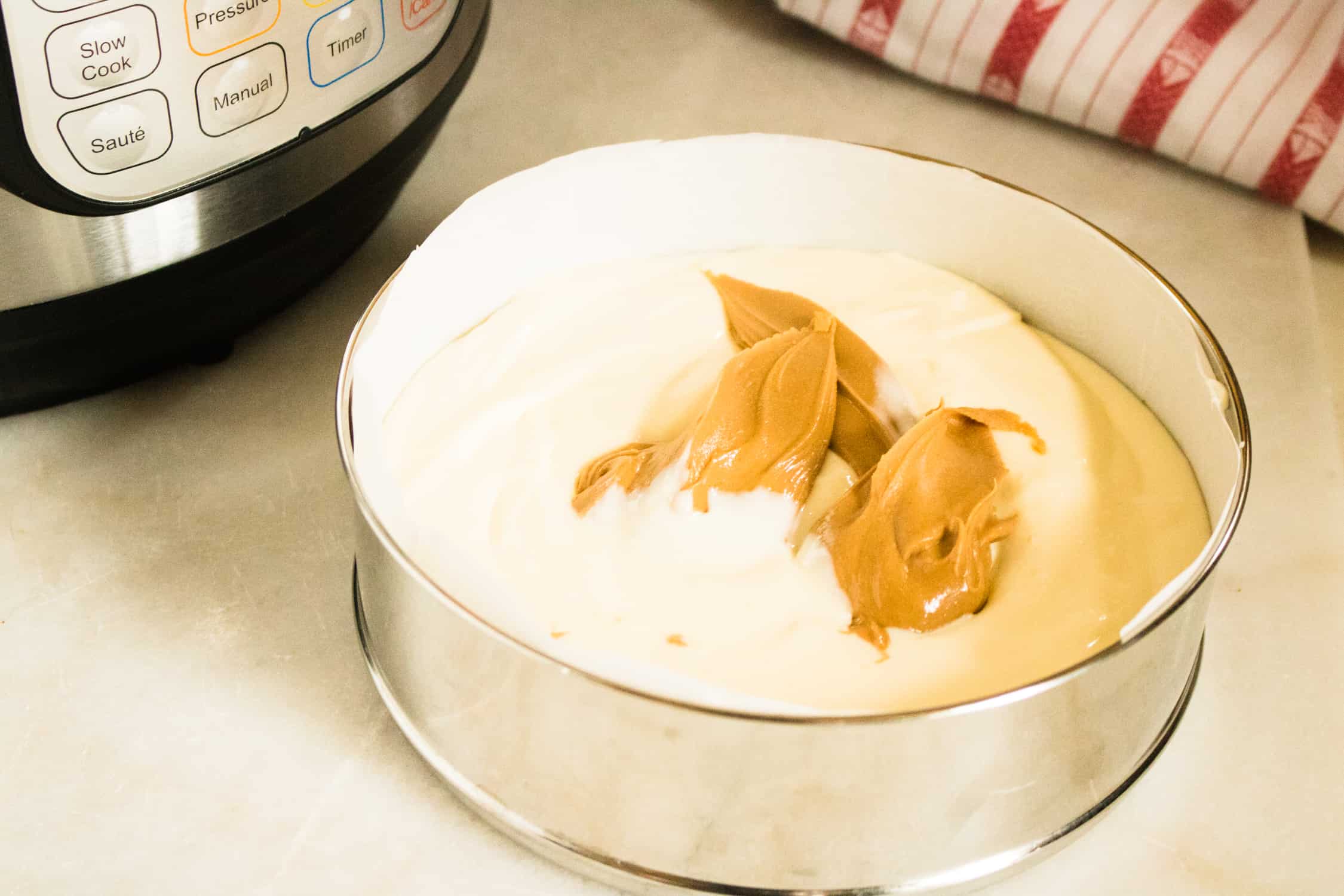 Run a fork back and forth through the cheesecake several times to remove any air bubbles.
Cover with foil. Pour two cups of water into the inner pot of the Instant Pot.
Make an aluminum foil sling to lower the pan into the Instant Pot by following these 5 steps:
Tear off about 2 feet of foil and lay on a flat surface.
Lift the side closest to you, fold it up one-third of the way, and then press down.
Fold the top section over the folded area and press down to make it flat.
Place your pan in the center of the foil strip, and bring the ends up around the sides of the pan.
While keeping your thumbs on the sides of the pan (to prevent tipping), hold the ends of the sling and lower the pan into the Instant Pot.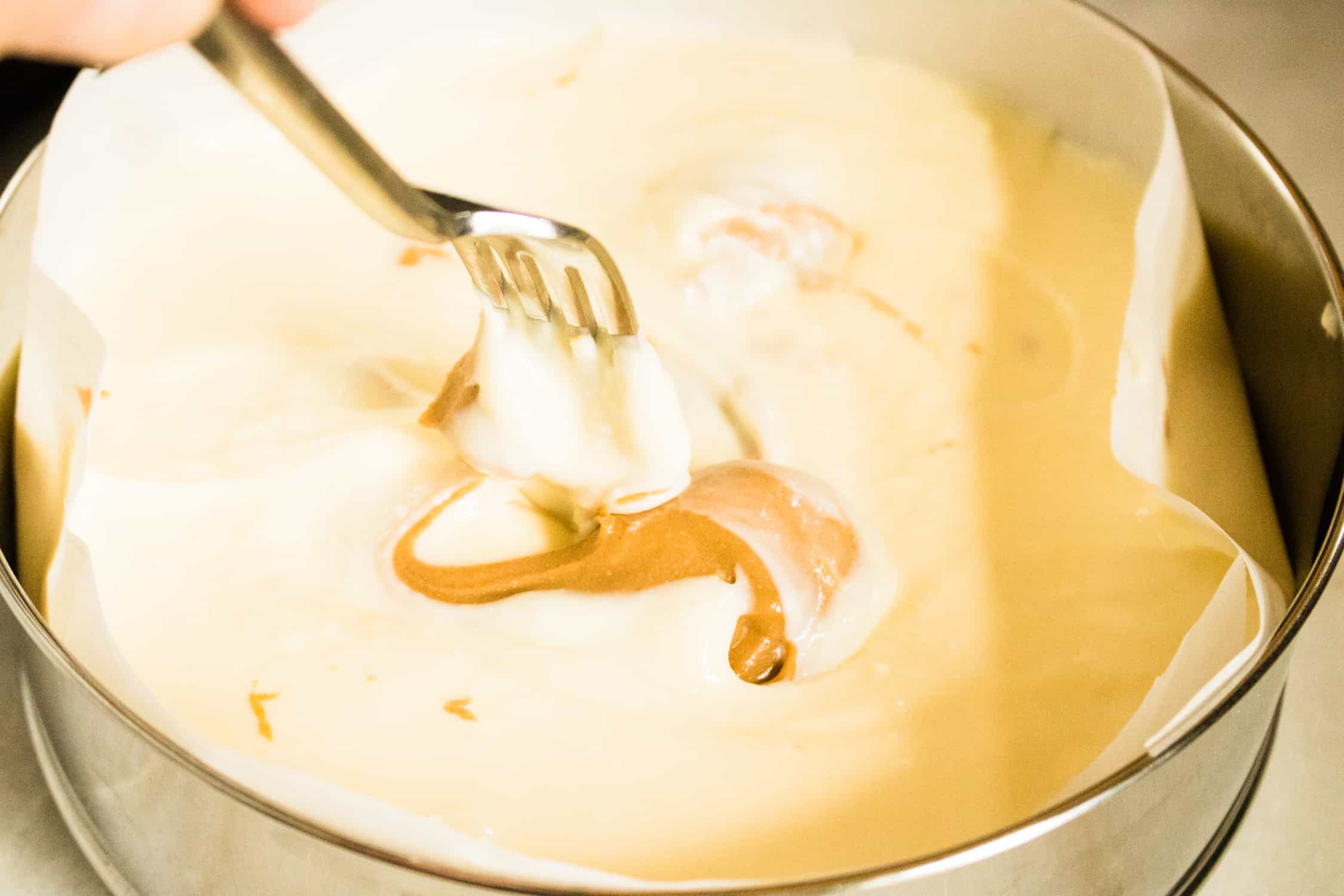 Close the lid of the Instant Pot and turn to sealing position.
Set for a manual high-pressure time of 35 minutes. When the time has finished, allow for a natural release for 12 minutes before letting out the rest of the steam.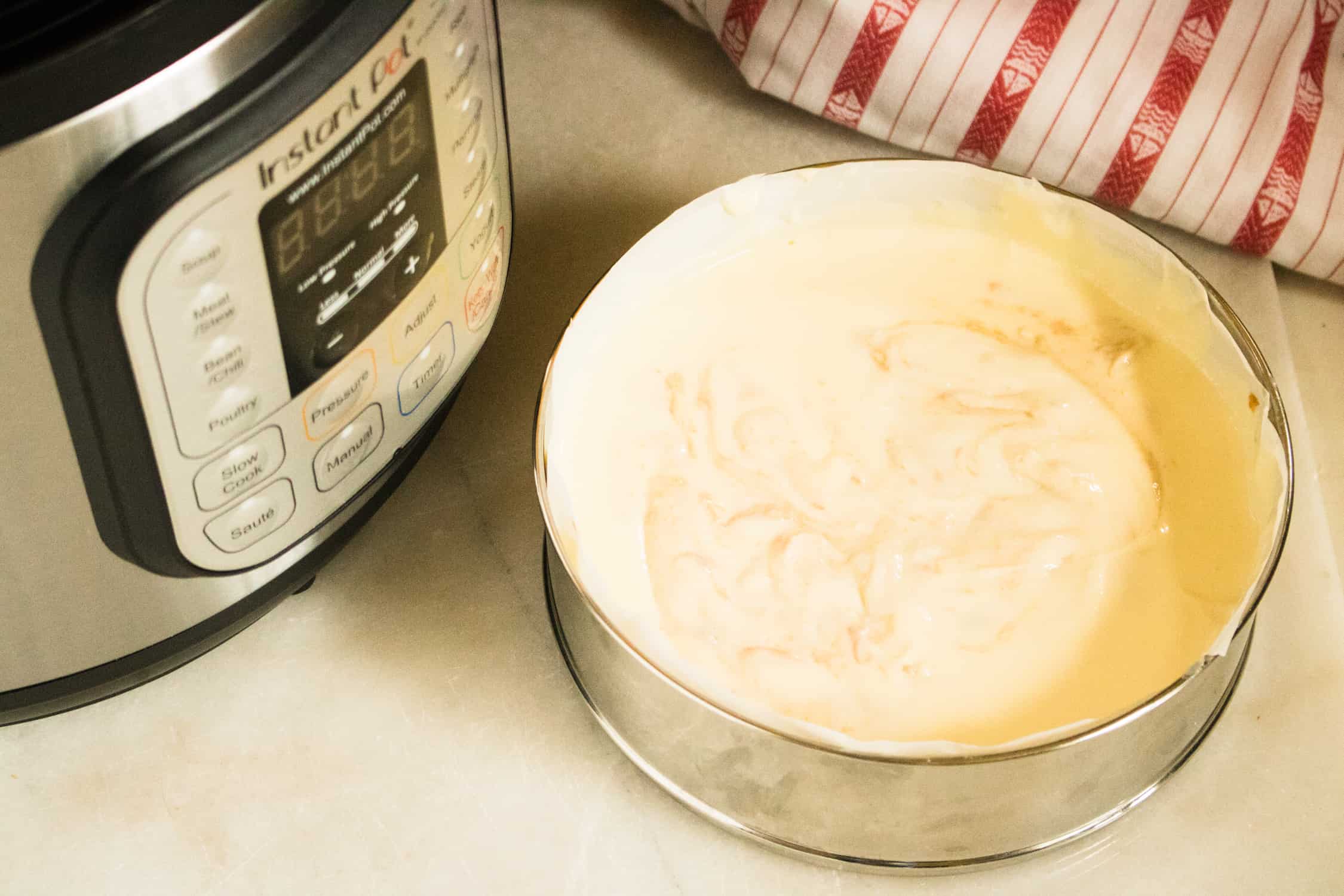 Cool on the counter for an hour and then put in the refrigerator and cool for an additional 4 hours.
Serve and enjoy!
Variations To Reese's peanut butter cheesecake recipe
Top with a mini peanut butter cup
Top with a peanut butter ball for a fun chocolate peanut butter ball.
Drizzle or pour over chocolate gananche
Use an Oreo Cookie Crust in replace of graham crackers
Stir in some dark chocolate chips for a dark chocolate peanut butter cheesecake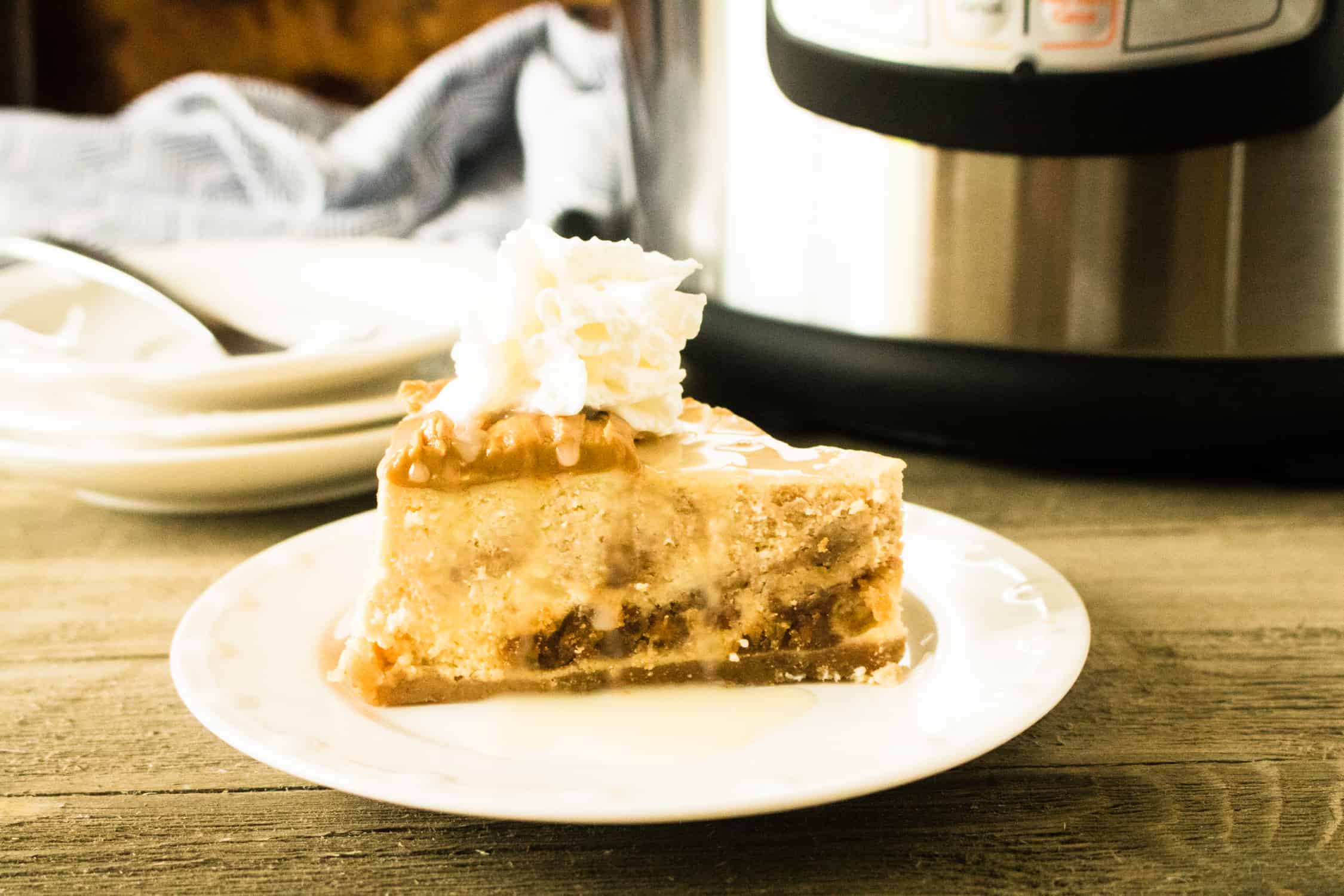 Recipe FAQs

Peanut butter benefits?
Oleic acid in peanut butter is a great way to help with cholesterol and a good source of protein. But, depending on the brand and how you serve it up, know that it is all about moderation.

Is peanut butter good for dogs?
Yes, peanut butter is a food that is safe for dogs. The biggest thing is to not give them cheesecake that is full of other ingredients. But a little peanut butter will not harm your dog.

What is chocolate ganache?
Chocolate ganache is a chocolate sauce that you use to pour over desserts to create a nice rich chocolate layer. This can also be used in replace of a frosting.

Many desserts do a chocolate ganache drip, pour all over the top, or use as a frosting to spread on top. This makes a great chocolate topping for cheesecake.
Why do you put eggs in cheesecake?
Eggs act as the thickening agent in the peanut butter dessert. Without eggs, you would not get the texture you are looking for.
How to store Reese's peanut butter cheesecake?
Reese's Peanut Butter cheesecake needs to be stored in the fridge for up to a week. After that, you will need to throw out any leftovers.
Or freeze any of the cheesecake you don't plan to eat for up to three months.
What happens if you over mix cheesecake?
Overmixing your cheesecake can result in your cheesecake to crack. If you overmix once you add in the eggs, it will crack every single time.

Cracking doesn't ruin the cheesecake it just isn't as pretty. But you can fix by adding a topping.
Why do you have to let the cheesecake set up?
Cheesecake is delicate, and by allowing it to fully set up overnight, it firms up the texture. If you slice into a warm cheesecake it can fall and not hold shape.

Pressure cooker cheesecake is more delicate in terms of it takes longer to fully set up for that thick and creamy texture you want.
Supplies for Making Cheesecakes in Pressure Cooker
More Peanut Butter Desserts
Looking for more recipes besides this easy peanut butter cheesecake? Here are a few more to try out!
Recipe