This Instant Pot Oreo Cheesecake is an amazing family-approved version. It's so moist and delicious, each bit almost melts in your mouth! This is an easy, simple dessert recipe.
Cheesecake is one of the most popular, and one of the most versatile desserts around, since you can customize the crust and the filling to fit any flavor cravings. Give this Oreo Cheesecake with Philadelphia cheese a try.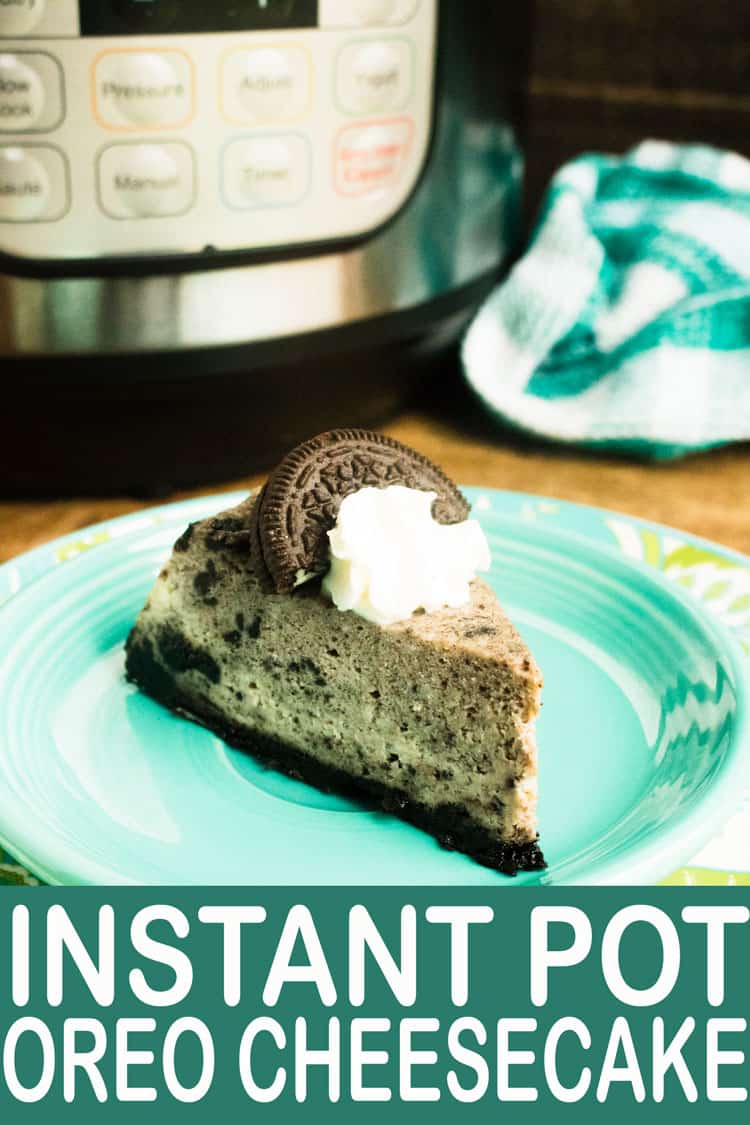 Why You'll Love Instant Pot Oreo Cheesecake
With a crunchy Oreo cookie crust, layered with a sweet and creamy Oreo cheesecake filling your taste buds will be in heaven with the classic cookies and cream flavors!
At just 7 inches, this cheesecake is the perfect size! You'll have just enough for everyone to enjoy, without all the extra leftovers tempting you in the fridge for days afterwards.
Ingredients For Cookies and Cream Cheesecake
Check out all you need for this Instant Pot cheesecake recipe. An easy cheesecake that has simple cheesecake ingredients!
Oreo Cookie Crumbles
Butter
Cream Cheese
Eggs
Sugar
Vanilla
Sour Cream
Why Make Cheesecake in the Instant Pot?
The steamy environment that pressure cooking creates results in an amazingly smooth and creamy cheesecake. Plus, it is so much faster!
Traditional cheesecake recipes require over an hour of baking time, while this Instant Pot Oreo cheesecake recipe cooks in just 35 minutes (plus another 12 minutes of natural release time).
Two Tips for Making Instant Pot Oreo Cheesecake
Tip #1: Be sure to take the time to run a fork back and forth through the cheesecake several times to remove air bubbles.
Otherwise, during cooking the air bubbles will try to escape and cause your cheesecake to crack. Although cracks won't change the deliciousness, it just won't be as pretty and presentable.
Tip #2: When you are ready to place your cheesecake into the Instant Pot, you'll want to be sure to make a sling out of aluminum foil.
This will give you "handles" to easily get the springform pan in — and especially out of — the Instant Pot. To make a sling, simply take 2-foot piece of aluminum foil from the roll and fold into thirds.
Place the springform pan in the center of the strip, and keep a finger on each side the pan (to avoid tipping) while holding the ends of the sling to lower into the Instant Pot.
New to cooking with a pressure cooker? Try out the Be the Boss of Your Instant Pot Video Course! It'll help take the pressure off and ease you into cooking with your Instant Pot.
Do You Need A Special Pan to Make Instant Pot Oreo Cheesecake?
No and Yes. You'll use a springform pan for cooking just like you would when baking a cheesecake in the oven. This cheesecake pan is a favorite as well as a push pan. However, you'll need to get a small 7-inch springform to fit inside the Instant Pot.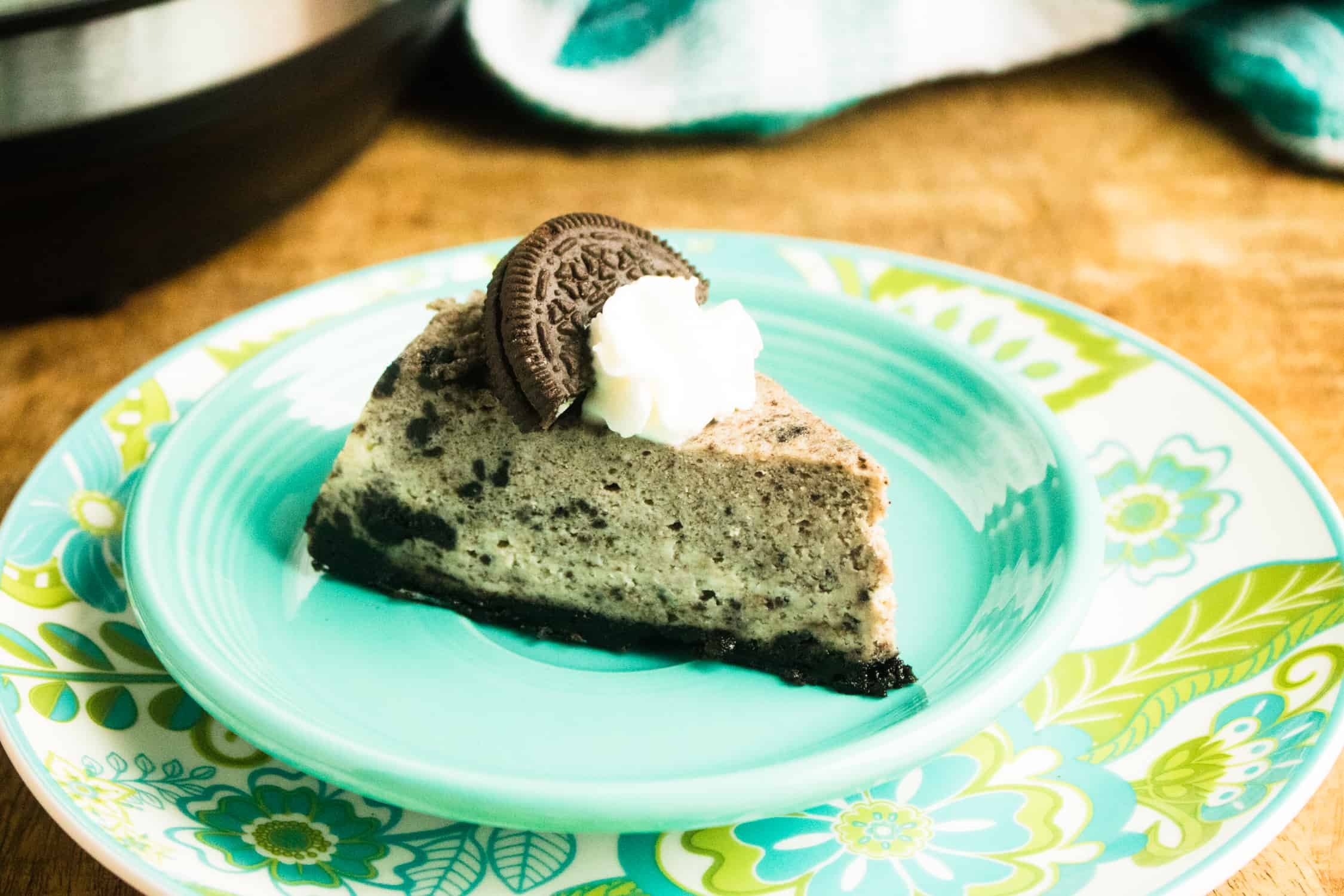 Like this recipe? Check out all off our Cheesecake Recipes. We're adding more extraordinary flavors all the time! A couple of our favorites, besides this one, are Orange Creamsicle Cheesecake and Oreo Cheesecake. Then, there's our Peanut Butter Cheesecake and Peppermint Cheesecake. And our Creme Brulee Cheesecake...WOW!
How to Make Instant Pot Oreo Cheesecake Step by Step
Full steps on how to make Oreo cheesecake are in the printable recipe card below.
Step #1: Combine Oreo crumbs with sugar and melted butter then pat down on the bottom of a 7-inch springform pan sprayed with non-stick cooking spray.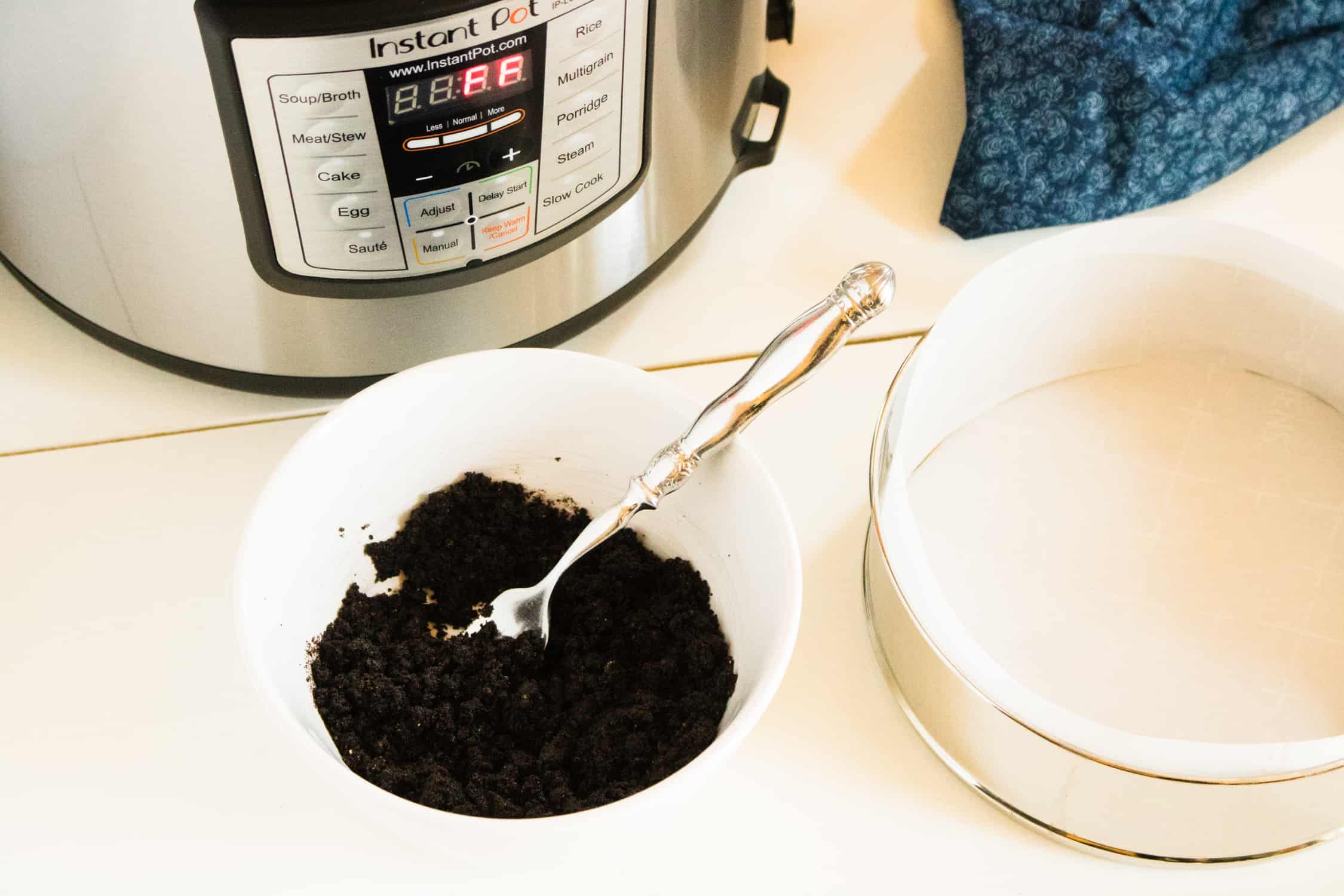 Step #2: Cream together the cream cheese and sugar until smooth and then mix in the eggs one at a time. Next, add in the vanilla extract and sour cream until smooth.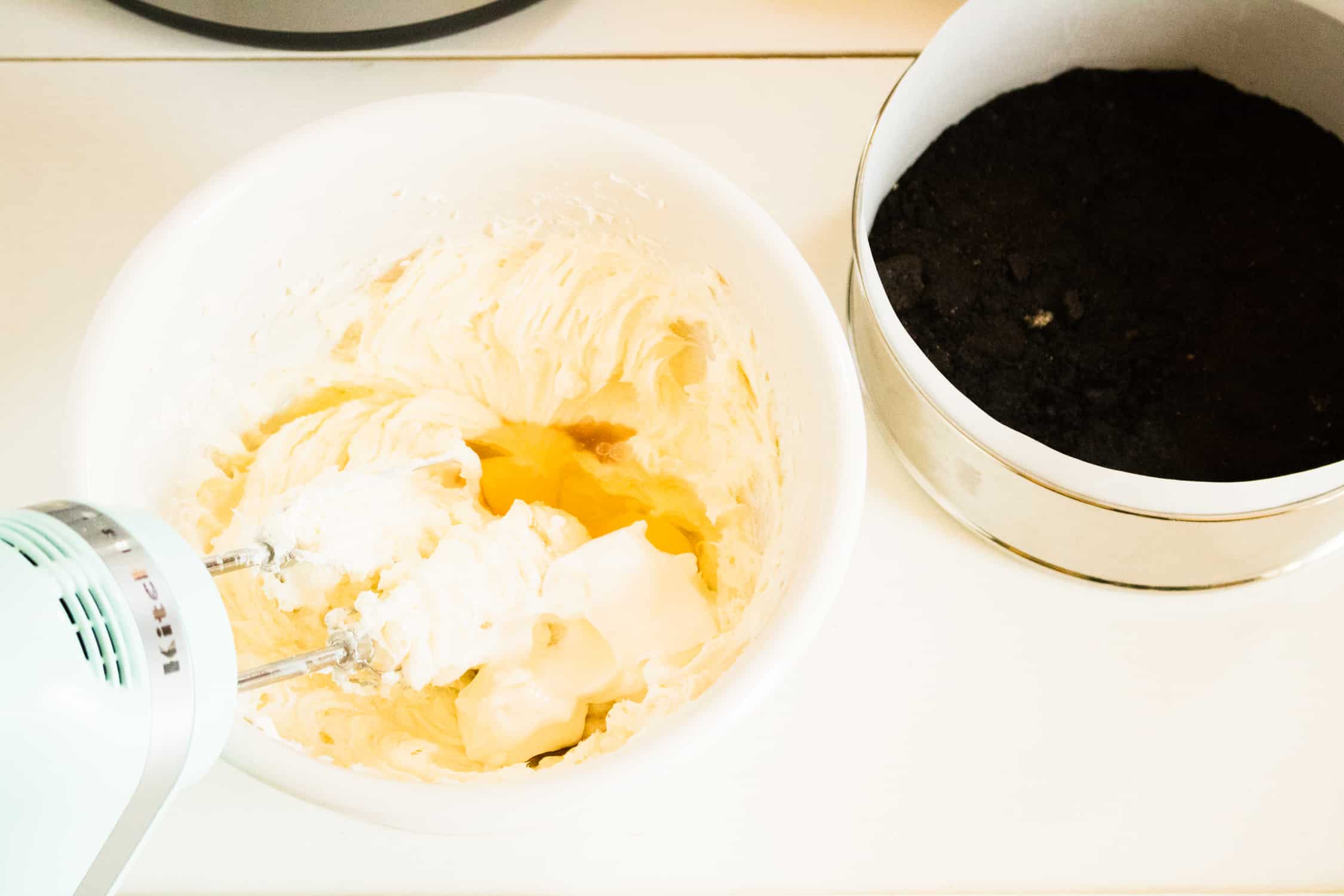 Step #3: Stir in the Oreo crumbs. You can buy Oreo cookie crumbs or you can crush them in a bag with a rolling pin.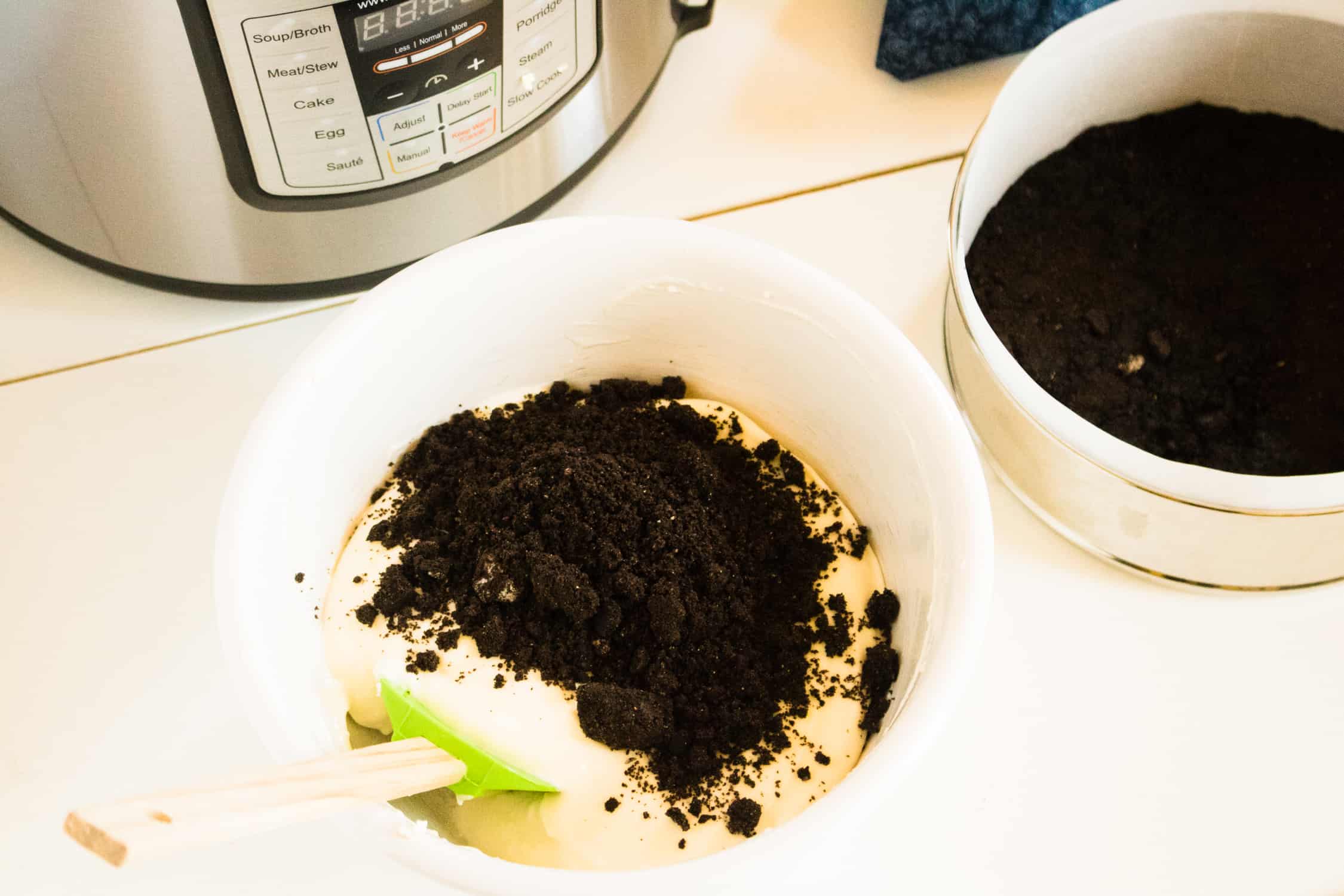 Step #4: Next, pour the cheesecake mixture into the springform pan on top of the Oreo crust.
Step #5: Then, run a knife back and forth through the cheesecake several times to remove air bubbles. Tightly cover with foil to prevent condensation from getting into the batter.
Step #6: Pour two cups of water into the inner pot of the Instant Pot. Then place your trivet, or sling inside.
Step #7: Make a sling out of aluminum foil to lower the pan into the pressure cooker.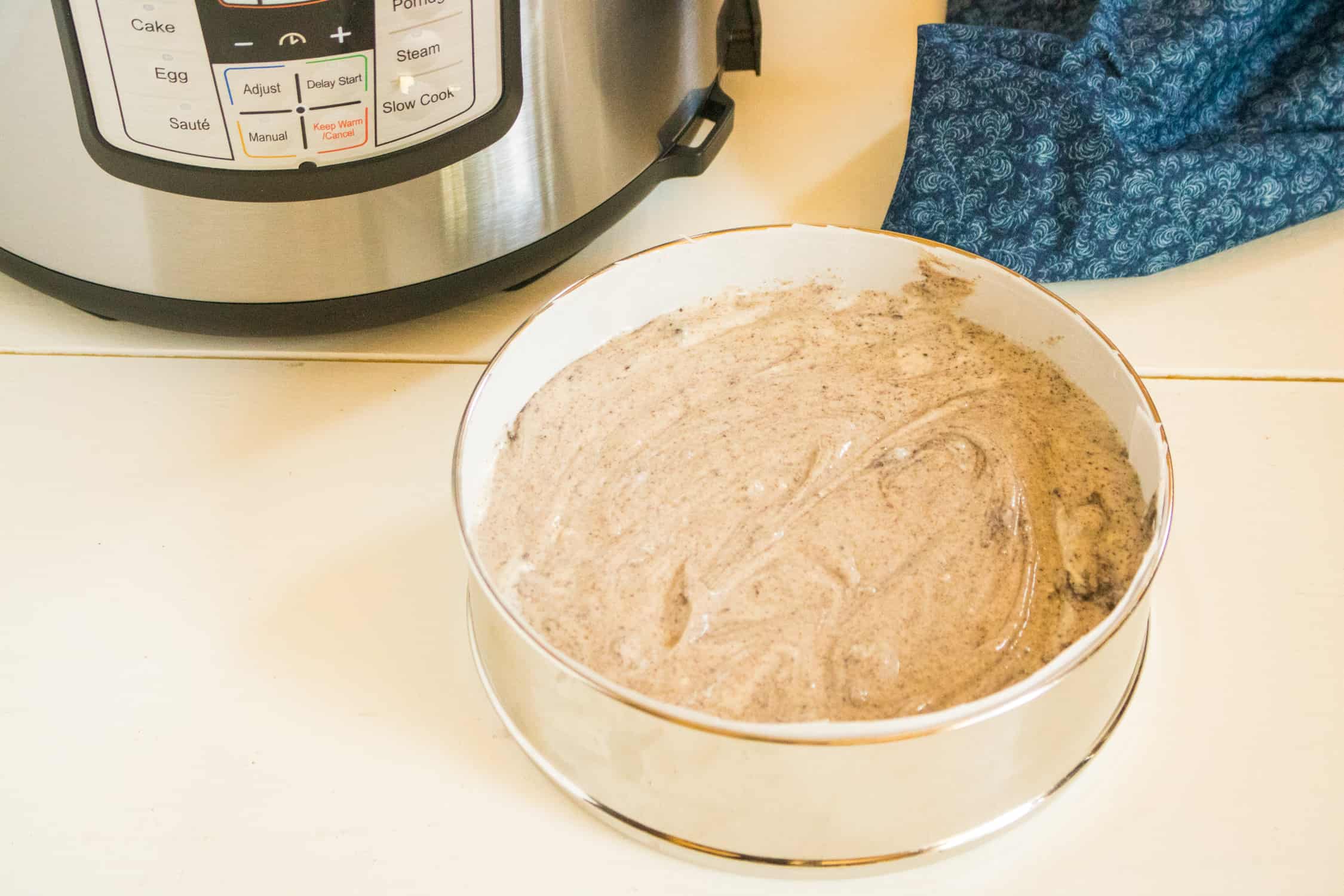 Step #8: Close the lid of the Instant Pot and turn to sealing position. Make sure the valve is set to sealing.
Step #9: Set for a manual high-pressure time of 35 minutes. When the time has finished, allow for a natural release for 12 minutes before letting out the rest of the steam.
Step #10: Cool on the counter for an hour and then put in the refrigerator and cool for an additional 4 hours.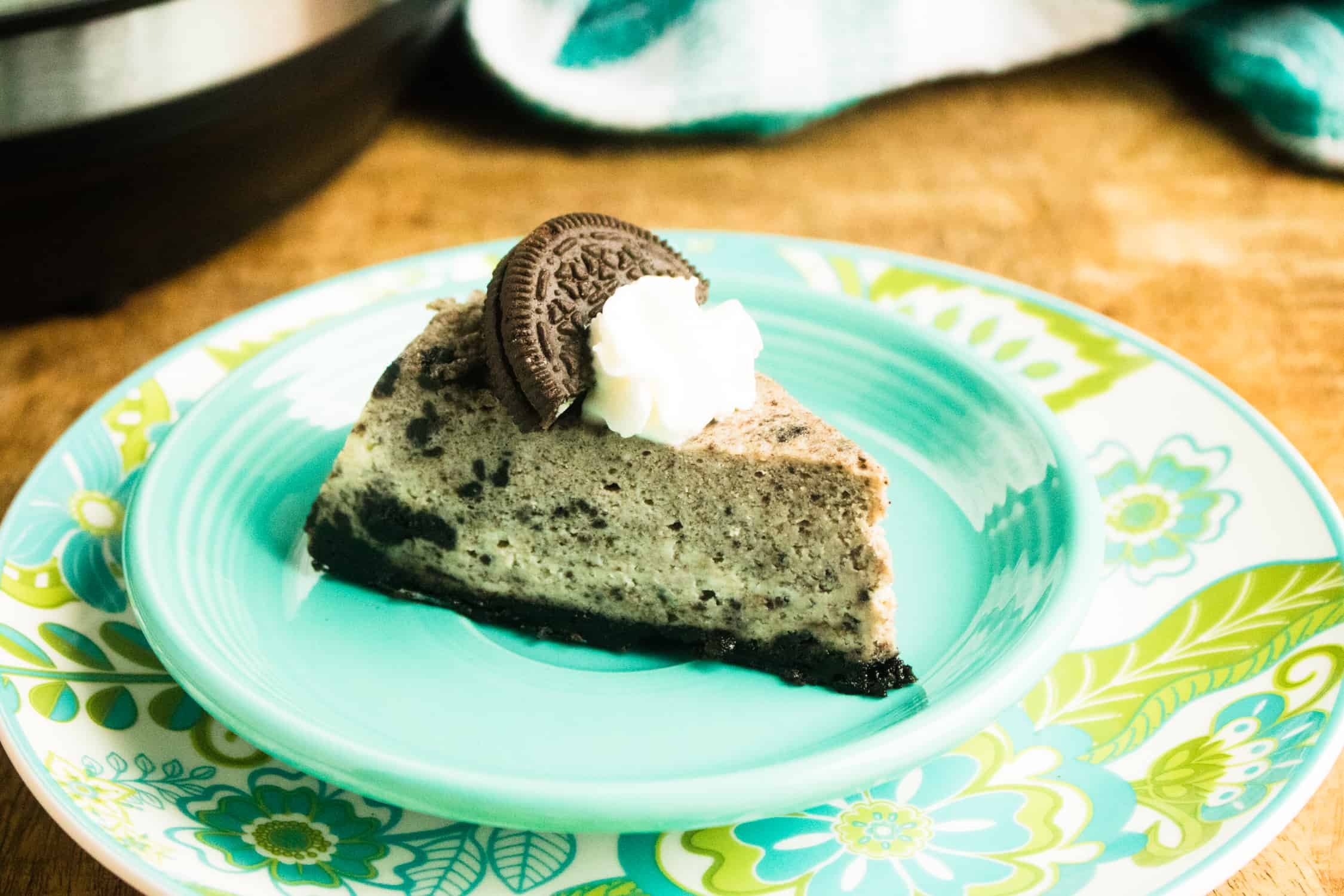 Storage
This cheesecake factory oreo cheesecake inspired recipe needs to be stored in the fridge, or toss in the freezer.
Place your cheesecake in an airtight container and refrigerate for up to a week. Or freeze for 2-3 months.
Thaw the frozen cheesecake in the fridge overnight. Then slice and enjoy this simple cheesecake.
Variations To Cheesecake Recipe
This is the best cheesecake recipe, but if you are craving some changes, here are some ideas.
Create chocolate ganache to pour over this cookies and cream chocolate cheesecake.
Reach for Mint Oreos or another flavor of Oreos to change up the flavor of your cheesecake.
Create a cream cheese frosting to pip on top of the cooled cheesecake.
Drizzle with hot fudge for a festive chocolate twist to the instapot cheesecake.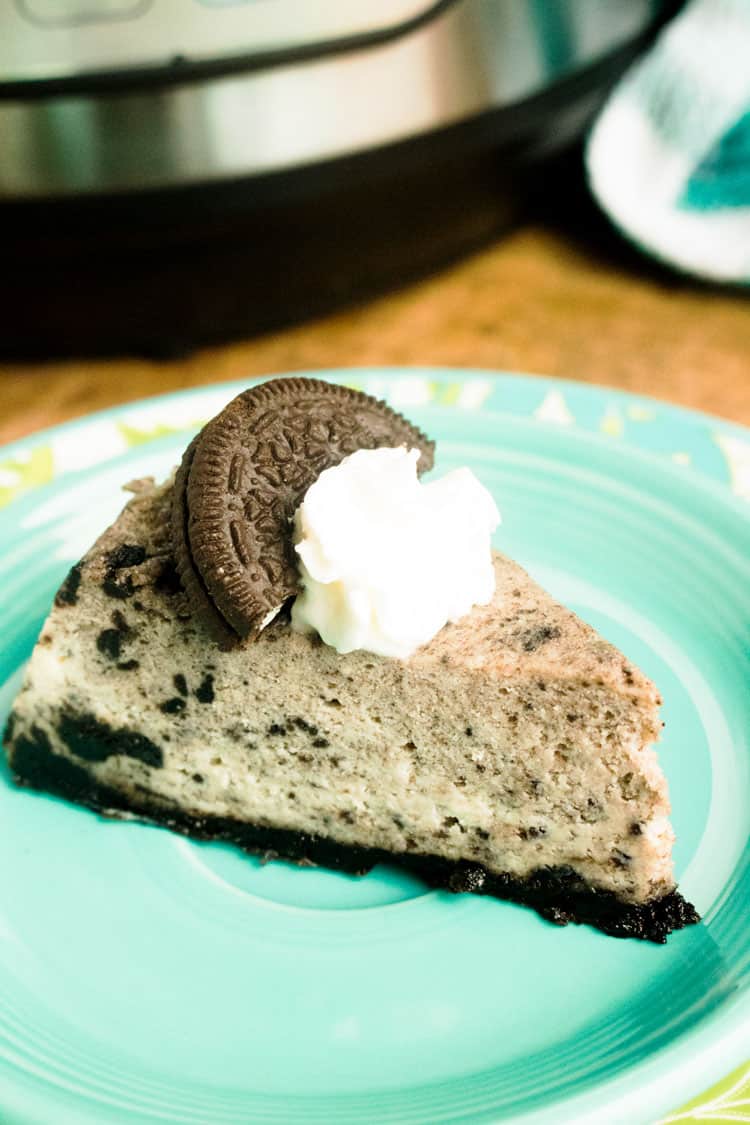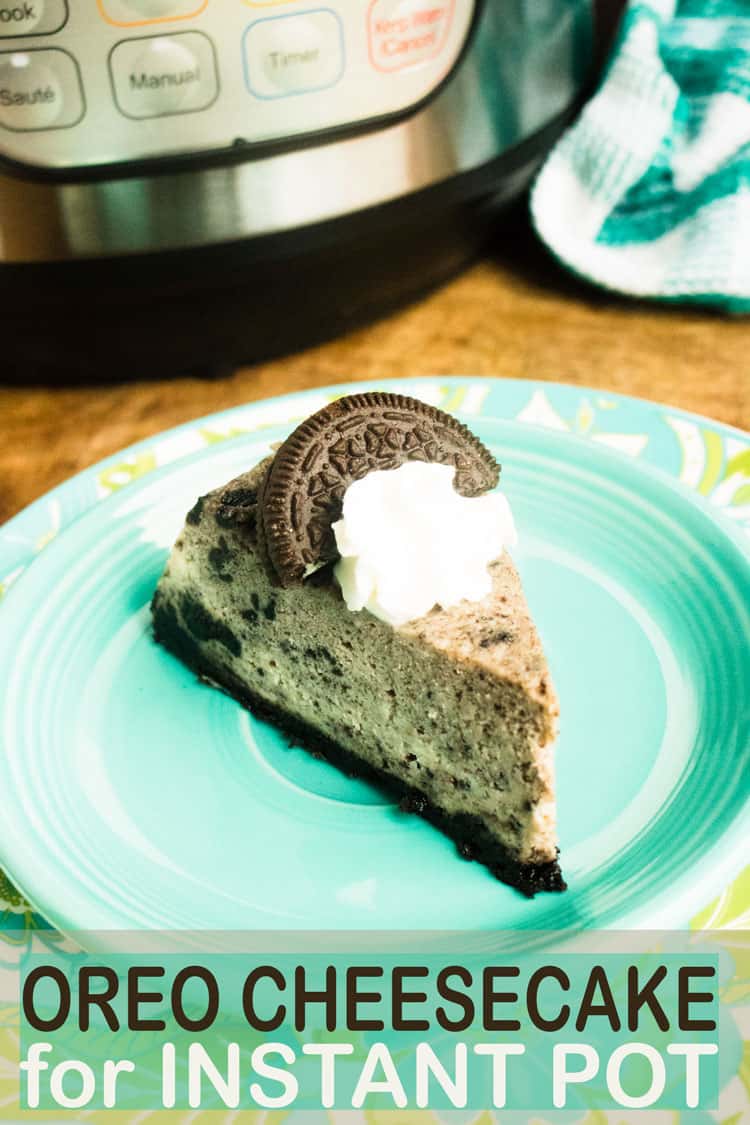 More Cream Cheese Dessert Recipes
Recipe FAQs
What's the best cheesecake?
To me, a classic New York Cheesecake or Oreo Cheesecake are my favorite cheesecakes. You will find that depending on who you ask depends on what they recommend the best cheesecake to be.
How do I make sure my cheesecake doesn't crack?
1. Use room temperature ingredients.
2. Don't overmix the batter once you stir in the eggs.
3. Springform pans or push pans are recommended for optimal cooking.
4. Don't over-bake the cheesecake.
Do you need a water bath for cheesecake?
The Instant Pot can't come to pressure without a water bath. So the cheesecake water bath helps the Instant Pot work properly but you need to make sure also use have a water bath, as cheesecake is a rich custard. So the water bath allows your delicate dessert to cook properly.
How long should cheesecake cool before going in fridge?
I allow my cheesecake to cool for 1-2 hours, and then I cover and refrigerate. Some recommend allowing the cheesecake to cool for up to 4 hours. But, allowing your cheesecake to sit out for an extended time can cause bacteria to grow.
Supplies for Making Instant Pot Cheesecakes
Recipe