Summertime makes people think of favorite desserts like the orange creamsicle pop. Orange is one of the best Instant Pot cheesecake flavors, which is why I made this orange creamsicle cheesecake.
The tangy orange taste married with the creamy vanilla flavor is truly a match made in heaven. This instapot cheesecake is so delightful.
This Instant Pot Orange Creamsicle Cheesecake is kind of like the grown-up version of the famous ice cream treat.
But don't worry, this dessert keeps all the delicious sunny flavor and all the fun of the Creamsicle frozen treats you remember.
You'll feel like you are 8 years old again once you taste this amazing dessert. Promise!
If you're obsessed with orange (hello, Instant Pot Orange Chicken and Orange BBQ Sauce meatballs!). If you're the same, you'll want to try our orange cheesecake recipe.
Why You Will Love Instant Pot Orange Creamsicle Cheesecake
Because it's pretty! First impressions and presentation are a big deal, so serve this at your next party and be prepared for your guests to be impressed before they even take a bite.
Instant Pot Orange Creamsicle Cheesecake is sophisticated, yet bright and cheerful. And it just begs you to dig in and savor the flavor.
As beautiful and complicated as it looks, this Instant Pot Orange Creamsicle Cheesecake recipe is actually quite easy! Plus, how often do you get to use food coloring?
Making anything look instantly pretty with a few drops of magical coloring and a few quick swirls always brings a smile.
The flavor is out of this world! The pairing of orange and cream is a favorite, and for good reason. Tangy tartness and mellow cream cheese are the perfect flavor combination.
Add a sweet graham cracker crust to the mix like this Instant Pot Orange Creamsicle Cheesecake recipe does, and it is a delicious slice of heaven.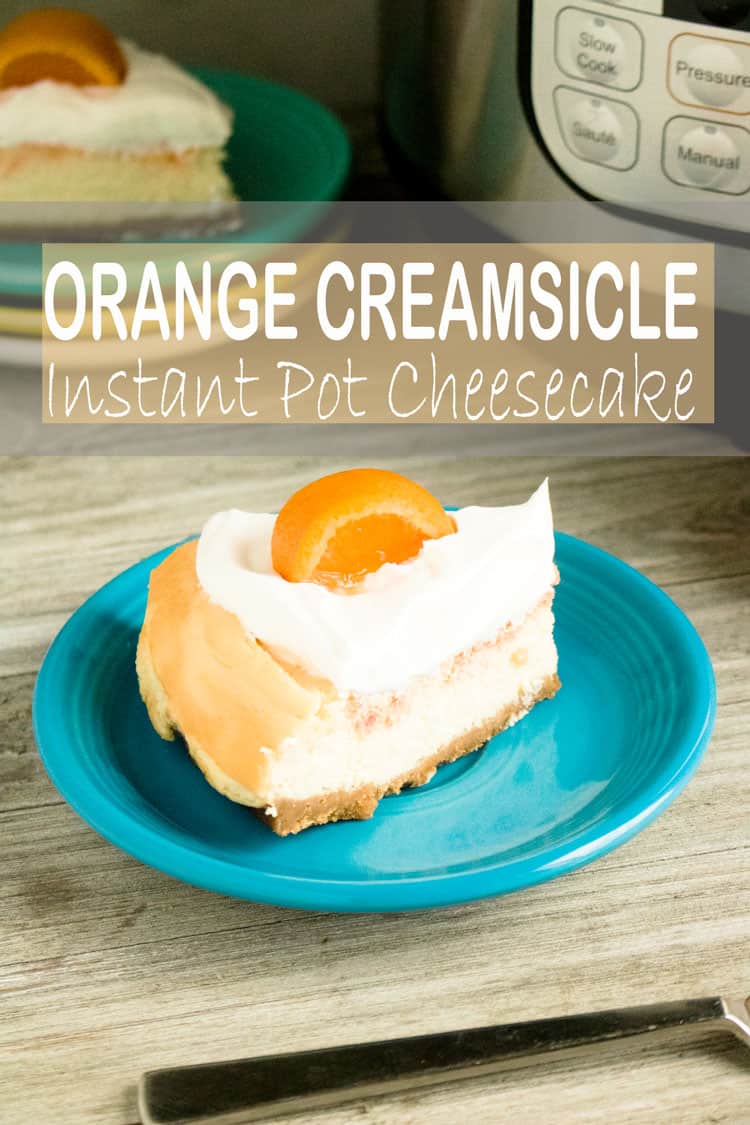 More Recipes Like Instant Pot Orange Creamsicle Cheesecake
Looking for more fruity dessert recipes similar to Instant Pot Orange Creamsicle Cheesecake? Check out these great summertime sweet treats:
Cherry Cobbler recipe is an easy and sweet dessert recipe that you'll want to try. Topped with vanilla ice cream, it's even better!
Cherry Almond Poke Cake is amazingly moist and has a great cherry flavor.
Speaking of berries, delicious strawberries are at their peak right now, too! How about putting them into this fun, Strawberry Pie with Jello? An added bonus is that you don't have to turn on your oven for this one!
Ingredients For This Instant Pot Cheesecake Recipe
Graham Cracker
Butter
Sugar
Cream Cheese
Eggs
Orange Extract
Sour Cream
Orange Food Coloring
Like this recipe? Check out all off our Cheesecake Recipes. We're adding more extraordinary flavors all the time! A couple of our favorites, besides this one, are Orange Creamsicle Cheesecake and Oreo Cheesecake. Then, there's our Peanut Butter Cheesecake and Peppermint Cheesecake. And our Creme Brulee Cheesecake...WOW!
How to Make Instant Pot Orange Creamsicle Cheesecake Step By Step
Step #1: Combine graham cracker crumbs with sugar and melted butter and pat down on the bottom of a 7-inch springform pan sprayed with non-stick cooking spray.
Step #2: Cream together the cream cheese and sugar until smooth and then mix in the eggs one at a time. Mix in the vanilla extract and sour cream until smooth.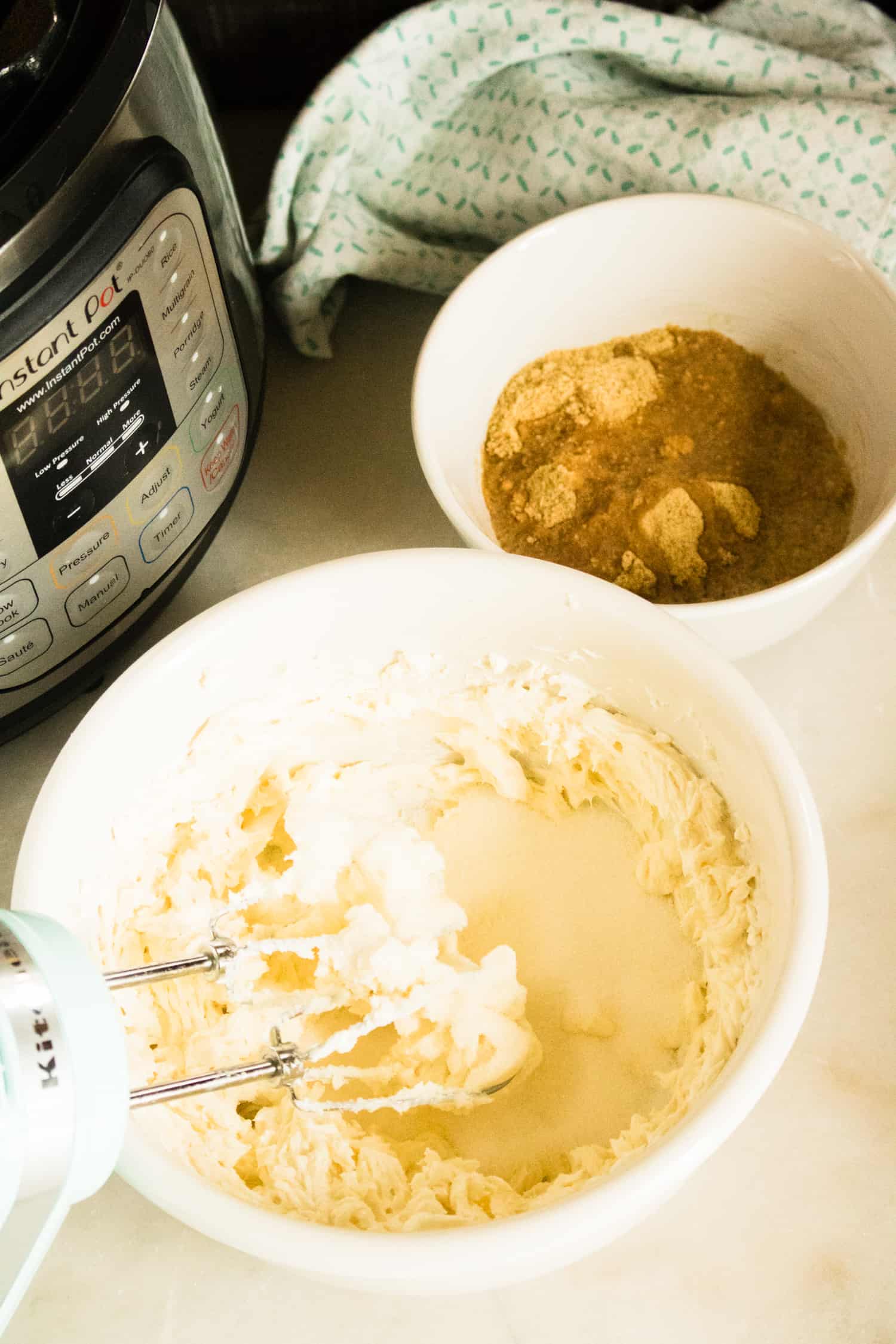 Step #3: Pour mixture into springform pan on top of the graham cracker crust.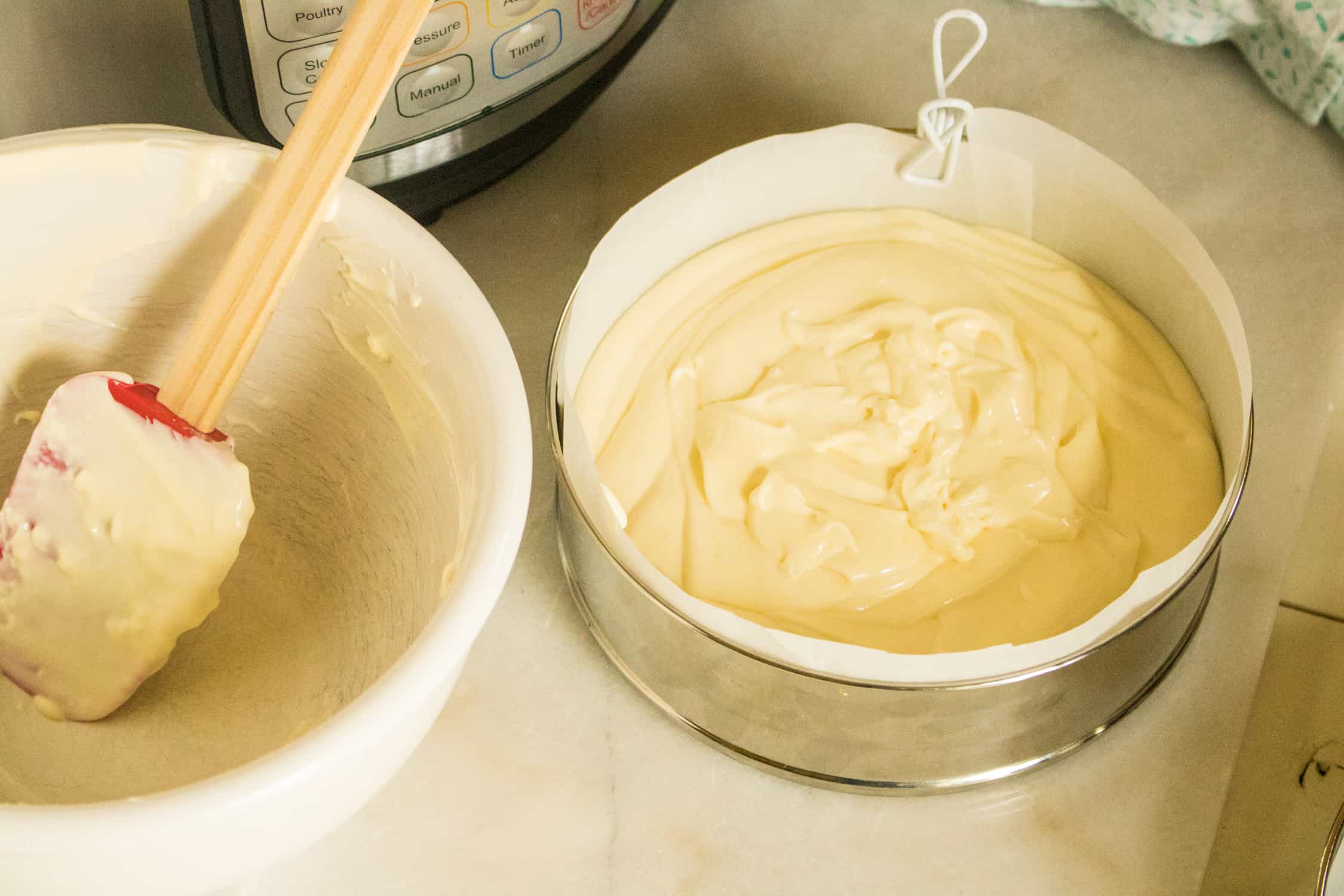 Step #4: Swirl orange food coloring into the cheesecake batter and run a fork back and forth through the cheesecake several times to remove air bubbles. Cover with foil.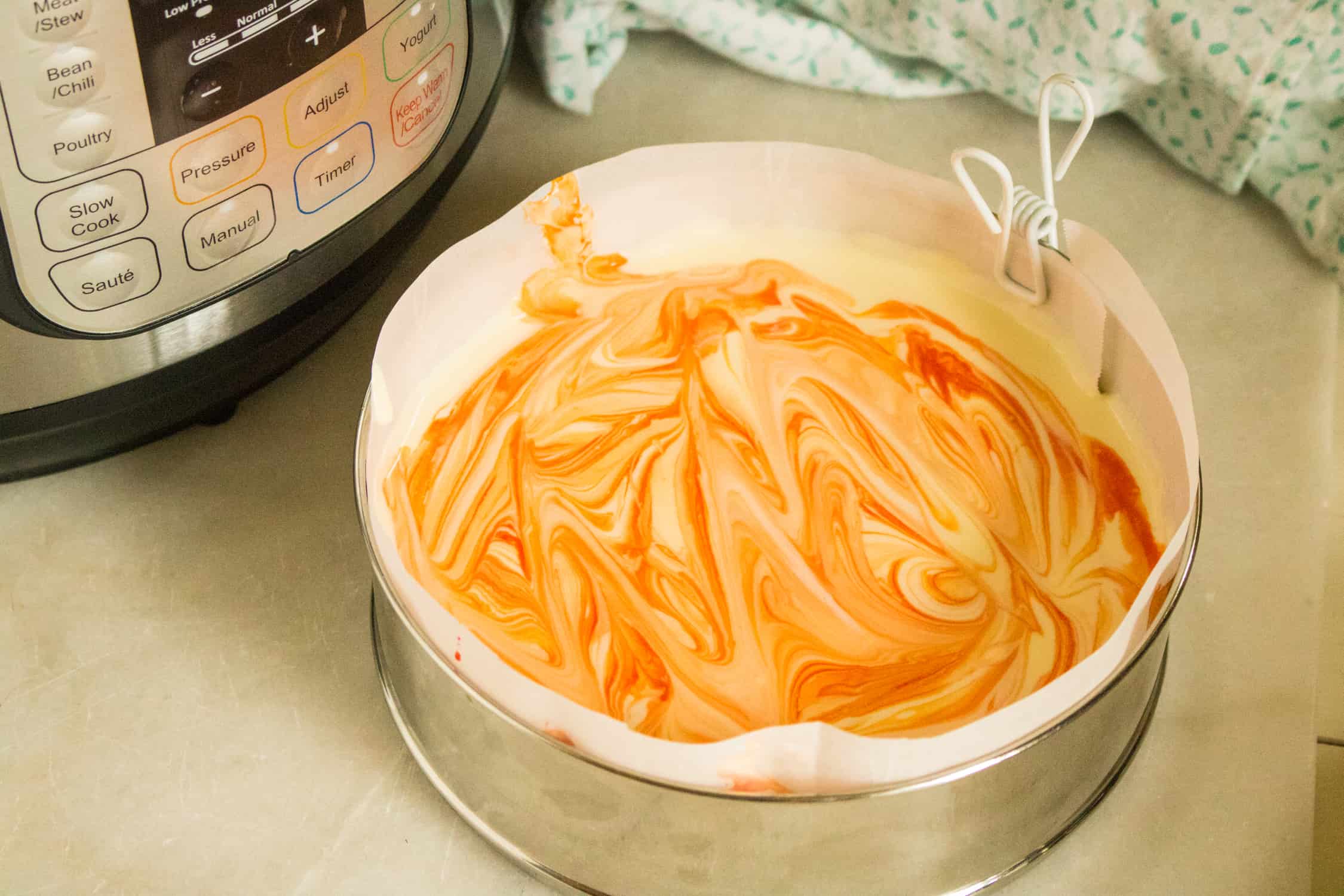 Step #5: Pour two cups of water into the inner pot of the Instant Pot. Make a sling out of aluminum foil to help lower the pan into the pressure cooker.
Step #6: Close the lid of the Instant Pot and turn to sealing position. Set for a manual high-pressure time of 35 minutes. When the time has finished, allow for a natural release for 12 minutes before letting out the rest of the steam.
Step #7: Cool on the counter for an hour and then put in the refrigerator and cool for an additional 4 hours. Then slice, serve & enjoy!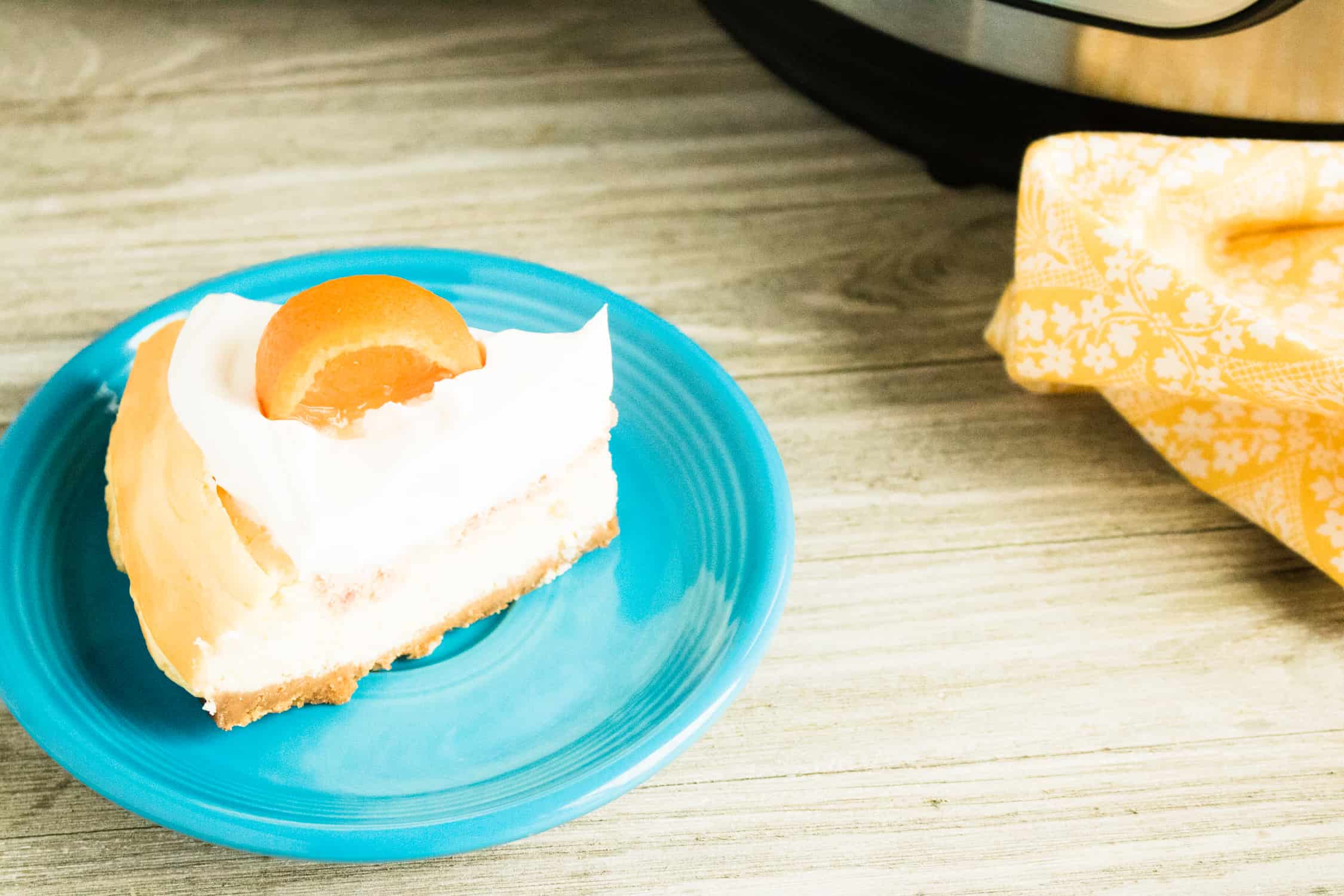 Supplies to Make Instant Pot Cheesecake
Recipe FAQs
How to cut cheesecake?
Did you know that unflavored dental floss is a very popular way to cut cheesecake?

Learn how to cut cheesecake with dental floss. Simply slice the cheesecake and let go of one edge of the floss and pull through. It will offer a nice and clean cut each and every time.

This is one of the best ways to cut cheesecake! You will also find there is a cheesecake cutting machine you can buy if you enjoy eating cheesecake a lot.
Where to buy parchment paper?
Did you know you can buy pre-cut parchment paper at your local grocery store or online at Amazon. I find that round parchment paper sheets are best.

How to cut parchment paper for a round pan?
Tear off the parchment paper and then fold it in half.

Then you will find the parchment in half. Repeat and fold the parchment in half again. Then create a triangle shape.

Then do the triangle shape again. Then place it next to the pan and cut with the parchment paper. Unfold it and it will be a round shape to fit your pan.
Best cheesecake pan sizes?
I am a huge fan of the fat daddio push pan, I find they fit great. You need to buy one that fits into your Instant Pot depending on the size of your pan.

Fat Daddio cheesecake pans come in both push pan and springform styles. They both are removable bottom cake pans. You can also call the pan a cheesecake mold.

The instant pot cheesecake pan generally ranges 6-7 inches. You can also use cheesecake without a springform pan, you just won't be able to slice and serve the cheesecake. Just reach for a cake pan.
How to know cheesecake is done?
You will want to slightly jiggle your cheesecake and see that it is set. The quarter-size in the center of the cheesecake will jiggle just a bit.

If you find it is still extra wiggly, then pressure cooks it another 5-10 minutes.
How do I make sure my cheesecake doesn't crack?
Here are tips to prevent cracking in your cheesecake. Use room temperature ingredients, don't overmix once you add in the eggs. Make sure to not over-cook your pressure cooker cheesecake.
More Pressure Cooker Cheesecake Recipes
Vanilla Cheesecake Recipe, Pecan Ninja Foodi Cheesecake, New York Cheesecake, Twix Cheesecake.
If you love recipes with fresh oranges, you will truly enjoy this cheesecake recipe. Orange dessert recipes using oranges that are freshly picked are always best, but use what you have assuming you don't have an orange tree in your backyard.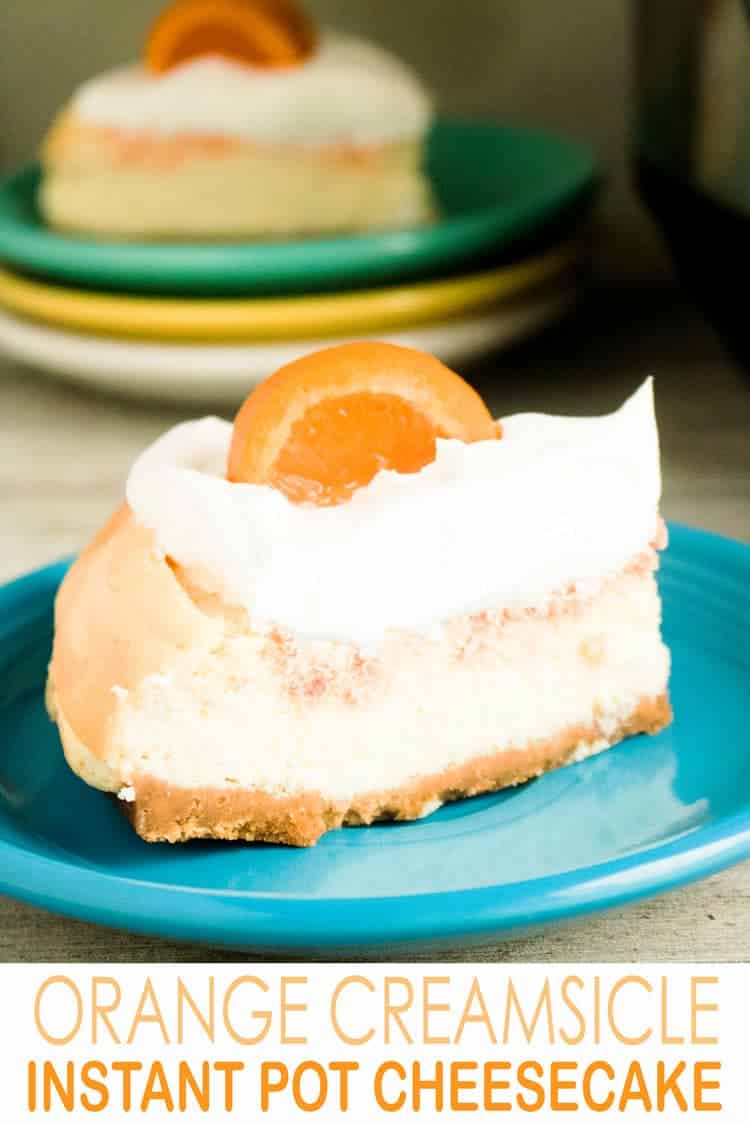 Supplies Needed to Make a Instant Pot Cheesecake
Recipe