Summertime makes people think of favorite desserts like the orange creamsicle pop. Orange is one of the best cheesecake flavors.
The tangy orange taste married with the creamy vanilla flavor is truly a match made in heaven.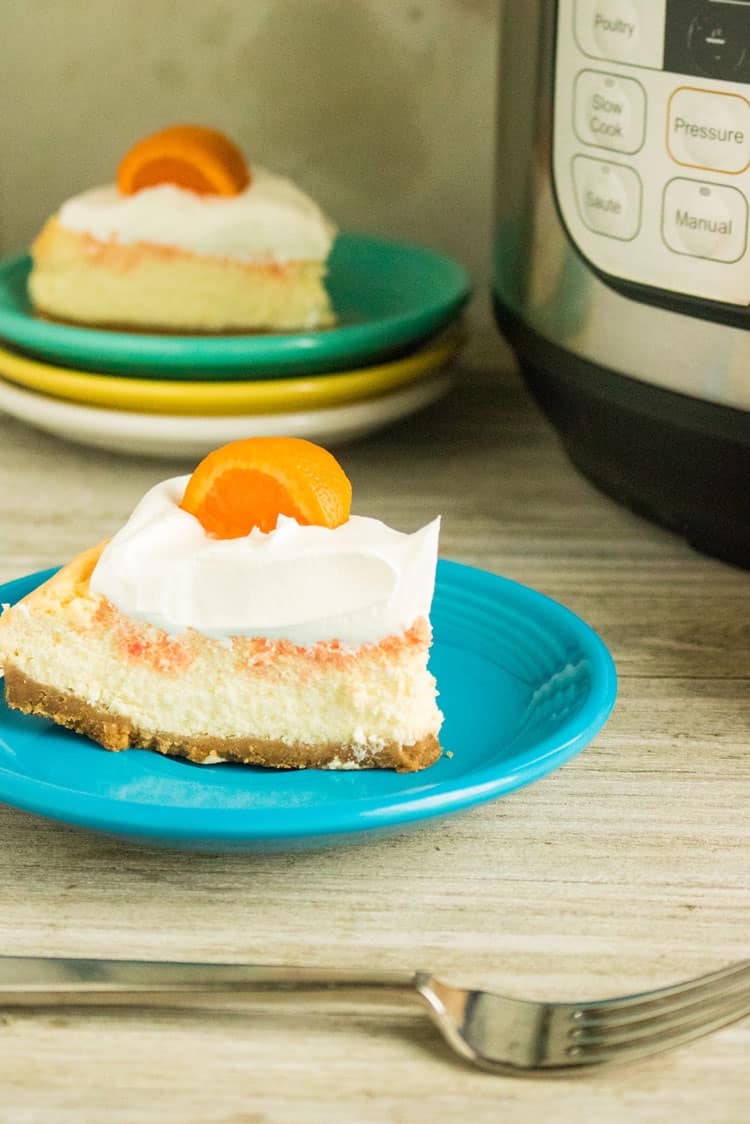 This Instant Pot Orange Creamsicle Cheesecake is kind of like the grown-up version of the famous ice cream treat.
But don't worry, this dessert keeps all the delicious sunny flavor and all the fun of the Creamsicle frozen treats you remember.
You'll feel like you are 8 years old again once you taste this amazing dessert. Promise!
Why You Will Love Instant Pot Orange Creamsicle Cheesecake
Because it's pretty! First impressions and presentation are a big deal, so serve this at your next party and be prepared for your guests to be impressed before they even take a bite.
Instant Pot Orange Creamsicle Cheesecake is sophisticated, yet bright and cheerful. And it just begs you to dig in and savor the flavor.
As beautiful and complicated as it looks, this Instant Pot Orange Creamsicle Cheesecake recipe is actually quite easy! Plus, how often do you get to use food coloring?
Making anything look instantly pretty with a few drops of magical coloring and a few quick swirls always brings a smile.
The flavor is out of this world! The pairing of orange and cream is a favorite, and for good reason. Tangy tartness and mellow cream cheese are the perfect flavor combination.
Add a sweet graham cracker crust to the mix like this Instant Pot Orange Creamsicle Cheesecake recipe does, and it is a delicious slice of heaven.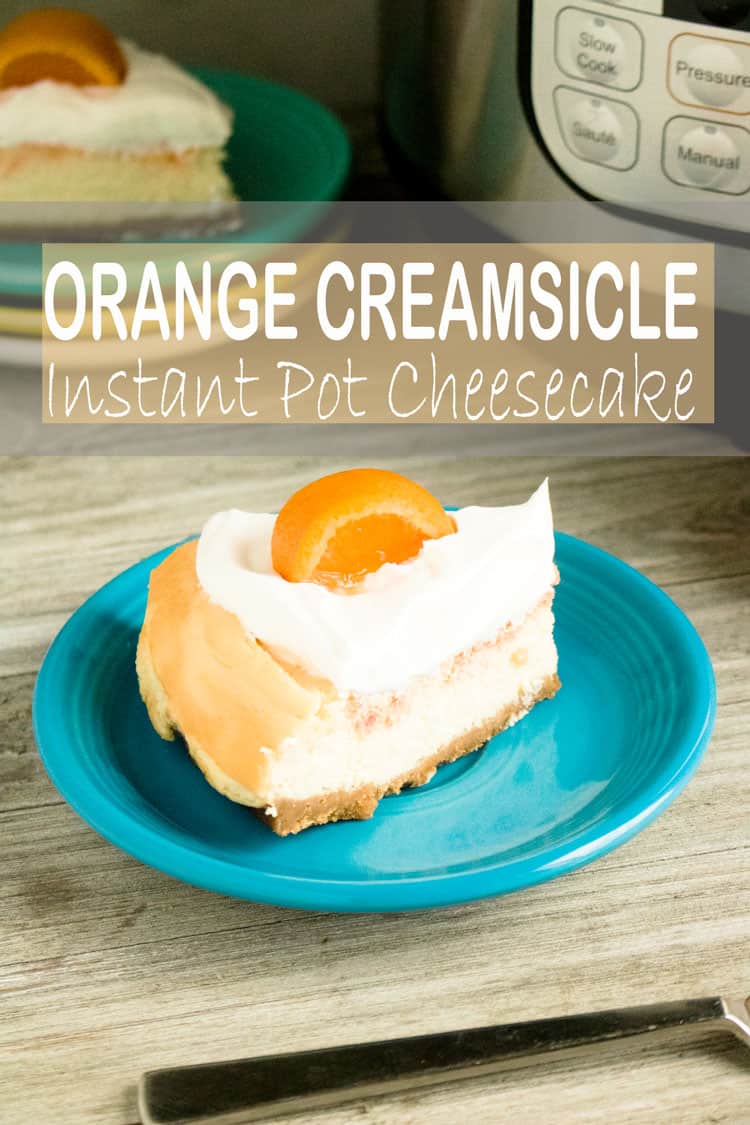 More Recipes Like Instant Pot Orange Creamsicle Cheesecake
Looking for more fruity dessert recipes similar to Instant Pot Orange Creamsicle Cheesecake? Check out these great summertime sweet treats:
Cherry Almond Poke Cake is amazingly moist and has a great cherry flavor.
Blueberries are in season, which makes this Blueberry Lemon Crumble Bar recipe the perfect choice for dessert or a potluck.
Speaking of berries, delicious strawberries are at their peak right now, too! How about putting them into this fun, adults-only Boozy Frozen Strawberry Daiquiri Pie recipe? An added bonus is that you don't have to turn on your oven for this one!
Like this recipe? Check out all off our Cheesecake Recipes. We're adding more extraordinary flavors all the time! A couple of our favorites, besides this one, are Orange Creamsicle Cheesecake and Oreo Cheesecake. Then, there's our Peanut Butter Cheesecake and Peppermint Cheesecake. And our Creme Brulee Cheesecake...WOW!
How to Make Instant Pot Orange Creamsicle Cheesecake Step By Step
Step #1: Combine graham cracker crumbs with sugar and melted butter and pat down on the bottom of a 7-inch springform pan sprayed with non-stick cooking spray.
Step #2: Cream together the cream cheese and sugar until smooth and then mix in the eggs one at a time. Mix in the vanilla extract and sour cream until smooth.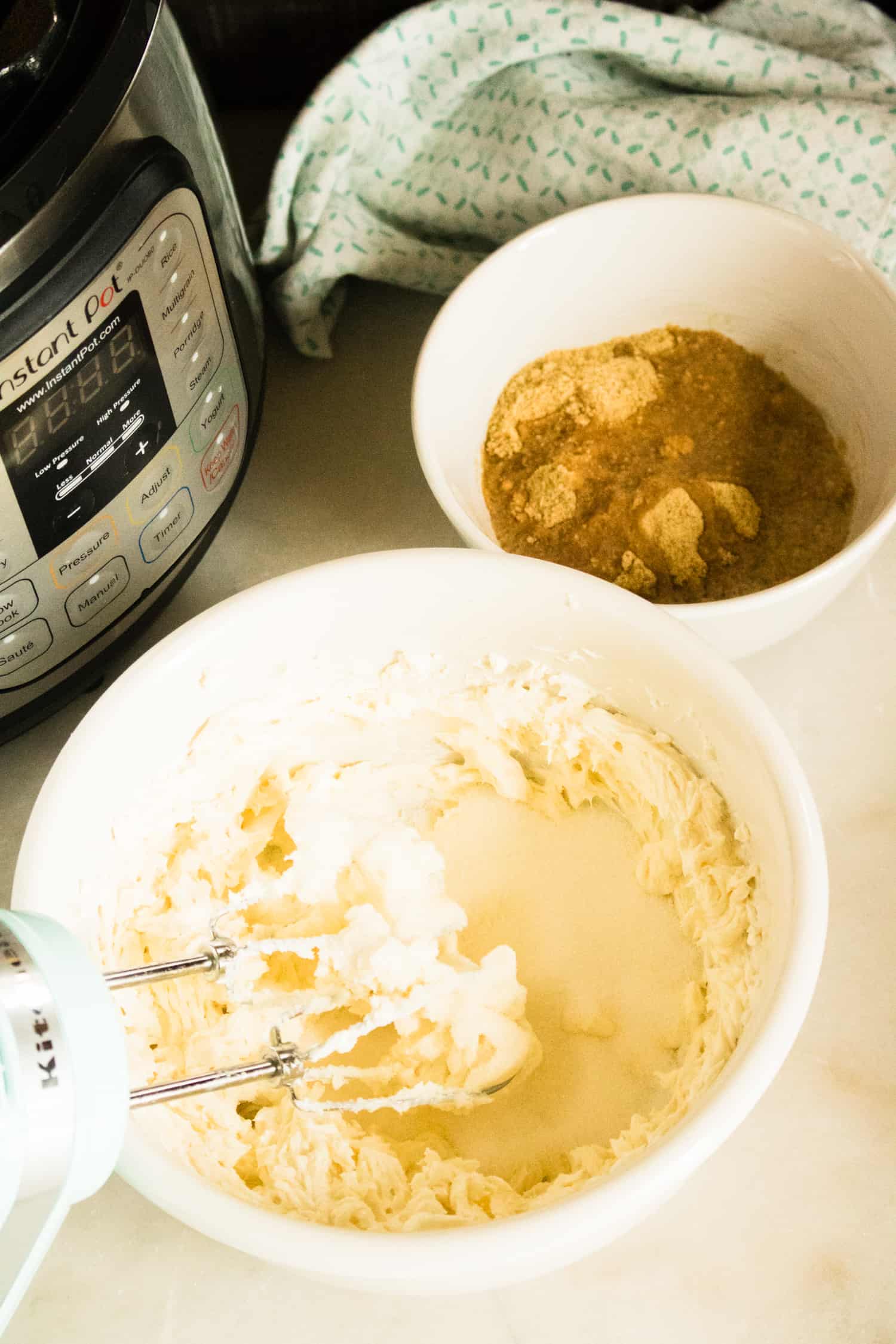 Step #3: Pour mixture into springform pan on top of the graham cracker crust.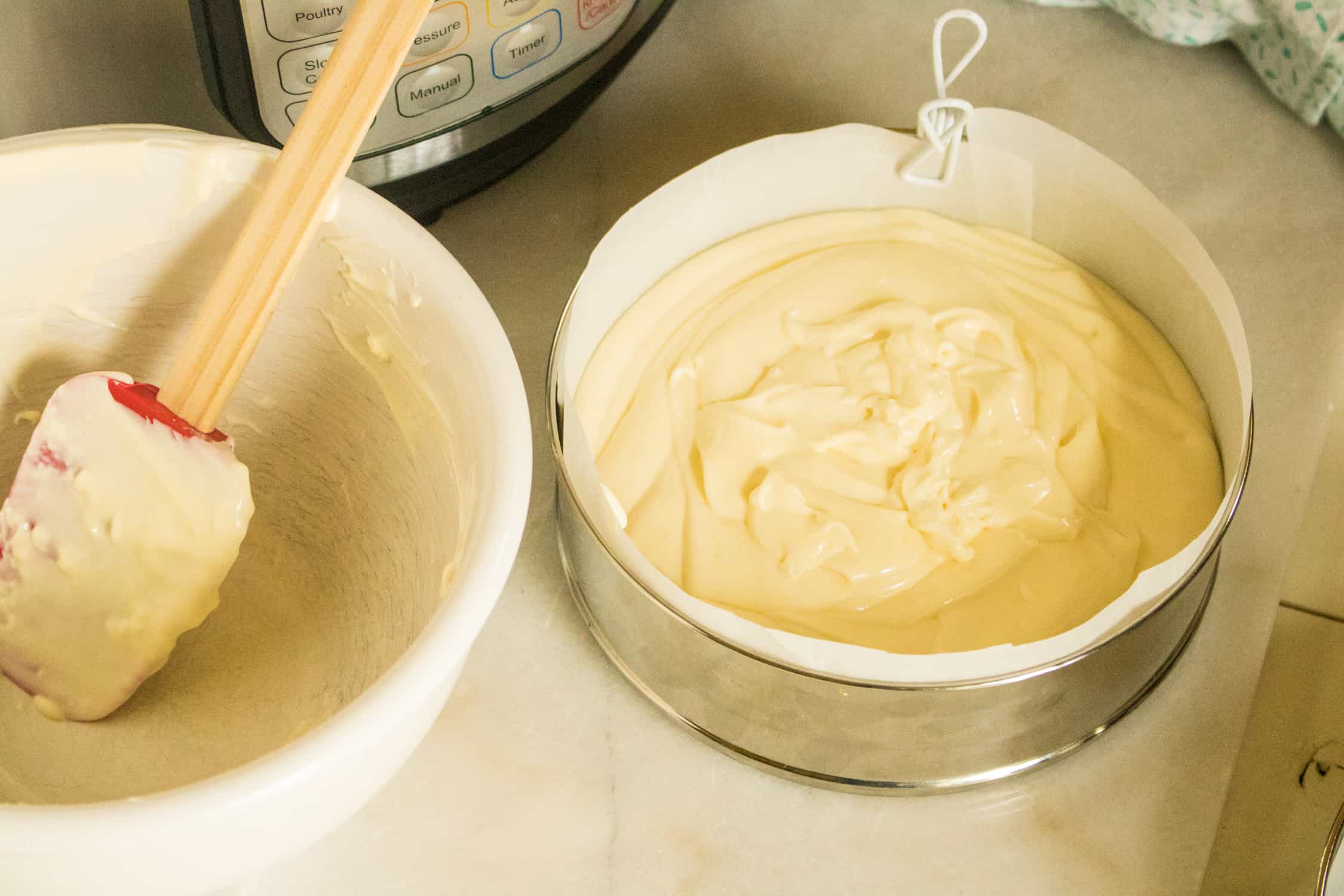 Step #4: Swirl orange food coloring into the cheesecake batter and run a fork back and forth through the cheesecake several times to remove air bubbles. Cover with foil.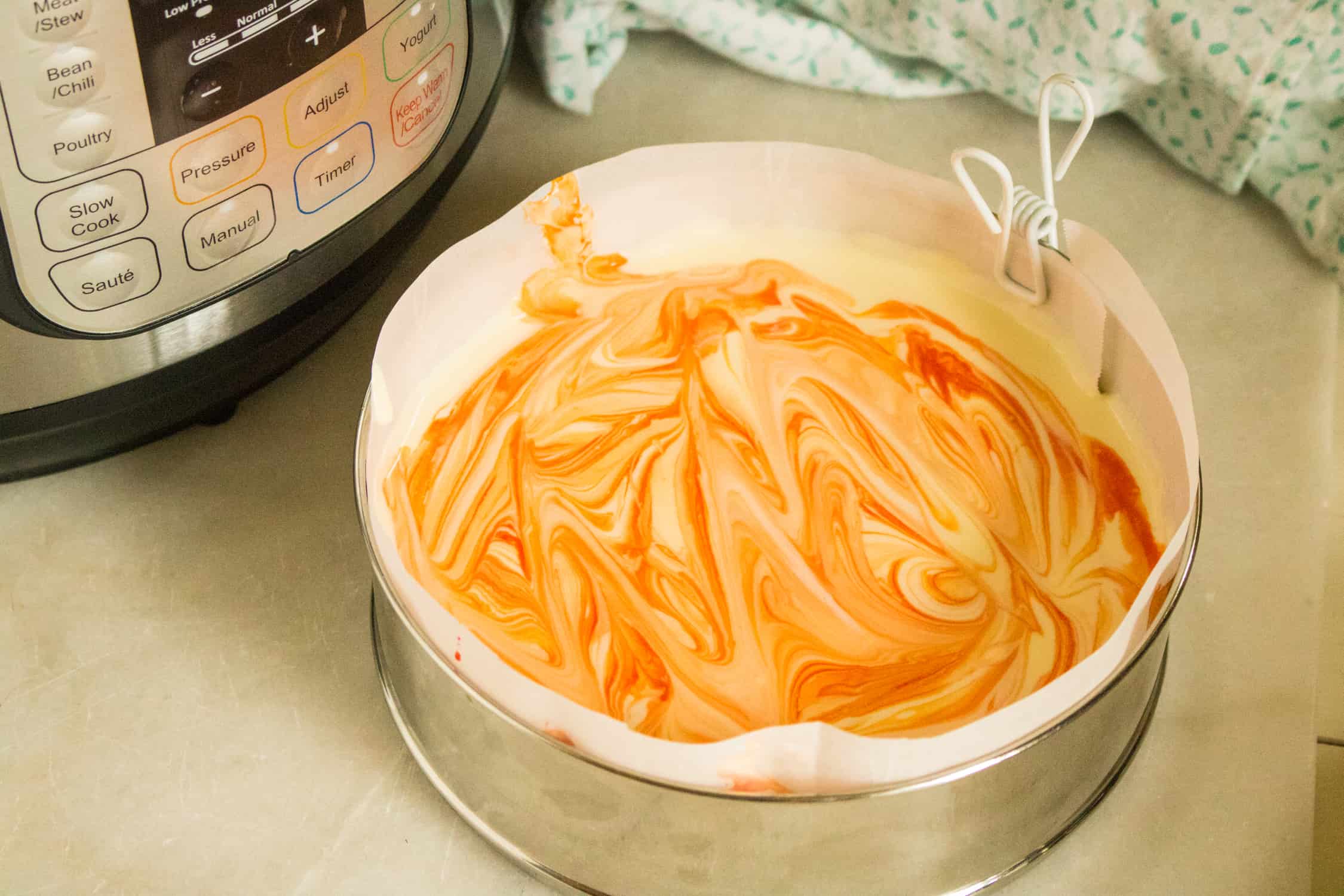 Step #5: Pour two cups of water into the inner pot of the Instant Pot. Make a sling out of aluminum foil to help lower the pan into the pressure cooker.
Step #6: Close the lid of the Instant Pot and turn to sealing position. Set for a manual high-pressure time of 35 minutes. When the time has finished, allow for a natural release for 12 minutes before letting out the rest of the steam.
Step #7: Cool on the counter for an hour and then put in the refrigerator and cool for an additional 4 hours. Then slice, serve & enjoy!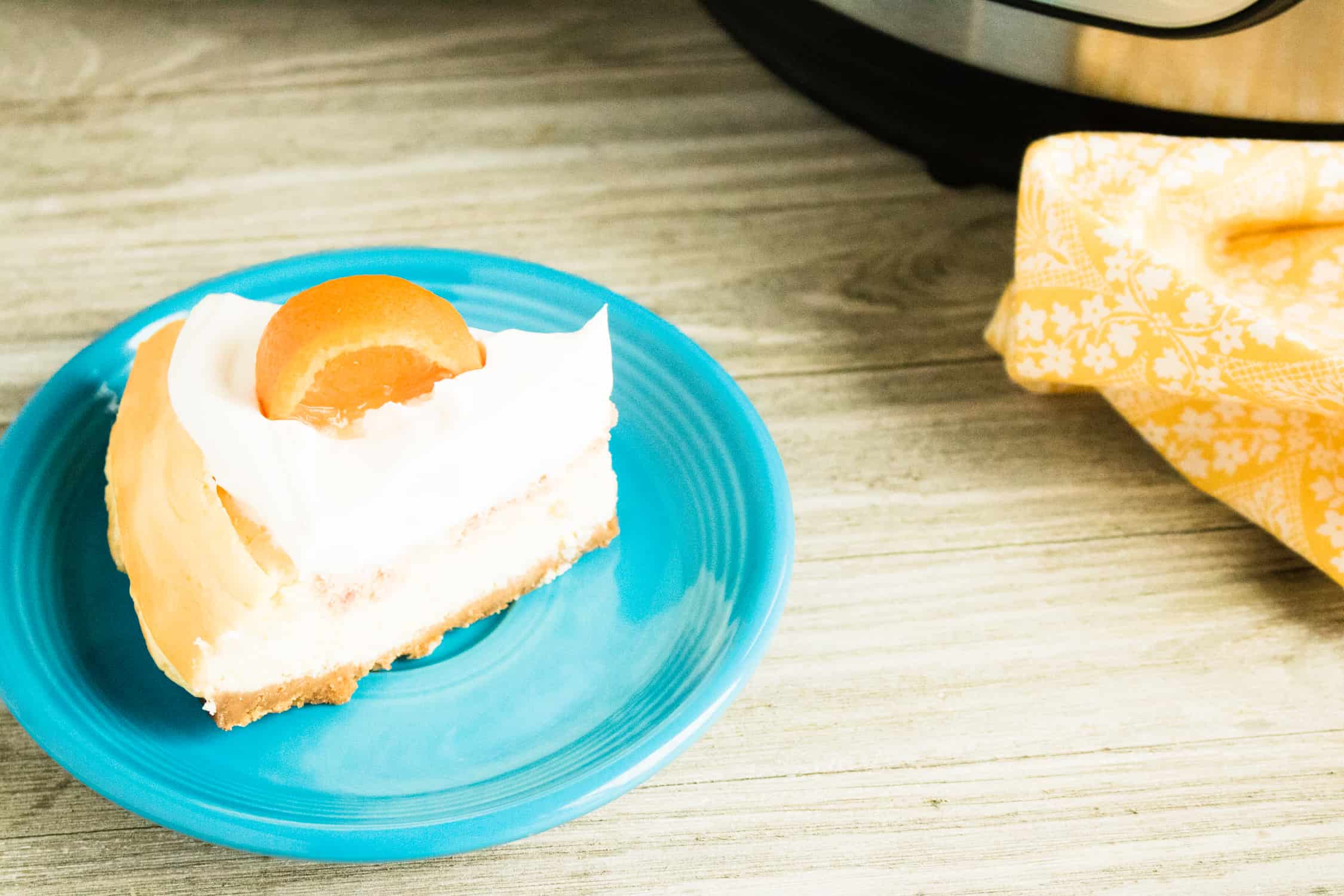 Supplies to Make Instant Pot Cheesecake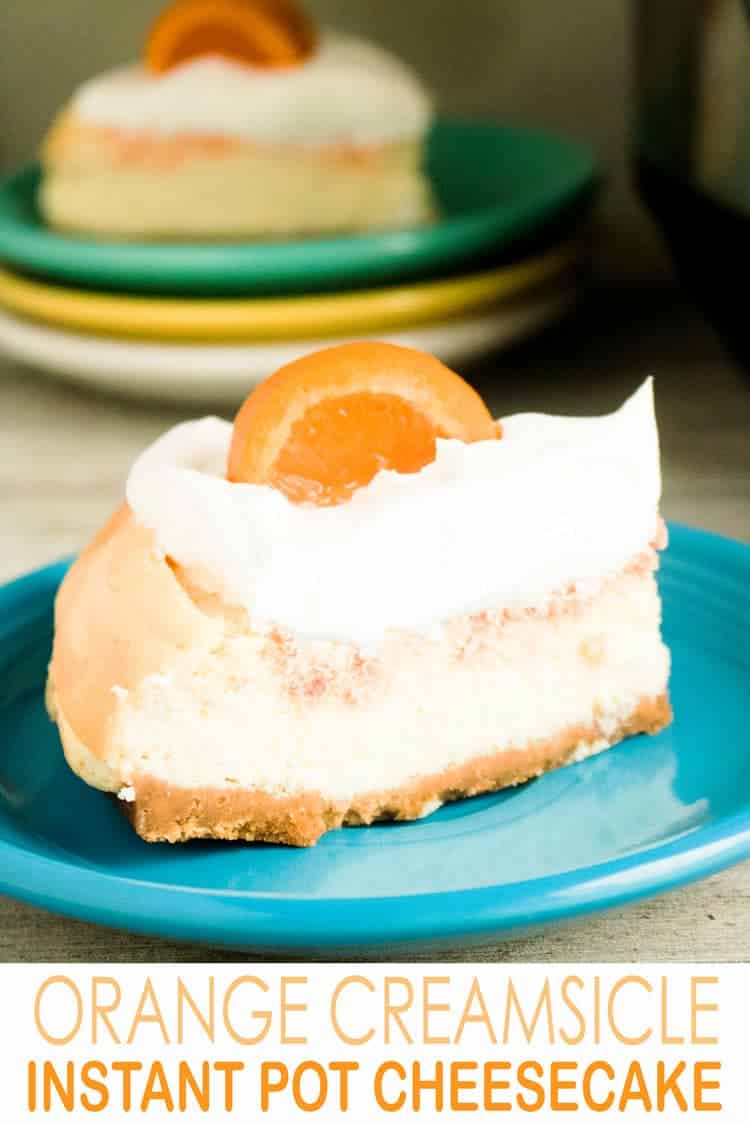 Supplies Needed to Make a Instant Pot Cheesecake
Get more Instant Pot recipes in our Facebook group and by following APressureCooker.com on Facebook, Pinterest, and Instagram. Have you tried this recipe? Don't forget to Rate This Recipe below!
Recipe