Transform delectable Instant Pot Meatballs into something even more amazing – Easy Italian meatball sliders! Each slider contains a classic Italian meatball smothered in rich tomato sauce and melty cheese, tucked inside a Hawaiian sliders roll.
These flavorful, easy meatballs are real crowd-pleasers. Hamburger sliders are perfect for serving up as a fun lunch, dinner, or game-day snack or a tasty happy hour bite. And once you try them, you may not be able to stop at just one of these saucy meatball subs.
It's so easy to make this simple meatball recipe in the Instant Pot! No browning required, but they are always better if you do brown the outside of the meatballs first.
However, if you need a shortcut, just form the meatballs, place them in the Instant Pot along with the sauce, set it and walk away!
How Long to Cook Meatballs in Sauce
Instant Pot meatballs taste better! By cooking them right in the sauce they turn out so much more tender and flavorful. Plus they retain their shape and don't can crumble and fall apart, which can happen when baking or pan-frying.
5 minutes on high pressure is all it takes to make these easy homemade meatballs in Instant Pot marinara sauce all in one pot.
You can saute the meatballs before you add the sauce and pressure cook them. If you use this cooking method, make sure to avoid a food burn Instant Pot message by deglazing the pan with a 1/4 liquid prior to adding the remaining ingredients to pressure cook. Deglazing the pan removes any food stuck to the bottom of the pan.
And Instant Pot Meatballs are so versatile. You could also make meatballs in your slow cooker. However, I prefer the reduced cooking time that my pressure cooker gives me.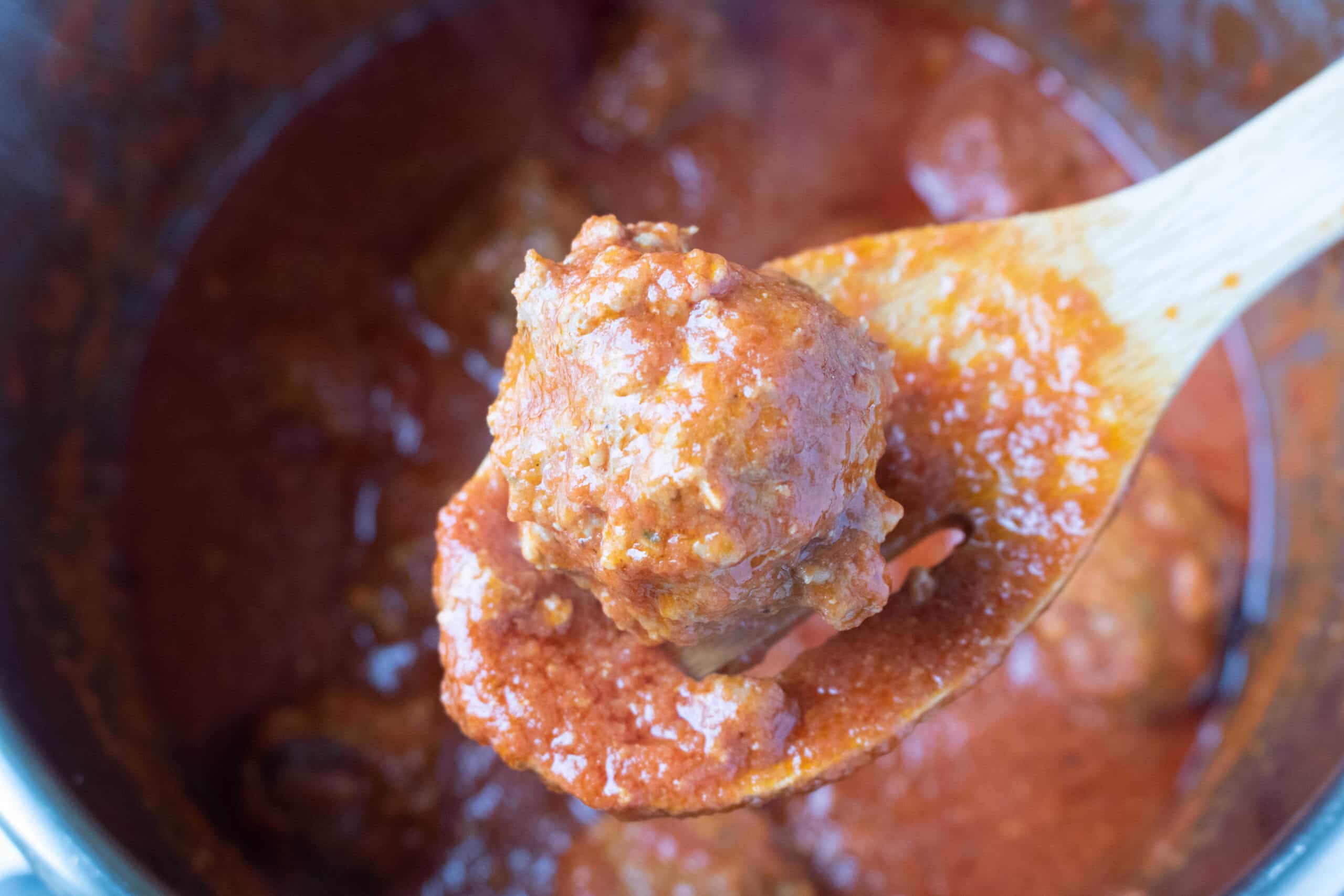 Ingredients
Supplies Used
Why You'll Love Making Instant Pot Meatballs
This is a perfect meatball recipe to enjoy in a classic Spaghetti and Meatballs dinner. You can also make the most delectable Italian meatball sliders with marinara sauce. Or swap the spaghetti noodles for some 'zoodles' (zucchini noodles) and you have a healthier, low-carb, hearty meal.
Instant Pot Meatballs are also a great make-ahead solution. Whip up a batch of meatballs and store them the fridge or freezer to use for meals throughout the week.
Meatballs can be frozen raw or cooked. To freeze raw meatballs, place meatballs on a small baking sheet that is lined with parchment paper. Let them freeze for an hour and then place them in an airtight freezer-safe container.
To freeze cooked meatballs, follow the same method. Cooking times will vary for cooked vs. raw frozen meatballs. You can also cook them from frozen, or thaw the meatballs out prior to cooking.
How To Cook Meatballs in an Instant Pot – Easy Italian Meatball Sliders Step-by-Step
Step #1: Mix ground beef, Italian sausage, eggs, bread crumbs, 1/3 cup grated Parmesan cheese in a large bowl. Then add the next four ingredients and mix using a hand held mixer. With a large scoop form homemade meatballs that are about 1 ½ inches round.
You can also use the scoop to create even sized meatballs. Then, roll tops of meatballs on a hard work surface with the palm of your hand.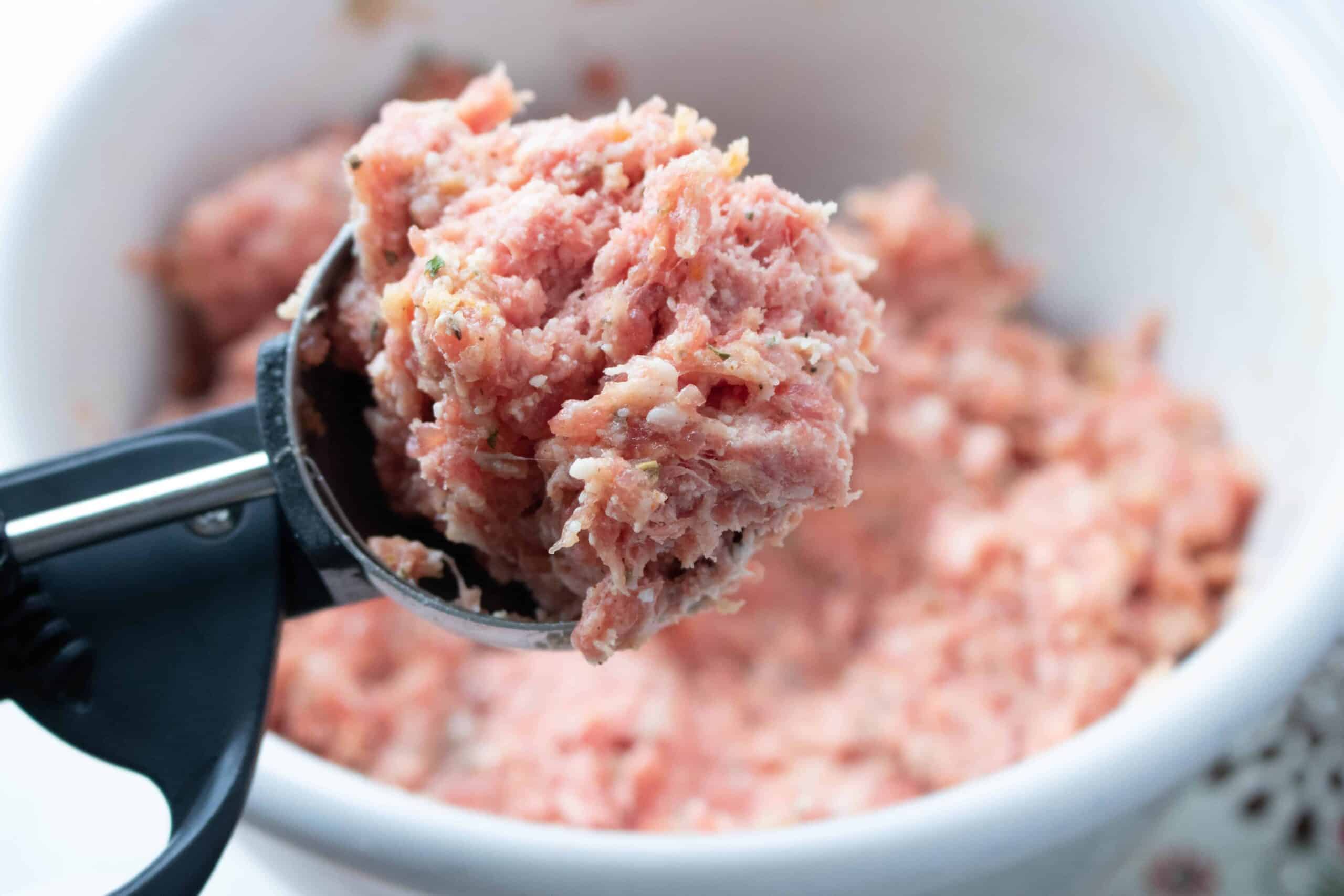 Step #2: Pour half of the tomato sauce into the inner pot of the Instant Pot. Place meatballs on top of the sauce. Then pour the remaining spaghetti sauce over the meatballs.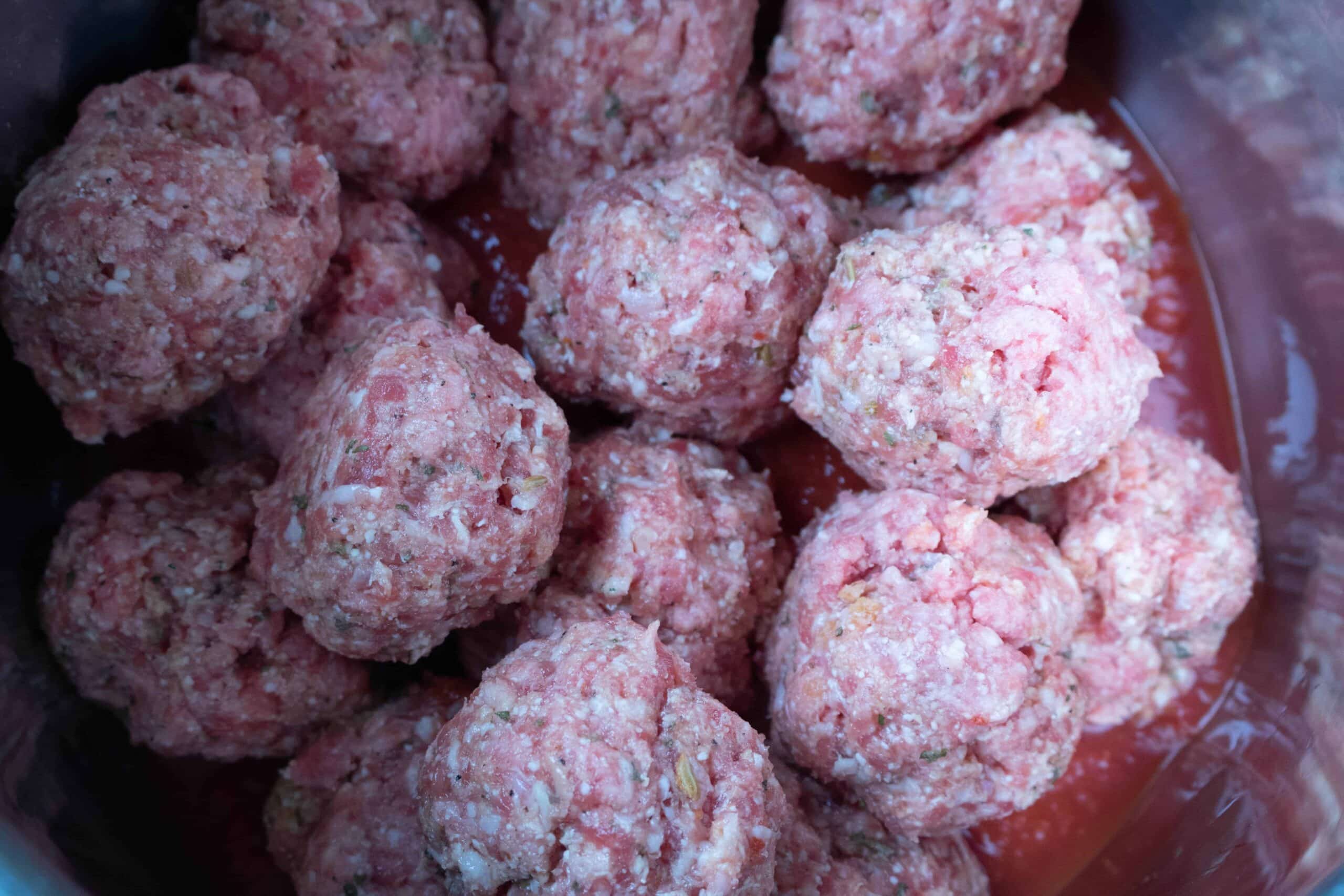 Step #3: Close lid on the pressure cooker and turn pressure valve to sealing. Set for a high pressure cooking time of 5 minutes. Follow that up with a quick release of pressure when the cooking time has finished.
How to Make Meatball Sandwiches or Mini-Sandwich Slider Recipe Instructions
Step #4: Preheat oven to 350 F. Spray a 9×13 casserole dish with non-stick cooking spray. You can also lightly brush the pan with olive oil, if you prefer.
Step #5: Place the bottom of the slider buns inside the casserole dish. When meatballs have finished cooking, place meatballs on the buns and top with some of the sauce. Add mozzarella cheeses and then put on the tops of the buns.
Step #6: Melt the butter and then mix in garlic powder and dried parsley. Next, brush the garlic butter over the top of the slider buns. A food safe brush is a kitchen essential for tasks like this.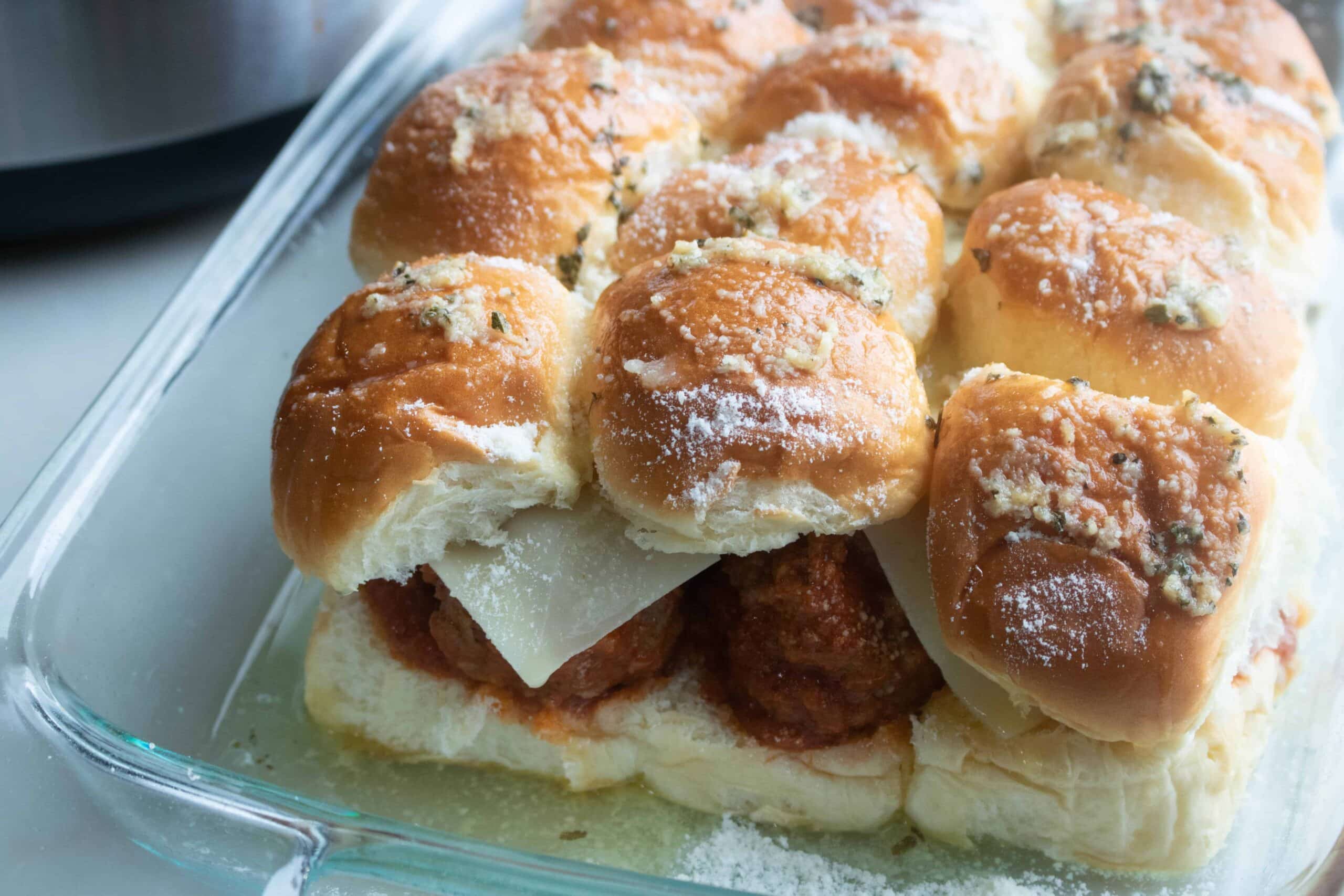 Step #7: Bake for 10-15 minutes, or until the cheese has melted and the tops of the buns are lightly golden.
Scoop one or two up and put on a plate. Take a bite and enjoy!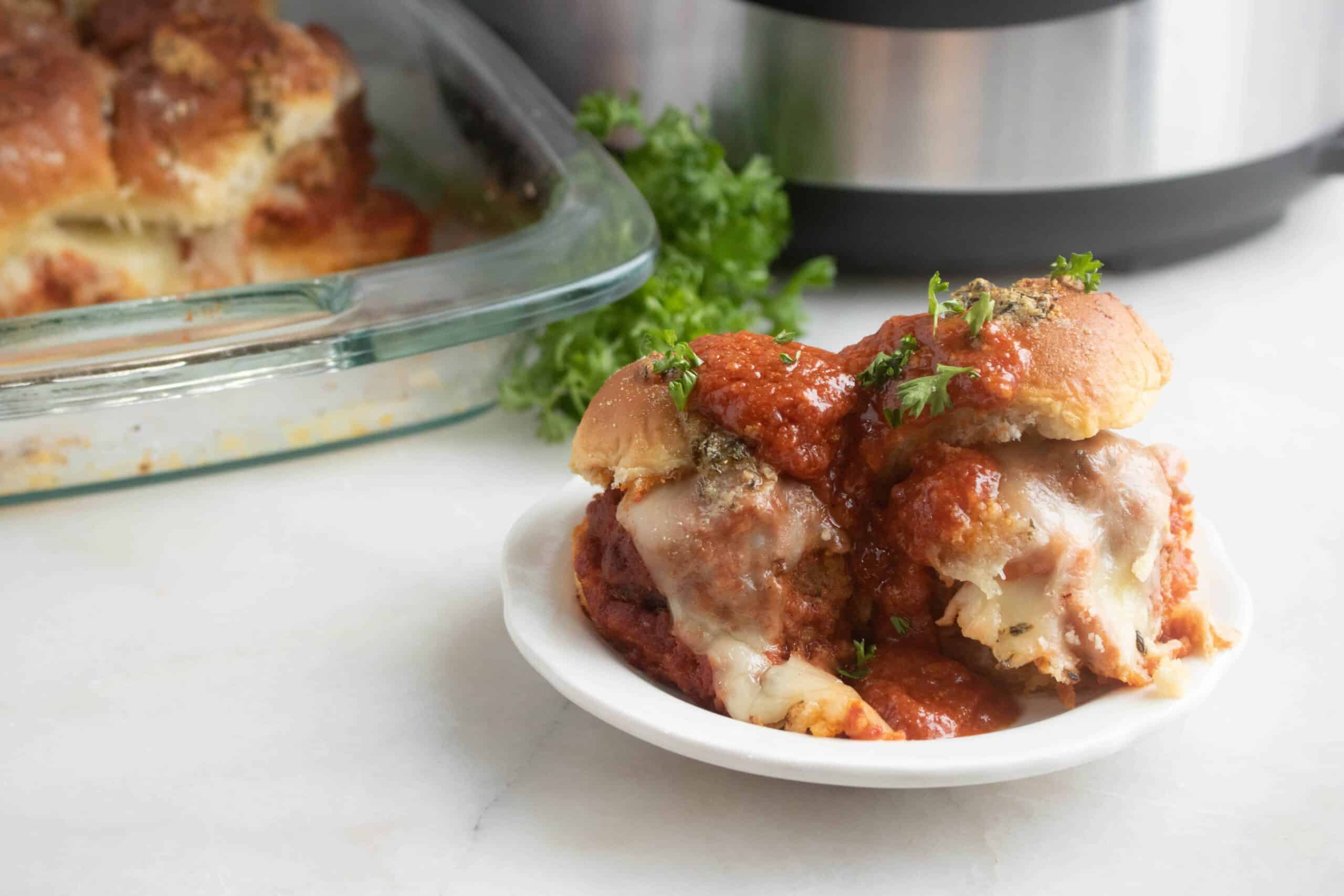 What to Serve with Italian Sliders and Instant Pot Meatballs
Italian Meatball Sliders are loaded with meat, cheese, and sauce. To compliment this rich combination of flavors, a simple salad is a great addition to the meal.
Other ideas for side dishes are roasted vegetables, corn, and broccoli.
The main thing to consider when choosing a side is to pick one without meat. Asparagus Soup makes a great starter for this recipe, and Instant Pot Green Beans with Bacon is always a welcome side dish in our house.
More Great Instant Pot Recipes
If you love these Easy Italian Meatball Sliders, you'll want to check out these other delicious Instant Pot recipes:
Instant Pot Lasagna Fiesta Style is an easy supper recipe with a twist on lasagna and a Tex-Mex flare.
Instant Pot Tomato Chicken Penne Pasta is a creamy pasta and chicken recipe that combines two delicious (and inexpensive) ingredients.
How to Make This Old School Italian Meatball Recipe without Eggs?
Meatballs without eggs are easy to make. If you are on a dairy-free diet, no worries. You can enjoy this easy giant meatball recipe.
Now, I say giant meatball, because we make the meatballs about 1 1/2 inches in diameter.
Ideas for making meatballs no egg:
substitute milk
use plain yogurt
applesauce
Check out the recipe card below for the egg to substitute ratios.
How to Make Spaghetti and Meatballs
Instant Pot spaghetti and meatballs is a simple recipe to make in a pressure cooker. Start with an easy meatball recipe as directed in the recipe card below, and then add in spaghetti sauce and noodles. Break apart your spaghetti noodles so they fit in the pot, or get the pot-ready spaghetti noodles.
The main trick is to make sure the noodles are covered in sauce. Add the noodles to the pan in a criss-cross fashion to prevent the noodles from sticking together.
Set your pressure cooker for 8 minutes to cook spaghetti and meatballs. If you are just cooking meatballs, 5 minutes will work.
Add in a jarred marinara sauce, or you make your spaghetti sauce from scratch to add to the Instant Pot. I like to make my spaghetti sauce from scratch and normally use a combination of tomato sauce, passata, and diced tomatoes. I add the tomato paste at the end of the sauce is too thin.
For this meatball sandwich recipe with Hawaiian roll sliders, we finish the meatballs in the oven on the slider buns. Picture a tasty slider slathered with melted butter and herbs on the top.
This recipe is good with both Instant Pot turkey meatballs or the combo of beef and sausage meat that we used in the recipe below.
Looking for something different? You could make these tasty sausage balls for a delicious appetizer!
Meatball Sub Recipe