If you're looking for a truly easy, yet totally delicious way to prepare them, then this Instant Pot Green Beans Recipe is for you! Make year-round because this is such a quick and simple recipe to prepare, green beans are at the top of the list of all-time favorite side dishes.
Green beans are a dinnertime mainstay: they pair well with just about any entrée, and are a core ingredient in countless casseroles recipes.
If you love healthy pressure cooker recipes you'll enjoy healthy bean recipes like this one. Whether you're making green bean recipes for Thanksgiving or just for dinner, this recipe is always a winner. It's pretty much the best green bean recipe.
We've whipped up lemon garlic green beans, French cut green beans and garlic parmesan green beans in both our Ninja Foodi pressure cooker and power pressure cooker xl. They are all delicious, and the pressure cookers are just as easy to use as our Instant Pot.
I love serving green beans with my Instant Pot rice. It's a tasty, simple combination.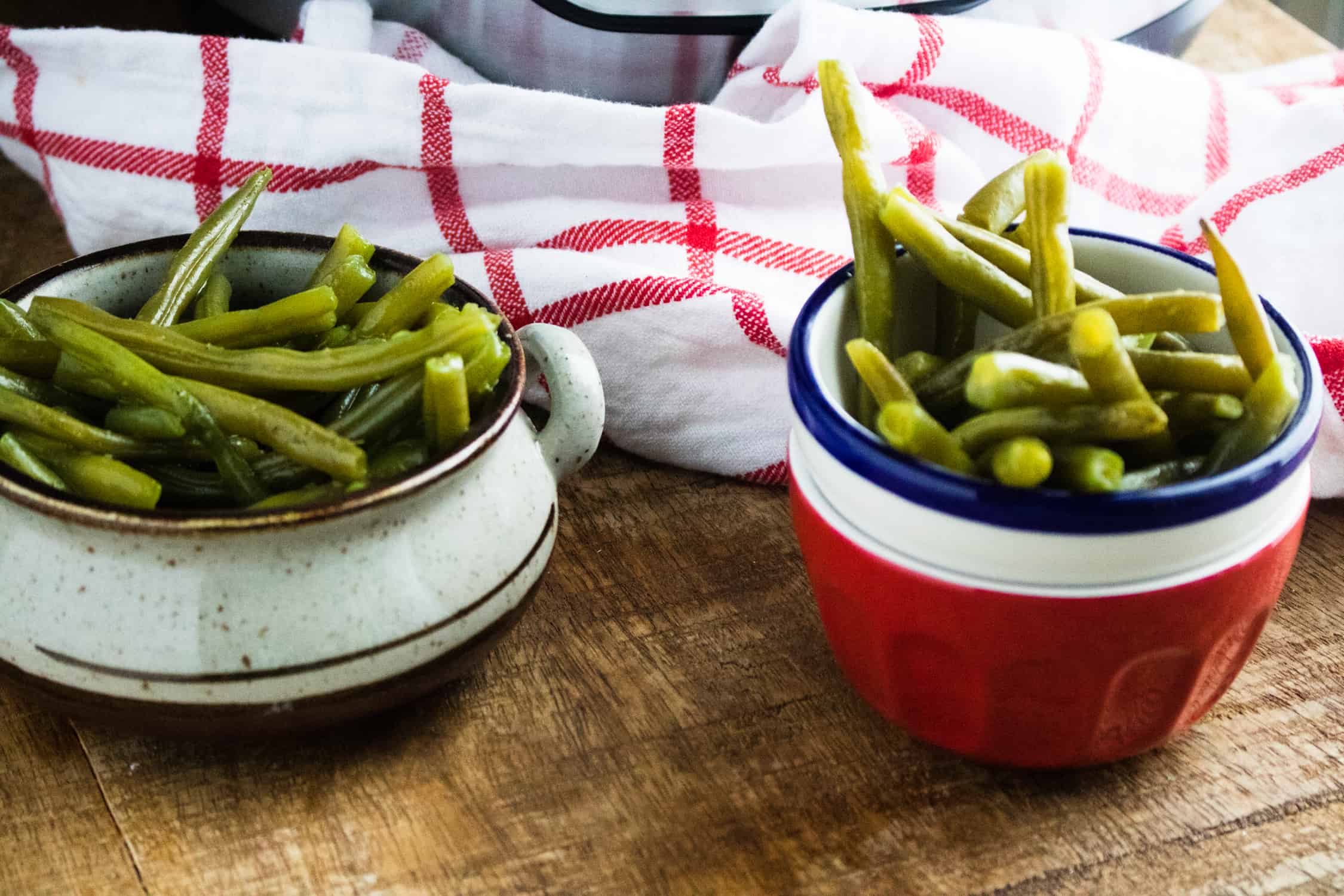 One of the things that makes the Instant Pot so great is how it infuses foods with a ton of flavor in such a short amount of time. We also love it so much because we can put all our ingredients in the pot, step away, and let it do the cooking for us.
For those really busy days, try making a complete dinner entirely with the Instant Pot! Serve this Instant Pot Green Beans Recipe with our delicious Instant Pot Swiss Steak. Talk about a one-pot wonder!
Are Green Beans Really Beans?
In a word, yes. Green beans are simply the unripe, young pods of various varieties of the common bean. Green beans are also known as French beans and string beans.
There are two main types of green beans: "bush" (or "dwarf") beans and "pole" (or "climbing") beans.
They generally reach maturity and produce all of their fruit in a relatively short period of time, making bush beans the type that are most often grown on commercial farms.
Pole beans have a climbing habit and produce a twisting vine, which must be supported by poles .
Instant Pot Green Beans Recipe Modifications
Frozen green beans: Don't have any fresh green beans on-hand? Not to worry; you can easily use frozen green beans in this recipe! All that's required is adding another 1-2 minutes to your total cooking time.
Vegetarian green beans: Eliminate the ham hock, and replace the chicken bouillon and water with 3 cups of vegetable stock.
Vegan green beans: Do the substitutions for the vegetarian beans (above) and make this a vegan recipe by swapping the butter for a vegan-friendly version, such as Earth Balance, or using coconut oil instead.
More Great Instant Pot Recipes
We like to serve this Instant Pot Green Beans recipe with other Instant Pot side dishes, because side dishes are always the best.
Whip up a pressure cooker pulled pork recipe, Instant Pot Brussels Sprouts and Black Eyed Peas. Serve alongside these green beans, and wow!
Pressure cooker baked potatoes are also a nice fit. In fact, we have a lot of pressure cooker potatoes recipes you should take a look at, including pressure cooker sweet potatoes!
Interested in using your Instant Pot for making quick and delicious breakfasts? Then you've got to check out our list of The 8 Best Instant Pot Oatmeal Recipes!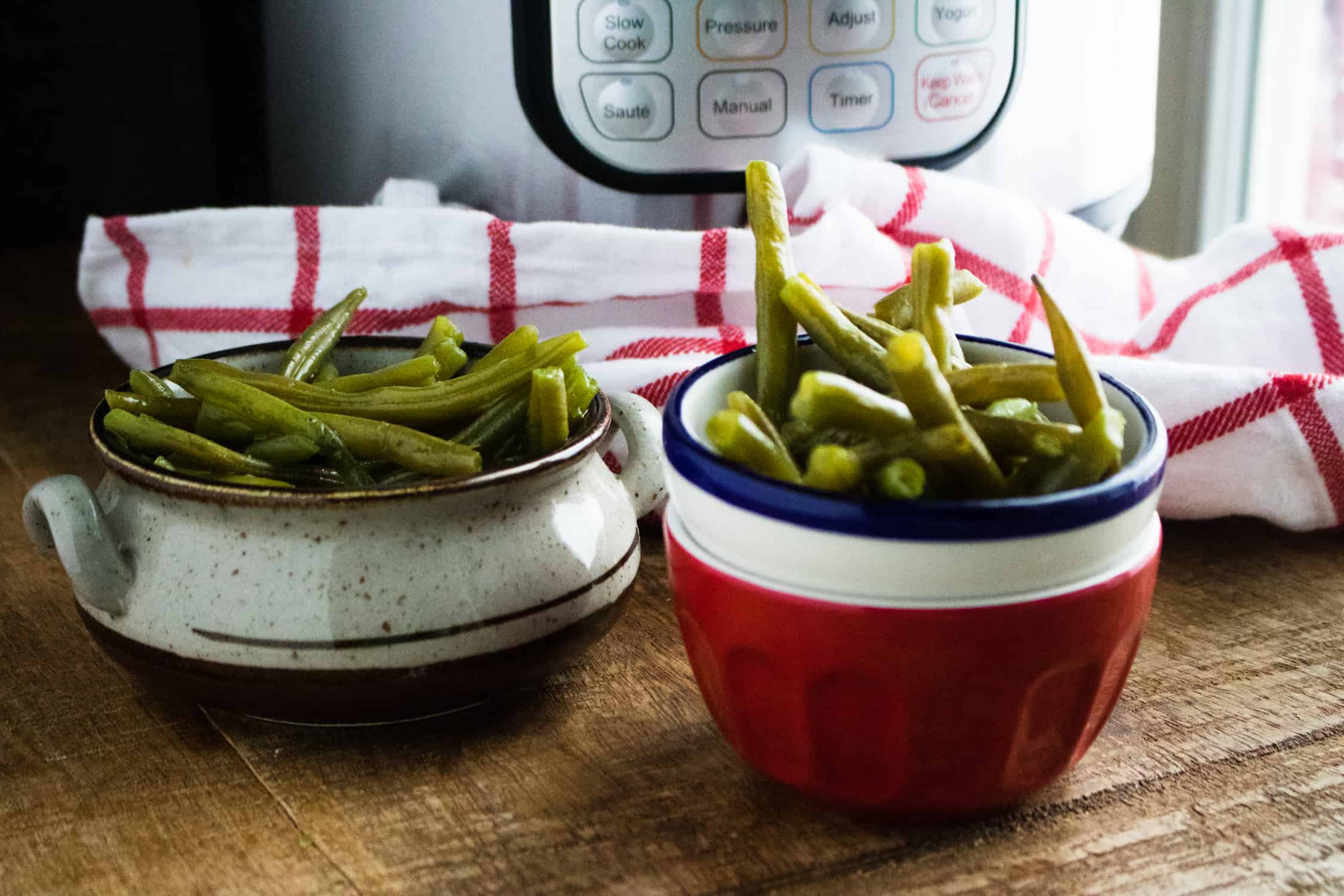 Great Supplies to Have for Your Instant Pot
Blanching Green Beans
Why to blanch green beans.
Freezing green beans
Serving cold green beans with hummus, or a salad, etc. Since you can't eat raw green beans, it is necessary to blanch them.
Meal prepping
Freezing green beans: If you have a good crop of green beans, you'll want to turn to make frozen green bean recipes. Your first step to freezing green beans is to blanch them. And yes, you can always use frozen green beans to make pressure cooker beans.
How to blanch green beans: If you can boil water, you can blanch green beans.
Boil a pan of water.
Wash/rinse the green beans.
How to trim green beans: prepare the green beans by snipping or cutting off the ends.
Prepare a large bowl of water with ice cubes.
Add beans to boiling water.
How long to blanch green beans? Cook the beans in batches for 3-5 minutes, and then remove right away while still green and dip into a bowl of ice water to stop the cooking.
Refrigerate and use within 4-5 days, or freeze. To freeze green beans, it's good to spread the beans out on a tray that will fit into your freezer and flash freeze the beans for 30 minutes to an hour before storing them in a freezer bag. This helps prevent them from freezing together in a clump.
Growing Green Beans
There are so many green bean varieties to choose from when deciding to start growing beans. However, the planting aspect for all the varieties is pretty similar. The main thing is to decide if you will plant the bean seeds in the ground or in a container.
Growing beans in containers: Growing string beans or bush beans in containers is fairly easy for urban gardeners. The trick is to make sure you have good drainage, and also to make sure you have enough soil for the plants. Bush beans need a 6-7 inch soil depth, whereas pole beans are going to need closer to 9 inches of soil depth.
When are green beans ready to pick? It's easy to see when to pick green beans by following a couple guidelines. First, the green beans will be about 4 inches in length.
They will also be about the width of a pencil when they're ready. You also want to make sure to harvest green beans before they have any bulges in them, because that is a sign of over-ripe green beans.
How to harvest green beans: Green string beans are easy to pick. You simply pull the bean off of the stem. When you're done harvesting the beans, make sure you wash them really well and spread them out so they can dry, because it is easy for mold to grow on the beans.
Green Bean FAQS
Are green beans legumes?
The fruit of the green bean plant is in a pod, so green beans are actually just legumes, not beans...even though they are call green beans.
Can you eat green beans raw?
Eating a couple raw green beans is fine, but raw green beans contain lectins, which may trigger symptoms like nausea, diarrhea, vomiting, or bloating.

Overall, you should avoid eating green beans raw. So, the next time you wonder can you eat raw green beans on that salad, the answer is no.
Can dogs eat string beans?
Yes, dogs can eat green beans. Green beans are actually a healthy snack for dog to eat.

You can feed raw green beans, steamed green beans and cooked green beans to your dog.

Make sure to avoid adding salt, and do not cook them with onion, garlic or other foods that dogs should avoid.
String beans vs green beans.
String beans and green beans are one and the same. String beans is an outdated term for green beans, and goes back to when there was a fibrous string that had to be removed from the bean before eating.
Bush beans vs pole beans.
Bush beans grow in a compact 'bush' form and pole beans have the characteristic of growing like a vine, sometimes reaching up to 10-15 feet.
Green beans fruit or vegetable?
Your mind might be blown on this one, because green beans are commonly known as vegetables. However, green beans (as legumes) are a fruit.
Where did green beans originate?
Green beans originated in Peru and spread throughout Central and South America through migrating tribes.
Green beans benefits?
Health benefits of green beans: high fiber content, protein, and a great source of essential vitamins and minerals, such as vitamin A, C, K, B6, folic acid, calcium, silicon (which is needed for healthy bones, skin, and hair), iron, manganese, potassium, and copper. We all love a healthy, low-calorie food.
How To Make Instant Pot Green Bean Recipes Easy
Add all ingredients to the inner pot, or to an oven-safe casserole dish that fits in the Instant Pot on top of the trivet. Fresh green bean recipes are the best because you are working with whole ingredients.
Best Way to Cook Green Beans
Instant Pot Green Beans with Bacon Southern Style, this green beans recipe with a ham hock, and Chicken and Green Beans are all delicious side dishes to serve with a variety of pressure cooker meals. Here are some other tasty ways to serve up green beans:
pan fried green beans with lemon zest
beans with ginger and garlic
use a special green bean seasoning
parmesan green beans
boiled green beans, either plain or with ham, butter and seasonings
add a little brown sugar
Green beans cooked any of these ways go great with Instant Pot baked potatoes (we use russet potatoes), cooked sweet potatoes, as well as black beans.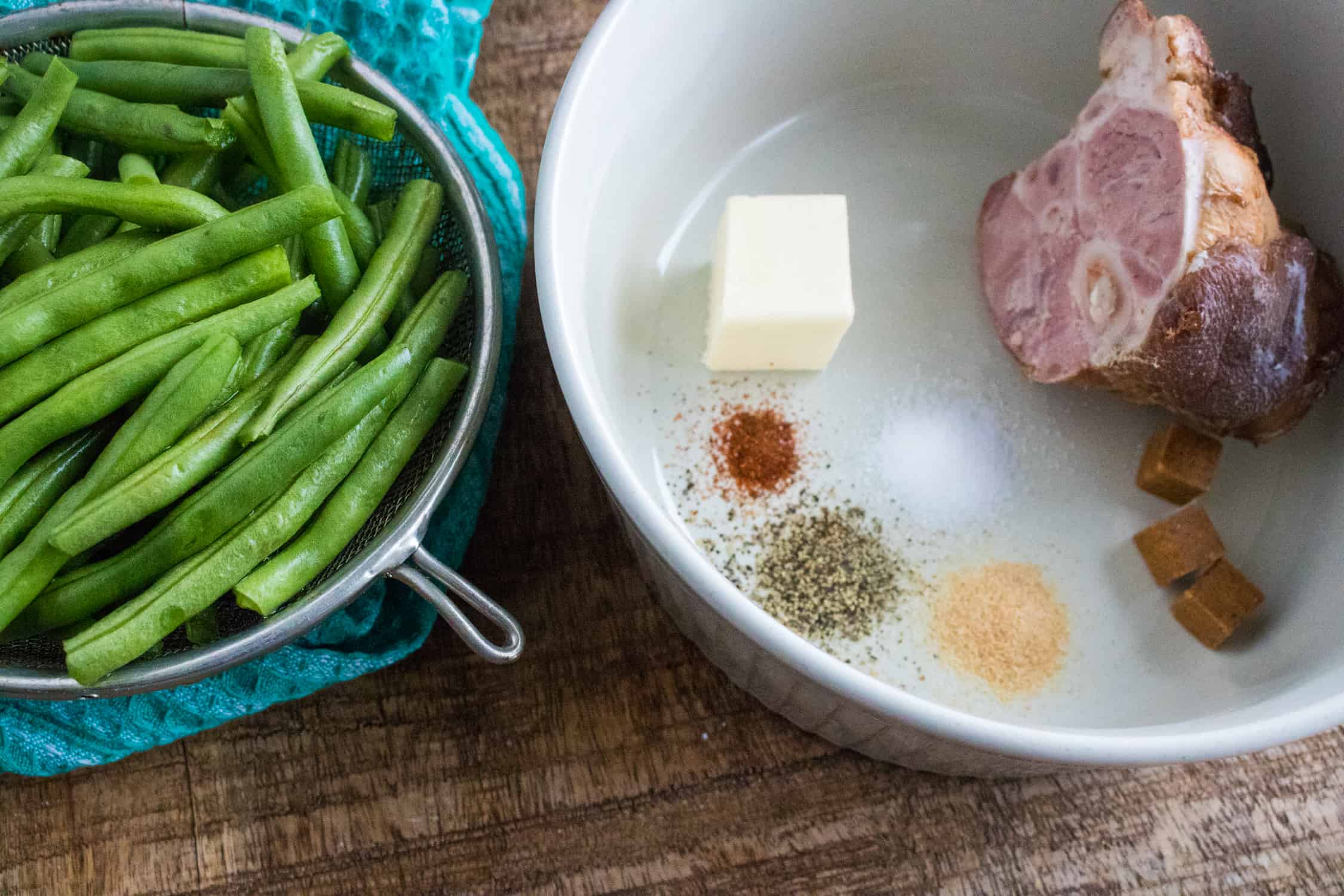 How to cook green beans: Turn pressure valve to sealed, and set manual pressure on high to cook for a high pressure time of 4 minutes.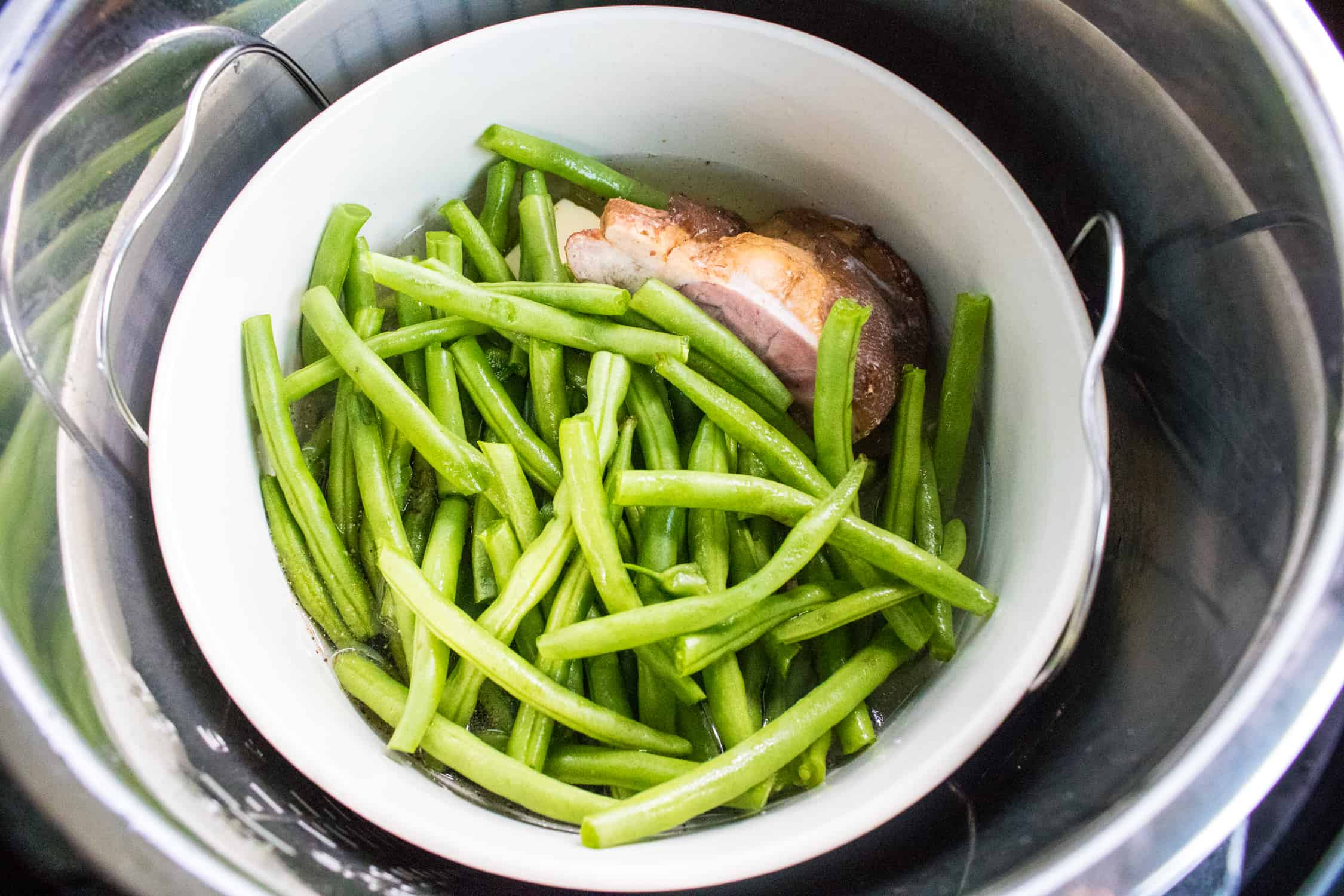 Perform a quick release when pressure time has finished.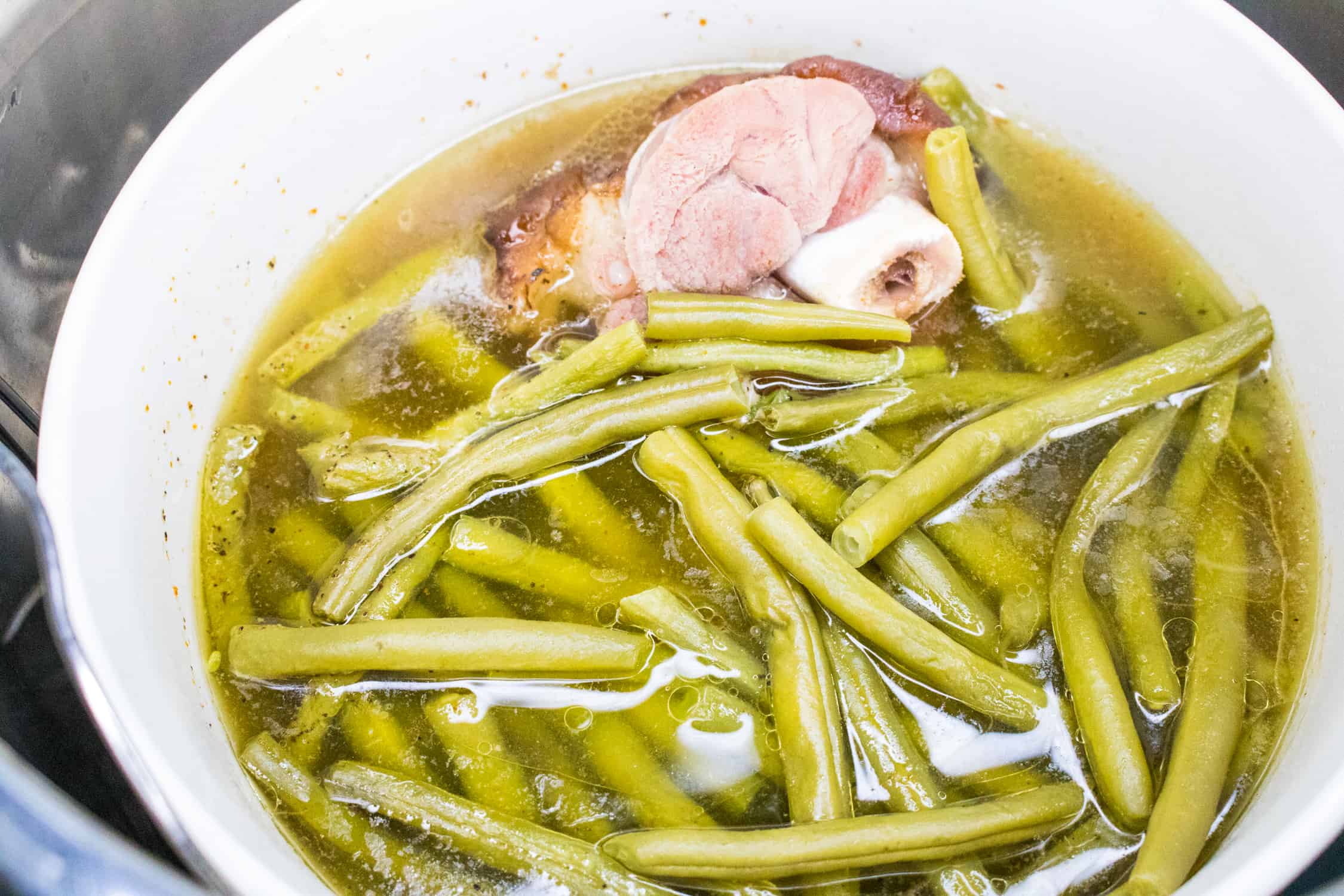 Serve and enjoy! We like to serve green beans with all kinds of meals because they are a favorite side dish. A buttery string beans recipe goes particularly well with pressure cooker pinto beans and pressure cooker pork loin.
Recipe
More Instant Pot Vegetable Recipes