This Instant Pot Grain-free Keto Cheesecake recipe is a dream come true. If you are following a grain-free, gluten-free, or keto diet, you will love this recipe.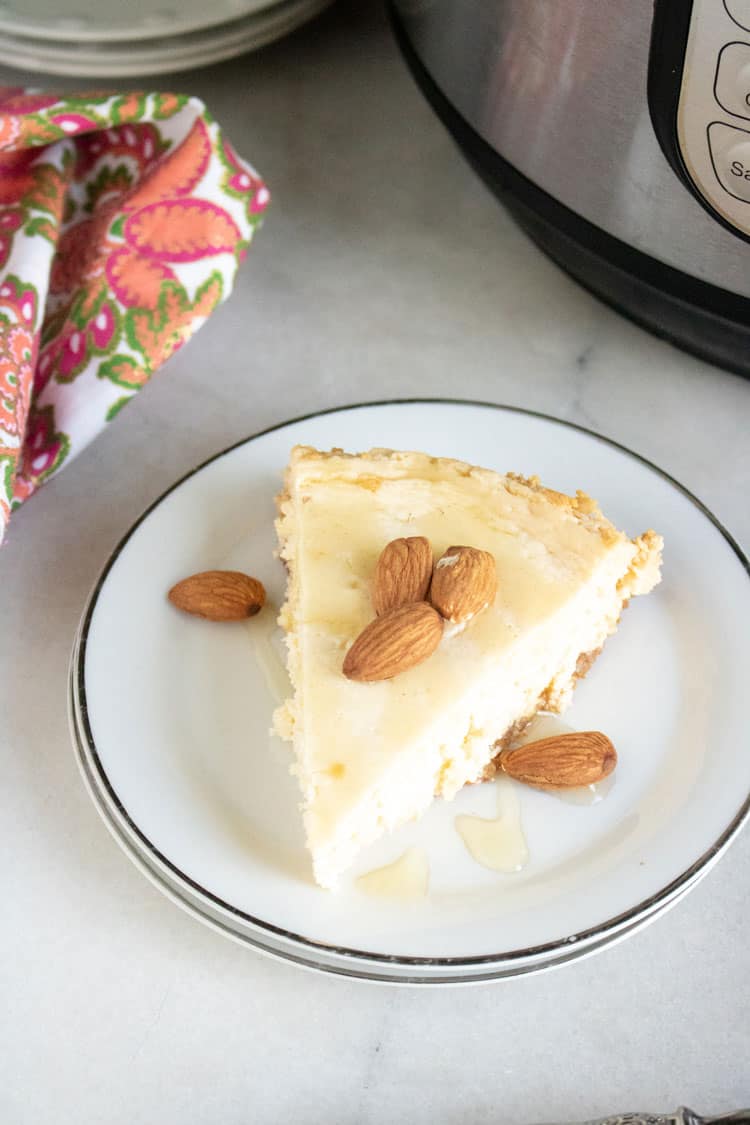 It tastes so rich and luxurious, and, thanks to the Instant Pot, it is incredibly easy to make. It is truly the perfect way to indulge in a decadent dessert while maintaining your healthy eating plan.
Almond Crust
It's easy to make a gluten free cheesecake crust with nuts. Almonds work beautifully, because they can be ground into almond flour.
I use a food processor to grind up almonds to make almond flour. Then, I add a sweetener like Stevia, Xylitol or Monk's Fruit if I'm making a keto crust. Otherwise, I'll add in a tablespoon of granulated sugar.
Along with the sweetener, I also add in melted butter. Pulse the food processor a couple times, and the crust is ready to go in the pan.
New to cooking with a pressure cooker? Try out the Be the Boss of Your Instant Pot Video Course! It'll help take the pressure off and ease you into cooking with your Instant Pot.
Xylitol?
In this cheesecake recipe, we used Stevia instead of Xylitol. However, either sugar substitute could be used to make a keto cheesecake.
When determining which sugar substitute to use, there are many things to consider. One thing you might not think of is does the sweetener have toxicity in dogs.
WARNING: Xylitol is more toxic to dogs than chocolate. In other words, Xylitol can be deadly if consumed by your dog. So, if you plan to cook or bake with it, make sure you keep it out of your dog's reach.
What Makes a Low-Carb Cheesecake?
A cheesecake is made low carb by substituting certain ingredients that are normally in cheesecake, but that are high in carbohydrates. Some of these ingredients include: processed sugar and traditional graham cracker crust.
The remaining ingredients in a traditional cheesecake are actually all good to consume for a low-carb diet. Full-fat cream cheese and sour cream, eggs, and keto vanilla extract are all in check with a keto diet.
Make sure to use pure vanilla extract or an extract that is specifically made for a low-carb diet. Specifically, look at the ingredients list and make sure there are no additives like sugar or corn syrup.
Why Make Cheesecake in the Instant Pot?
Ever since it made its market debut, cooks have been raving about making cheesecake in the Instant Pot.
It remains one of the top popular Instant Pot recipes. The steamy pressure cooking environment that creates such an amazingly smooth and creamy cheesecake.
Plus, it is so much faster! Traditional cheesecake recipes require over an hour of baking time. This Instant Pot cheesecake recipe cooks in just 35 minutes (plus another 12 minutes of natural release time).
Adding in the time to come to pressure, it still takes less time to make a cheesecake in an Instant Pot. Not to mention you can keep your house cooler by not turning on the oven.
Like this recipe? Check out all off our Cheesecake Recipes. We're adding more extraordinary flavors all the time! A couple of our favorites, besides this one, are Orange Creamsicle Cheesecake and Oreo Cheesecake. Then, there's our Peanut Butter Cheesecake and Peppermint Cheesecake. And our Creme Brulee Cheesecake...WOW!
What is the Difference between Eating Grain-Free and the Keto Diet?
The ketogenic diet restricts carbohydrates. A grain-free diet is not purely low carb. It allows complex carbohydrate foods such as: potatoes, sweet potatoes, carrots, and squash in moderation.
Luckily, this delicious Instant Pot cheesecake recipe is grain-free, gluten-free, and keto-friendly. It makes it a great dessert choice for anyone following these types of diet plans.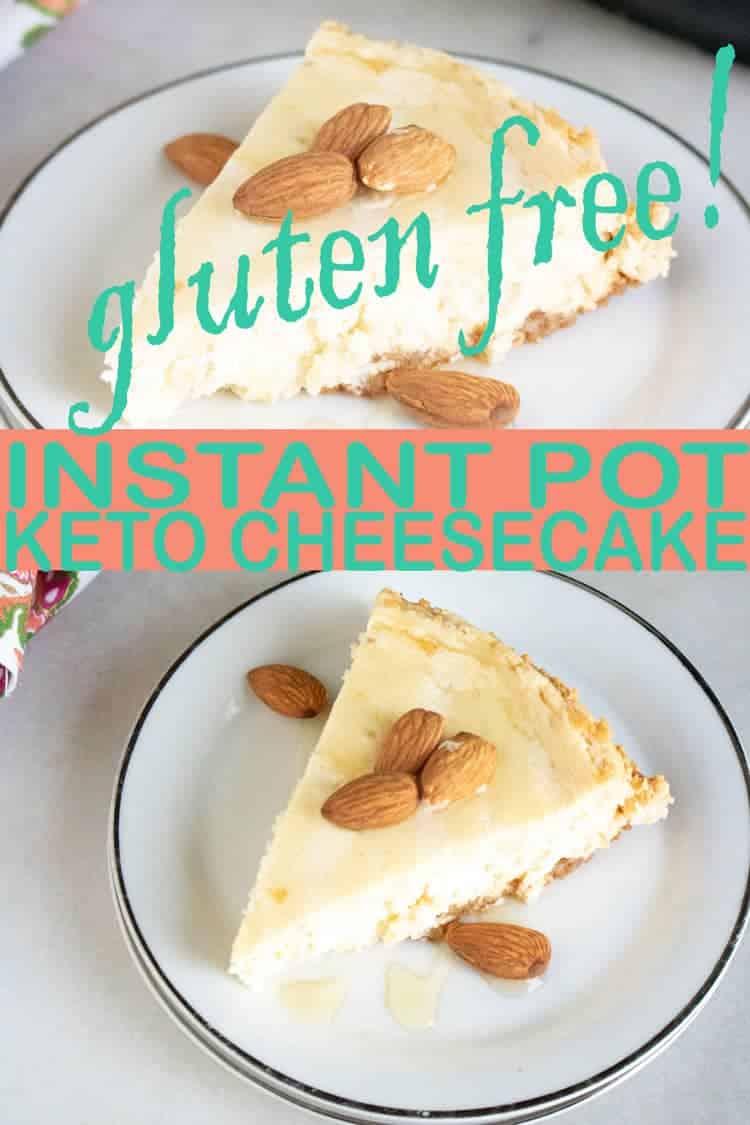 Health Benefits
There are many health benefits to both grain-free and keto eating plans. These include the following:
stabilized blood sugar levels
controlled food cravings
enhanced weight loss
more balanced digestive microbiome
lower cholesterol, including LDL levels
lowered high triglycerides
increased energy and mental clarity
The majority of people who use a gluten-free or keto diet do it for health reasons. Many people suffer from diseases, allergies, and food intolerance that make a gluten free diet a necessity. Thankfully, a grain-free or low-carb diet can help alleviate some of the discomfort.
Always consult with your doctor before any kind of diet change. Try this cheesecake to taste how delicious gluten-free or low-carb diet recipes are. Many recipes are naturally gluten-free.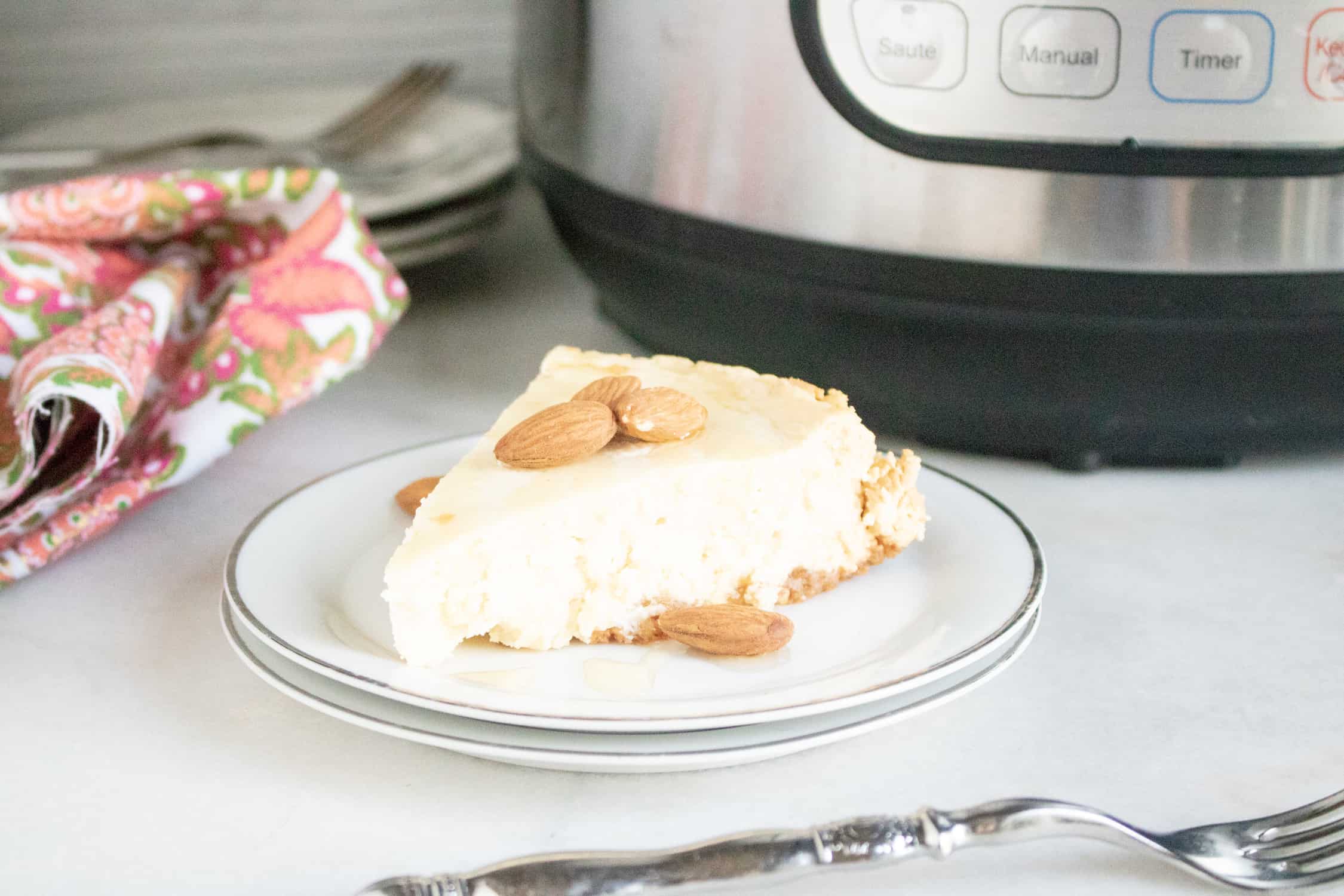 How To Make
It is easy to make Instant Pot gluten-free cheesecake. First, combine ground almonds with stevia and melted butter. This is easy to do in a food processor. Pat the crust down on the bottom of a 7-inch spring form pan sprayed with non-stick cooking spray.
You can also grease the pan with shortening and put a parchment circle on the bottom of the pan. I find this is the best way to ensure the cheesecake can be easily removed from the pan.
Make sure to use room temperature cream cheese and eggs when mixing the cheesecake filling ingredients.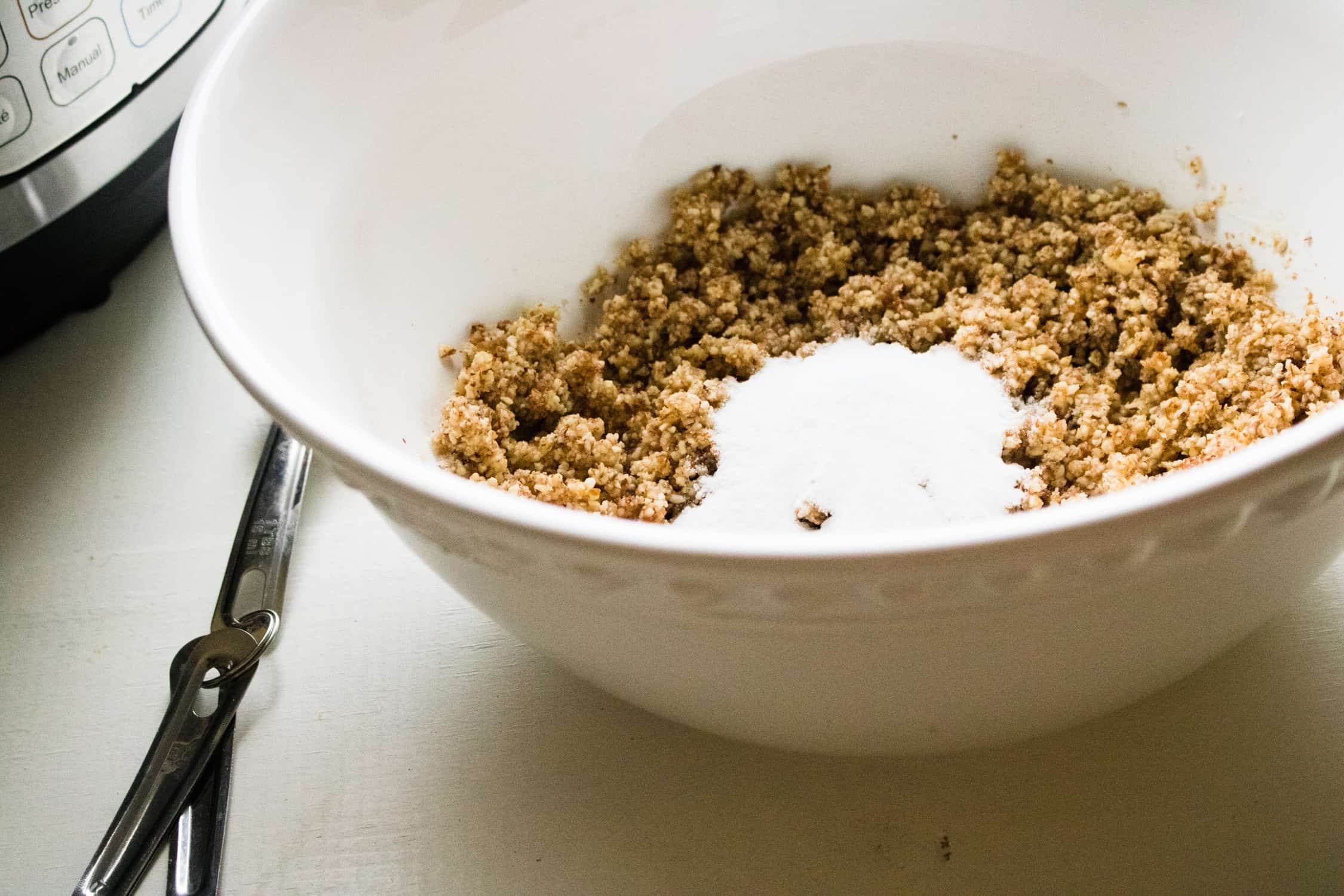 Mix the cream cheese and stevia (or alternate sweetener) until smooth. Taste for sweetness to see if you need to add more sweetener BEFORE adding in the eggs.
Then, mix in the eggs one at a time. Add in the vanilla and sour cream and mix until smooth.
Warnings
**You always want to get an idea of the flavor before you add eggs or flour to a recipe. First of all, you are not supposed to eat raw flour. It can contain bacteria that can cause disease. The US FDA and the CDC have both issued warnings about this.
Unpasteurized eggs can contain Salmonella, which causes food poisoning. The risk of getting Salmonella is relatively low. But, if you have ever suffered from food poisoning before, you know that any risk is not worth it.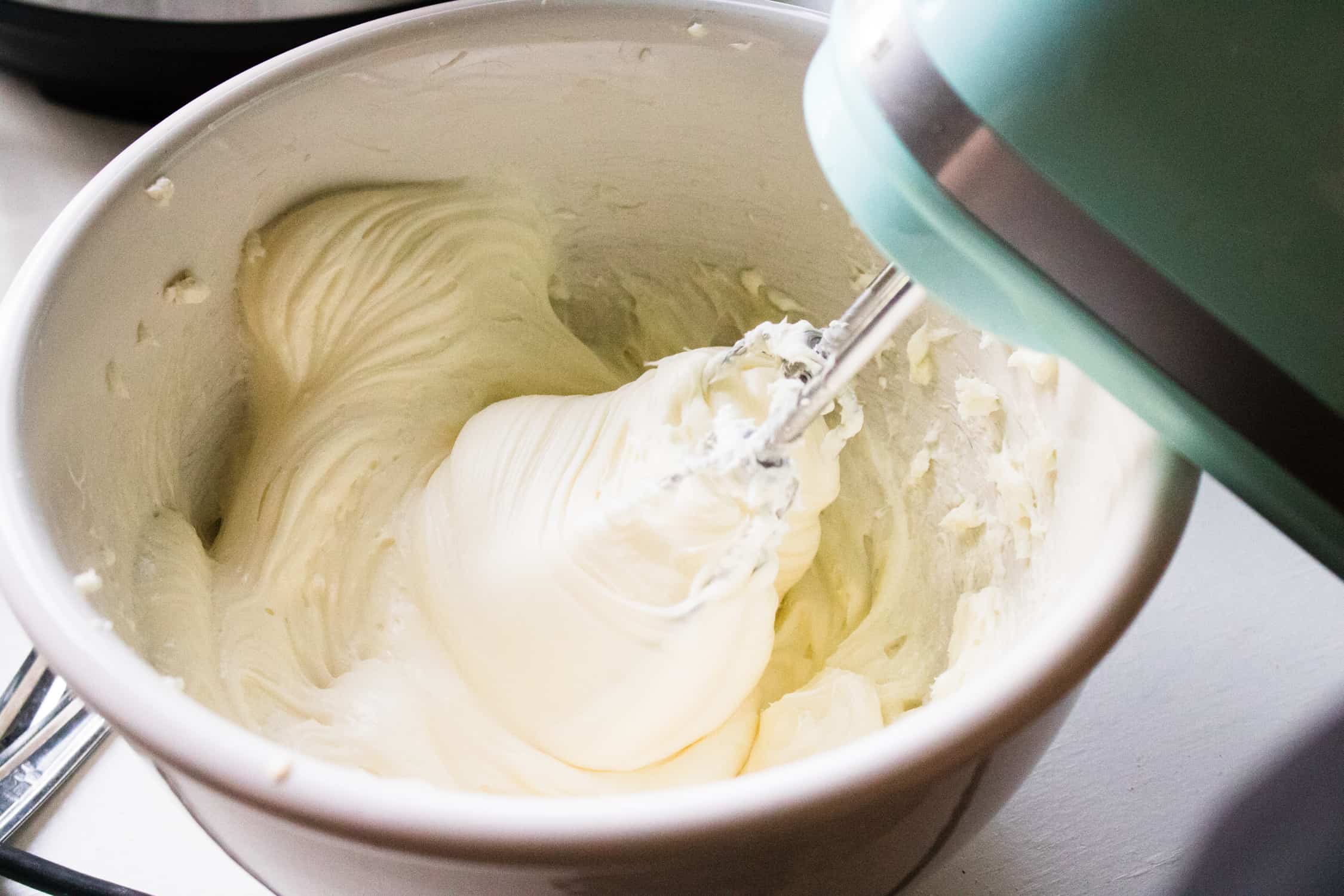 Pour the cheesecake filling into the pan. Then, run a fork back and forth through the cheesecake filling several times to remove air bubbles. Cover with foil.
Next, pour two cups of water into the inner pot of the Instant Pot. Make a sling out of aluminum foil to lower the springform pan into the Instant Pot.
Instant Pot Slings
To make the foil sling, follow these 3 simple steps:
Tear off about 2 feet of foil and lay on a flat surface.
Lift the side closest to you, fold it up one-third of the way, and then press down.
Fold the top section over the folded area and press down to make it flat. Your sling is ready to use!
Once the pan is in the Instant Pot, close the lid and turn to sealing position. Set for a manual high pressure time of 35 minutes. Baking cheesecake in a pressure cooker means no preheated oven.
When time has finished, allow for a natural release for 12 minutes before letting out the rest of the steam.
Use the sling to remove the cheesecake from the Instant Pot. Let the cheesecake cool on the counter for 1 hour. Then, chill for an additional 4 hours or overnight.
If desired, add toppings before serving. This cheesecake turned out great. Enjoy!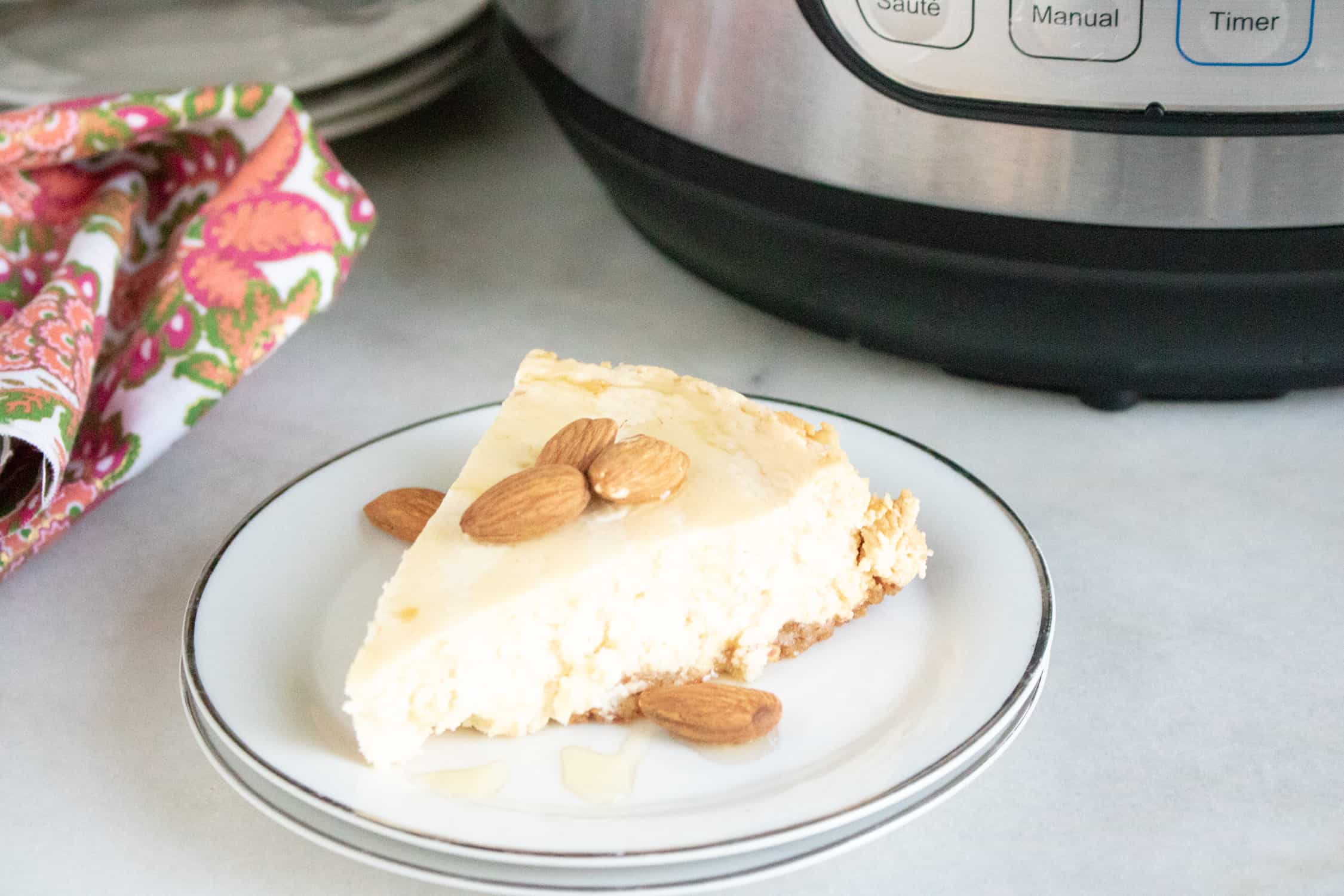 More IP Recipes
If you love making this Instant Pot Grain-free Keto Cheesecake, you'll want try these other great Instant Pot cheesecake recipes.
Remember, with a couple simple adjustments, any cheesecake can be gluten-free or low-carb: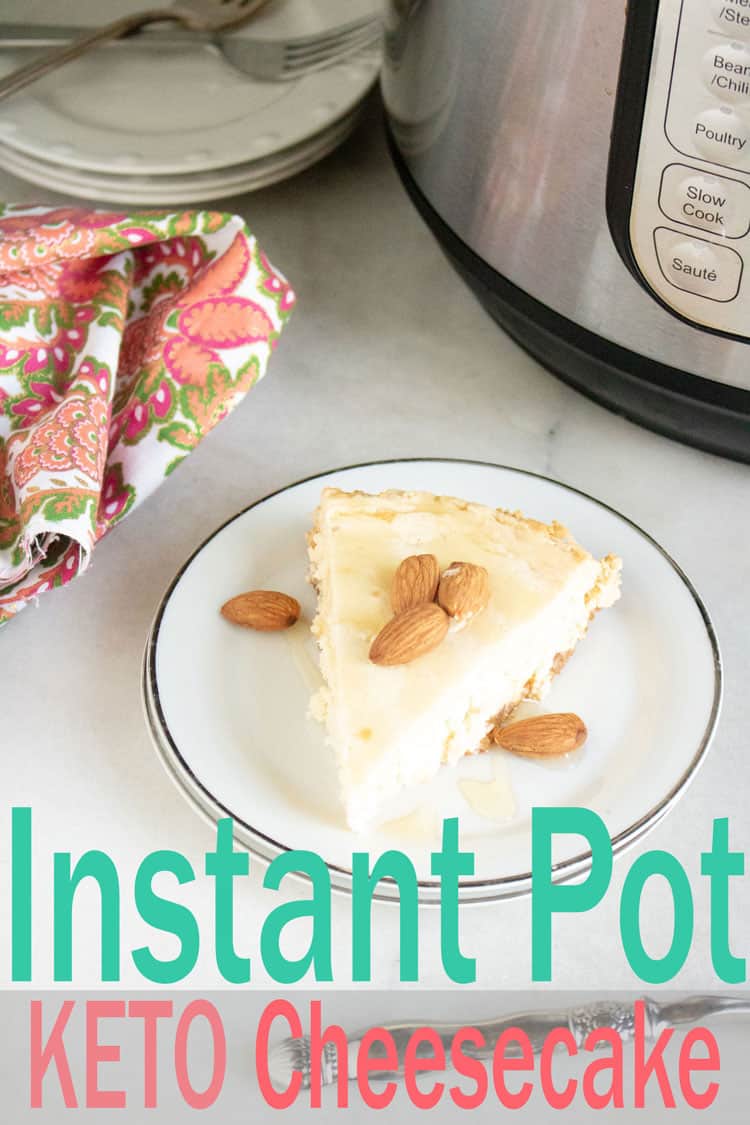 Supplies Used
FAQs
How many carbs are in Instant Pot grain-free keto cheesecake?
When on the keto diet, it is important to track your total carb intake. One slice of Instant Pot Grain-Free Keto Cheesecake contains 8.3 grams of carbohydrates.
Can I have honey on a keto diet?
Honey is not a sweetener that is allowed on the Keto diet. Are you on a low carb diet but not doing the keto diet? Then, it would be okay to use a tiny drizzle of honey.
What is yacon syrup?
If you're looking for a syrup or honey substitute that works for a Keto diet, Yacon Syrup is keto-friendly.

Yacon syrup comes from the yacon plant that has origins in South America. The plant has many health benefits. It contains 1/3 the calories of regular sugar and, it is thought to help control blood sugar levels.

Yacon syrup is good in coffee, tea, and it would be lovely drizzled over this cheesecake too.
Recipe