This Instant Pot Orange BBQ Meatballs recipe is the perfect solution for your busy weeknight dinner dilemma. We made this an Instant Pot Frozen Meatball recipe for a reason. It's quick and simple. You're only six ingredients away from having a delicious dinner on your table.
Thanks to the Instant Pot, this recipe goes from a group of ingredients to your plate in less than 15 minutes, making for the perfect weeknight dinner.
Instant Pot Orange BBQ Meatballs Recipe is also a great starter recipe if you're new to Instant Pot cooking. Many people buy an Instant Pot, and are a little scared to use it.
But don't be! With such a short cooking time, there's no need to worry about burning or over-cooking.
If you're a little scared of the pressure release valve (I know I was intimidated the first time I used my Instant Pot), try using the handle of a wooden spoon as an extra precaution when moving the valve to the venting position.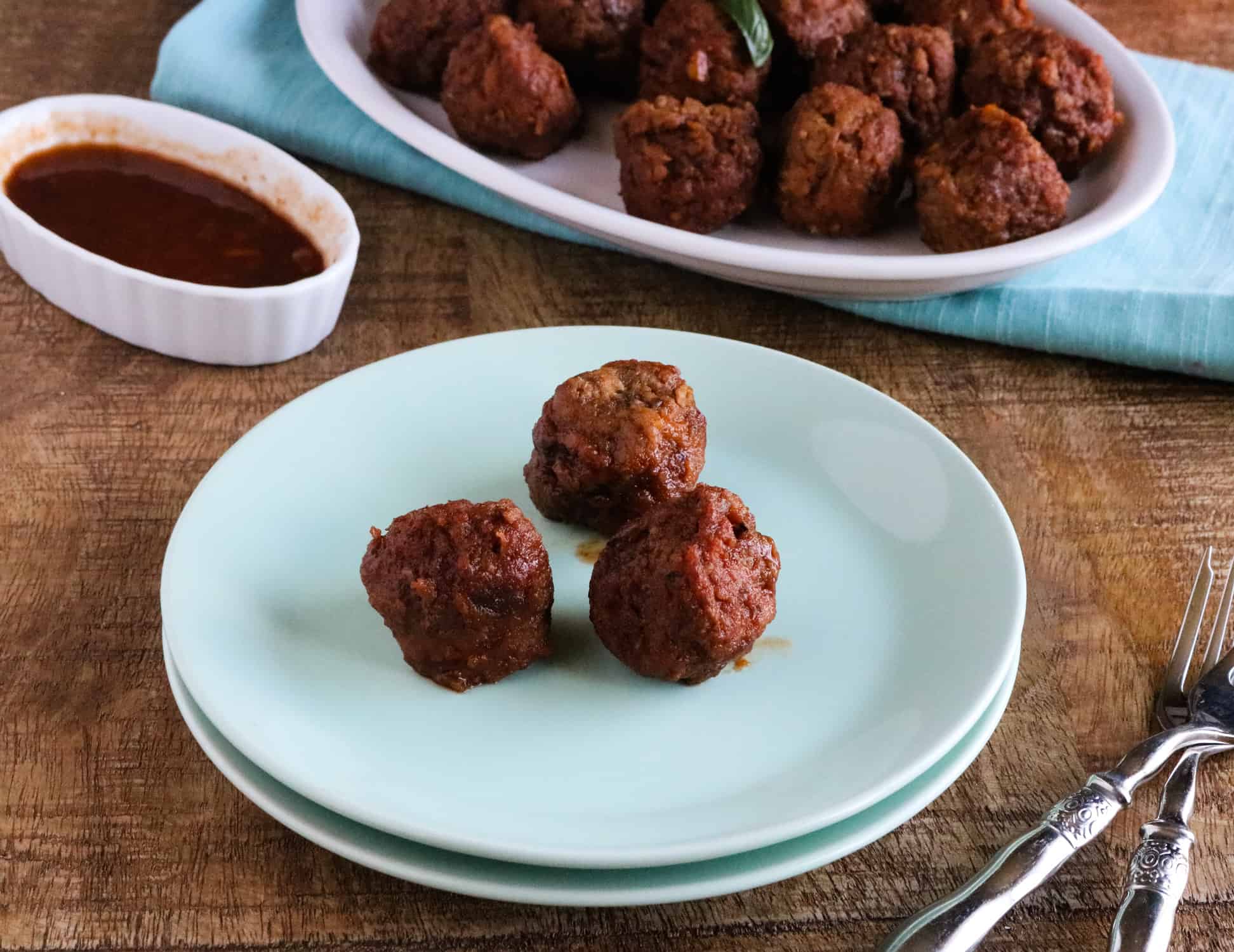 Why You Will Love This Instant Pot Recipe
Quick Dinner
Family Friendly
Sweet and Savory
Great to dress up frozen meatballs and create a new flavor to the dish
Pair with rice, quinoa, etc.
Sweet and Savory Meatballs in BBQ Sauce
For fans of the sweet and savory combination, these Instant Pot Orange BBQ Meatballs are for you!
The orange marmalade brings a sharp, sweet, but slightly bitter quality to the recipe that perfectly compliments the smoky hickory flavor of barbecue sauce.
New to cooking with a pressure cooker? Try out the Be the Boss of Your Instant Pot Video Course! It'll help take the pressure off and ease you into cooking with your Instant Pot.
Meatball Appetizer Recipe
Instant Pot Orange BBQ Meatballs Recipe calls for combining orange marmalade with a pre-made BBQ sauce. Tailor the recipe to your taste by choosing any BBQ sauce flavor.
This recipe tastes great whether you opt for a one that's sweet and smoky, or a truly hot and spicy sauce.
How to Make Crockpot BBQ Meatballs
Don't have an Instant Pot? No worries, make this recipe in your crockpot! Just toss in the ingredients as directed in the recipe and turn them on low and let them cook for 4-6 hours!
How long to cook frozen meatballs in crockpots will depend on if you are cooking at high or low temperatures. It should take between 2 1/2 to 3 hours at a high-temperature setting.
How Should I Serve Instant Pot Orange BBQ Meatballs?
There are lots of serving options for these Instant Pot Orange BBQ Meatballs. They can be served on a bed of white or brown rice.
If you want to add some vegetable goodness, pair them with steamed broccoli, green beans, spinach or collared greens. Or, serve them up solo as tasty hors d'oeuvres, or a hearty happy hour snack.
Some of Our Recent Instant Pot Recipes
More Recipes Like Our Instant Pot Orange BBQ Meatballs Recipe
Want more meatballs in your life? Then you've got to try these other delicious and flavorful meatball recipes:
How to Make Instant Pot Orange BBQ Meatballs Recipe
Place cooked frozen meatballs in your Instant Pot.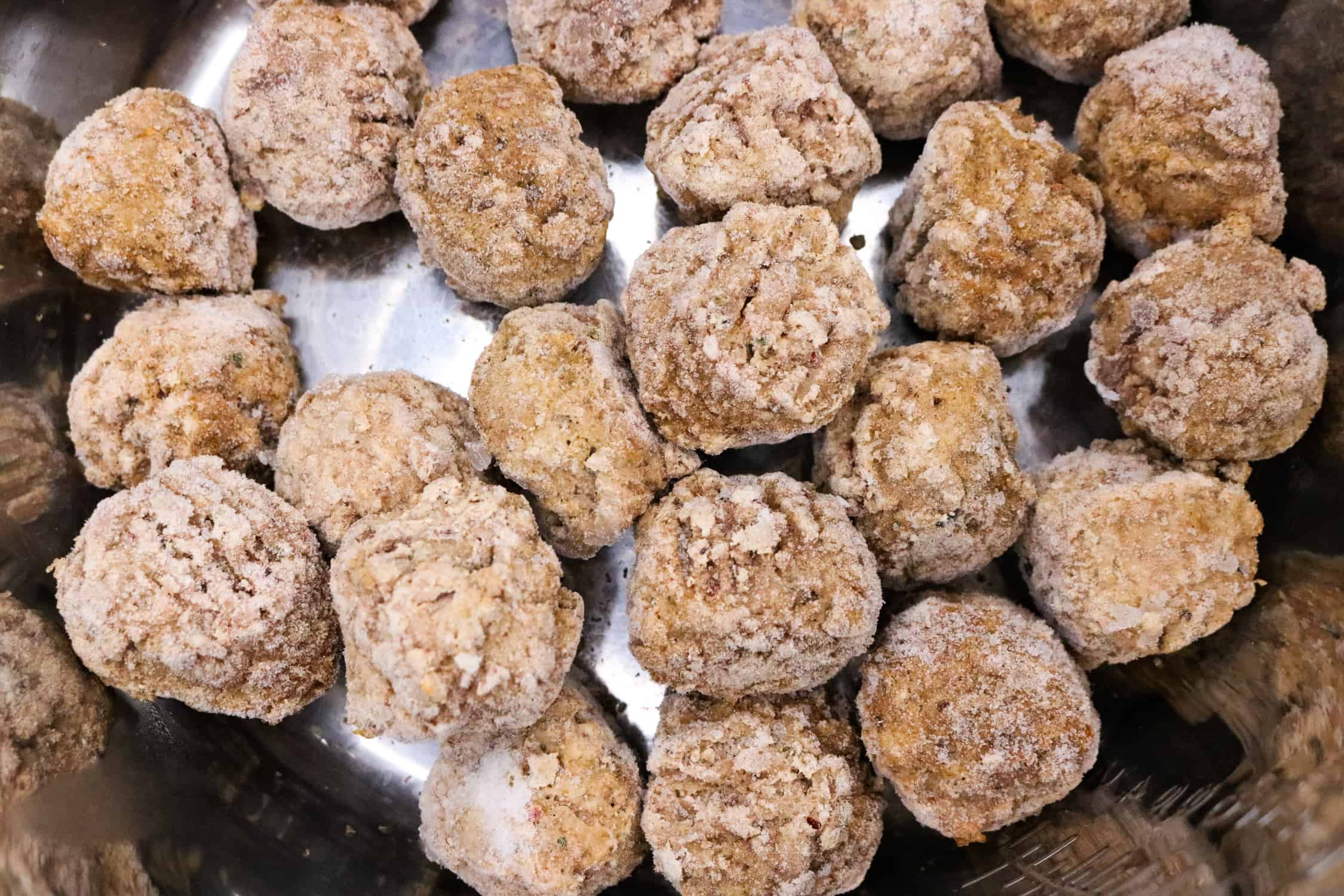 Add orange marmalade, brown sugar, apple cider vinegar, honey hickory BBQ sauce and water to the Instant Pot.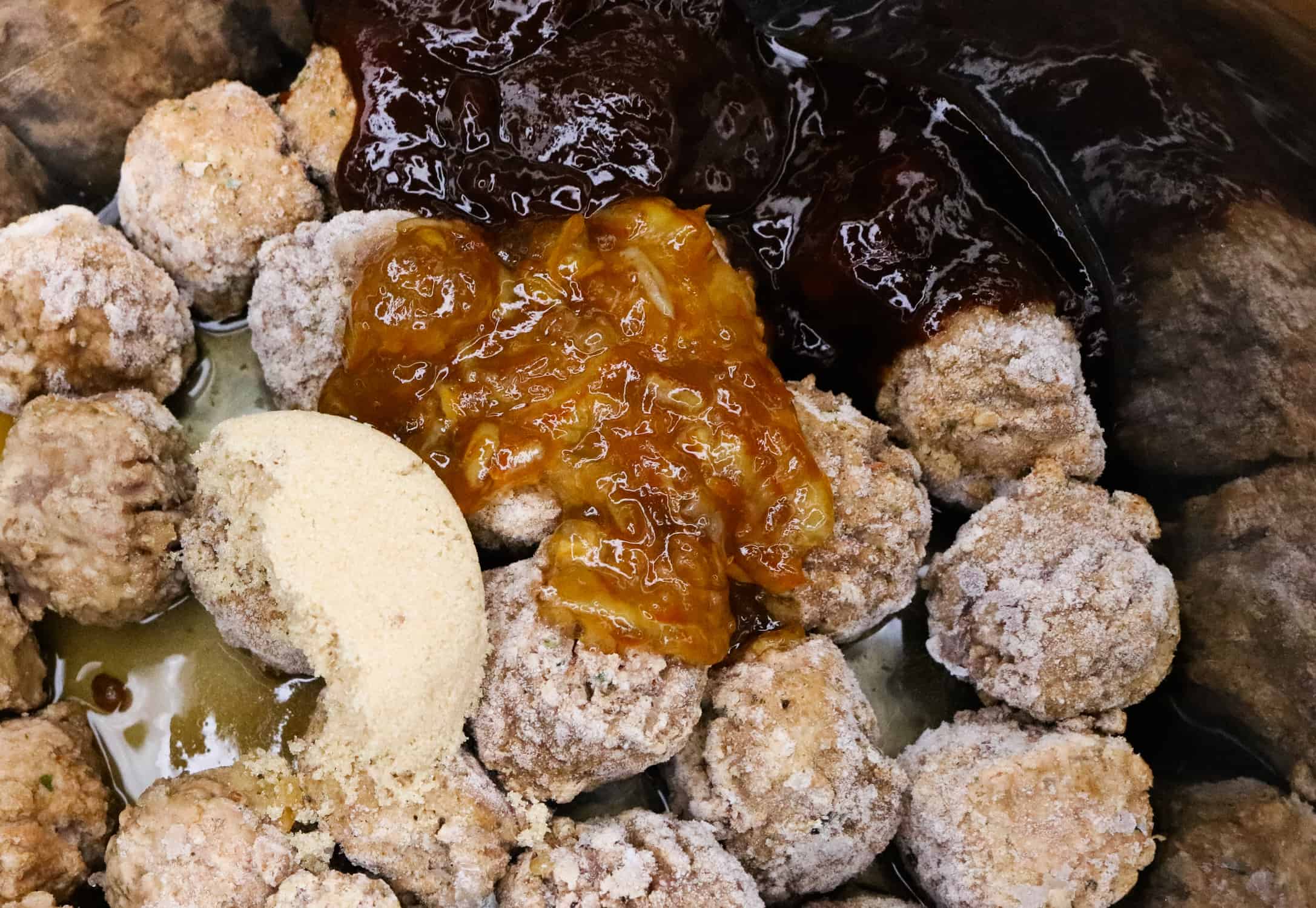 Close lid and set manual pressure for 6 minutes. When cooking time is completed, perform a quick release.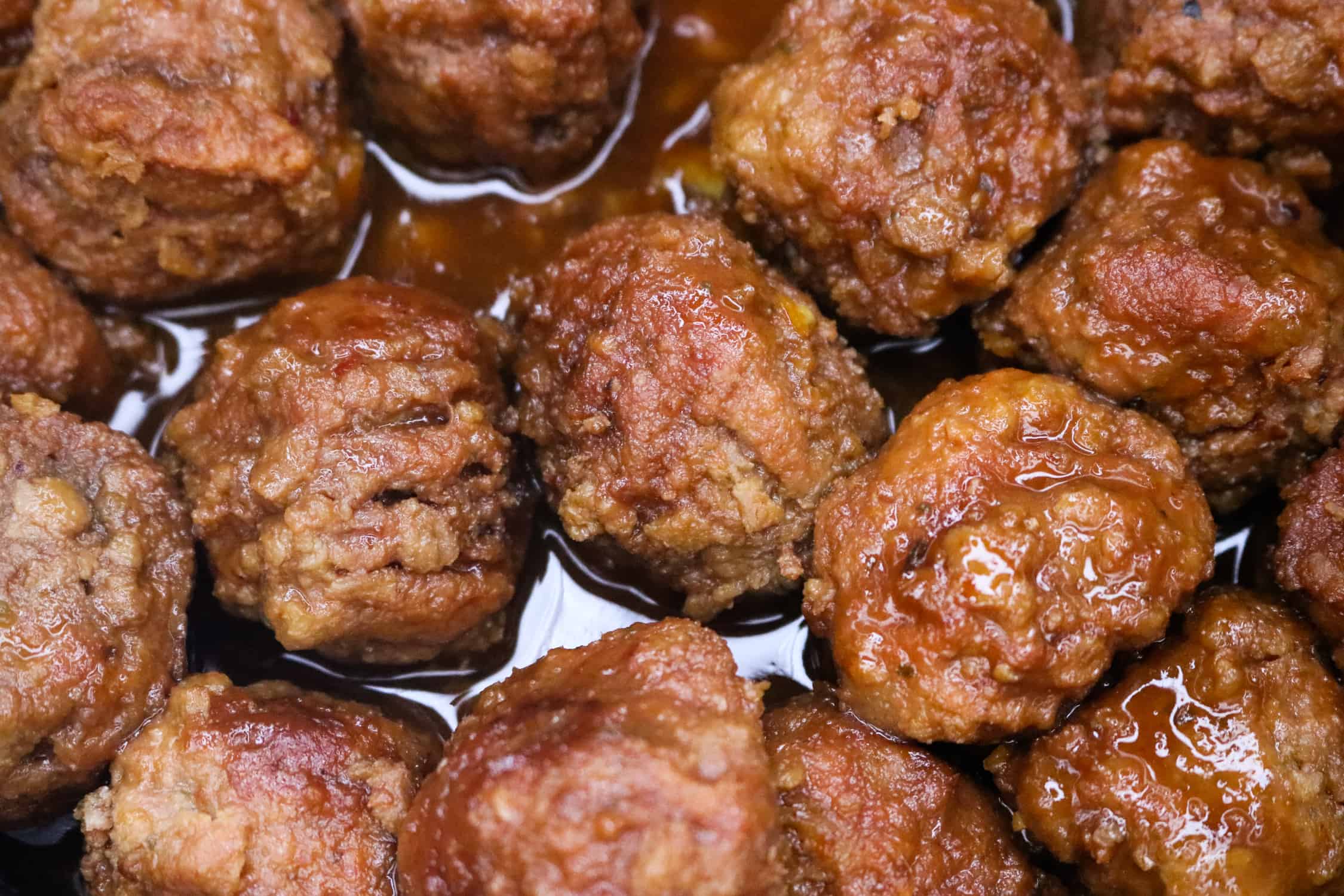 Serve them up with solo, or pair with the side dish of your choice!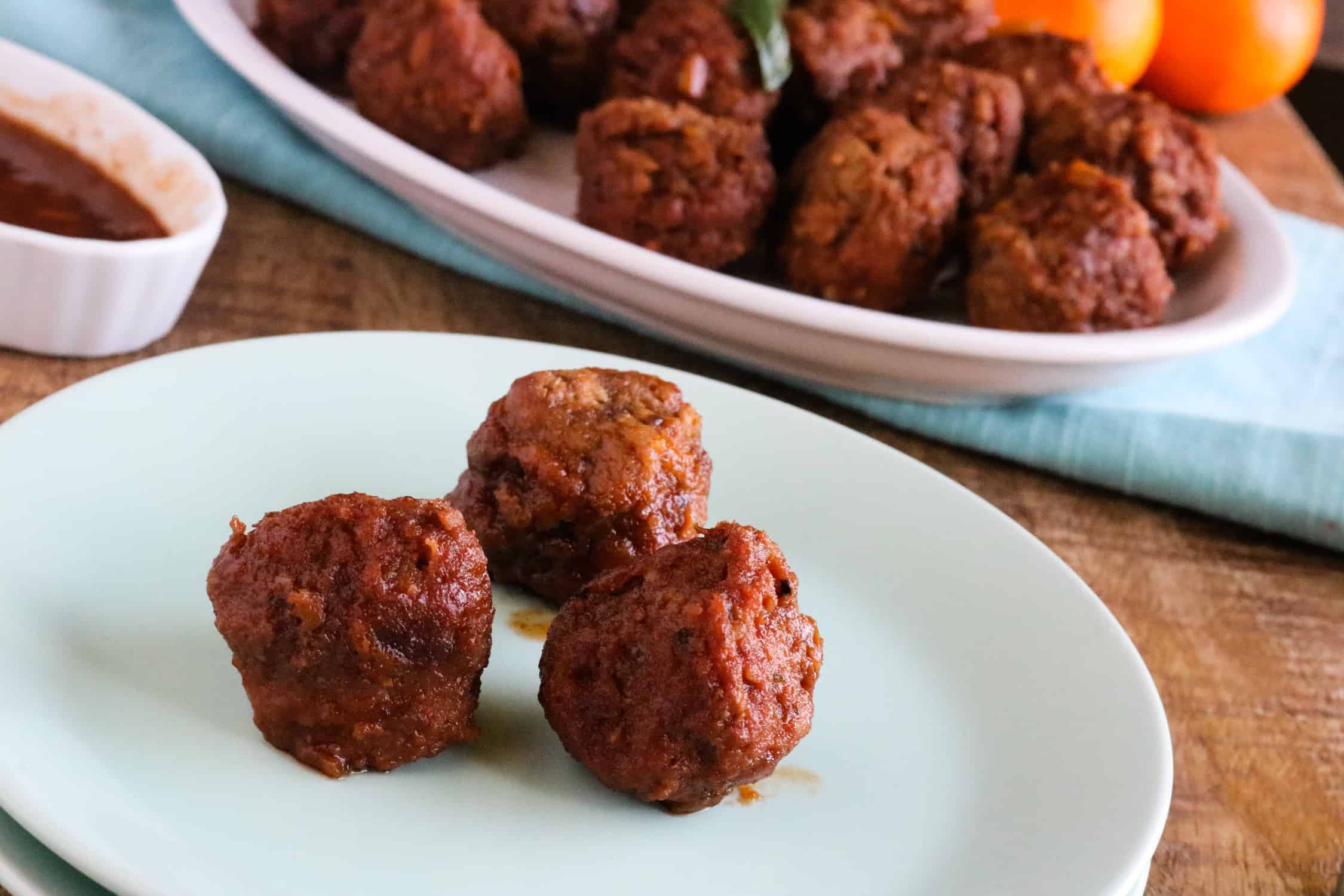 Storing Leftovers
Go right ahead and store your meatballs in an airtight container in the refrigerator. Just simply let them cool a bit then store it in the fridge for up to three days.
Reheat as you would like in the microwave or even in a skillet on the stove.
In terms of freezing, you can freeze the cooked meatballs for up to three months.
Equipment Used to Make Frozen Meatballs
Equipment Used to Make Meatballs from Scratch
Flavor Options For Instant Pot Frozen Meatballs
Frozen meatballs are one item I always keep stocked in my freezer. Here are awesome ideas to change up the flavors of the meatballs. Any way you play it, this Instant Pot meatball recipe has so many variations that will go a long way in your meal planning.
Grape jelly meatballs with BBQ - bbq jelly meatballs mix two delicious flavors, the traditional grape jelly meatball recipe mixed with bbq sauce.
Grape jelly chili sauce meatballs - these meatballs with grape jelly and bbq sauce are a mix of sweet and spicy.
Instant pot turkey meatballs with one of these sauce combinations - make grape jelly bbq meatballs, bbq meatballs, or add in a sweet and sour Asian sauce to the mix.
Straight barbecue meatballs - simple and easy. Mix up a traditional homemade bbq sauce or even cherry bbq sauce for something different.
Buffalo chicken meatballs - mix up a recipe similar to our buffalo chicken dip, but with meatballs instead.
Sweet and sour meatballs - add in a sweet and sour sauce made from scratch or a storebought sauce.
Mongolian meatballs - similar to the ingredients in our Instant Pot Mongolian Beef recipe, or our other version of Mongolian Beef.
Etc
Grab Costco meatballs, Kirkland meatballs, Sam's Choice, or any other brands of meatballs you like. With a few ingredients and a little time you can truly create a meatball appetizer or dinner in no time.
Recipe FAQs
How long does it take to cook frozen meatballs?
It takes just 6 minutes to cook frozen meatballs in the Instant Pot. Once they are done, do a quick release of pressure.
Do I use homemade or store bought meatballs?
You can use either homemade or buy your favorite brand of frozen meatballs. Both work great. And if the meatballs are pre-cooked the cook time stays the same for either.
Can you overcook meatballs?
Like any food yes you can overcook meatballs. For these pressure cooker meatballs, I find that the 6-minute mark works great.
Can I use a Ninja Foodi for this recipe?
Absolutely! Ninja Foodi meatballs are delicious. Just use the pressure cooker lid, and not the crisping lid. Make these party meatballs, or even serve for dinner.
Recipe Instant Pot Frozen Meatballs