Looking for a flavorful and colorful dinner that is also quick and easy? Look no further than this recipe for Instant Pot Orzo & Italian Sausage Easy Stuffed Peppers.
With orange and yellow peppers filled with Italian sausage and orzo, this recipe is amazingly delicious and pretty to look at! And thanks to the Instant Pot, it cooks in a jiffy, making it perfect for busy weeknight dinners.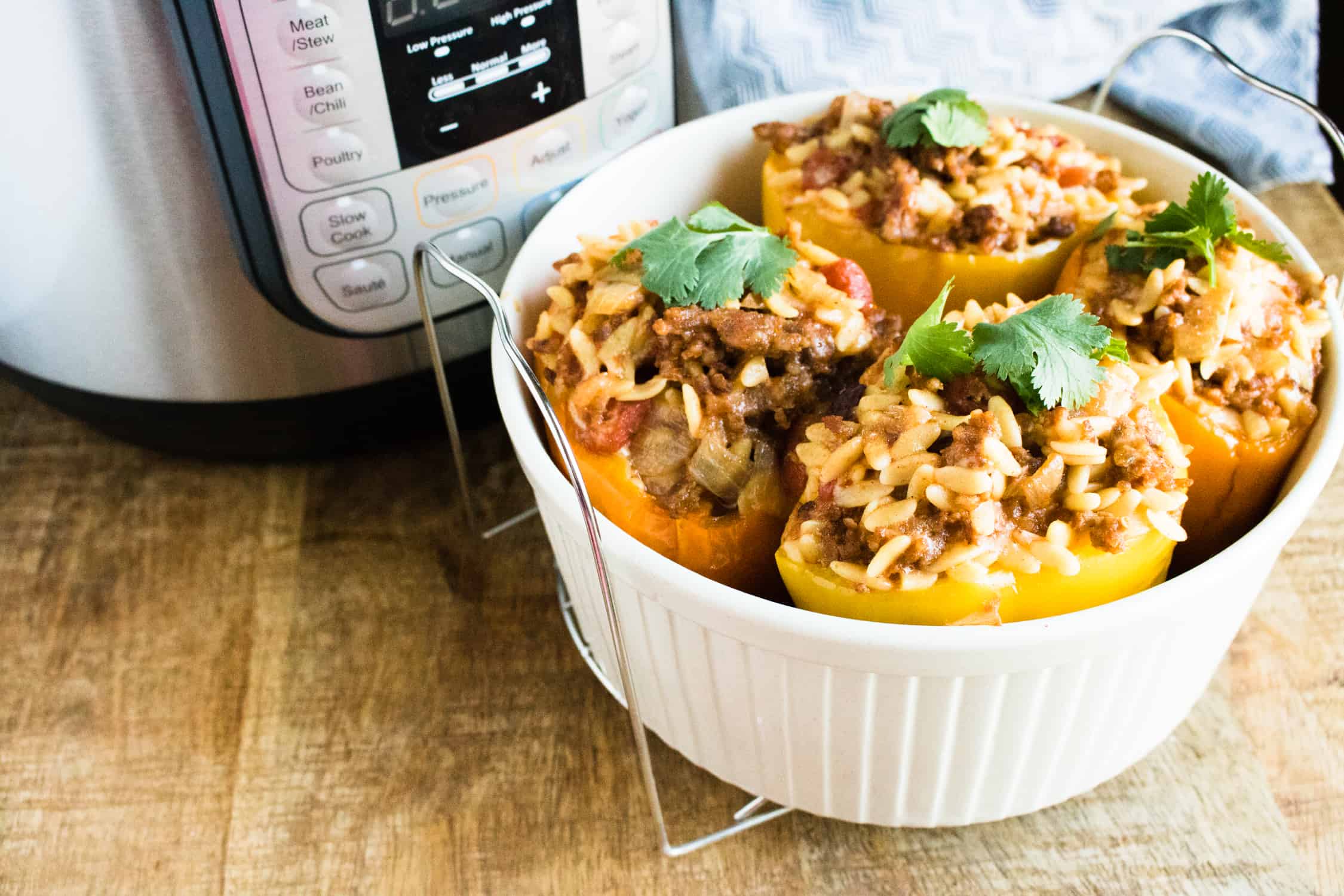 These Instant Pot Orzo & Italian Sausage Easy Stuffed Peppers are made in an Instant Pot, which makes every dish so much quicker and easier!
It only takes 10 minutes for this recipe to cook, so you'll get a delicious dinner on the table in a flash. That is truly something to love at the end of a crazy busy day.
Why You Will Love Instant Pot Orzo & Italian Sausage Stuffed Peppers
Instant Pot Recipe
Easy
Versatile In Filling used
10 Minute Recipe
Quick Prep
Family Friendly
Kid Approved
Definitely not your mama's stuffed peppers!
Ingredients Needed
Bell Peppers
Orzo Pasta
Hot Italian Sausage
Onion
Diced Tomatoes
Mozzarella Cheese
Water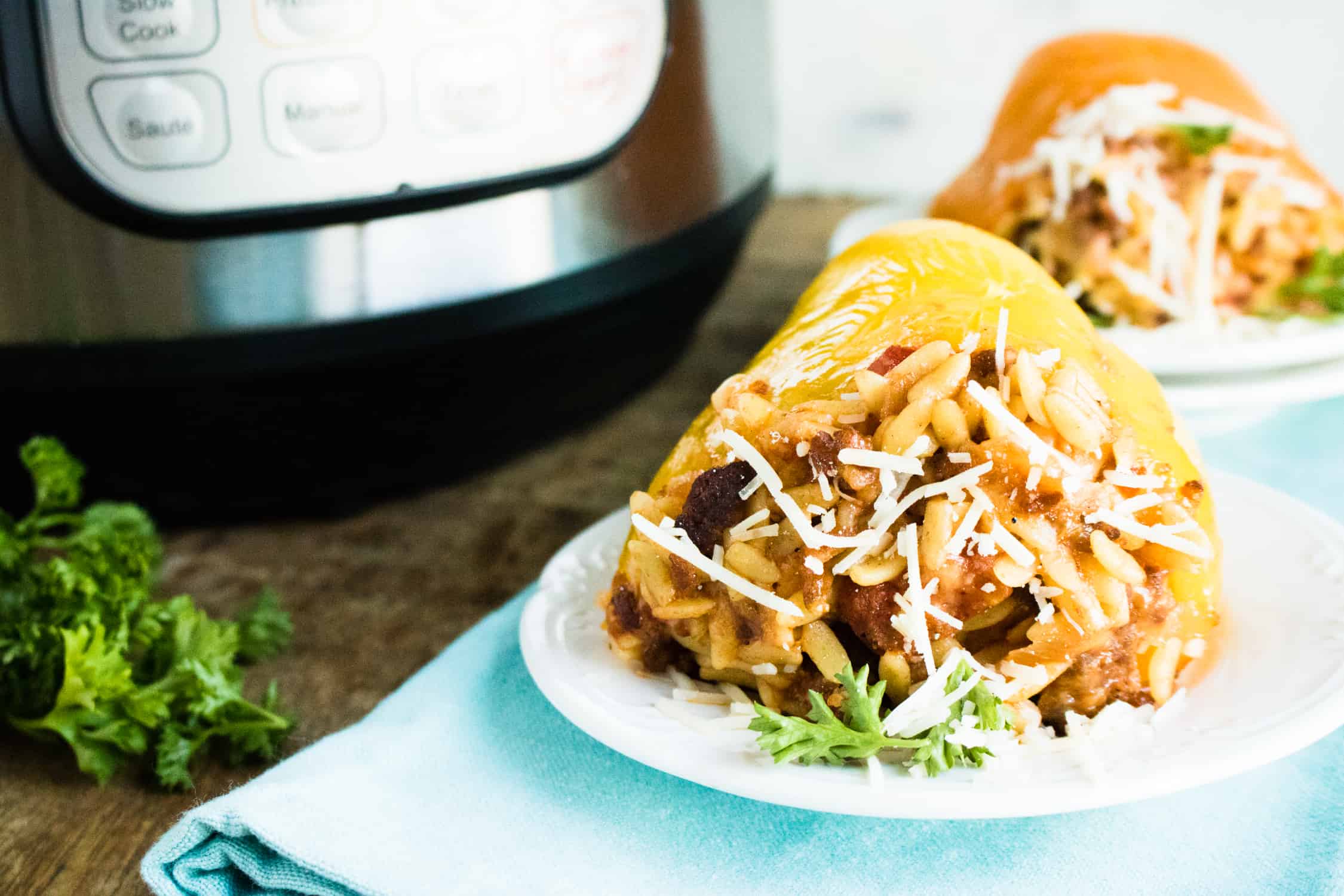 How to Make
Full directions for this recipe are in the printable recipe card below. This is a quick overview of how to make the peppers.
Step #1: Turn the Instant Pot on to sauté mode and brown the Italian sausage with the chopped onion. Remove from pot when done and mix together with the orzo pasta, tomatoes and mozzarella cheese.
Step #2: Remove the tops from the peppers, and take out the membranes and seeds. Stuff the peppers with the orzo and sausage filling.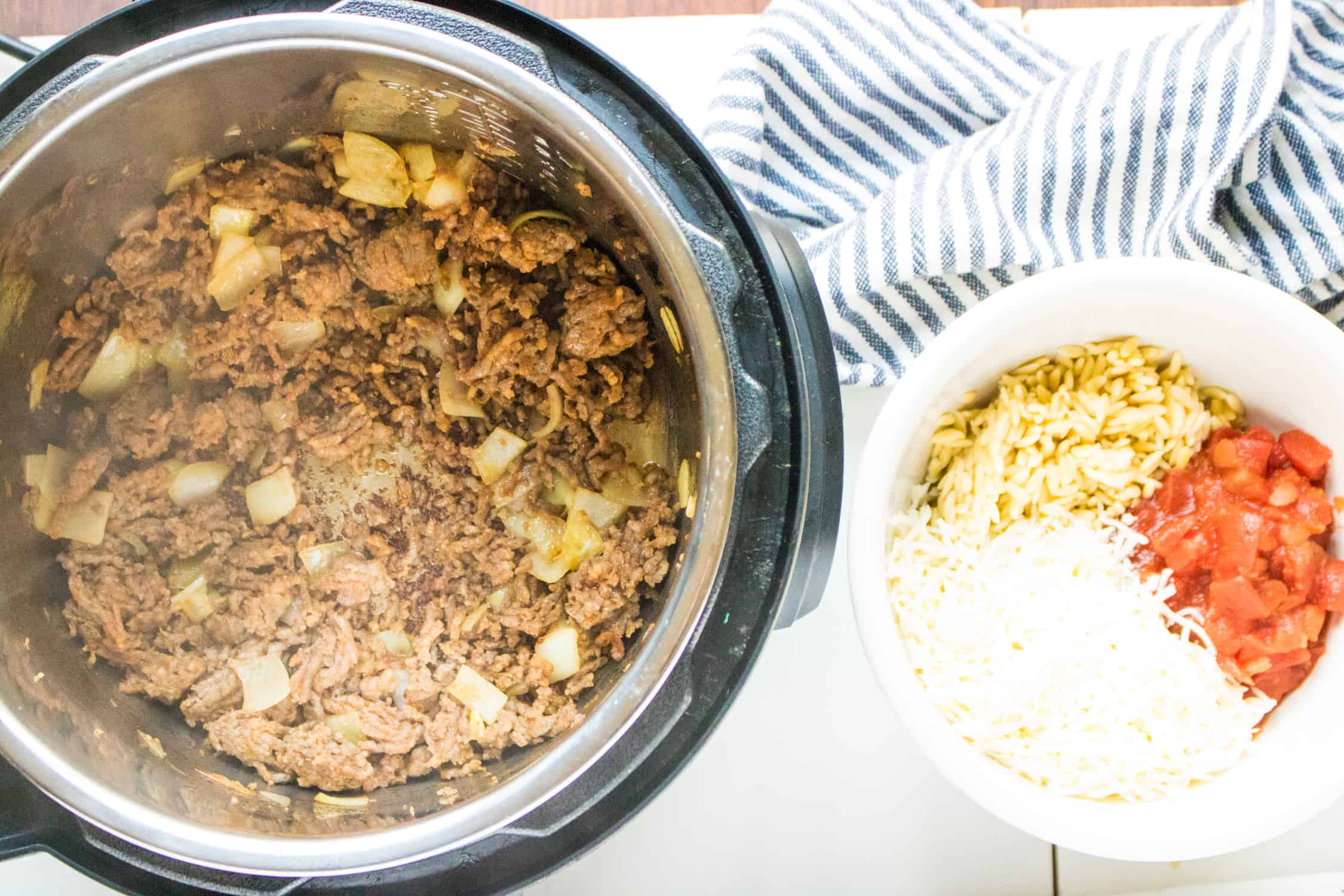 Step #3: Add 2 cups of water to the inner pot of the Instant Pot.
Step #4: Place the stuffed peppers in a casserole dish that will fit inside the Instant Pot. Put the casserole dish on top of the trivet in the Instant Pot.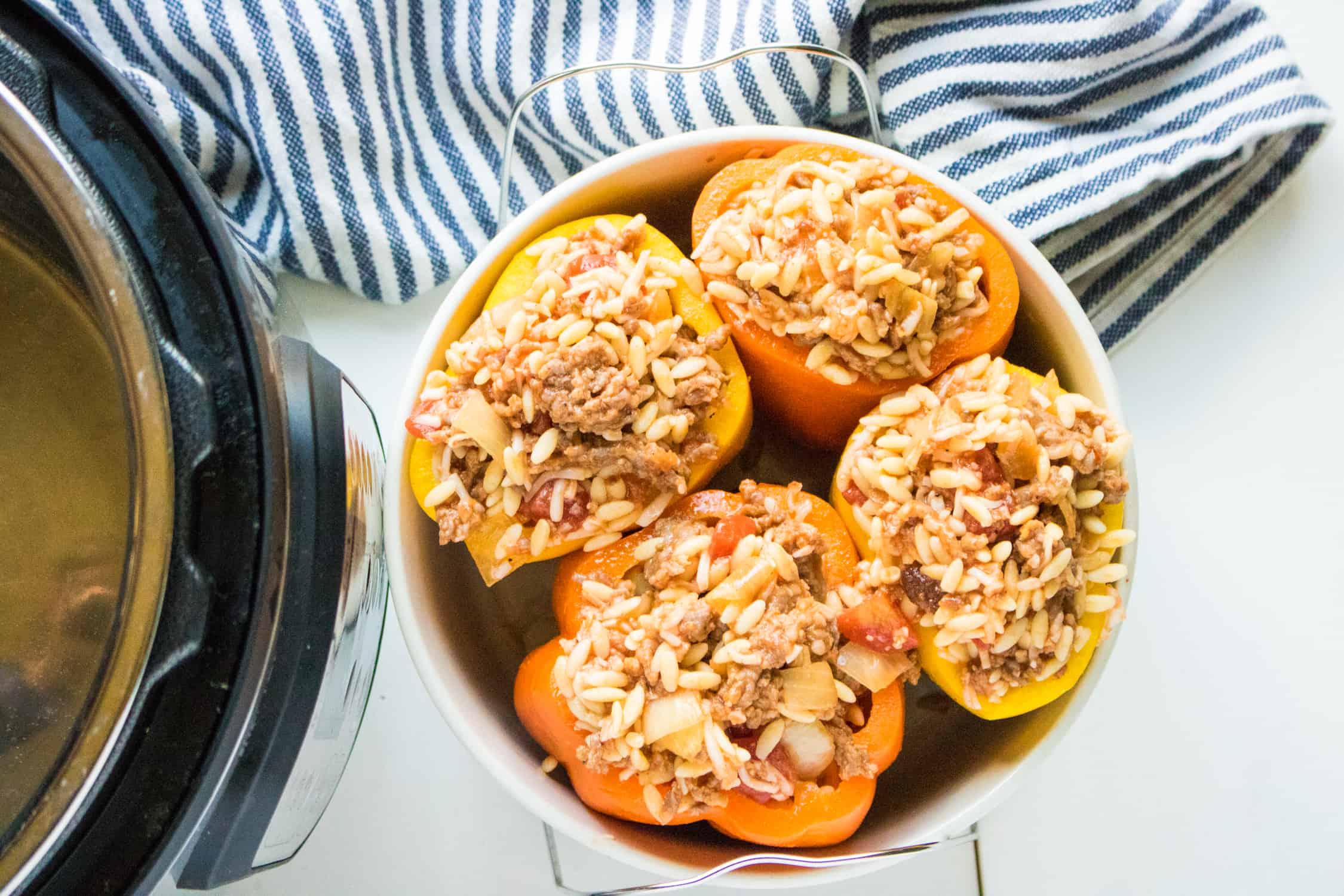 Step #5: Close the lid on the pressure cooker and turn the valve to sealing. Then you will plug in your Instant Pot.
Step #6: Set a manual high-pressure time for 10 minutes. Allow it to cook and then the pressure cooker will beep when done.
Step #8: Remove from Instant Pot and serve. Enjoy!
Storage
Not sure how to store stuffed bell peppers? Simply allow the stuffed peppers to cool a bit then store in an airtight container.
The peppers will refrigerate for up to three days. The pepper will soften a bit more. Then when you want to reheat do the microwave or warm the peppers up in the oven.
What to Serve With Stuffed Peppers
Looking for recipes to serve along the Instant Pot Orzo & Italian Sausage Easy Stuffed Peppers to make is a meal? Check out the suggestions below.
Love a salad alongside your entrée? Try this awesome recipe for Italian Salad with Homemade Italian Dressing.
I know people that don't feel the meal is complete without some type of rice or potato. If you are one of those people, try this delicious Garlic Mashed Potatoes recipe!
And, of course, no meal is complete without a mouth-watering dessert. Some people might even say it is the best part! Try this amazing rice pudding recipe and you'll have dessert for a couple of days!
Variations To Recipe
Swap the Italian Sausage with ground beef. Just cook up brown the ground beef in the Instant Pot on the saute feature. Great ground beef stuffed peppers recipe.
Make this a ground chicken stuffed peppers. Or you can even dice up some cooked chicken and use that instead of ground chicken.
Swap mozzarella with provolone or another variety of cheese.
Swap out the diced tomatoes with a can of Rotel diced tomatoes with green chiles for added flavor.
Recipe FAQs
Helpful tips for making stuffed green peppers for dinner!
How long to cook stuffed peppers?
You will pressure cook the stuffed peppers for 10 minutes followed by 4 minutes of natural release before you push off the excess pressure.
Can I make stuffed peppers in advance?
You can prep the peppers in advance, just place your peppers in the fridge. Then when you want to cook them, just place in the Instant Pot and then pressure cook the same amount of time.
Can I use any color of bell pepper for stuffed peppers?
You are welcome to use any color of bell peppers you would like. The yellow, red, and orange are a sweeter flavor than the green pepper.
How to cook orzo?
I like to do 1 cup orzo to 2 cups broth or water. Add 2 tablespoons butter and melt in a pan. Toss in the orzo and toast it. Add in your liquid, bring it to a boil. Once boiling reduce heat to simmer and cover. Allow the orzo to cook for around 15-20 minutes.
Is orzo rice or pasta?
Orzo is pasta that is shaped like rice. You will find it has more of a texture to pasta, but the look of rice.
Is orzo gluten free?
Orzo is not gluten free. You will find it uses classic flour when made. You can use rice as an orzo substitute if you need a gluten-free option.
Let me know how you like this stuffed peppers without rice recipe!