Making this Instant Pot Deviled Eggs Recipe is a classic Easter deviled eggs recipe that is among the recipes for a display of easy appetizers and relishes to serve on a holiday. Of course, million dollar deviled eggs are great any day of the year.
Now that I have this amazingly quick and easy Instant Pot deviled Eggs Recipe, I am going to carry on that tradition and bring deviled eggs to all sorts of potlucks, parties, and celebrations.
And these Instant Pot Deviled Eggs are everything that's great about the classic and beloved appetizer, but made with a modern twist thanks to the Instant Pot!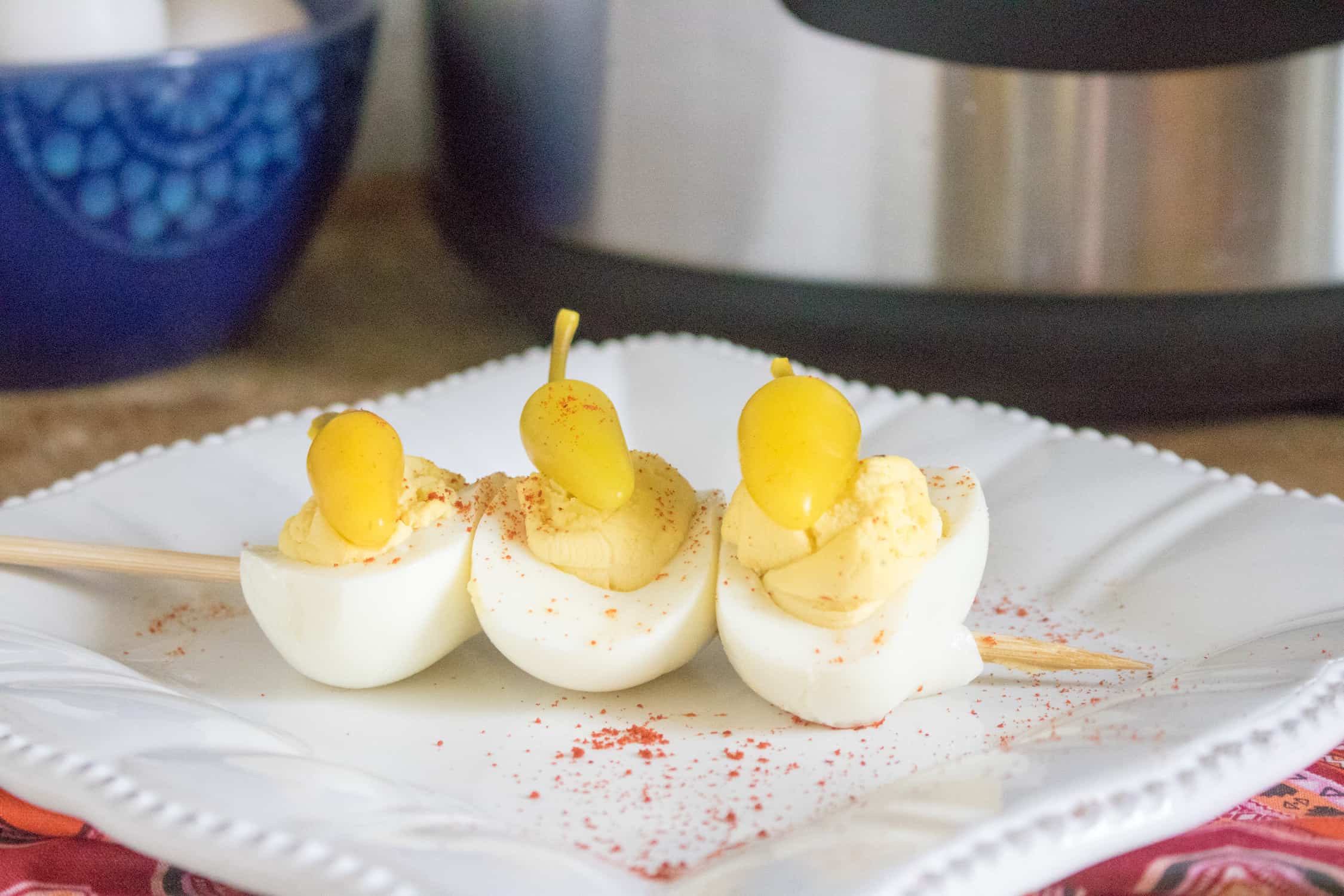 Ingredients
So, what are the ingredients for deviled eggs? Here are the basic ingredients for how to make classic deviled eggs using our recipe for deviled egg filling.
eggs
mayonnaise
mustard
paprika
salt and pepper
Equipment Used to Make Instant Pot Deviled Eggs
Why You Will Love This Egg Recipe
Using the Instant Pot to cook your eggs means you will have perfect hard-boiled eggs (technically they are steamed, not boiled) every time. No more boiling water, dropping in the eggs and crossing your fingers that they are done properly and will peel easily.
The Instant Pot eliminates all the guesswork and guarantees perfection each and every time.
Because they are so quick and easy! The eggs will be cooked in just 5 minutes (with an additional 5 minutes pressure release).
Then simply mix together a few basic ingredients that you most likely already have on hand, and you have a creamy, delicious deviled eggs.
Plus, they are bright and cheerful! With the yellow filling and paprika sprinkled on top, they are bright and sunny and will make you smile.
Other Side Dishes
Looking for additional party food or side dish ideas? Then check out these other tasty and crowd-pleasing recipes!
Another classic side dish recipe, made simple thanks to the Instant Pot. Instant Pot Heirloom Potato Salad. Yum!
This 7 Bean BBQ Instant Pot Baked Beans recipe takes another classic to an amazingly tasty level. So much flavor!!
Pasta salad is always a great side dish, too. This Summer Orzo Salad recipe is fun because it uses an interesting, little-known pasta and has incredible flavor.
How to Make This Deviled Eggs Recipe Step By Step
Step #1: Add 1 cup water to the Instant Pot inner pot.
Step #2: Add eggs to a steaming basket or to the trivet over water.
Step #3: Close the lid on the pressure cooker and then turn the valve to sealing position.
Step #4: Set to a manual high time for 5 minutes. When the cooking time has finished, do a natural release for 5 minutes before releasing the rest of the pressure.
Step #5: Remove eggs from the steamer basket and then place them in an ice water to stop the cooking.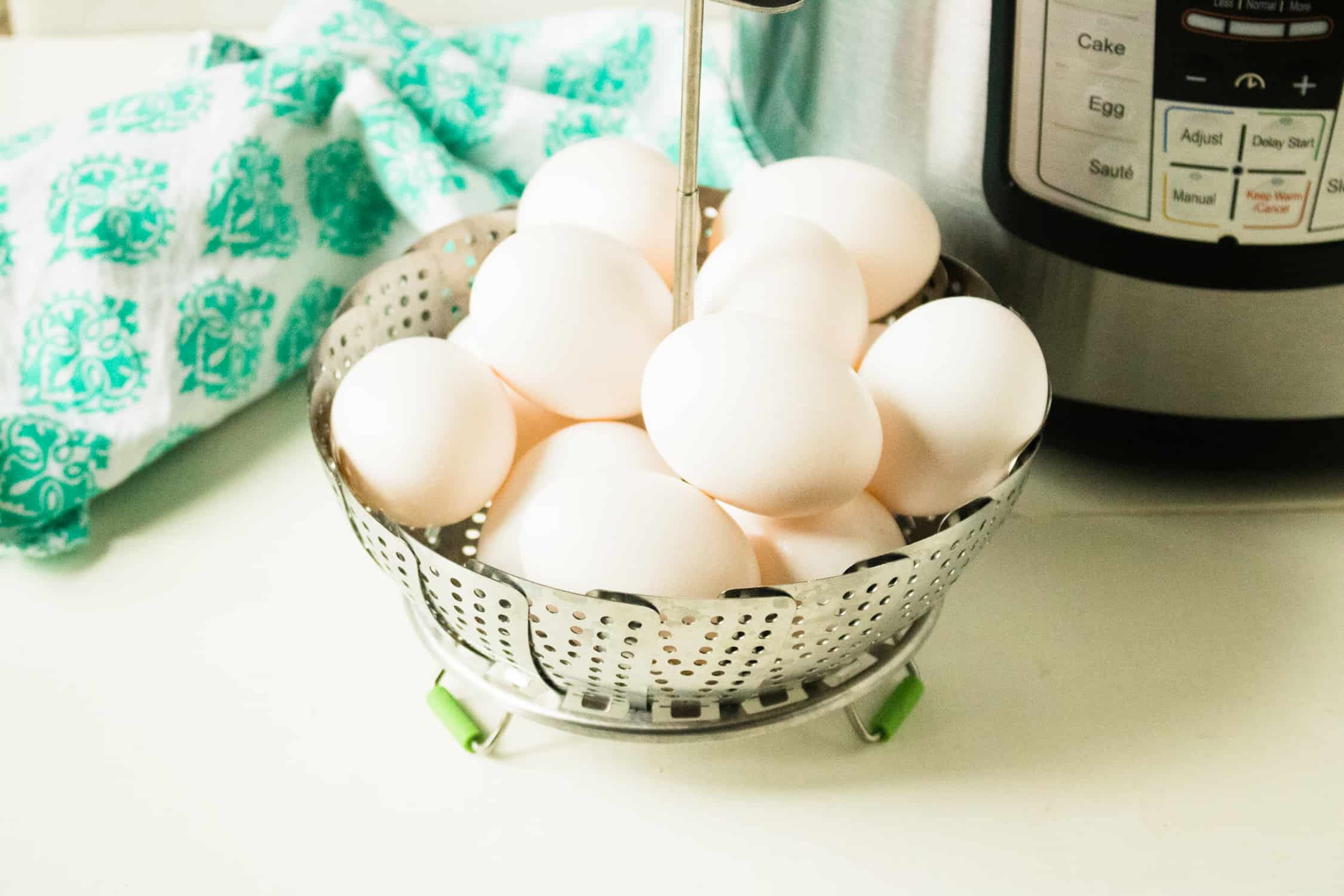 Step #6: Next, slice eggs in half lengthwise and place yolks in a separate bowl.
Step #7: Mix yolks together with the remaining ingredients.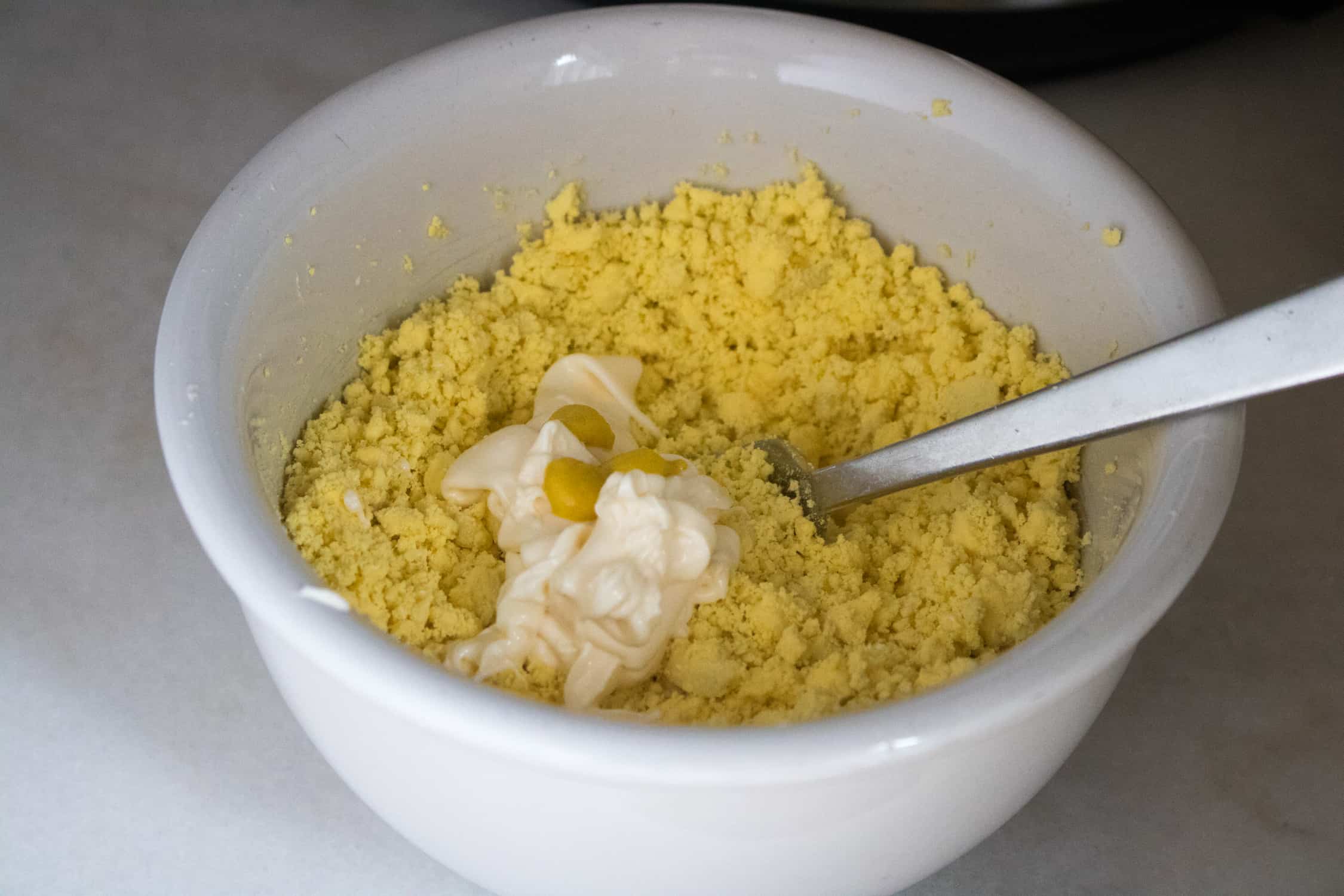 Step #8: Pipe yolk mixture into egg halves and then top with additional paprika or other toppings as desired. Enjoy!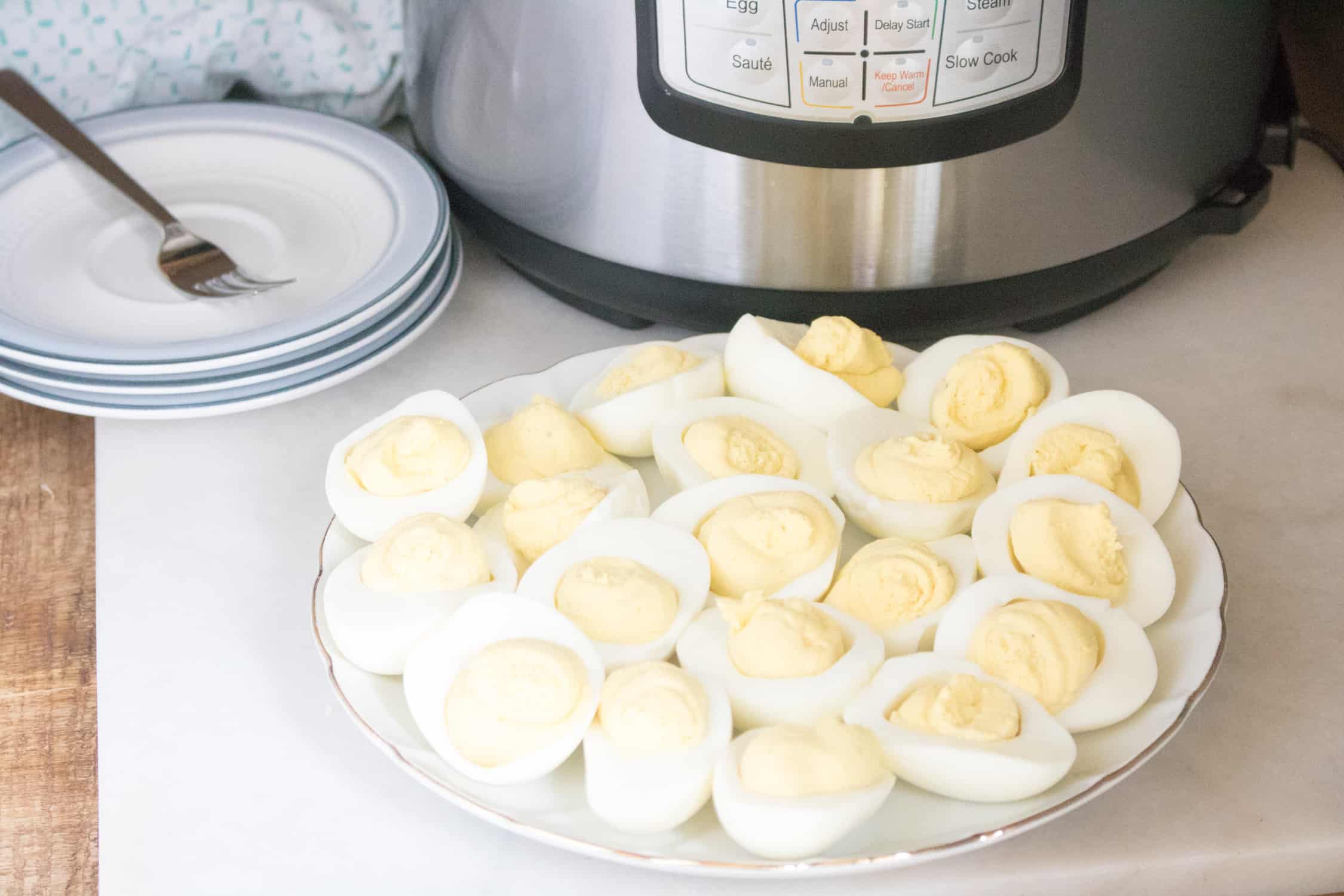 FAQS
Is this a healthy deviled eggs recipe?
Yes. This is a healthy deviled eggs recipe. Deviled eggs typically involve the egg yolk is mixed with mayo, a touch of mustard, and seasonings.
Are there different deviled egg recipes?
Yes! There are so many recipes for deviled eggs. When you learn how to cook eggs in Instant Pot, you'll love how easy it is to make deviled eggs.

You have cooking eggs in Instant Pot figured out, now just mix up the filling in a variety of ways using different seasoning and yum! Enjoy.
Is this a simple deviled egg recipe?
Yes. Once you learn how to boil eggs in an Instant Pot you'll never go back. You can make this recipe and have a deviled eggs Thanksgiving recipe ready to go. This is an easy egg recipe to make.
What are deviled eggs?
Deviled eggs are typically made by halving hard-boiled eggs length-wise and then scooping out the yolk. Then, the yolk is mixed with ingredients to make a filling that is scooped or piped back into the eggs. A common topping for deviled eggs is paprika.
I want to boil my eggs instead of making them in the Instant Pot. How long do you boil eggs for deviled eggs?
How long to boil eggs for deviled eggs will be the same as for hard-boiled eggs.

Boil the water, and then turn the heat and set a timer for 10-12 minutes. You'll have perfectly cooked hard-boiled eggs perfect for our easy deviled eggs recipe.
How long are deviled eggs good for?
A good rule of thumb is to use up deviled eggs within 2-3 days.
Recipe