Here it is. The soup recipe that you have been waiting for.
We're talking about a thick soup that not only is easy to cook, it's so tasty to eat up. This soup recipe can be made on the stove top if you don't have an Instant Pot.
However, this one pot meal is so much faster and easier to make in the instant pot.
Immersion blenders are ideal for blending thick soup recipes into a smooth consistency after its cooked down and at its optimal condition for blending.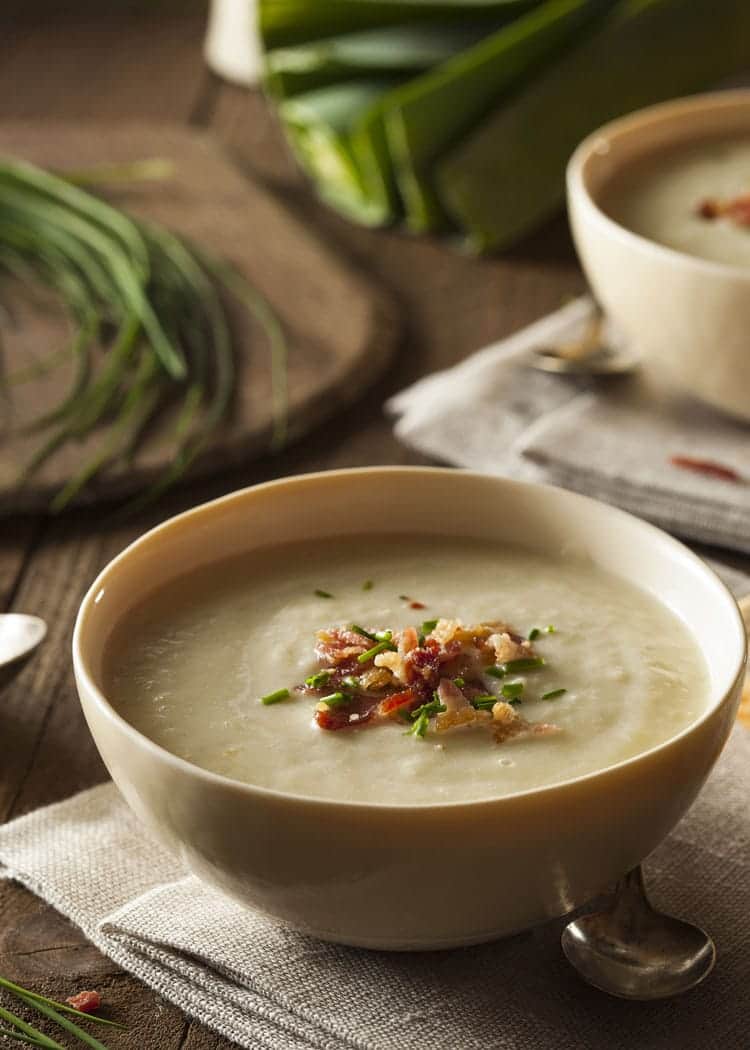 Thick Soup Recipes
If you love soup as much as we do, we're pretty sure you are going to adore this soup.
Not only is our Chicken and Leek soup delectably creamy, it's also so exceptionally tasty. When topped with chives and crumbled bacon it pretty much puts this soup off the charts when it comes to rankings.
Bite by bite, this is a soup to savor and enjoy on cool days. It's also great for enjoying a quickly prepared meal on a busy school night.
Really, if you're a soup fan, you could serve this soup up any time of the week or year.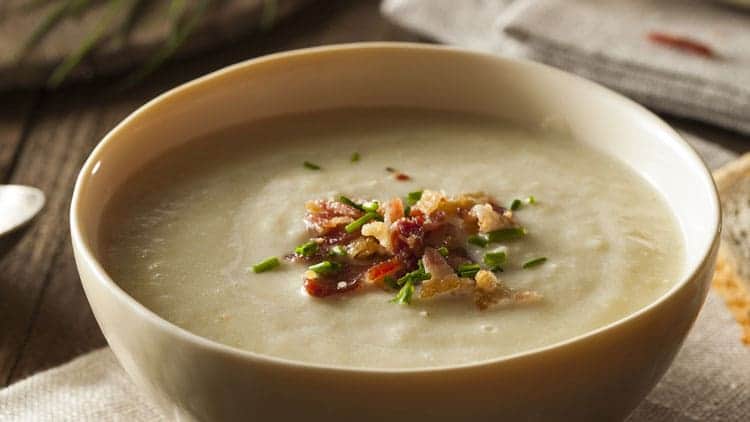 Chicken Leek Soup
One of the things we love most about Chicken and Leek soup are the ingredients. Hello…that's kind of exactly why we made it in the first place, right?
Leeks are full of nutritional benefits like being a great source of fiber, antioxidants, vitamins and minerals. Add that to the protein in chicken, and you have very nutrient rich combination.
And when we're talking about nutrition, we really want to make sure we're touching base and getting servings of all the nutrients we need.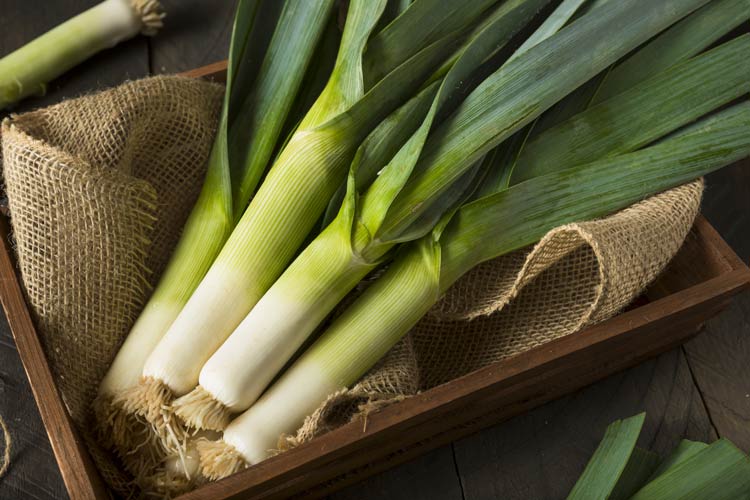 Best Soups for Making at Home
Narrowing down the best soups is a difficult task for a soup lover. Seriously. It is not an easy job.
We are huge soup connoisseurs around All She Cooks, meaning if challenged to we'd be happy to eat, sleep and breathe soup recipes. If it could be done…we'd do it.
Soup graces our kitchen table more days than not during the winter months, which are long up here in Wisconsin.
And since we have those cold months to contend with, it's a good thing we have so many favorite soup recipes.
Although difficult to narrow down the best soups to share as our favorites, here are a few that would make every list of favorites: Copycat Zuppa Toscana Soup Recipe, Instant Pot Southwest Chicken Soup, Cauliflower Goat Cheese Soup, Homemade Ham and Potato Soup and we'd be remiss if we didn't include our favorite Game Day Chili recipe.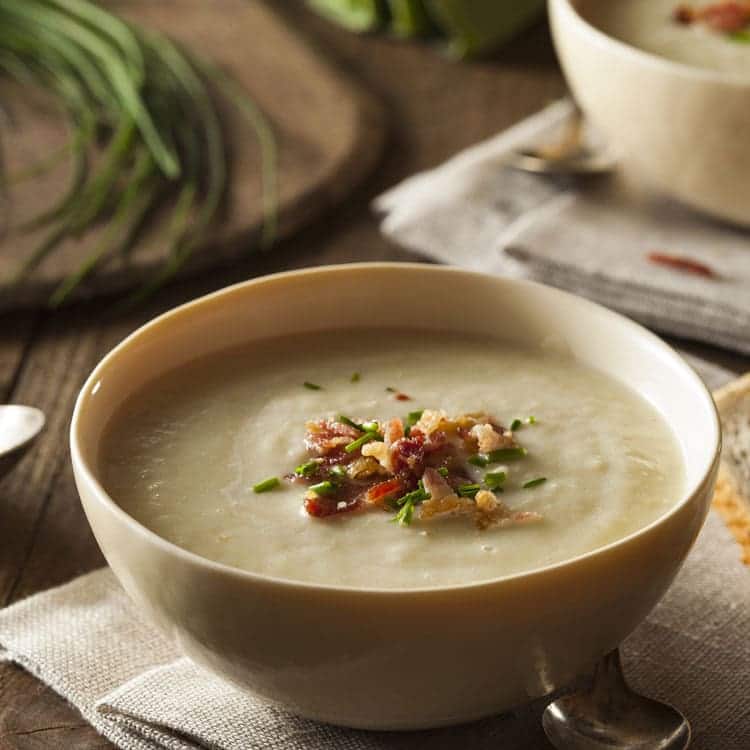 Soup Ideas for Dinner
The best soups are always a good idea for dinner. We like to make a big pot of soup so we have enough left over to have soup for lunch the next day.
It's also a great idea to heat up soup in the morning and put it into a lunchbox thermos to send for school lunch for the kids!
Talk about a warm and hearty lunch full of great nutrients to keep them going throughout the day!
Easy homemade soup recipes are always a good idea to have on hand.
They make for comfort food dinner and lunches that warm the heart and soul during the cooler months…or all year long if you're a soup junkie like us.

Meal Ideas to Help You Cut Back on Takeout Food
We're like most families. The appeal of takeout is always lingering…tapping on our shoulders and whispering in our ears.
And, while we've moved away from the fast food drive thru, there are still days that have us wanting to call and place an order to our favorite local sit down food establishments.
The search for the best dinner recipes and more importantly healthy recipes is always upon us.
Quick dinner ideas that come from healthy food recipes are a lot easier to come by than one might think.
And each and every time we cook a meal in our instant pot, we are cooking recipes with whole food ingredients that we might not use if we resorted to other quick cooking ideas.
Yield: 4 Servings
Instant Pot Creamy Chicken Leek Soup Recipe
You will love this Creamy Chicken Leek Soup recipe that is made in the Instant Pot. You can serve it chunky or use an immersion blender.
Ingredients
1 pounds chicken breast
½ teaspoon pepper
1 teaspoon salt
1 12 ounces pack bacon
3 stalks celery finely diced
½ cup heavy whipping cream
2 stalks leek thinly sliced
1 medium onion finely diced
2 ½ cups chicken broth
1 tablespoon oil
Instructions
Mix pepper and salt together.
In sauté mode, cook bacon until crispy. Remove bacon and grease, leaving about 1 tbsp. of grease in pot.
Season chicken breast with pepper and salt.
Brown chicken in bacon grease on both sides. Remove, set aside to cool.
Add celery, onions and leek. Still in sauté mode, cook onions until translucent.
Add ½ cup broth. Deglaze. Cover and set to cook on high pressure for 8 minutes.
Meanwhile, cut chicken into finely chopped pieces.
Quick release after cooking process. Add chicken to pot, heavy cream and the rest of the broth. Stir.
Cover and set to cook again on high pressure for 5 minutes. Natural release after cooking process.
Use immersion blender to create a smoother soup consistency, or enjoy chunky.
Serve with crumbled bacon
Recommended Products
As an Amazon Associate and member of other affiliate programs, I earn from qualifying purchases.
Nutrition Information:
Yield:
4
Serving Size:
1
Amount Per Serving:
Calories:

762
Total Fat:

49g
Saturated Fat:

18g
Trans Fat:

1g
Unsaturated Fat:

27g
Cholesterol:

217mg
Sodium:

2663mg
Carbohydrates:

11g
Net Carbohydrates:

0g
Fiber:

1g
Sugar:

5g
Sugar Alcohols:

0g
Protein:

67g