If you've invested in an Instant Pot, you've probably already collected a lot of pressure cooker dinner ideas. This Instant Pot chicken penne pasta recipe is one of our favorite easy dinner recipes. Instant Pot chicken pasta recipes are budget-friendly.
If you're just getting started (or if you're looking for new ideas), you'll want to check out some of these delicious meals:
Instant Pot Southwest Chicken Soup is just what you need when you're looking for a meal that warms you from the inside out.
Instant Pot Pork Carnitas Recipe for Pork Carnitas Tacos is SO delicious! We love pork tacos any day of the week.
Instant Pot Spaghetti and Meatballs Recipe is the perfect one-pot pasta meal. We give it seriously rave reviews.
Jalapeño Popper Chicken Pasta is another favorite Instant Pot pasta recipe with a tasty combination of pasta and chicken spiced up with jalapeños.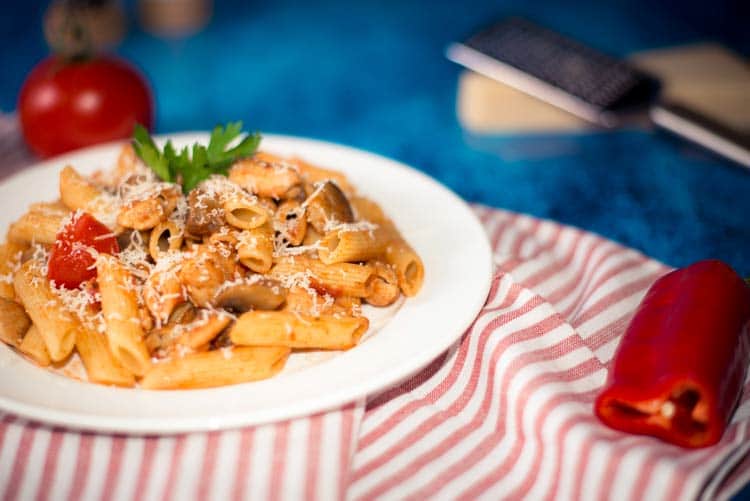 Ingredients for Chicken Pasta
boneless chicken breast or thighs
dry Italian dressing
crushed tomatoes
dry penne pasta
olive oil
Water
Cooking Supplies for One Pot Chicken Pasta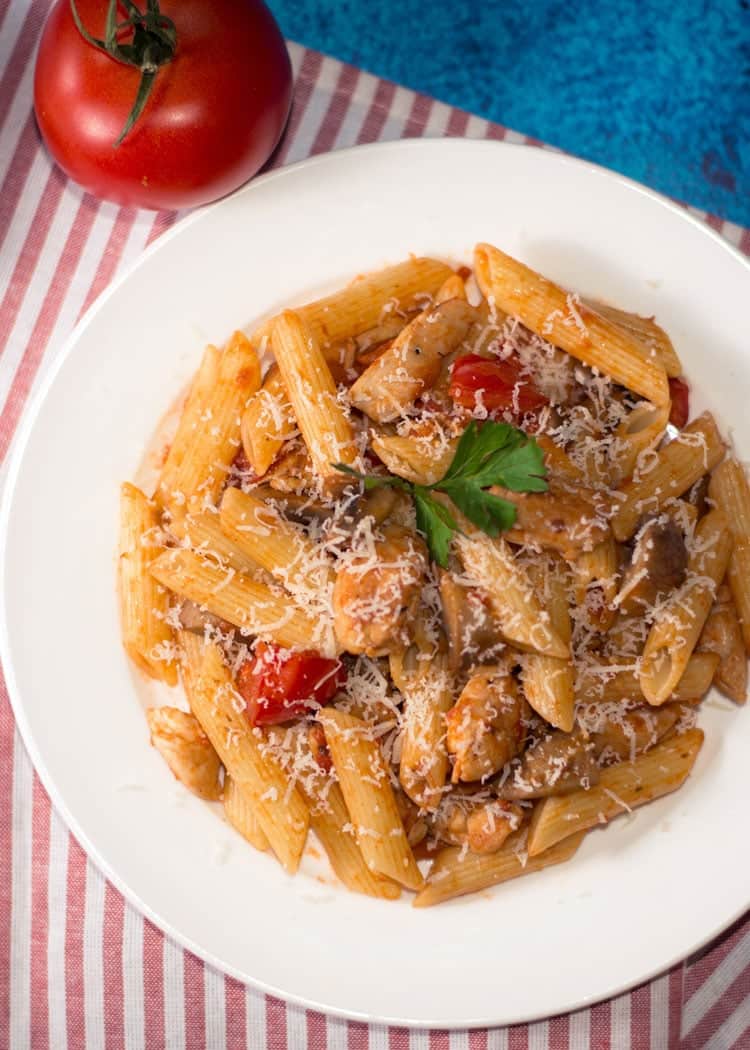 You'll LOVE this recipe. We're talking about flavor perfection and the ultimate comfort food you will surely be adding to your meal plan.
With Italian seasonings, tomatoes, and delicious chicken...so, so yummy!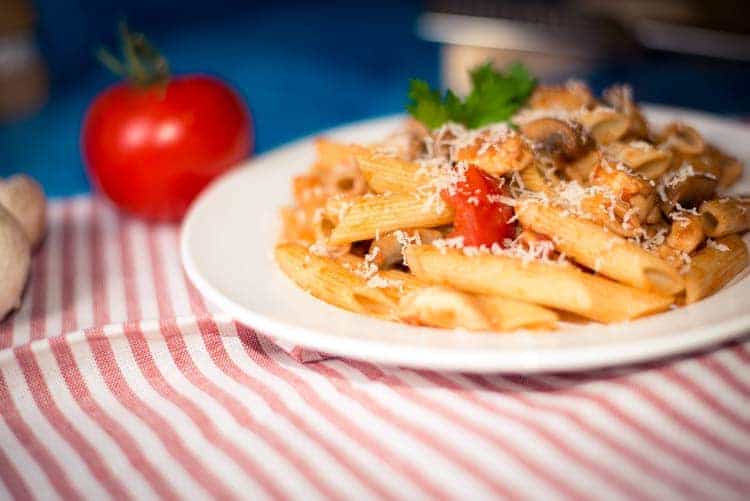 Easy Instant Pot Recipes
Make an easy dinner tonight.
When we look for simple dinner ideas, pasta often comes to mind. Not only is it easy to make, but it is also an economic choice...kind of like Poor Man's Soup and Mac and Cheese with Ground Beef that so many of you are fond of.
Chicken pasta recipes are the same way. Look for inexpensive packs of chicken and shop the sales. You'll often find sales on both chicken and pasta. And, there are so many easy pasta dishes to choose from!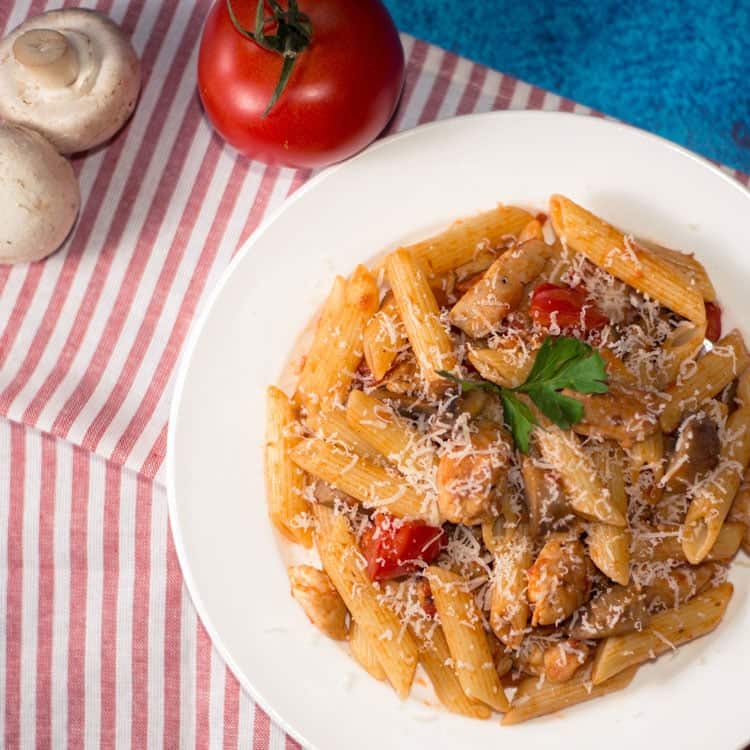 New to cooking with a pressure cooker? Try out the Be the Boss of Your Instant Pot Video Course! It'll help take the pressure off and ease you into cooking with your Instant Pot.
Pasta Recipes with Chicken
One of the things we love most about the Instant Pot is how easy it is to use once you get the hang of it.
What we are really talking about here is the ability to make an entire meal using just one pot. This not only makes cooking a breeze, but also makes for an easier clean-up. And when kitchen clean-up is a breeze...life is good!
Pasta and chicken recipes combined are amazing. Top this tasty pasta with some Parmesan or mozzarella and some herbs to garnish. We love to top our pasta with fresh basil...delish!
We like to make chicken breast recipes (and chicken thigh recipes) in the Instant Pot because it makes cooking such a breeze. Chicken penne pasta is one of our all-time favorite Instant Pot chicken recipes.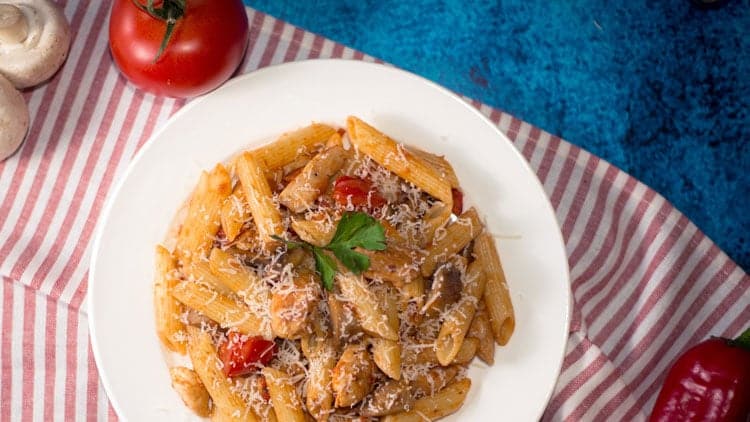 FAQS
How to cook penne pasta?
How to cook noodles will always vary depending on the recipe you are using. For this recipe, the penne is cooked in the Instant Pot along with the rest of the ingredients. This is a reason to love easy pasta recipes.
How long to cook penne pasta in Instant Pot?
This recipe takes just 10 minutes to cook penne pasta, but for other recipes, you will need to follow the cooking time specified for that recipe.
What is penne pasta?
Penne is a cylinder-shaped pasta with a hollow inside.
How much penne pasta per person?
2 ounces of pasta per person is a good rule of thumb.
How to cook pasta in Instant Pot?
This recipe is so easy because all of the ingredients are added to the pot at one time. It is truly a one pot pasta recipe. This chicken tomato pasta recipe is one to keep around.
What is the right temperature of cooked chicken?
The minimum cooked chicken temp is 165 degrees Fahrenheit.
What chicken seasoning does this recipe use?
There is a ton of debate as to the best seasoning for chicken. For this recipe and many other chicken recipes, Italian seasoning is the base of the chicken seasoning. The chicken marinara and Italian seasoning all blend to perfection.
Frozen chicken breast recipes?
Yes, you can use frozen chicken in this recipe. Cut the chicken into bite-size chunks before adding them to the Instant Pot.

Most Instant Pot chicken breast recipes can use frozen chicken. The only time you wouldn't be able to use frozen chicken is if a recipe requires sauteing prior to the pressure cooking time.
Other Instant Pot Recipes and More to Try
We LOVE cooking with chicken because it is SO incredibly versatile. Chicken recipes can range from simple baked chicken to something more complex.
Casseroles and pasta dishes with chicken are also AMAZING. Give me chicken enchiladas any day! And, this Easy Instant Pot Beef Enchiladas is so delicious and easy to make.
If you love enchiladas, you'll also want to try our Beef Enchilada Hamburger Helper and our Instant Pot Chicken Enchilada Casserole with Rice. So many delicious ways to enjoy the taste of enchiladas.
And, Chicken Parmesan is always a winner. It's one of our favorite Italian chicken pasta recipes. Just whip up some noodles to serve with the chicken Parmesan!
We're pretty sure you are going to love this instant pot recipe! It's one of our favorites.
Don't forget dessert! You'll love our Brownie Bottom Cheesecake and Cherry Cobbler.
Recipe