Instant Pot Chicken Curry – Inspired by Indian Recipes
Instant Pot Chicken Curry is a recipe that is full of flavor. And that makes sense. Indian food as a whole is full of intense flavors, and they are found in every curry chicken recipe we've ever tried.
You can find chicken curry ingredients like curry seasoning, coconut milk, coconut cream, and cumin at many specialty stores. I often order these online. Coconut cream is often difficult to find in a grocery store.
The selection of curry seasoning powder is impressive.
Coconut Chicken Curry is my personal favorite chicken curry recipe.
Coconut Chicken Curry
Chicken curry is a common food in South Asia, and is widely served in India.
The combination of Chicken and rice is ideal. It's especially appealing to counteract the heat and spice of some more intense curry powders.
India has different types of curry that are specific to the regions they come from. You'll find all sorts of chicken curry recipes depending on where you venture to in India.
Some of the curry recipes in India include Chicken Kurma, Chicken Gravy, Chicken Kulambu, and Indian Butter Chicken. Murgh Makhani, Chettinad Chicken Curry, Chicken Cafreal, and Chicken Garam Masala are served in various regions of India. And there is also Kerala Chicken Curry, Nadan Kozhi Curry, Dhania Murg Makhni, and Spicy Malvani Chicken Curry. The list of curry recipes is huge.
Since the type of curry varies by region, you'll have a wide range of flavors available if you tour around India. Exploring the food of India, in India, would be quite the trip!
I've tried using curry in a few recipes. This low calorie Healthy Egg White Scramble recipe is one example.
This Asian Rice Bowl recipe doesn't have curry in it. Adding a little bit of curry powder to it would make this delicious dish sensational.
New to cooking with a pressure cooker? Try out the Be the Boss of Your Instant Pot Video Course! It'll help take the pressure off and ease you into cooking with your Instant Pot.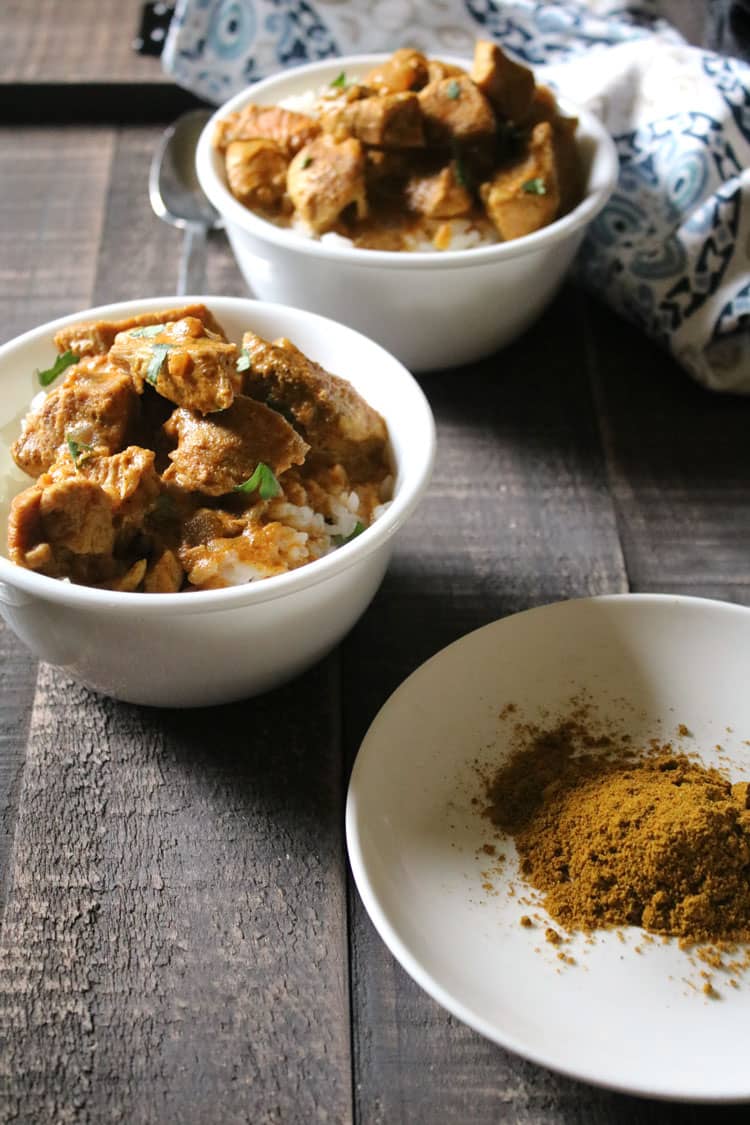 How to Make Easy Chicken Curry in Less than 30 Minutes
Instant Pot chicken curry is really easy to make. I prefer it to making curry on the stove top. Pressure cooking is my favorite way to make curry, because it is easy to just put all the ingredients in the pot.
With this recipe, you start by sauteing ginger and cumin. Then, the onions are added in along with vegetable oil or olive oil. These ingredients are cooked just for just 2-3 minutes to pull out the intense flavors.
After that,add chicken, and stir in curry powder and salt and pepper to the pot. Cook the chicken halfway, stirring as it sautes.
Finally, add coconut milk and optional tomato sauce. Lock the lid on the pressure cooker and turn the pressure valve to sealing.
Set the cook time for 10 minutes and enjoy the aroma of chicken curry cooking. Following a quick release, dinner is ready.
A few recipe notes:
Add about 15 minutes to the cooking time to factor in the time to come to pressure and the quick pressure release time.
You can use boneless chicken thighs instead of chicken breasts.
Is Curry Chicken Spicy
Chicken curry can be spicy. In this recipe, we add in tomato sauce to lighten the heat of the curry. However, tomato sauce is optional. If you want to experience the chicken curry recipe at its full spicy flavor, leave the tomato sauce out.
We also serve chicken curry with white rice. This is another way to tame the heat of curry.
Is it Chicken Curry or Curry Chicken
It's chicken curry.
Chicken is the type of meat that is being used in the recipe, but curry is the dish. Therefore, it is call 'chicken curry'.
An analogy would be white rice. Rice is the type of dish. So, you can have Balsamic rice, brown rice, fried rice, and so on.
With curry, there can be many varieties of curry recipes. Some examples include: sweet potato curry, beef curry, and even pork curry.
What to Serve with Chicken Curry
My favorite way to serve chicken curry is with white rice. It's a simple side dish, and so good. It really helps to take the bite out of the spiciness of the curry.
When rice is served with curry, you can have as much as you like with each bite of curry.
Naan is another great side to serve with curry. It's a leavened, baked flatbread that is common in Asia and the Caribbean.
Greens and chutney are also widely popular to serve with chicken curry.
Can You Freeze Chicken Curry
Yes. You can freeze chicken curry, following a couple simple steps.
First, refrigerate your leftovers quickly. Do not let them sit out to cool all the way down.
Second, when the leftover chicken curry has cooled enough in the fridge, it can be transferred to the freezer. Make sure to use good freezer safe containers.
Chicken curry and rice can be stored in the freezer for up to 3 months. Be sure to use it within that time-frame for best results.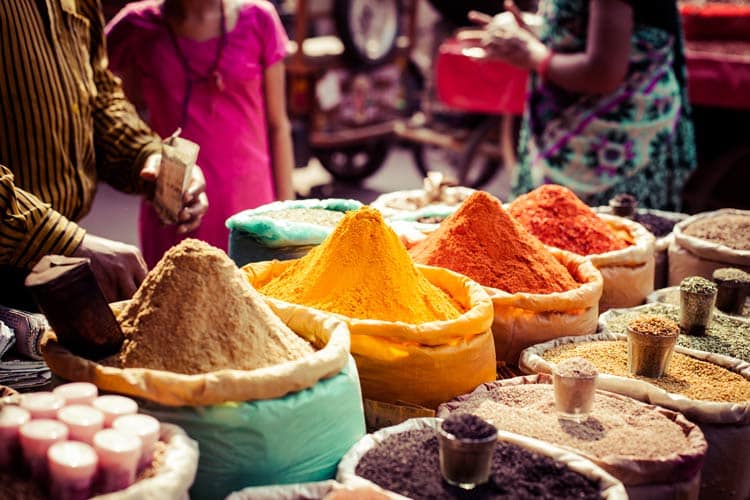 More Easy Chicken Dinner Ideas
Some of my favorite easy chicken recipes are Chicken Enchilada Casserole, Easy Balsamic Glazed Chicken Drumsticks, and Dijon Grilled Chicken.
Easy Instant Pot Recipes for Dinner
The thing about making chicken curry in an instant pot is that it is EASY. So, if you love easy cooking–and curry–this is one recipe that you'll want to try in your instant pot.
And, there are so many more easy dinner recipes you can make in a pressure cooker.
How to Make Rice In Instant Pot
To make rice in your Instant pot, prepare the rice in an second inner pot. Then set the pot on the counter with a glass lid while you cook the chicken curry.
The video below is very helpful and shows how to make rice in an instant pot.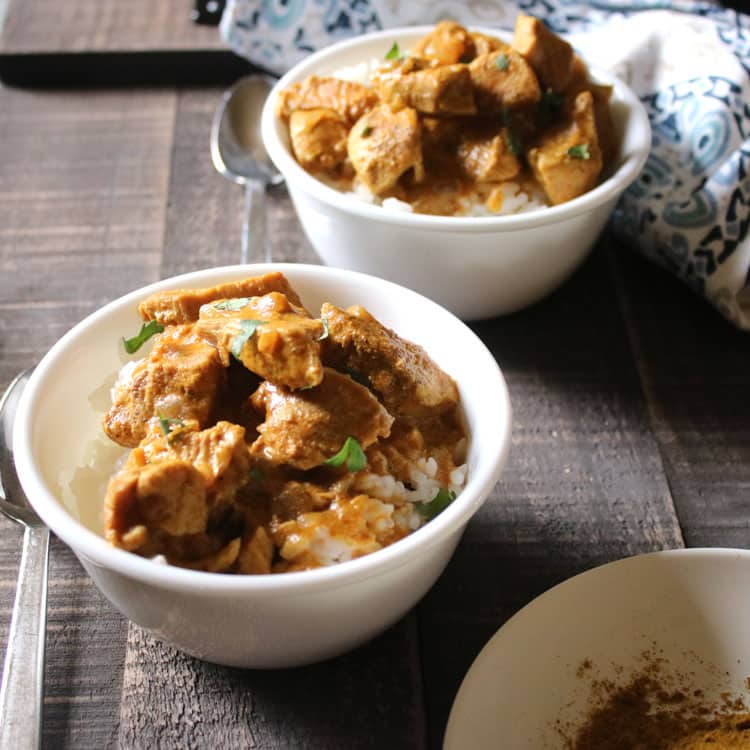 Chicken Curry Recipe
Curry recipes abound the internet, so there is no shortage of great new Indian curry recipes to try. What we love about this specific recipe is the coconut milk.
Even if you are not a big fan of coconuts, you really should try this recipe. The curry seasoning takes the lead on flavor and you're left with a melding of tastes waiting to be discovered. It's quite the experience.
Supplies to Use to Make Chicken Curry in a Pressure Cooker
Get more Instant Pot recipes in our Facebook group and by following APressureCooker.com on Facebook, Pinterest, and Instagram.
Have you tried this recipe? Don't forget to Rate This Recipe below!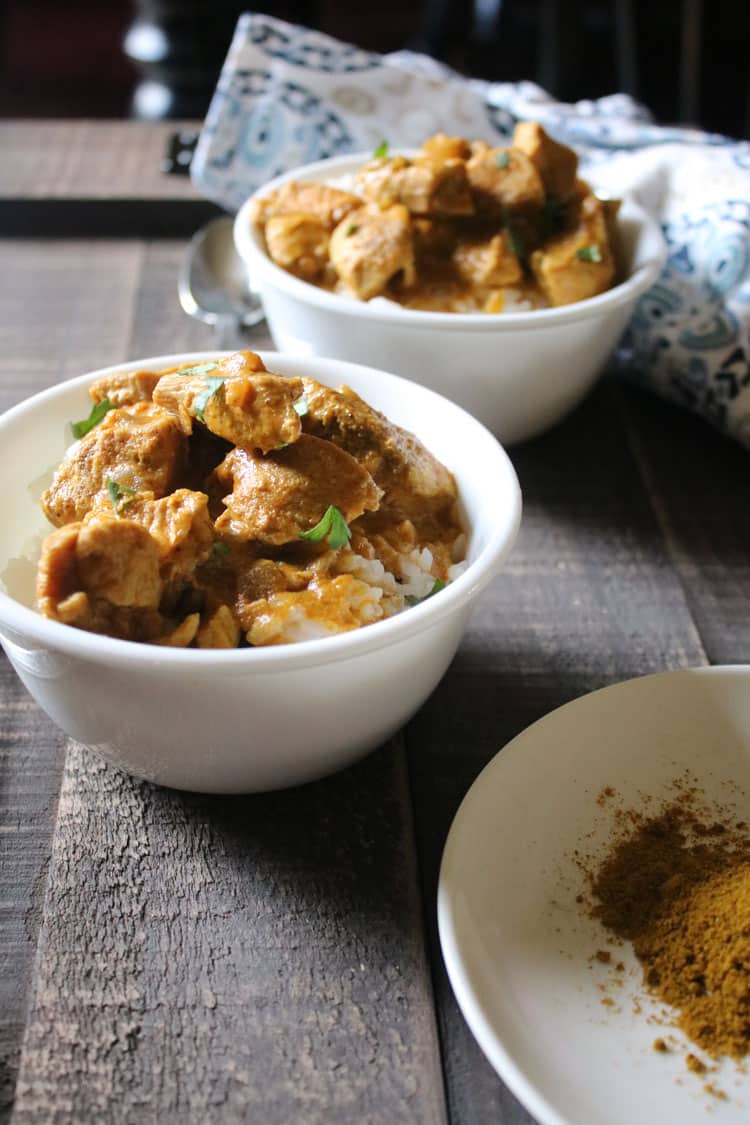 Yield: 6
Instant Pot Chicken Curry
If you love chicken curry, you will absolutely LOVE  this Instant Pot Chicken Curry is SO good you'll want to make a little extra for leftovers for lunch the next day. Yum!
Additional Time
30 minutes
Ingredients
2 pounds boneless chicken breasts, cut in bite-sized chunks
1 large onion, finely chopped
2 tablespoons oil
1/4 cup curry powder
1 teaspoon ground or whole cumin
1 tablespoon ground or finely chopped fresh ginger
1 can coconut cream (preferred, or coconut milk)
1 teaspoon salt
1 small can of tomato sauce (optional)
Instructions
Turn pot to sauté mode.
Place cumin and ginger in dry pot. Stir fry for about 1 minute. Do not let ingredients brown.
Add oil and onion, sauté until translucent.
Add chicken, salt and curry powder stir to mix all ingredients well, half cooking chicken.
Pour coconut milk and stir.
Add tomato sauce to reduce spice if you wish.
Cover, lock pressure cooker and set to cook on high pressure for 10 minutes.
Notes
Serve with white rice and naan.
Recommended Products
As an Amazon Associate and member of other affiliate programs, I earn from qualifying purchases.
Nutrition Information:
Yield:
6
Serving Size:
1
Amount Per Serving:
Calories:

332
Total Fat:

11g
Saturated Fat:

2g
Trans Fat:

0g
Unsaturated Fat:

8g
Cholesterol:

129mg
Sodium:

566mg
Carbohydrates:

8g
Net Carbohydrates:

0g
Fiber:

3g
Sugar:

4g
Sugar Alcohols:

0g
Protein:

48g