The Instant Pot continues to gain popularity, and for a good reason: it's a multi-function wonder that turns what was once a lengthy and time-consuming cooking project into a fast and simple process. Even with Instant Pot, Black Eyed Peas Recipe is a quick and easy recipe and a favorite way to cook Instant Pot peas. And don't forget they are supposed to bring good luck for New Years'.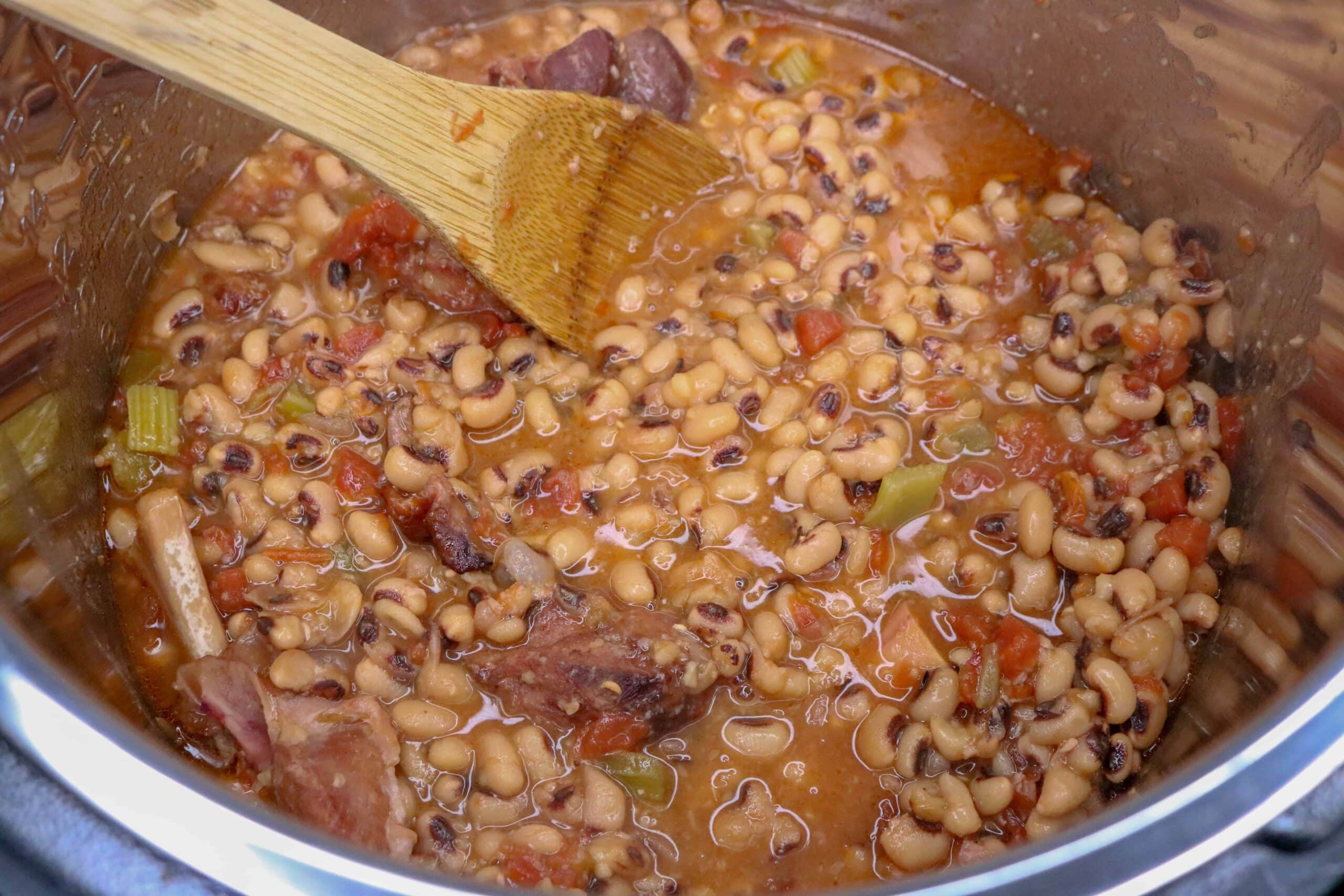 What's your favorite way to make a New Year's black eyed peas recipe? We've done a crockpot black eyed peas recipe in the past, but these peas were pressure cooked to perfection!
And, there may be no better match for the Instant Pot than dried legumes. While traditionally cooking this recipe on the stovetop can take up to 12-14 hours, with this recipe, they're ready to eat in less than one hour!
Basic ingredients for this black eyed peas recipe
dried black-eyed peas
ham hock
diced tomatoes with jalapeños (or hot Rotel)
diced tomatoes with mild green chilies
chicken broth or water to cover
celery
salt and pepper
Possible variations for a black eyed peas New Years recipe
Black eyed peas with bacon or salt pork
Add in some bell pepper
make a black eyed pea soup Instant Pot recipe
Hoppin John
Add a splash of liquid smoke
Use a ham bone for flavoring
What are Black Eyed Peas?
Although called a pea, black eyed peas are actually a bean. Both peas and beans are legumes, and both have edible seeds and pods. As with all legumes, black eyed peas (and all legumes) are an especially good source of soluble fiber, which helps you to feel fuller longer, and also keeps blood sugar levels balanced.
In the Southern United States, it is a tradition to eat black eyed peas on New Year's Day, as it is thought to bring prosperity in the new year.
Which peas should I use?
Fresh black eyed peas Instant Pot time
Learning how to cook fresh black eyed peas is rather easy. They require less cooking time than dry beans. Start by adding all ingredients to the Instant Pot and then cooking fresh blackeyed peas for 9 minutes on high pressure. Follow up with a natural pressure release, and your peas will be cooked to perfection.
Frozen black eyed peas Instant Pot time
Tired of trying to wing it to figure out how to cook frozen black eyed peas? Here's the answer to your questions. Instant Pot frozen black eyed peas should cook up with a 15 minute high pressure cooking time and 15 minutes natural pressure release.
Canned black eyed peas Instant Pot time
Canned beans don't require as much cooking time because they've really already been cooked. However, to infuse the pork and seasonings' flavor throughout the peas, it is best to cook for a high-pressure time of 9 minutes, again followed by a natural pressure release.
Tips for Cooking Instant Pot Black Eyed Peas Recipe
The natural release will take between 15-20 minutes; so make sure to factor this in to your total preparation time.
To control foaming, add 1 tablespoon of oil to the black eyed peas before cooking.
Never fill the Instant Pot more than halfway. For the 6-quart pressure cooker, a 16-ounce bag of dried black eyed peas is the maximum you can cook at one time.
To decrease the total cooking time for this black eyed pea recipe Instant Pot version, try soaking for 4-8 hours prior to cooking.
How to season black eyed peas
This recipe calls for diced tomatoes with jalapenos, so that will bring some spice to the meal. For some extra seasoning, add in salt and pepper to taste.
Optional: We also like to start the pot on saute, and toss in some diced onions and garlic with olive oil. Saute those ingredients for a few minutes before adding in the remaining ingredients. It offers a nice flavor enhancement.
Do you need to soak black eyed peas?
You really don't have to soak black eyed peas, but you can. If you choose to soak them, soak the peas for about 6 hours. This will make them softer when they cook up.
However, soaking black eyed peas isn't mandatory. You might just need to cook the beans a little longer if they aren't soaked.
You can also do the boil-soak method where you bring to a boil and then let the peas or beans sit for an hour and soak them prior to cooking.
How to make black eyed peas in the crockpot
Learning how to cook black eyed peas in a crock pot is easy.
Don't have a pressure cooker and want to try this black eyed peas recipe...slow cooker to the rescue!
How long to cook black eyed peas
Use the same ingredients, and cook the peas for 10 hours on low or 6 hours on high. Dinner will be ready when you are.
What to serve it with
While our Instant Pot Black Eyed Peas Recipe is a hearty and satisfying main course, they are equally great served as a side dish. For a complete traditional southern-style meal experience, serve them alongside delicious jerk chicken or air fryer pork chops, some braised collard greens, and one of these tasty cornbread muffins.
We love these medallian Mozzarella cheese bites and airfryer mac n cheese bites as appetizer or sides with black eyed peas.
More Instant Pot Recipes You'll Like
If you love this recipe, check out these other great choices that deliver distinctive, flavors with the ease and convenience of the pressure cooker!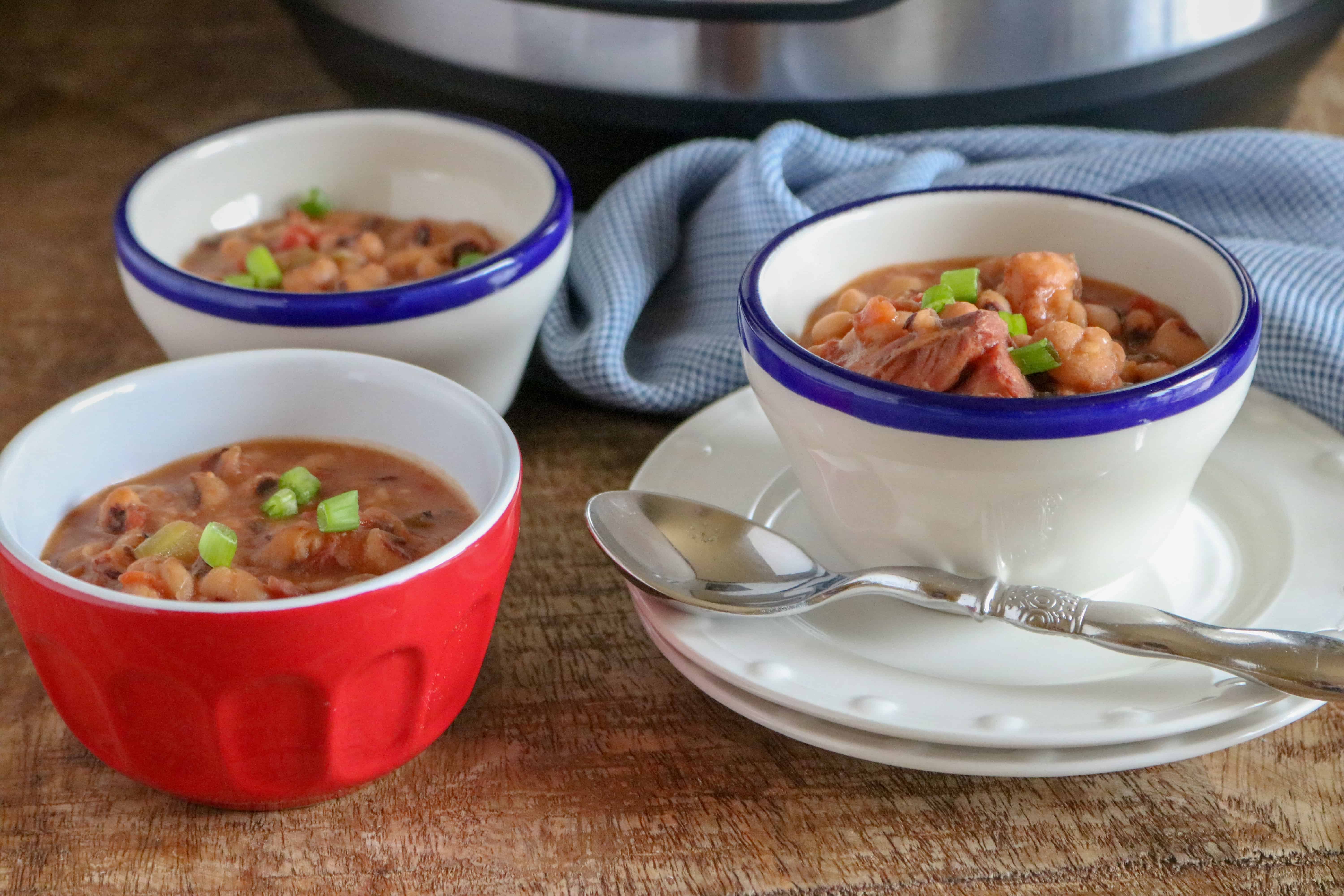 Supplies
Steamer basket/colander | Consider an Instant Pot steamer basket that can also double as a colander. For this recipe, use it as a colander to rinse and sort the peas.
Glass storage canisters | These generous glass jars provide attractive air-tight storage for beans, pasta, and other pantry staples.
Dried black-eyed peas | An ingredient that you simply can't do without for this recipe. Happy New Year's (or whatever day it is that you're making this), and may you have the best of luck in the year ahead.
How to make Instant Pot black eyed peas New Year's day recipes
Add all of the ingredients to the Instant Pot inner pot.
Close the lid, and make sure the pressure valve is turned to sealed (not venting).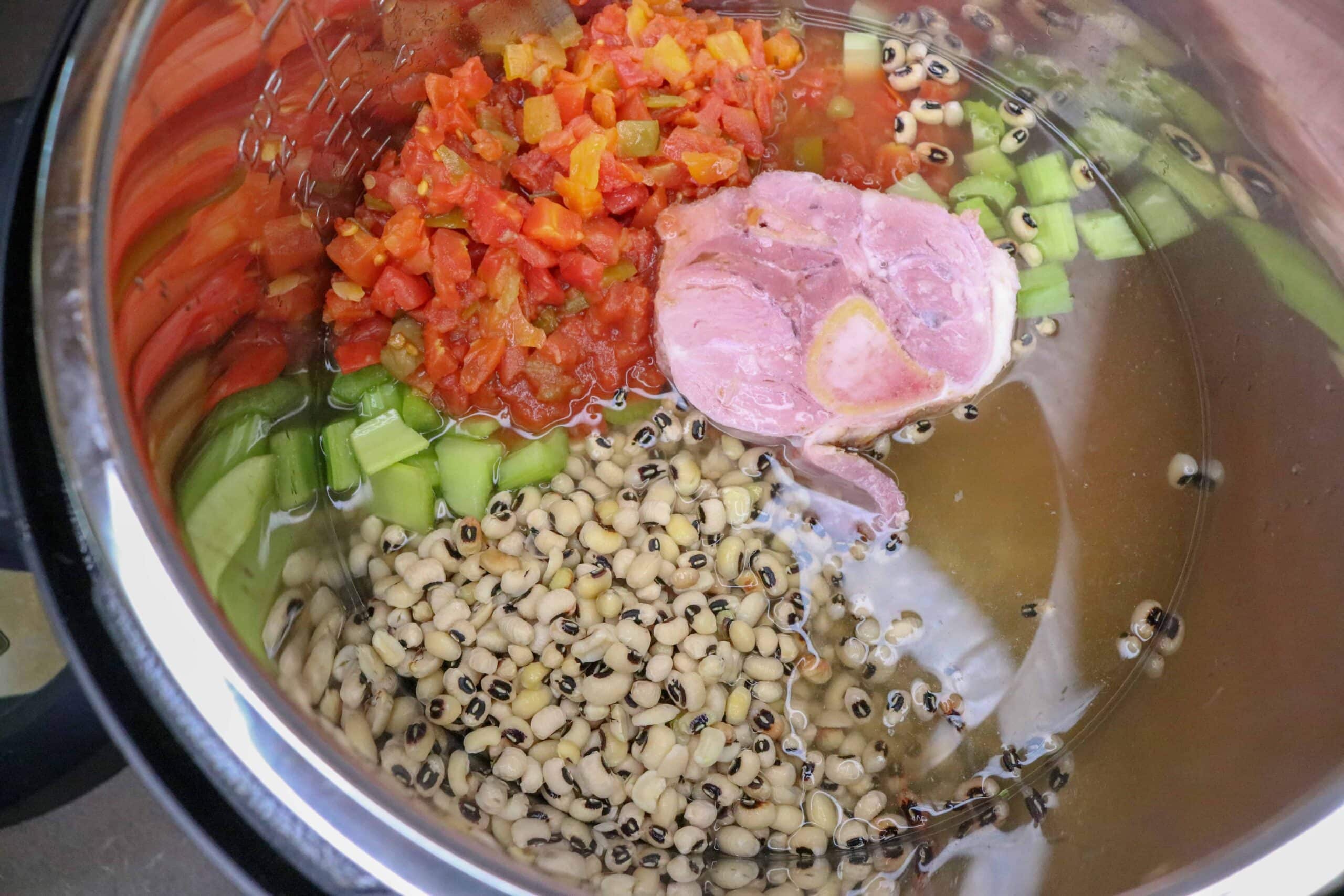 Set a manual high pressure time for 30 minutes.
Allow for a natural (slow) pressure release at the end of the cooking time.
Stir, dish into bowls, and enjoy!
New to cooking with a pressure cooker? Try out the Be the Boss of Your Instant Pot Video Course! It'll help take the pressure off and ease you into cooking with your Instant Pot.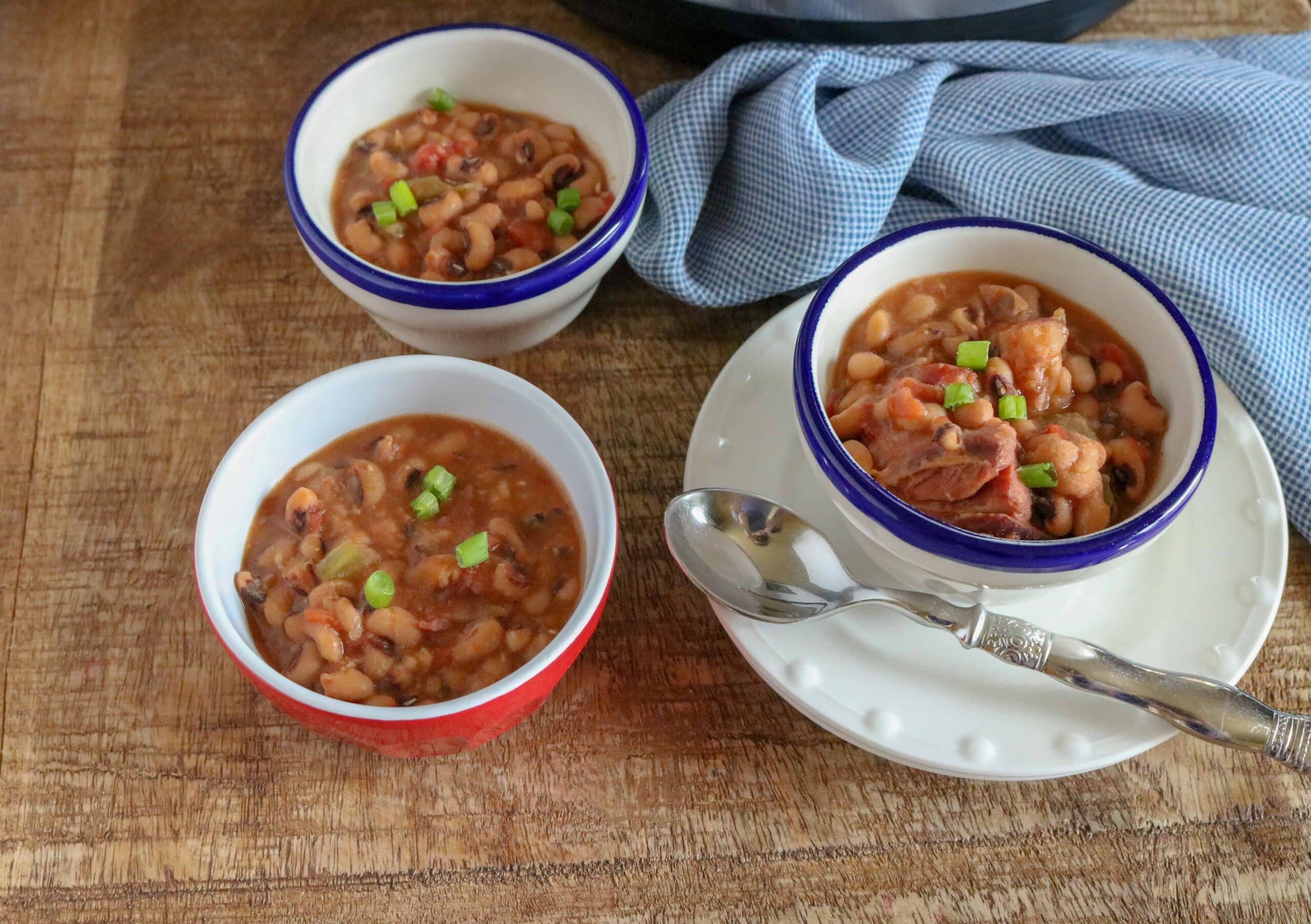 Recipe