Instant Pot Beef Carnitas are a perfect weeknight dinner idea. If your family is like mine, then Taco Tuesday is a weekly occurrence at your house. Wrap it up in a tortilla and garnish with cilantro and sour cream, and yum! Your taste buds will be in heaven!
But let's be honest, tacos can get a little boring, same meat, same toppings, same flavors. Introducing your new go-to dish: Instant Pot Steak Carnitas!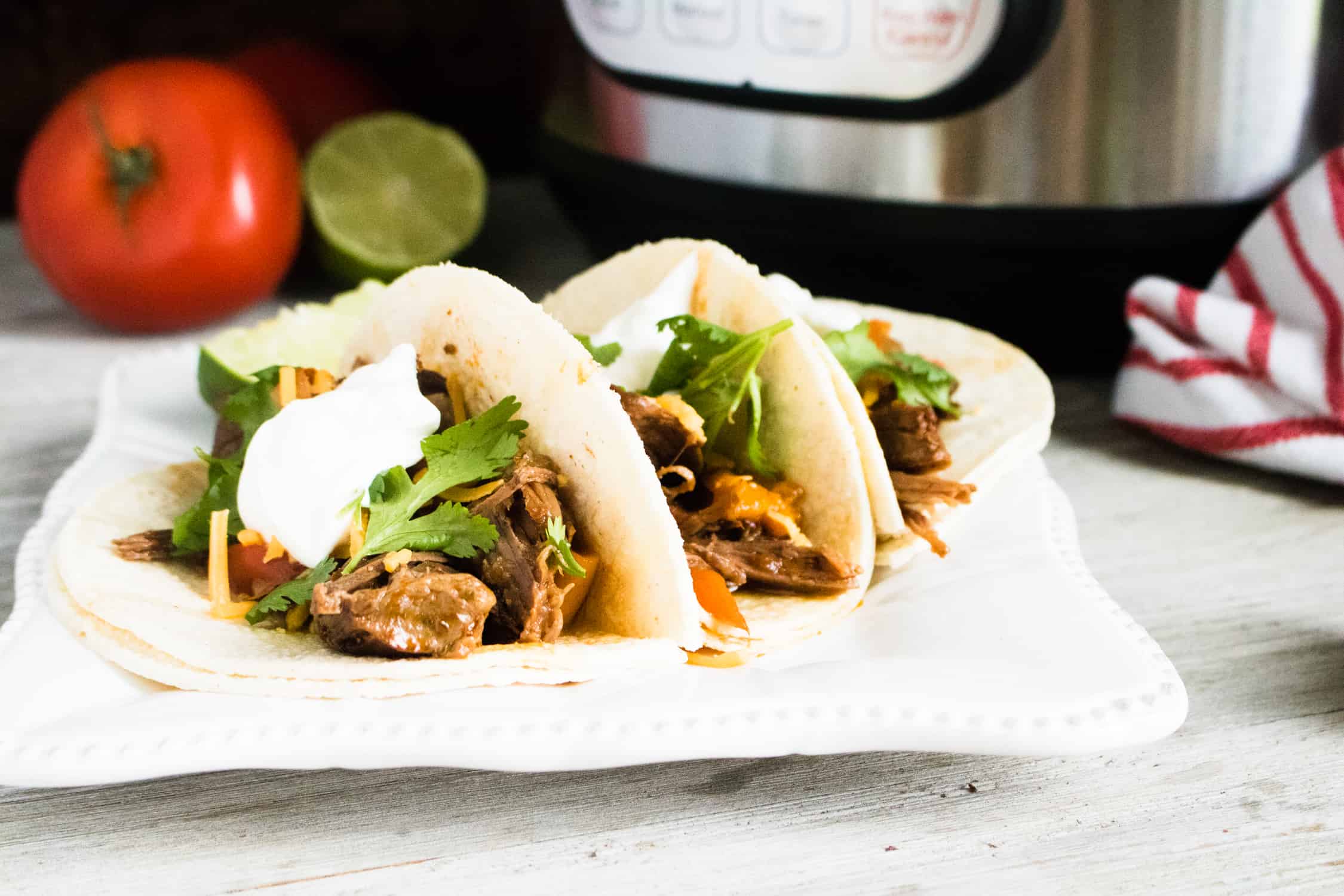 Instant Pot Beef Carnitas will add flair and flavor to Taco Tuesday! It is pure, perfectly spiced, tender meat that just falls apart with your fork.
3 Reasons Why You'll Love Instant Pot Beef Carnitas...
#1: The flavor is mind blowing! Spiced up with onion, pepper, chipotle sauce, Adobo seasoning, oregano, cumin and garlic powder, this is one beef carnitas that packs a whole lot of flavor with just the right amount of heat!
#2: The meat is tender and juicy! Cooking the beef roast in the Instant Pot holds in the moisture and prevents the meat from drying out.
#3: This recipe is super easy and requires minimum work on your part! After the initial 15 minutes of chopping onions and peppers and searing the meat, then just add the remaining ingredients to the Instant Pot, set it and forget it until it's ready to shred and serve.
What is Adobo seasoning?
Adobo seasoning is typically used in Latin or Spanish foods to provide a smoky and earthy depth of flavor.
Although there are numerous variations of Adobo seasoning, it is traditionally made up of paprika, salt, pepper, onion powder, garlic powder and oregano.
You can purchase pre-made Adobo seasoning at your local grocery store (found in the Mexican or International food aisle) or you can order it online from retailers.
But, why not try making your own? Simply combine 1/4 cup paprika, 3 tablespoons black pepper, 2 tablespoons onion powder, 2 tablespoons dried oregano, 2 tablespoons ground cumin, and 1 tablespoon garlic powder.
Store in an airtight jar or container in a cool, dry location.
What to Serve with
Carnitas, like most Mexican and Spanish dishes, is typically served with rice and beans. You could give this easy, Instant Pot Refried Beans recipe a try or how about these, delicious Mexican Rice with Stuffed Peppers.
Want to change things up completely? Then we suggest this fresh and tasty Salsa Verde Mexican Pasta Salad.
Ingredients Needed
Beef Roast
Bell Pepper
Red Onion
Chipotle Pepper
Adobo Seasoning
Oregano
Bay Leaf
Garlic Powder
Cumin
Salt
Chicken Broth
How to Make
The full directions for this beef carnitas in the Instant Pot recipe are below.
Step #1: On sauté mode, sear meat on both sides, then turn sauté off.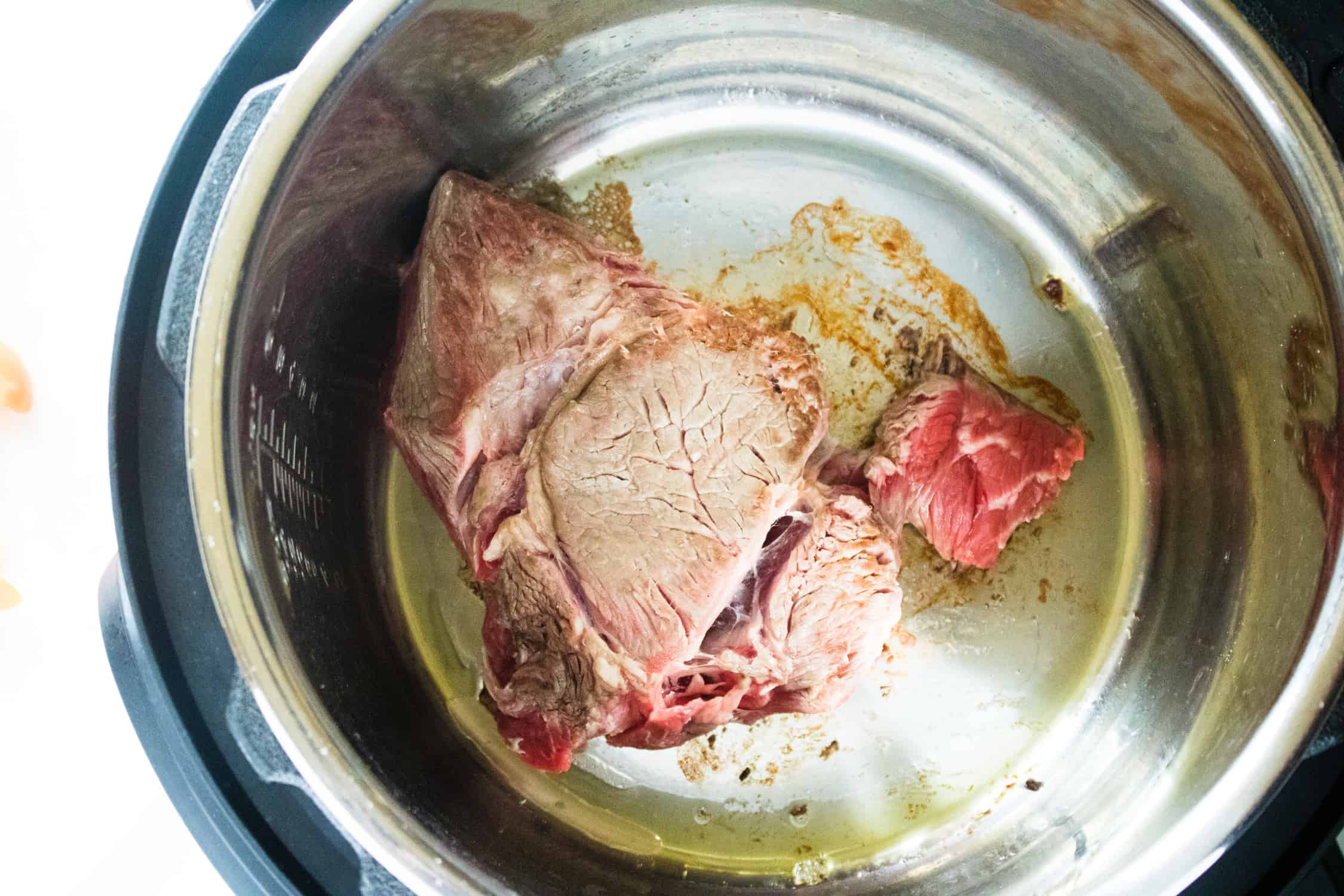 Step #2: Combine remaining ingredients in the Instant Pot.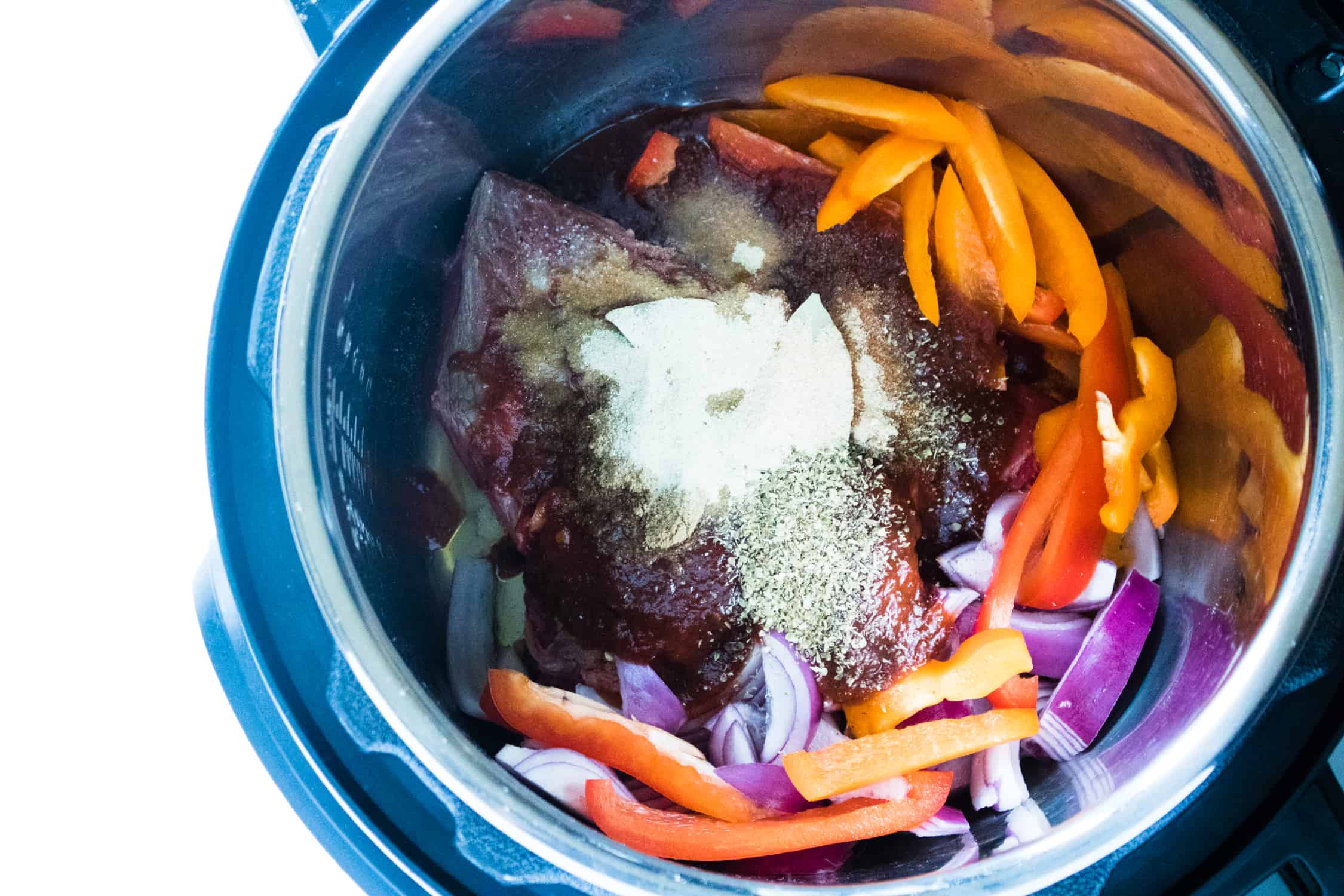 Step #3: Close the lid and turn the valve to sealing position.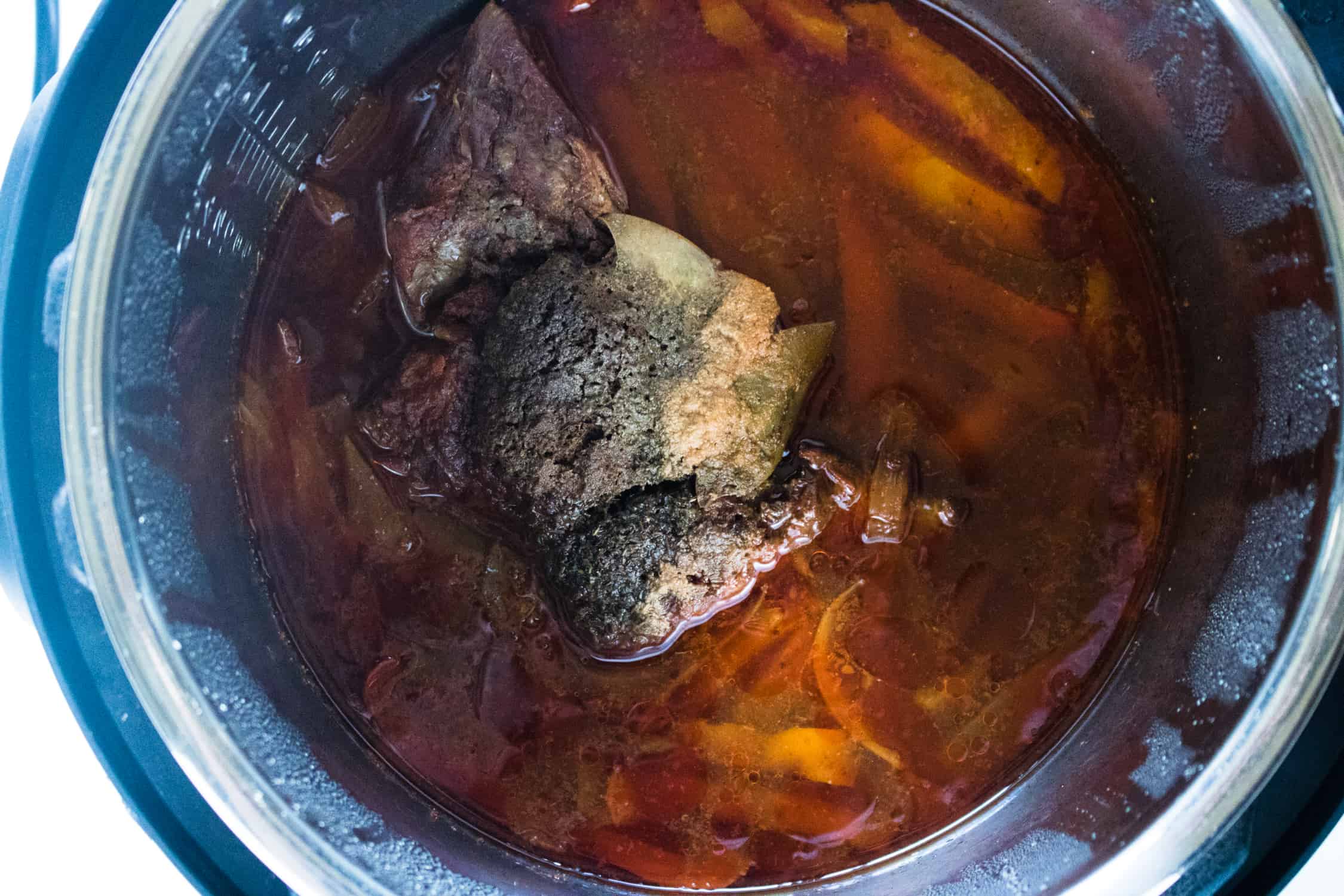 Step #4: Next, set to a manual high time for 80 minutes. When the cooking time has finished, allow for a manual pressure release before removing the meat from the pot to shred.
Step #5: Once meat has been shredded, place in a serving dish and combine with juices and seasonings from the pot.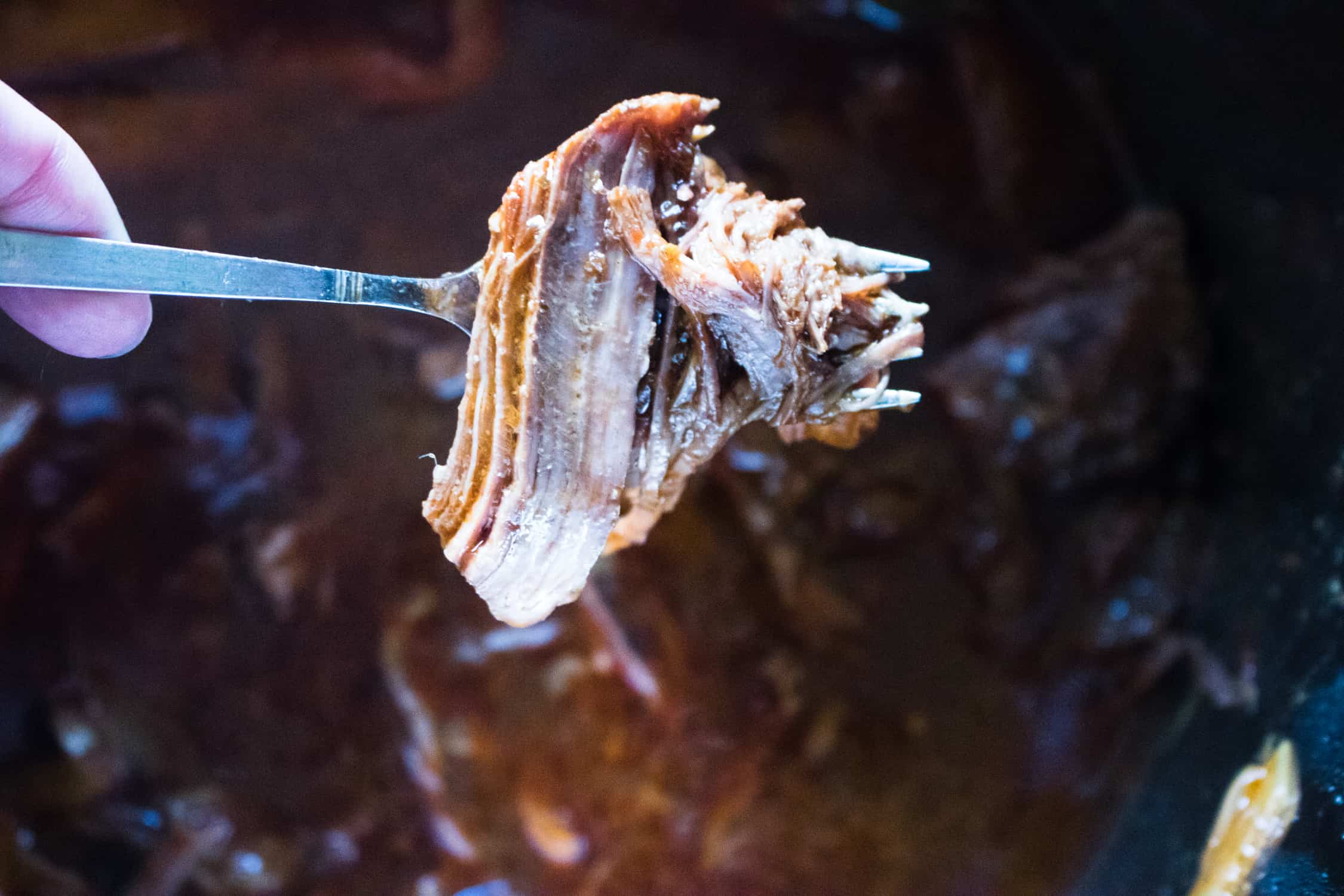 Serve and enjoy!
Storage
If you do not eat all your carnitas right away, you can store any leftover beef carnitas in the refrigerator. Carnita taco meat will store for 2-3 days in the fridge.
Freezing: You can freeze any leftover meat as well. Just place in a freezer bag or airtight container. Freeze for 2-3 months. Then thaw in the fridge overnight.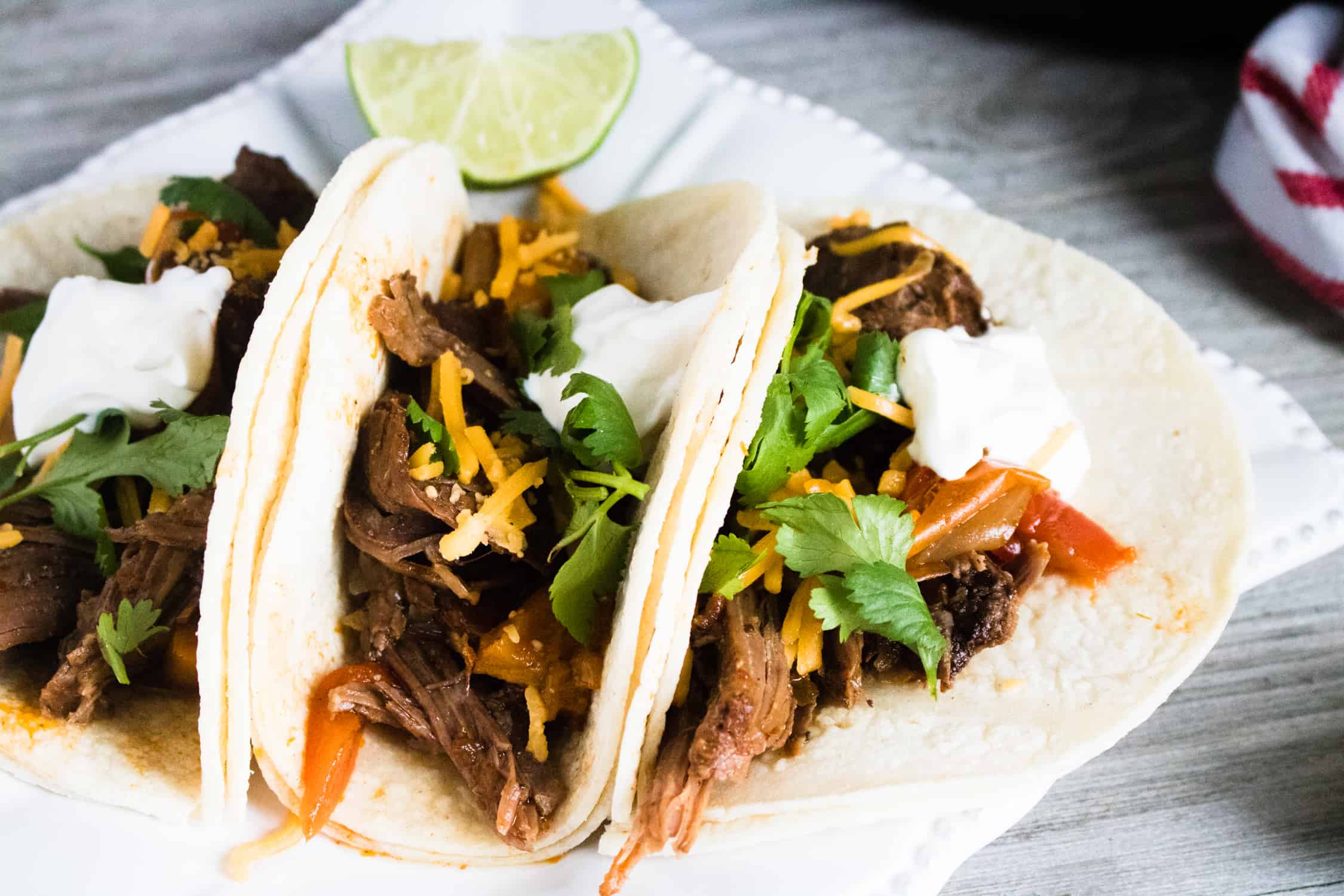 More Recipes
Love Instant Pot Carnitas? Then you'll have to try these other easy and delicious Instant Pot recipes.
Recipe FAQs
Are carnitas healthy?
Carnitas are a healthy dinner option. But you have to take into consideration if you use a regular tortilla or reach for a lower carb option. All toppings and such come into play on an overall healthy aspect.
How to serve carnitas?
Not sure how to serve up carnitas meat? The sky is the limit. Serve with tortillas, in a rice bowl, stuff in enchiladas, quesadillas, and so much more.
What does carnitas mean?
Carnitas refers to braised meat that is then seasoned and cooked for Mexican dishes like tacos, fajitas, etc.
What kind of meat is carnitas?
You will find that carnitas can be either pork or beef. This is something different to do with chuck roast for a weeknight dinner for the family.
What is the difference between barbacoa and carnitas?
The type of meat and process of cooking is the two stand-out items between barbacoa and carnitas. Barbacoa can be lamb as well, and carnitas is generally broiled in the oven after to help crisp up the meat a bit.
What kind of beef for shredded tacos?
You can use any type of shredded beef. I personally love this beef carnitas recipe to shred and use. Tons of flavor, juicy meat, that compliments flour or corn tortillas.
Recipe
More Instant Pot Meal Planning Ideas