A BBQ Sauce recipe is essential for the perfect barbecue. For some, it's a fun way to prepare a meal in the warm weather months. For others, it's a way of life.
However, most people would agree that it's the sauce that is the true star of the barbecue show.
Whether you prefer your sauce to be smoky, spicy, slightly sweet, or all of the above, there's no denying that it's the sauce that makes the meal.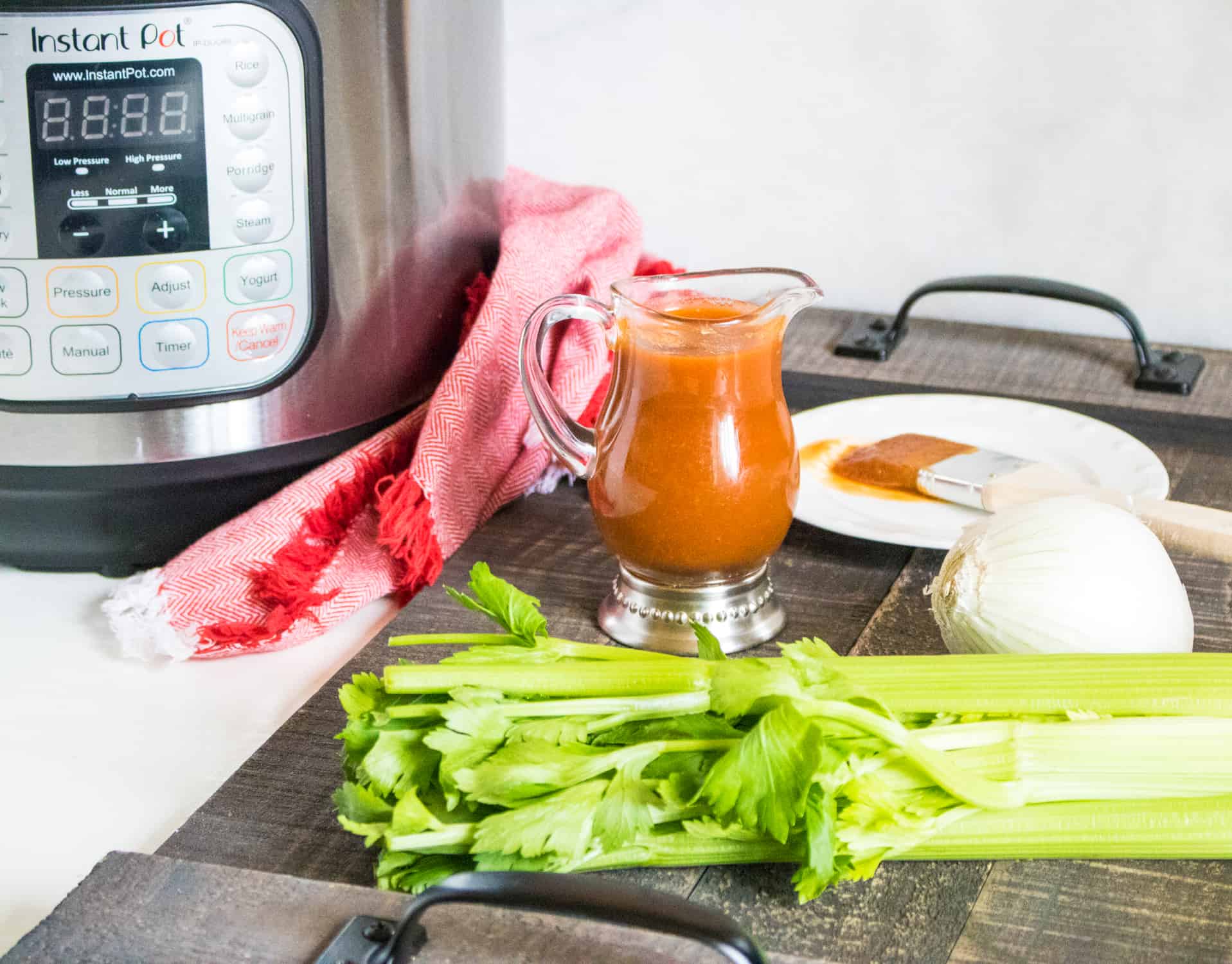 And while there are countless ready-made sauces on the market today, why not make your own?
This Instant Pot BBQ Sauce Recipe is an easy, almost hands-free way to make a delicious, delectable sauce that will make any barbecue oh-so-much better!
The addition of the Jamaican Jerk seasoning in this recipe brings the heat, which is nicely balanced by the sweetness of brown sugar and ketchup.
The vinegar, lemon juice and mustard provide a nice tang, which makes this Instant Pot BBQ Sauce Recipe well rounded and full-flavored. It's the perfect partner for a wide variety of meats and veggies.
What Does Barbecue Mean?
The term barbecue is derived from the West Indian barbakoa, which roughly translates to "wooden framework resting on sticks above a fire".
Barbecue can refer to the cooking method itself, food this is cooked this way, the cooking apparatus/machine used (the "barbecue grill" or just " the barbecue"), and also to a type of social event featuring this style of cooking and food.
While the standard modern English spelling of the word is barbecue, variations including barbeque, and abbreviations such as bar-b-q or BBQ are also commonly uses.
The acronym BBQ is somewhat ironic, as it also stands for "Better Be Quick," which is pretty much the opposite of the slow-and-low barbecue cooking method.
The Benefit of the Making Instant Pot BBQ Sauce
Making this Instant Pot BBQ Sauce Recipe is so easy — all it takes is three simple steps!
Thanks to the Instant Pot, there's no need to constantly whisk or monitor the cooking progress.
Once you've given the onions and celery a quick sauté, just toss in the rest of the ingredients, set it, and walk away!
One Tip for Cleaning Your Instant Pot
Cooking BBQ sauce in the Instant Pot is quick and easy, but it can sometimes leave behind stubborn stains and build-up.
Here's an easy solution for returning the Instant Pot inner liner (the stainless steel pot) to its original sparkling state.
Sprinkle some Bar Keepers Friend in the bottom of the pot, add a touch of water, and give it a scrub with a Mr. Clean Magic Eraser. This simple combination really does work wonders!
This simple combination really does work wonders!
How To Make Instant Pot BBQ Sauce Recipe
Sauté onions and celery in the Instant Pot for 3-4 minutes.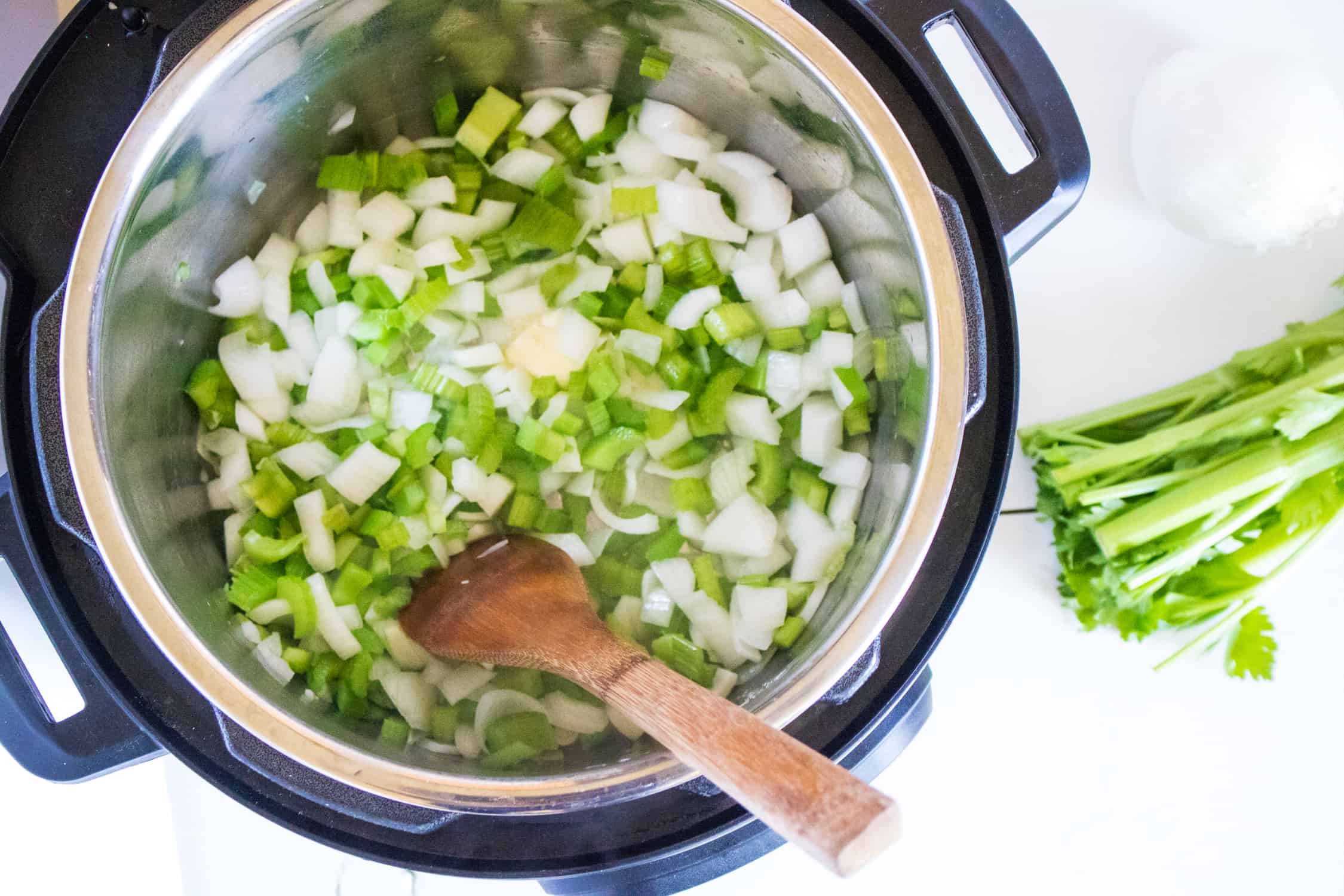 Add remaining ingredients to the pot. Close the lid and turn the valve to sealed (not venting). Set a manual high-pressure time for 25 minutes.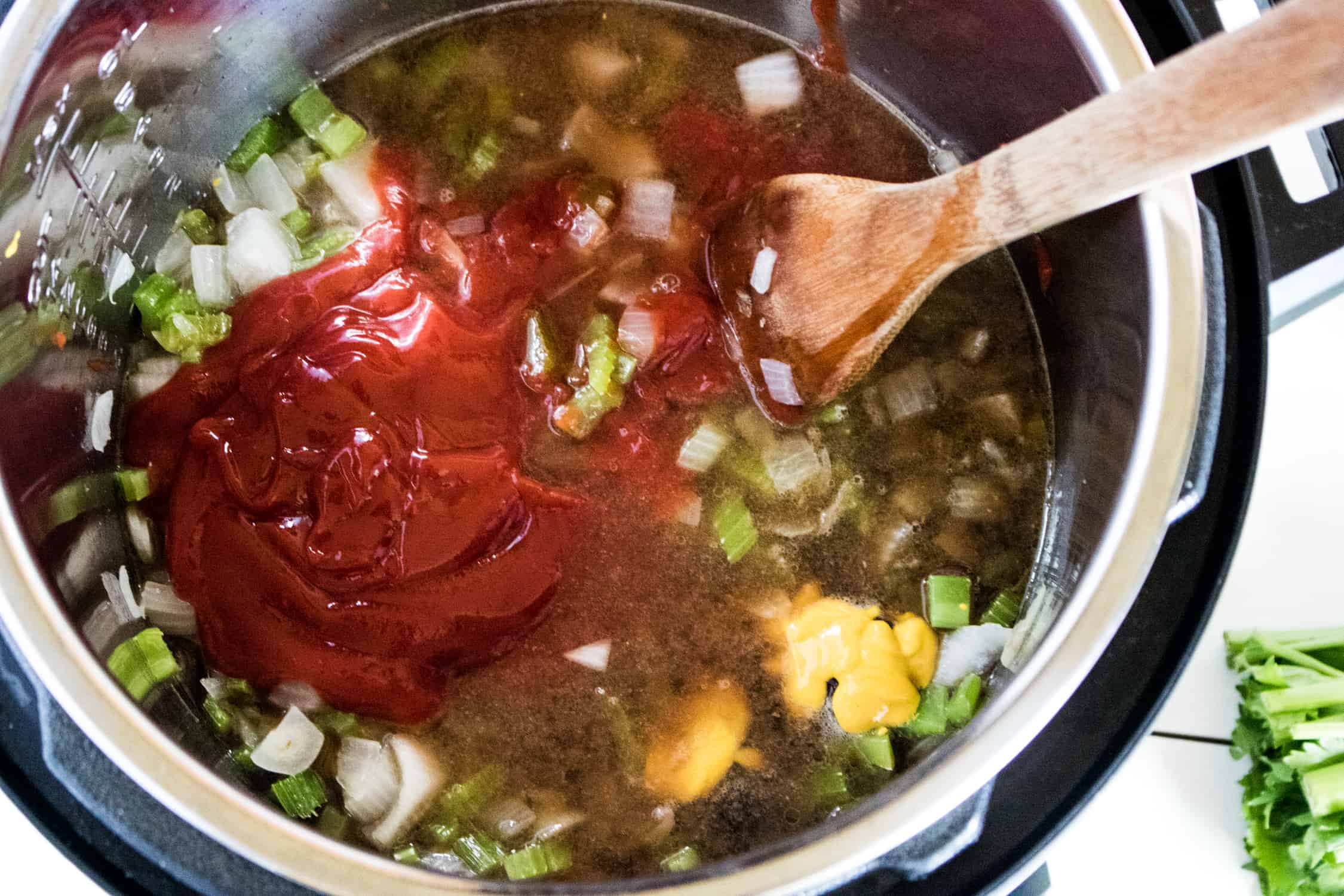 Once cooking time has elapsed, perform a quick release to let out the pressure.
Purée the ingredients with an immersion blender until smooth.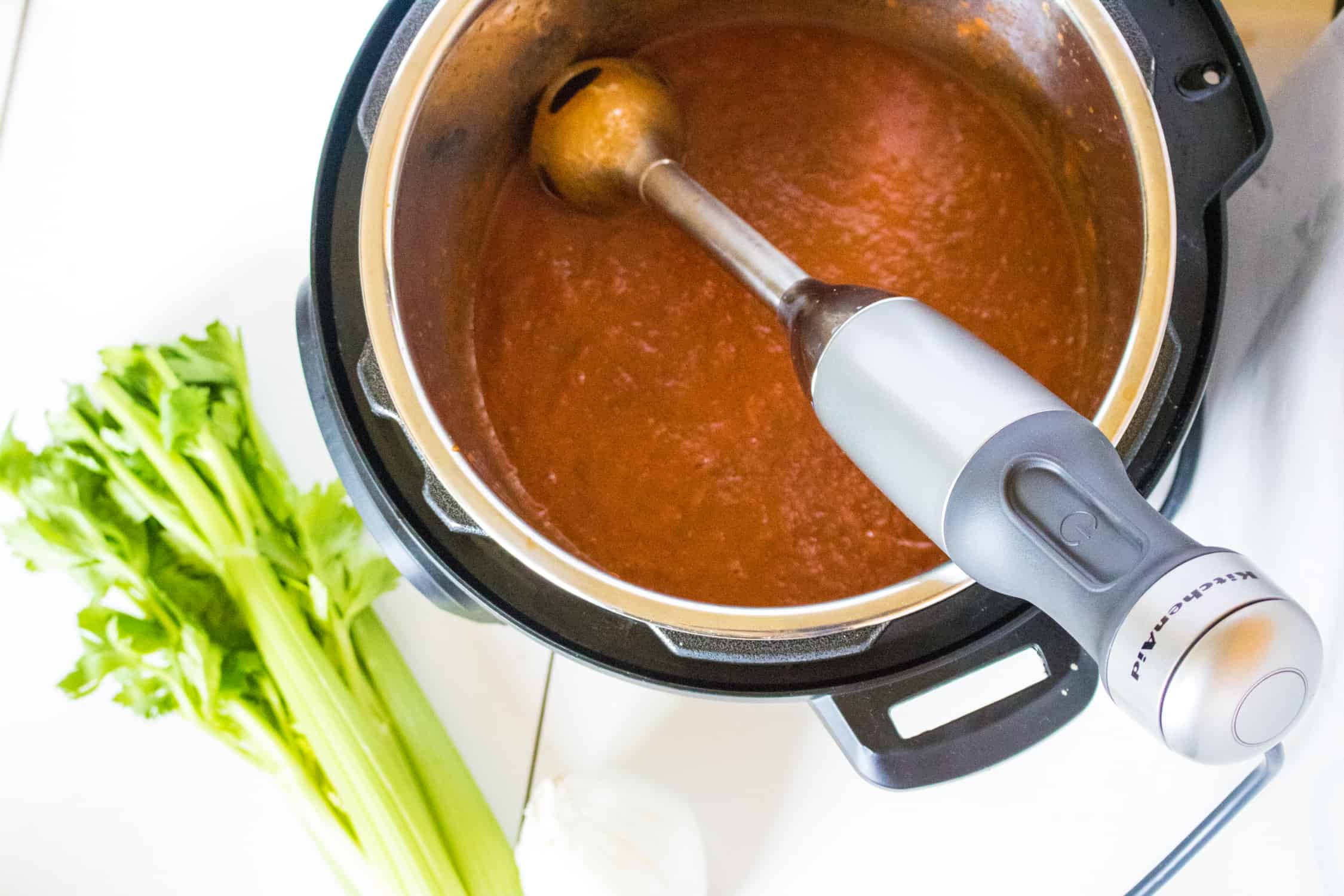 Enjoy!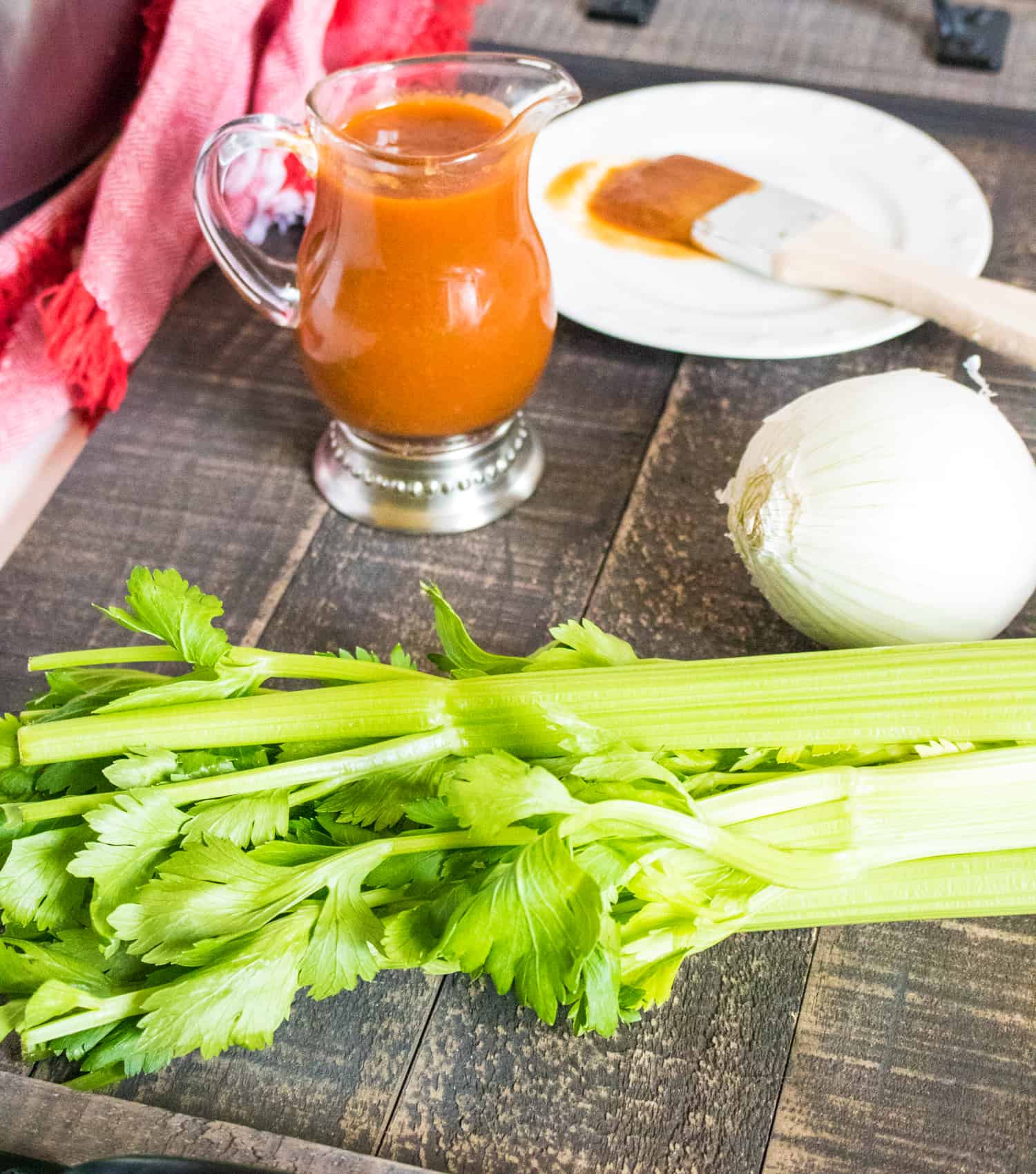 More Quick and Easy Instant Pot Recipes:
Instant Pot Buffalo Chicken Dip
Instant Pot Cajun Sausage and Rice Recipe
Instant Pot Shredded Buffalo Chicken Easy Sandwich Recipe
Get more Instant Pot recipes in our Facebook group and by following APressureCooker.com on Facebook, Pinterest, and Instagram. Have you tried this recipe? Don't forget to Rate This Recipe below!
Recipe
More Instant Pot Recipes