This Instant Pot Baked Potatoes recipe is so awesome! I can have a perfectly cooked baked potato in 20 minutes!
I love a hearty and filling baked potato. If I get to choose a side along with my entrée in a restaurant, a baked potato will always be my choice. In addition to serving baked potatoes as a meal on their own, I also like serving them with Instant Pot Chicken and Green Beans.
I love making them at home, too, but sometimes find I just don't have the time! Meals often need to be quick and easy. That means waiting over an hour for my spud to bake just doesn't fit with my busy schedule.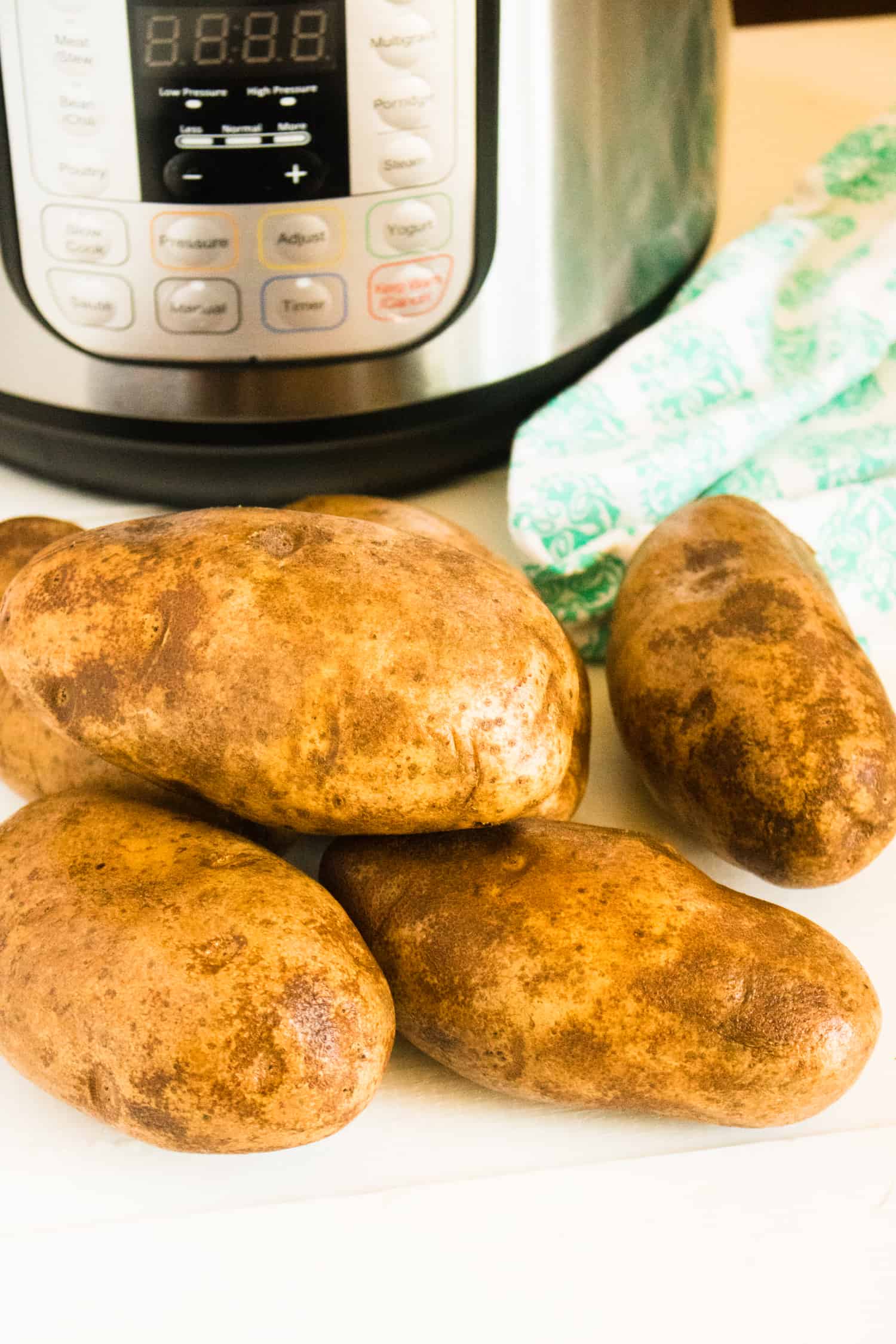 Why You Will Love Instant Pot Baked Potatoes
Because they are quick and easy! Scrub the potatoes, pierce them with a fork, set them in the Instant Pot, and in just 20 minutes, voilà, you have perfectly baked potatoes.
Baked Potatoes are truly versatile. Serve them traditionally as a side dish with some butter and sour cream. Or, if you're looking to get creative, add some tasty toppings like the ham and cheese shown here.
Or, add your favorite chili (turkey, beef, or vegetarian) and some onions and cheese. Mexican style is always a big hit, too. Add some ground beef & salsa and top with grated jack or cheddar cheese.
Trying to get your kids to eat veggies? Put some steamed broccoli topped with melted cheese sauce in one of these Instant Pot Baked Potatoes and watch them gobble it up. The possibilities are endless.
Baked potatoes really are good for you! They are naturally low in fat and cholesterol, and one medium sized russet potato has 10% of the recommended daily value for protein and 16% of the daily value for fiber.
New to cooking with a pressure cooker? Try out the Be the Boss of Your Instant Pot Video Course! It'll help take the pressure off and ease you into cooking with your Instant Pot.
Great Entrées to Accompany Instant Pot Baked Potatoes
Looking for some great ideas for entrées to serve with these super quick and tasty Instant Pot Potatoes? Then look no further than the awesome recipes listed below.
These Instant Pot Air Fryer Pork Chops offer a phenomenal flavor.
Or, perhaps you're more in the mood for chicken. The Instant Pot Baked Potatoes go great with this Easy Baked Chicken Broccoli recipe.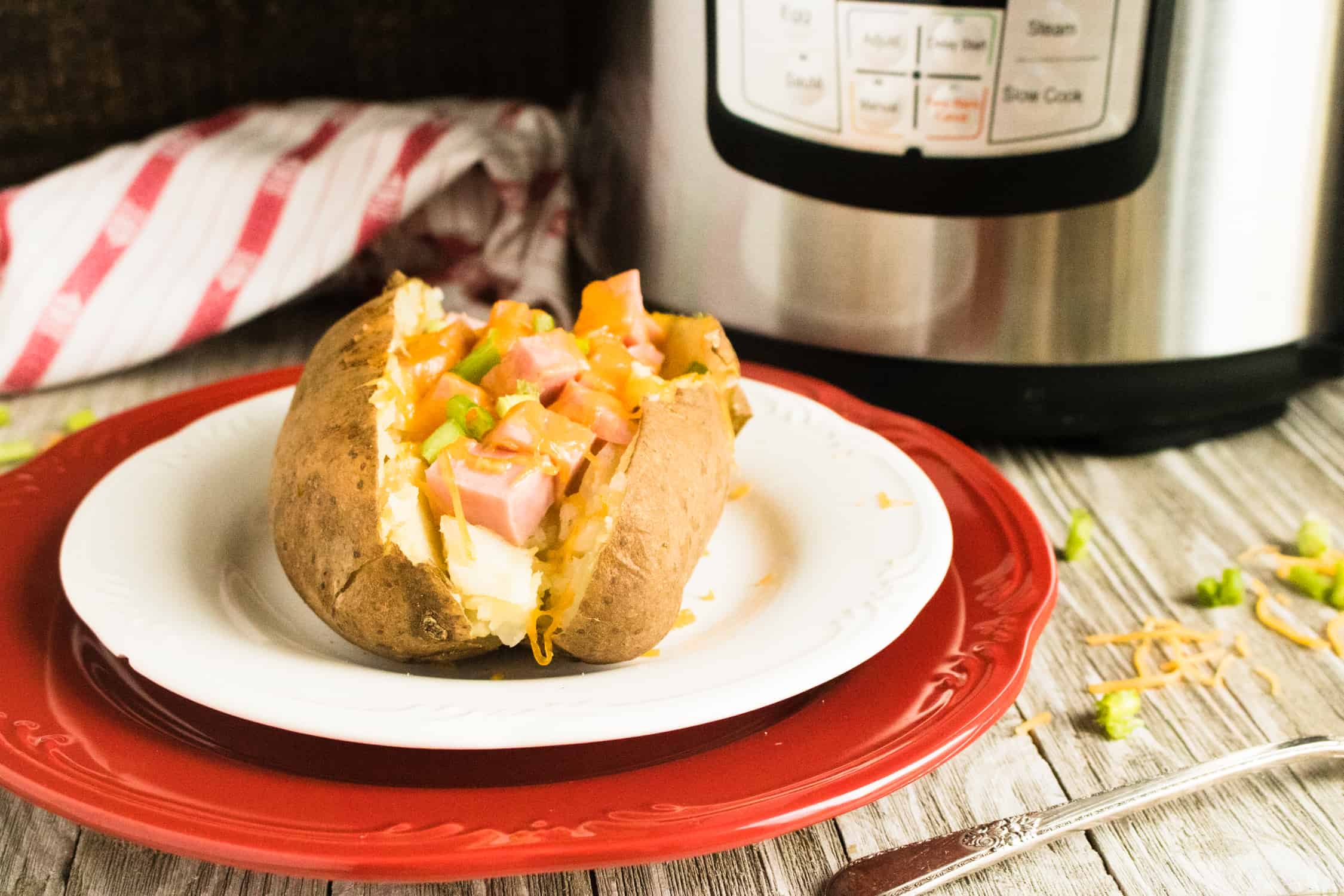 How to Make Instant Pot Baked Potatoes Step By Step
Step #1: Wash the potatoes and pierce each several times with a fork to vent the steam.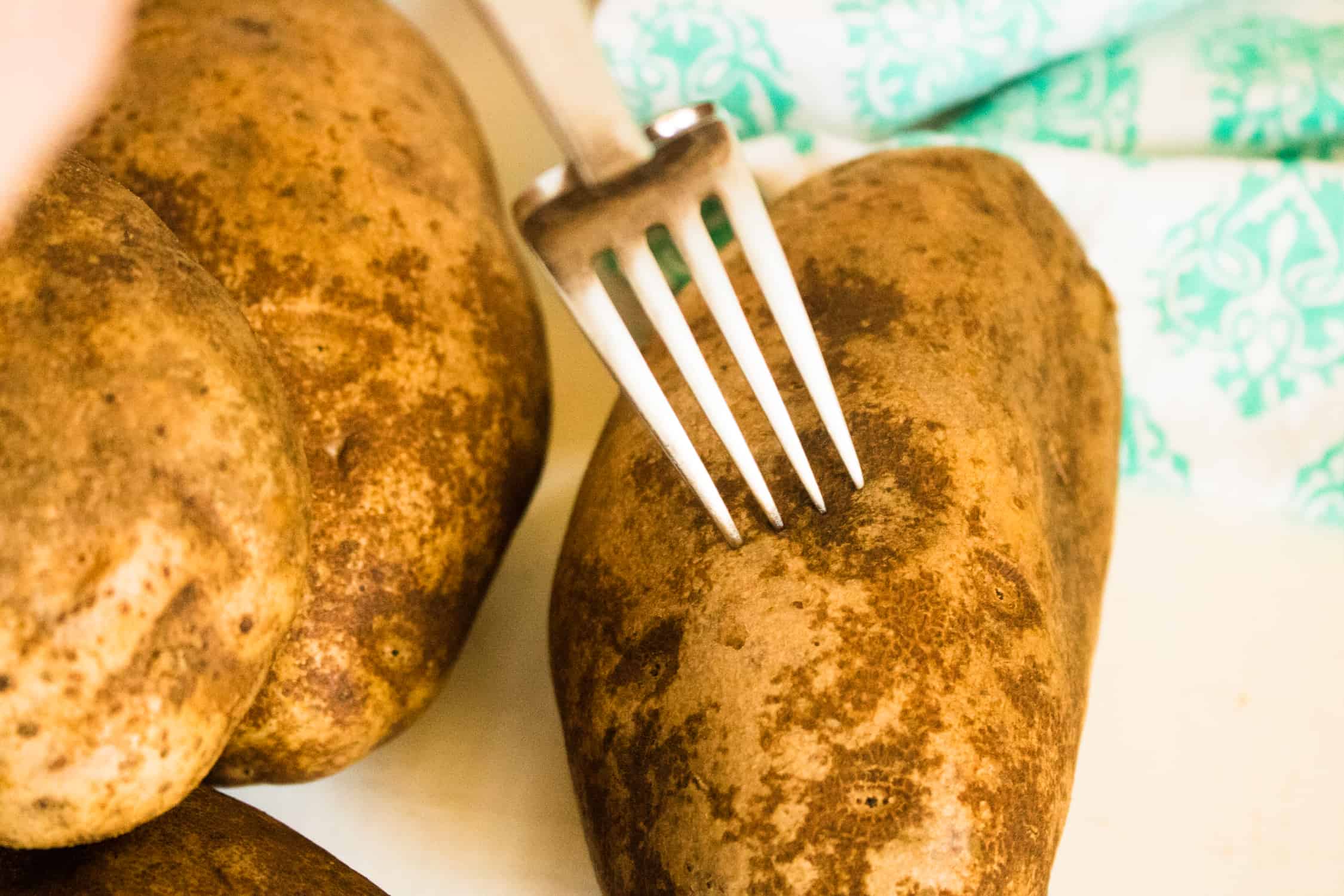 Step #2: Add water to the Instant Pot and place the trivet in the pot. Put the potatoes on top of the trivet where they are up above the water.
Step #3: Close the Instant Pot lid and turn the valve to sealing.
Step #4: Set manual pressure time of 20 minutes. Do a quick pressure release.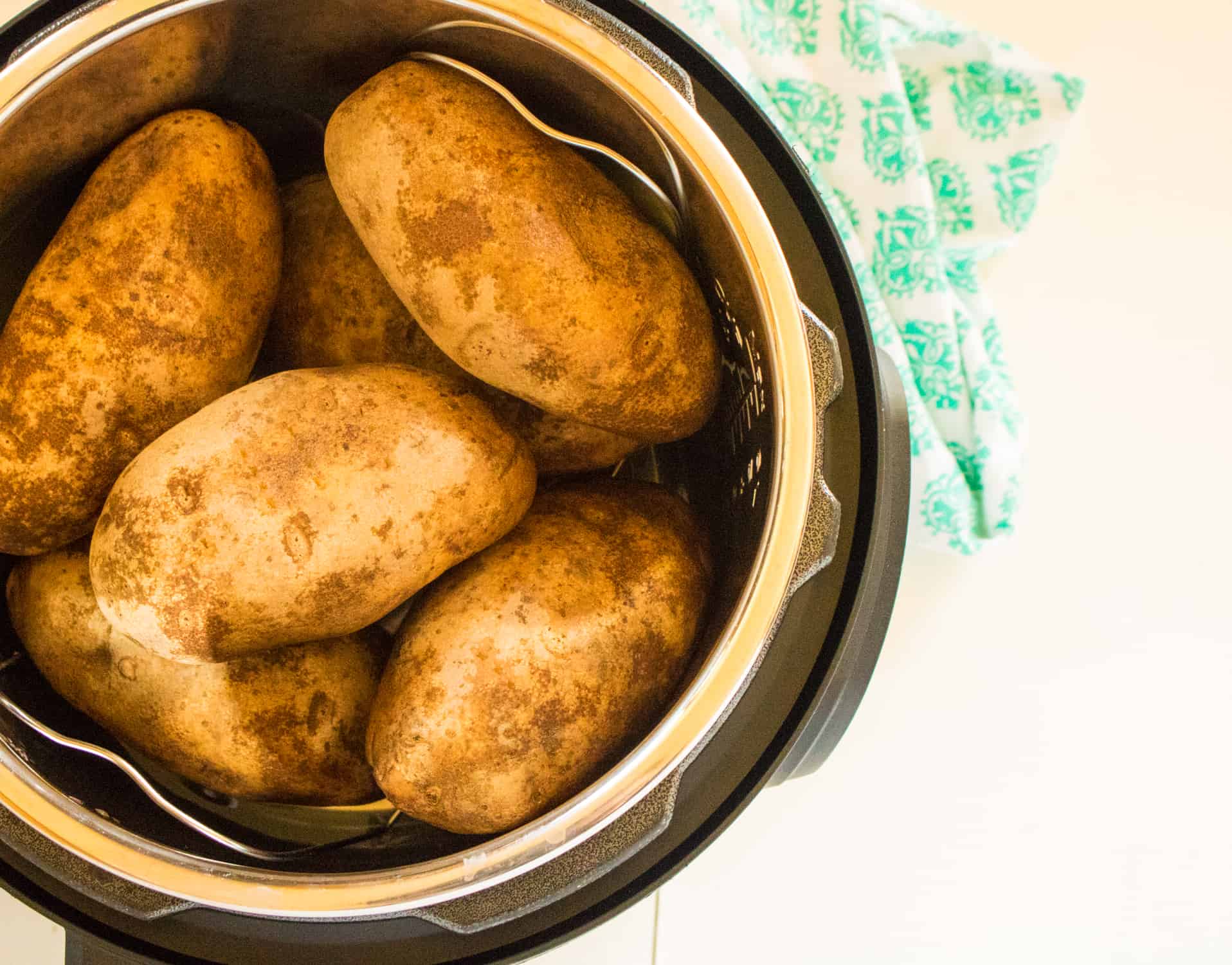 Step #5: Remove the potatoes from the pot and serve with your favorite baked potato toppings (diced ham, cheddar cheese & green onion shown).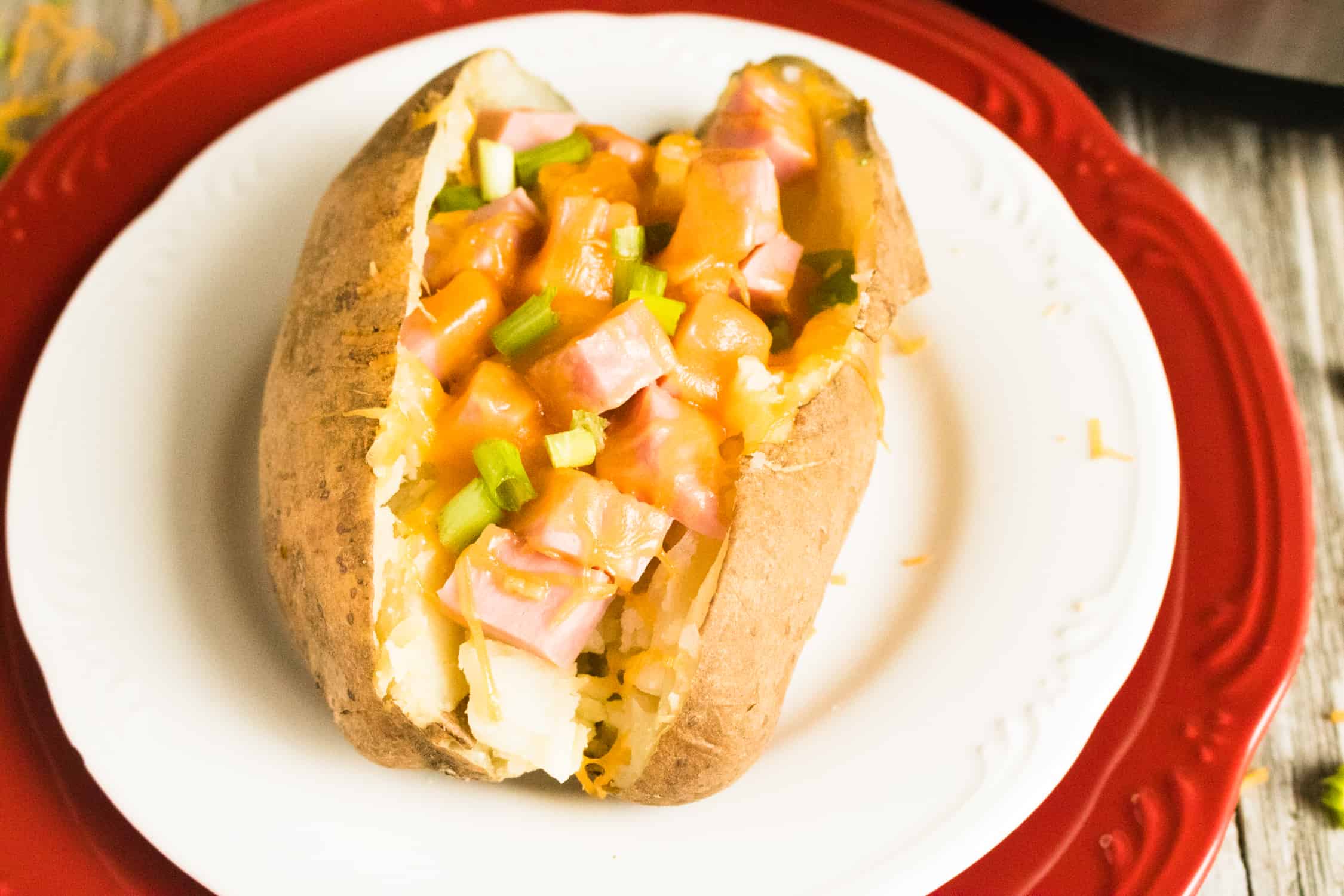 Instant Pot Duo vs Duo Plus Air Fryer
Did you know you can make these a salt potatoes Instant Pot recipe with a couple of quick tricks? Or, you could make these into air fryer twice baked potatoes!
The Instant Pot Duo Crisp Air Fryer is the perfect kitchen appliance for you if you'd like to modify a recipe to steam potatoes Instant Pot. Cook the potatoes as directed in the recipe card below, and then remove them from the pot, brush with olive oil and salt and then finish them off in the air fryer.
How to Make Air Fryer Twice Baked Potatoes
You could also make it an easy twice baked potatoes air fryer recipe by removing the potatoes after the Instant Pot steamed potatoes cooking time finishes.
Slice the potatoes in half lengthwise, scoop out the potato pulp and then mash up the potatoes. Fill the potato skin back up, and finish cooking with your Instant Pot air fryer lid. This is such a great cooking tool.
Instant Pot 3 Quart VS 6 Quart Potato Size Chart
So, you want to bake potatoes in the Instant Pot but aren't sure how many you can fit in the pressure cooker or what size of potatoes you should use. These are valid questions.
The 3-quart Instant Pot is also called the mini. There are many mini Instant Pot recipes that are ideal for when you are cooking for 1-2 people.
| | | |
| --- | --- | --- |
| 3-quart | 1-2 medium potatoes | 12-14 minutes |
| 6-quart | 4-8 medium potatoes | 12-14 minutes |
| 8-quart | 4-10 medium potatoes | 12-14 minutes |
| 10-quart | 6-12 medium potatoes | 12-14 minutes |
How Long to Cook Potatoes In Pressure Cooker
Quick cooker recipes are a huge time saver, and it's so easy to just add a cup of water, set timer for 12 minutes, and move on to other tasks while your baked Instant Pot salt potatoes cook up.
Remember, how long to cook potatoes in Instant Pots will vary depending on what type and size of potato you use. These times are for Russet potatoes, which are traditionally used as a baking potato over other varieties.
You can also use larger baked potatoes in the pressure cooker, you just need to reduce the number of potatoes you cook. The Instant Pot mini will fit one larger baking potato or 2 medium.
Small potatoes Instant Pot cooking time will be less. Try 10 minutes of high pressure for small potatoes. There is no change in cooking time for the Instant Pot 6 qt vs. 8 qt. The difference is just how many potatoes will fit in the pot.
Extra-large baking potatoes (like you'd find at Costco for example) can take 18-20 minutes to cook in the pressure cooker.
A pressure cooker recipes could also be considered to be steam oven recipes because steam is used to cook the food.
The Crock Pot pressure cooker potatoes times and Nuwave instructions will be the same as Instant Pot cooking times.
For Instant Pot twice baked potatoes, cook potatoes in the pressure cooker with the above cooking times and then prepare the potatoes for the twice-baked step.
To do this, you need to scoop out the potato pulp, mash the potatoes up and mix with butter, sour cream, salt, and pepper and then top with shredded cheese. You can bake them in the oven to finish cooking at 350 for 20 minutes or so, or you can finish them in the air fryer. We use the air fryer lid to make Instant Pot roasted potatoes all the time.
More Instant Pot Recipes to Try
Can You Boil Potatoes in Instant Pot?
Whether you want to boil potatoes or steam potatoes in the Instant Pot, the results are the same and are absolutely amazing. Add cold water to the inner pot of the pressure cooker and then add cut potatoes to a steamer basket. Lower than into the inner pot. This allows you to remove the potatoes easily.
Instant Pot steamed potatoes are perfect for making mashed potatoes. And, we make a lot of mashed potatoes. Just look at these mashed potato recipes: garlic mashed potatoes, more garlic mashed potatoes, mashed red potatoes, and mashed russet potatoes with cube steak.
Steaming the potatoes also works great for potato salad, which is another recipe that is SO good.
Recipe