You know the saying, "an apple a day keeps the doctor away"? I've come up with my own version, which is "a slice of Instant Pot Apple Cheesecake keeps me happy all day."
And that is because this recipe for creamy, rich and delicious cheesecake incorporates tasty and crunchy apples to give you a truly delightful dessert. If you are a cheesecake fan who also loves apples, then this recipe is for you!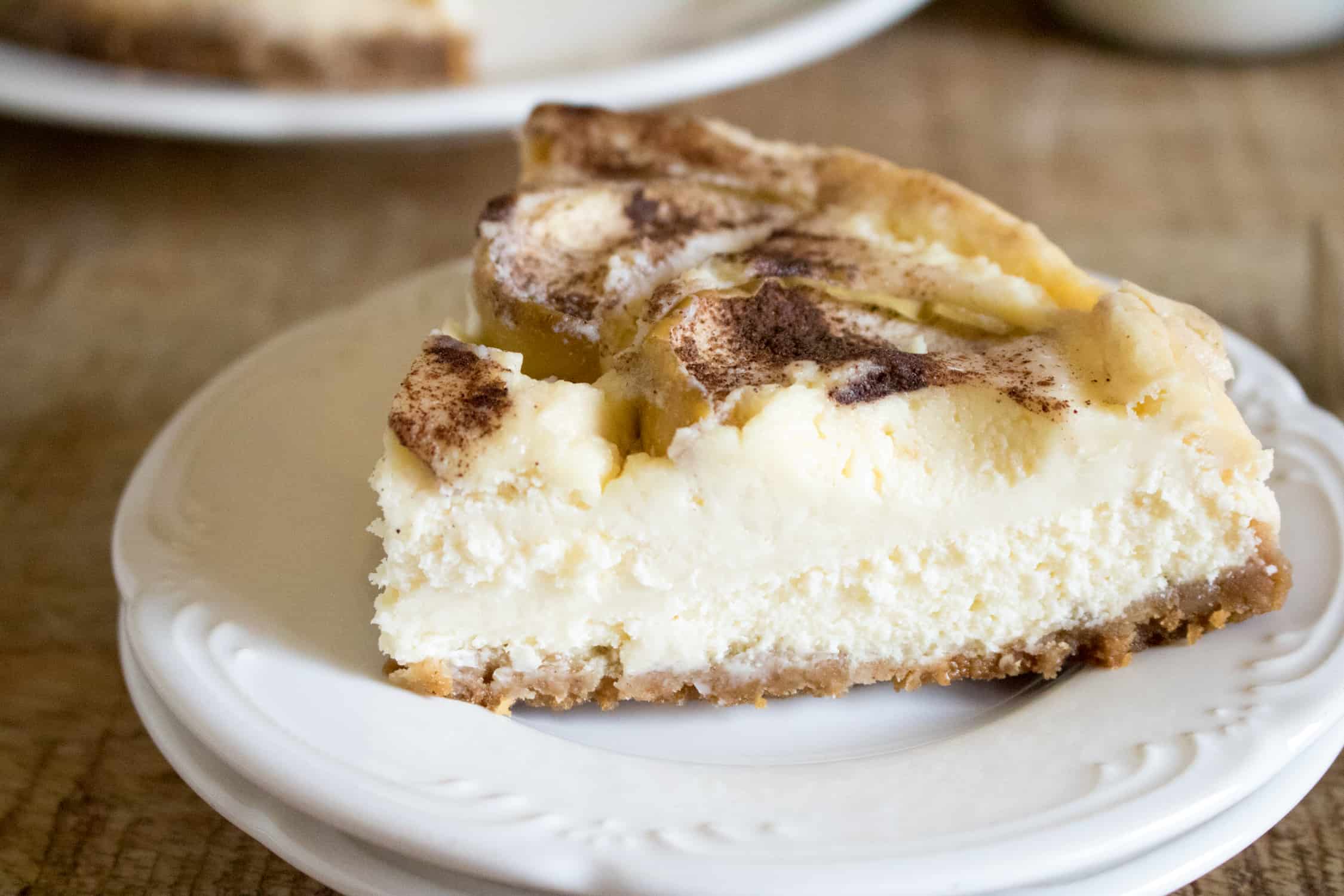 Why You'll Love Making Instant Pot Cheesecake
Ever since it made its market debut, cooks have been raving about making cheesecake in the Instant Pot. And it remains at the top of the list of popular Instant Pot recipes, because of the steamy pressure cooking environment that creates such an amazingly smooth and creamy cheesecake.
Plus, it is so much faster! Traditional cheesecake recipes require over an hour of baking time, while Instant Pot cheesecake cooks in just 35 minutes (plus another 12 minutes of natural release time).
Like this recipe? Check out all off our Cheesecake Recipes. We're adding more extraordinary flavors all the time! A couple of our favorites, besides this one, are Orange Creamsicle Cheesecake and Oreo Cheesecake. Then, there's our Peanut Butter Cheesecake and Peppermint Cheesecake. And our Creme Brulee Cheesecake...WOW!
Tips For Making Instant Pot Apple Cheesecake
It wasn't until years ago when I saw a co-worker use an apple corer that I realized I had been doing it the hard way all my life! For this Instant Pot Apple Cheesecake, peel the apple with a peeler (or a paring knife if you're really handy) and then "gift" yourself with an apple corer if you don't already have one! One push and the apple flowers out in perfect sections. So much easier!
Remember to set out your cream cheese for a bit before you plan on starting the recipe. Creaming sugar and cream cheese is much easier if the cream cheese is softened.
Don't forget, you can find graham cracker crumbs in a box already crushed and ready to use. SO much easier than crushing the whole squares.
New to cooking with a pressure cooker? Try out the Be the Boss of Your Instant Pot Video Course! It'll help take the pressure off and ease you into cooking with your Instant Pot.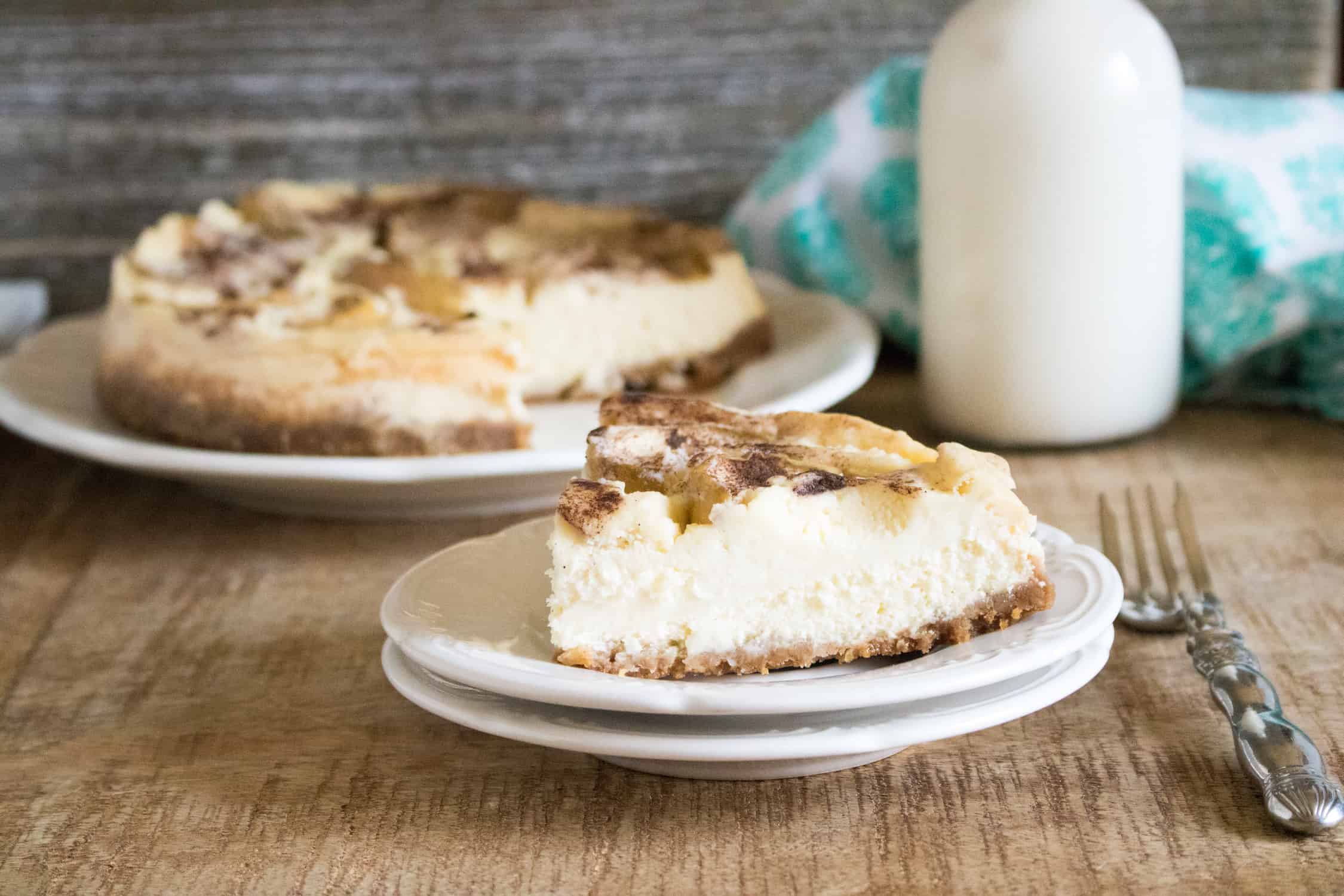 How To Make Instant Pot Apple Cheesecake Step By Step
Combine graham cracker crumbs with sugar and melted butter and pat down on the bottom of a 7-inch springform pan sprayed with non-stick cooking spray. Alternatively, you can use a 7-inch pan lined with parchment paper on the bottom and along the sides.
Cream together the cream cheese and sugar until smooth.

Next, add in the eggs one at a time. Mix in the vanilla extract and sour cream until smooth and then add in seasonings

Pour mixture into pan on top of the graham cracker crust. Run a fork back and forth through the cheesecake several times to remove air bubbles.
Top with apple slices pressed down into the cheesecake. Sprinkle lightly with cinnamon and nutmeg, and cover with foil.
Pour two cups of water into the inner pot of the Instant Pot. Make a sling out of aluminum foil to lower the pan into the Instant Pot.
Close the lid of the Instant Pot and turn to sealing. Set for a manual high-pressure time of 35 minutes. When the time has finished, allow for a natural release for 12 minutes before letting out the rest of the steam.

Cool on the counter for an hour and then put in the refrigerator and cool for an additional 4 hour

Serve and enjoy!
Supplies Needed to Make Instant Pot Cheesecake
More Delicious Recipes like Instant Pot Apple Cheesecake
Check out the suggestions below for desserts similar to this recipe for Instant Pot Apple Cheesecake.
Equally as popular as apples this time of year is pumpkin anything! Here is an amazing recipe for Pumpkin Cheesecake that rivals the famous Cheesecake Factory Recipe.
Or, looking for a fruity cheesecake but had enough apples? This Instant Pot Cherry Swirl Cheesecake is a delicious alternative.
Or maybe you want to stay classic and traditional and make this Instant Pot New York Cheesecake. For a fun idea, serve it with different toppings (chocolate chips; strawberries; caramel sauce) so everyone can get creative and make their own creamy, delicious concoction.
Recipe