Instant Pot Blueberry Compote is sweetened with real maple syrup which eliminates needing to add a lot of white sugar to the recipe. Easy blueberry compote can be used for so many things from topping ice cream, yogurt, or even topping pancakes.
The possibilities are endless with this blueberry maple compote recipe.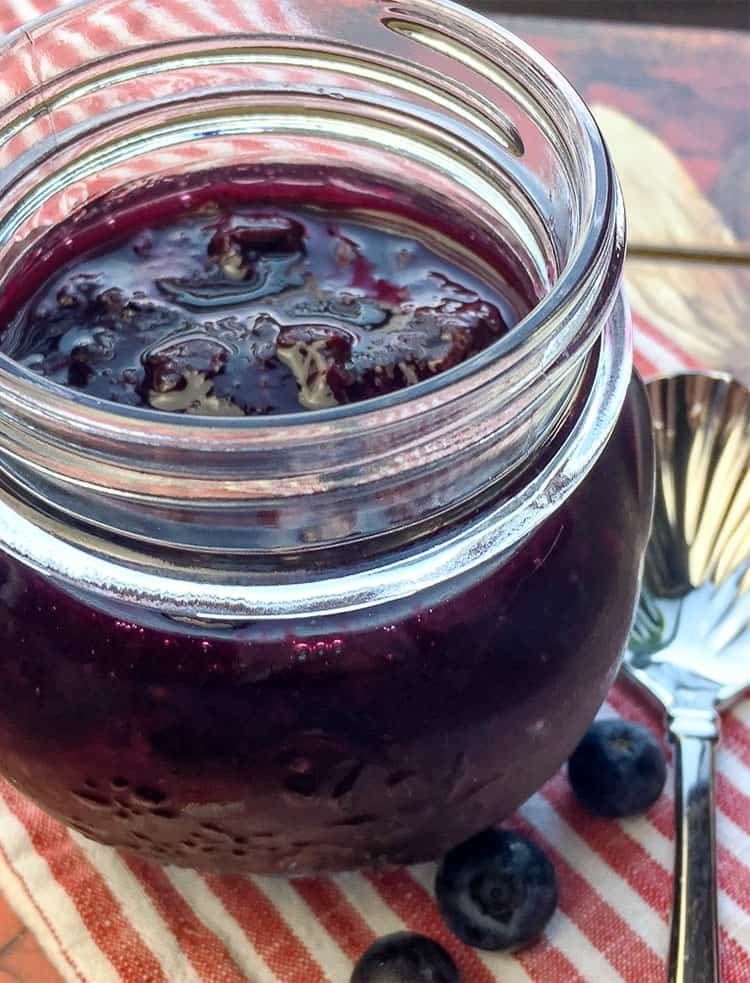 I made waffles the other morning, and I had some of my fresh blueberry compote in the fridge and paired it with the waffles and my family raved for hours. It adds the perfect amount of sweetness to my light and flaky waffles.
Other berry recipes to try: Instant Pot Blueberry Cobbler, Semi-Homemade Pop Tarts, and Oatmeal with Blueberries.
Blueberry Compote
Blueberry compote is almost like a jam in a sense. It is full of pieces of blueberries in a sweet and sauce that you can use for so many things. The maple syrup paired with the lemon juice really adds a nice tangy effect to the compote.
Can I Use Frozen Blueberries For This Blueberry Compote Recipe
Yes. You are welcome to use fresh or frozen. I prefer the fresh blueberry take. But frozen will work just as good.
Most of the time you will find that frozen blueberries were frozen at their prime state, so they are bursting with sweetness.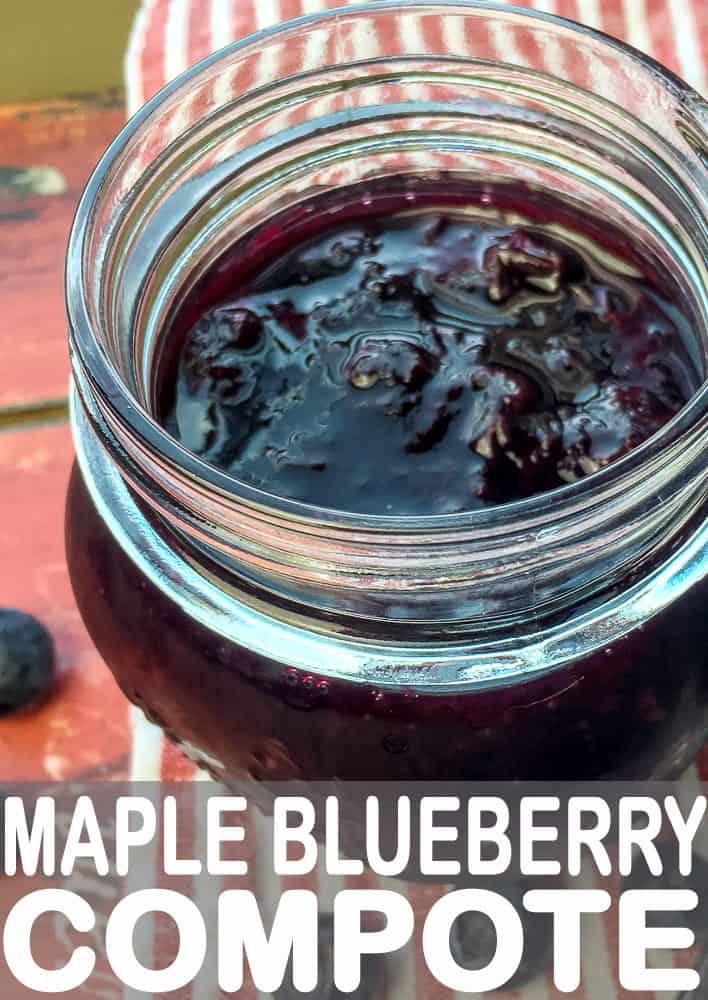 Do You Naturally Release Your Instant Pot Compote
I allow it to do a natural release for ten minutes, then after that, I will go and release any more pressure that might be built up. You need to allow your compote that time or it will not cook up properly.
How Long Will Blueberry Compote Last In Fridge
You will want to use up your blueberry compote within seven days of placing it in the fridge. After that, you will find it can go bad rather fast. I recommend using your best judgment on when you need to toss out the leftover compote.
Different Ways To Serve Blueberry Maple Compote
French Toast
Pancakes Waffles
Yogurt
Lemonade Ice Cream or even Vanilla Ice Cream
Oatmeal
Cheesecake
Cake
Rice Pudding
And the list goes on
How Much Does This Recipe Make
This Instant Pot recipe makes about 3 cups of fully cooked compote. If you have a larger Instant Pot you should be able to double the recipe if you would like. Just make sure not to go over the max line on the pot.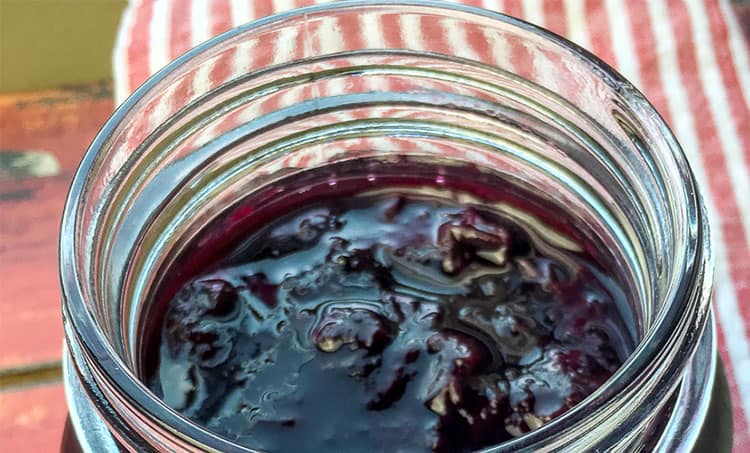 How To Thicken My Compote
Let your compote sit in the fridge overnight and see if it thickens on its own as it cools. If it doesn't you can place it back in the Instant Pot on the saute feature and warm it up, and either add in more maple syrup and cook till thickens.
Or reach for a mixture of water and cornstarch to slowly pour in and whisk to make it get thicker faster. I generally do around 1/4 cup water and 1 tablespoon corn starch.
If your blueberry compote is too thick, the way to go around that is to add water and whisk until it becomes the consistency you would like.
On The Hunt For More Blueberry Recipes
Blueberry Lemon No-Churn Homemade Ice Cream | This no churn ice cream doesn't require an ice cream machine. Quick and easy homemade ice cream at home!
Blueberry Buckle Poke Cake | This cake is incredible. Moist, flavorful, and delicious down to the last crumbs. A whipped cream topping that adds such creaminess to this cake recipe.
Kale and Blueberry Salad | Now this gives you that savory and sweet aspect. This kale salad is loaded with nutrients and blueberries for one incredible salad creation. Great for lunch or serving up to guests at dinner.
Best Way to Clean Fresh Blueberries
Blueberries are fragile, so you want to be careful on when you wash your blueberries. What I do is wait until I plan to use my blueberries in a recipe.
Then take them out of the container and place them in a strainer. With cold water, rinse them in the sink until they are clean of any debris. Then place on a dry paper towel or cloth and then go to prepping them for whatever recipe you plan to use.
As soon as you wash your blueberries they will begin to break down. So never wash and clean them as soon as you get home from the store, unless you plan to eat right away.
You can also use frozen berries. I just prefer to use fresh blueberries.
How to Make Blueberry Compote on the Stovetop
To make Blueberry Compote on the stove, you will need to adjust this recipe. You can make compote in a small saucepan using traditional ingredients like water, sugar, adding blueberries and cook over medium heat. Add lemon zest for a fresh flavor.
Or, you can enjoy the refined-sugar-free recipe that I'm sharing here. It uses maple syrup as a sweetener instead of granulated sugar and is a super easy recipe.
Either way, adjust to cooking time and remove from heat when the blueberry compote starts to thicken. You will surely love this recipe and want to serve warm over pancakes or ice cream.
Supplies Used to Make Blueberry Compote
Instant Pot Inner Pot - I like to have an extra inner pot available because of how much cooking I do in my Instant Pot. It comes in really handy when I want to put a lid on the inner pot and refrigerate the leftovers, or mix up ingredients the night before to save time at the end of the day.
Silicone Lid for Instant Pot- I'm not sure how I lived without this one. Having a silicone lid for my Instant Pot has made life so much easier. It is perfect for adding ingredients a day or two ahead of time.
101 Instant Pot Recipes for Beginners- If you are new to pressure cooking, this is a great ebook to get you started with basic recipes you will use over and over again.
Recipe
Have you ever made a homemade Blueberry Maple Compote before?