Since purchasing my Instant Pot, I've tried out plenty of savory recipes, meat that falls off the bone, soups, stews, beans, and more. After getting several recipes under my belt, I decided to venture into the realm of the sweet and make this Instant Pot Banana Cake. It's like banana bread in a cake pan. We used overripe bananas for the best results.
This is one of those Banana Instant Pot cake recipes that doesn't need a special occasion. The best cake is one that is served whenever you want it. Top it with a little bit of delicious cream cheese frosting to make it an A+ dessert. This adds such a great flavor. You really won't regret it. Next time you're making a family dinner, you have the perfect dessert ready to go.
Haven't made a dessert in your pressure cooker? There is a first time for everything. Or bread? There are so many things you can make in your Instant Pot that you probably wouldn't think of. From proofing dough for pizza crust or French bread, to making yogurt, to making part of your Thanksgiving dinner--learning to cook in an Instant Pot can be life-changing.
There are plenty of recipes for Instant Pot cakes, but this Instant Pot Banana Cake is quick and easy. The combination of bananas, heavy cream, and brown sugar makes our banana bread Instant Pot recipe rich and tasty. Whether you call it a quick bread or a delicious moist cake, either way, you'll love the banana flavor for this easy recipe. Use extra bananas and slice them up on top of the cake.
How to Make Instant Pot Banana Cake
Baking our easy banana cake recipe in your Instant Pot takes roughly the same amount of time as in an oven. However, the temperature is lower when steaming. This is because moist air transfers heat more effectively.
Now, to store the leftover cake (if you have any), you can use plastic wrap or an airtight container for the leftovers. Keeping the banana cake wrapped up really well ensures you have moist banana cake when you're ready for another slice. A great way to serve leftover bread is to simply pop it in the microwave for 10-15 seconds to heat it up slightly.
I store applesauce cake like this all the time too. Simply slice it up, wrap it in plastic wrap and then store it in an airtight container and it is ready to go from lunches or an on-the-go snack. And yes, sometimes I actually make homemade applesauce from scratch and then use it to make this cake. If you love banana bread or banana cake, this is another you'll want to try.
Now, if you whip up banana bread in jars, you can simply add a lid after the bread cools and it will be ready in an airtight container.
If you have a mixer with a paddle attachment (or a hand mixer), mixing up the cake batter is easy as can be. You'll have the best banana cake recipe whipped up in no time. Get the full recipe in the recipe card below.
Ingredients Used In This Step By Step Banana Bread Recipe
Is this a healthy banana bread recipe? It calls for less sugar than a traditional banana cake recipe calls for, so it is a healthier option. However, keep in mind the butter and sugar content when considering this as a healthy banana cake option. We do have a lot of super healthy Instant Pot recipes available, like our Chicken Noodle Soup and Asparagus Frittata.
Ingredients
butter
sugar
brown sugar
eggs
bananas
heavy cream
vanilla extract
all-purpose flour
baking powder
baking soda
salt
You'll want to make this banana bread. 6 bananas are needed if you want to double the recipe and make a layered banana cake.
Is Banana Bread a Dessert?
Banana Instapot bread uses ripe bananas. It can be served as either a piece of bread or dessert. Normally, banana bread is served as a snack or breakfast, along with a smear of butter.
However, you can dress up banana bread cake with frosting, butterscotch or caramel syrup, a scoop of ice cream, or chocolate chips and nuts. Any of those would make banana bread a fine dessert.
Can You Make Banana Bread In A Cake Pan?
Yes, you can bake bread in Instant Pot cake pans. You could also use a loaf pan that fits in the Instant Pot, or even use Instant Pot egg bite molds and make banana bread bites. There are many possibilities on how to cook banana bread in the Instant Pot.
Difference Between Banana Bread vs Instant Pot Banana Cake
Banana cake is typically cakier and lighter than banana bread. The cake is a moist and airy baked dessert. On the other hand, banana bread is denser and heavier.
This banana bread cake is on the denser side, so you could more aptly refer to it as a sweet bread. Whichever you call it, it is a tasty treat to make.
How to Fix Wet Banana Bread
It is possible that your banana bread might come out wet in the middle if you used too large bananas. This would allow more moisture into the bread batter and the ratio of wet to dry ingredients would be off.
Thankfully, this is a pretty easy problem to solve and doesn't happen frequently. You could rescue the bread in the oven by preheating the oven to 350 and baking for 10-20 minutes, checking after 10 minutes for doneness. Or, you could put the bread back in the Instant Pot for another 5 minutes on high pressure and then check for doneness. Add another 5 minutes if it isn't done.
How Do You Bake a Cake in the Instant Pot?
It might seem strange to steam a cake, but the results are amazingly moist and rich. In many places around the world, an oven isn't a standard appliance in the kitchen.
Quit thinking about how you can make bread in an Instant Pot and take a deep dive into this cooking wonder with this tasty Instant Pot bread recipe.
Rather than baking a cake in a Western-style oven, use a steaming method to "bake" all cakes and bread types. This is the same method we use for our applesauce cake and all of our cheesecake recipes.
To "bake" a cake in an Instant Pot, you need to do a little prep work. First, you need to have a baking dish that fits inside your pot.
The size will depend on your Instant Pot model, but we recommend a 2 to 3-quart soufflé dish or mold for this recipe. And, just as you do in traditional baking, make sure you thoroughly grease the dish.
Next, prep a steam bath by placing warm water and a trivet in the bottom of the pot. Once the cake mixture is ready, pour it into your dish and place it on top of the trivet inside the Instant Pot.
How To Make High Altitude Banana Bread
How to cook a cake or banana bread at high altitude requires some minor adjustments. You will need to increase the cooking time by 5% for every 1000 feet of elevation starting at 3000 feet.
So, 3000 feet, add 5%. 4,000 feet, add 10%. And so on.
A Tip to Make Removing Your Instant Pot Banana Cake Easier
Once your cake is steamed, it can be tricky to remove it from the pot. One way to make this easier is by making a sling out of foil to allow the mold to be lifted out of the Instant Pot.
Follow these 3 steps to make the sling:
Tear off a piece of foil that is long enough to wrap around the bottom of your mold and go up the sides.
Fold the foil in thirds on the long end, making a wide three-piece-thick strip of foil.
Place this sling under the mold, allowing it to go up the sides.
When your cake is finished steaming, you can use this sling to pull the cake out of the Instant Pot easily.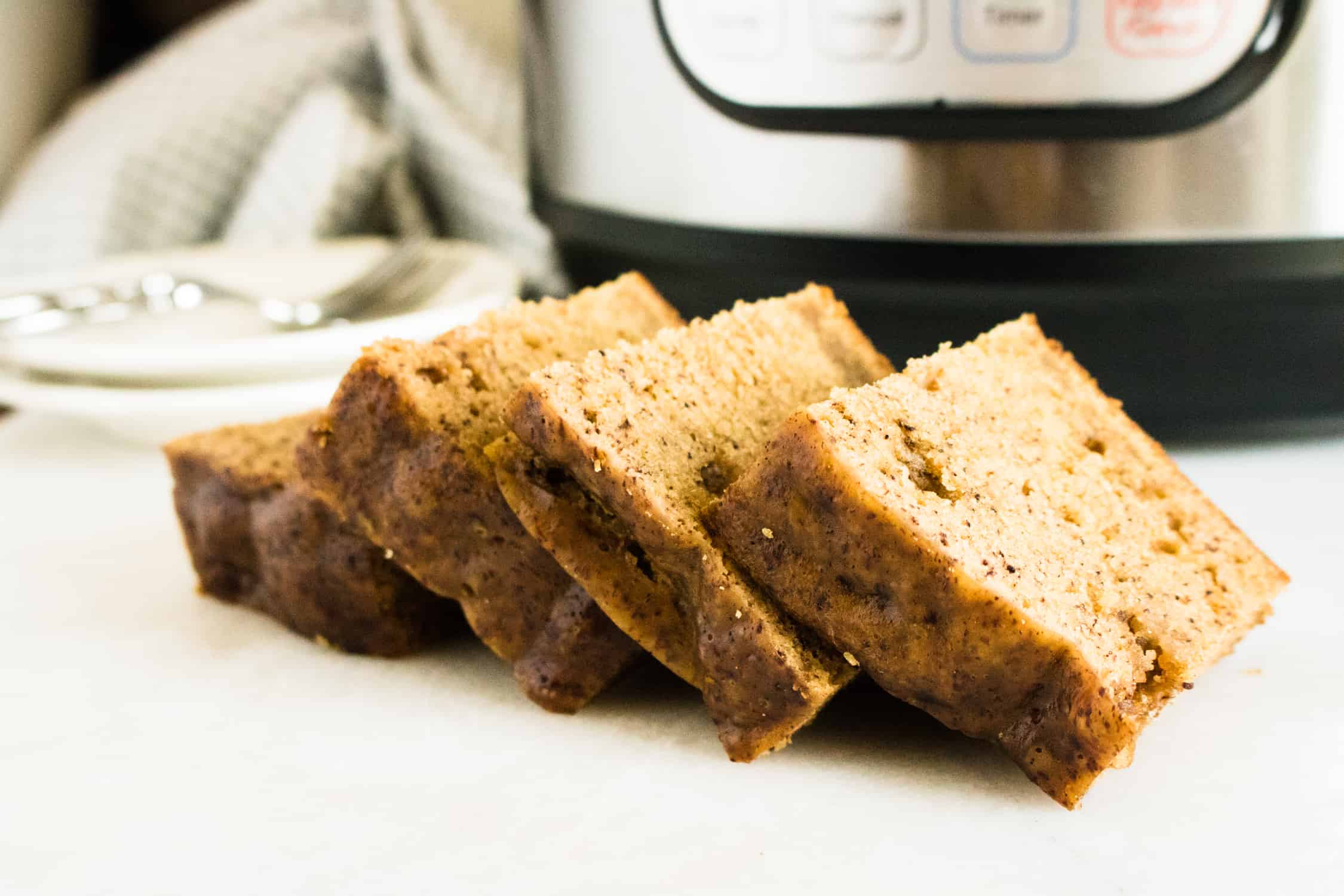 We Love These Cooking Supplies
Supplies Used To Make Instant Pot Banana Cake
How To Make Instant Pot Banana Cake
Follow these easy directions below to learn how to make this simple homemade banana bread recipe.
Step By Step Easy Banana Bread Recipe
Blend mashed bananas, butter and sugars, eggs, heavy cream, and vanilla extract in a blender.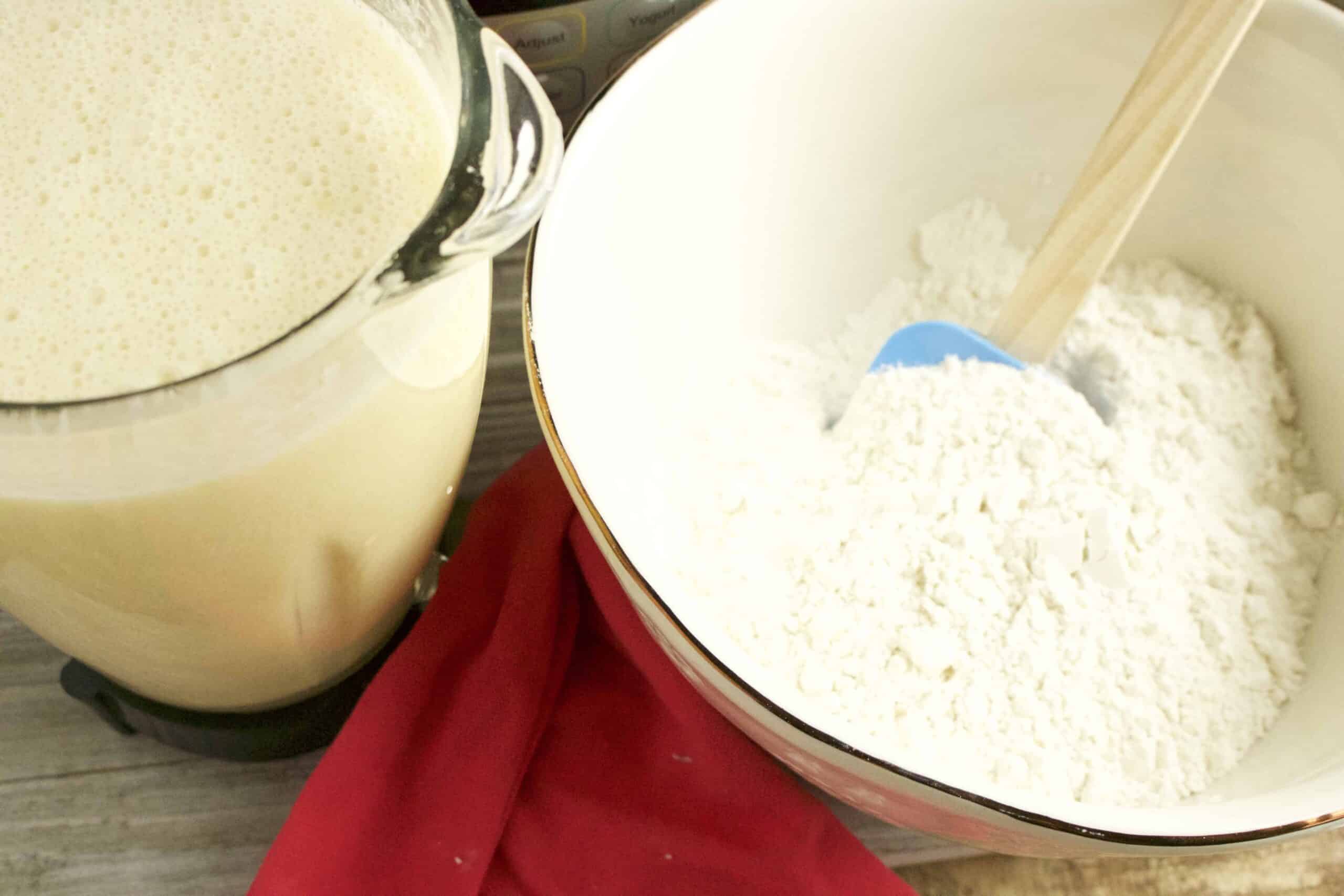 Combine flour, baking powder, soda, and salt. Pour in the blended mixture.
Spoon into a 2 to 3-quart soufflé dish, mold, or prepared loaf pan that will fit into your Instant Pot.
Place a small trivet (or fashion a little "ring" from aluminum foil) in the Instant Pot and add 1 ½ cups of water. Then set the baking dish on the trivet.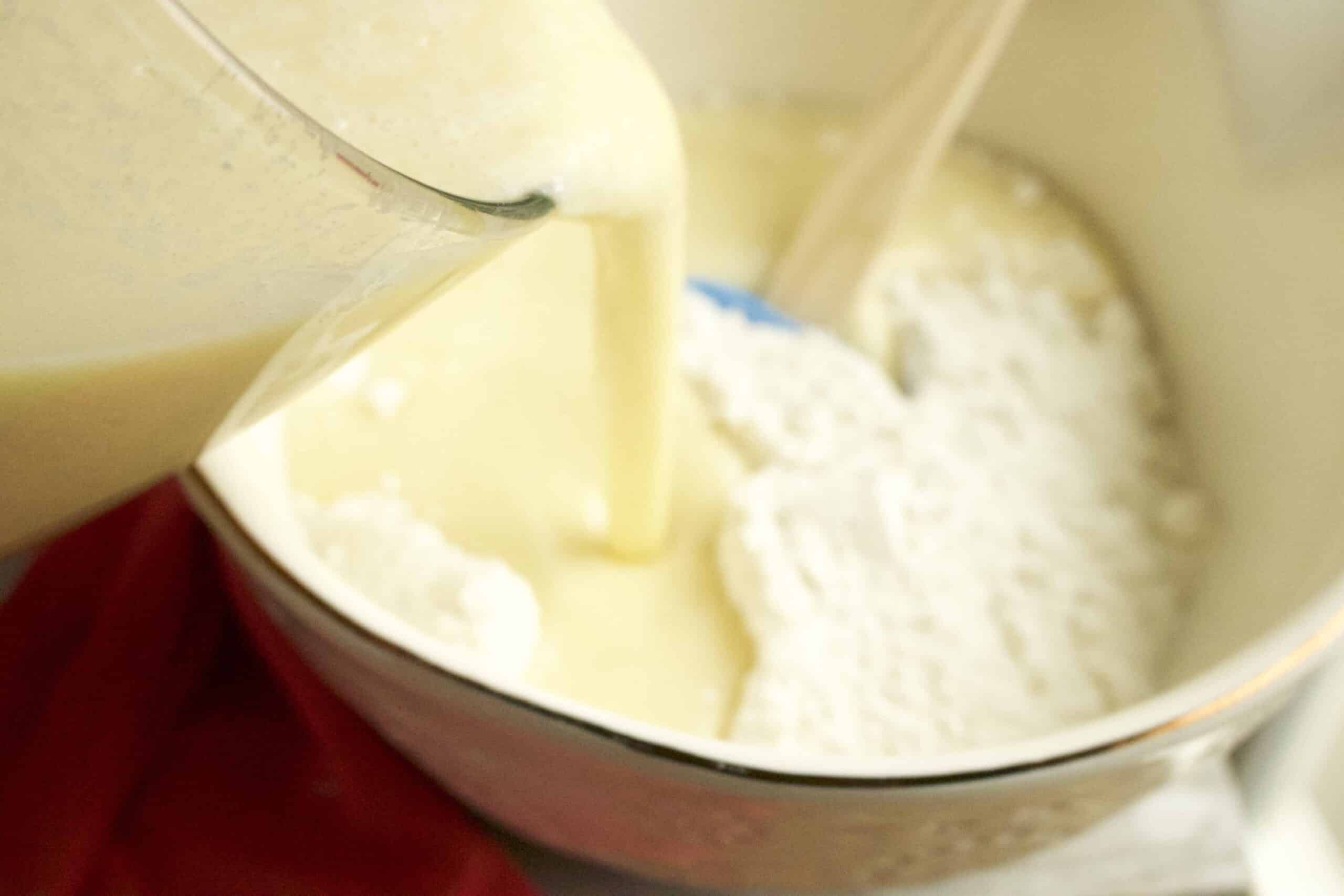 How To Cook Banana Bread
Cooking banana bread is somewhat different than how long to bake banana bread. With this recipe, you'll place the bread in the Instant pot and then close the lid and set the pressure valve to sealing. Set on a manual high-pressure cooking time of 60 minutes.
Allow for a natural pressure release for 15 minutes, then let the rest of the pressure out if there is any remaining. Use hot pads, and the trivet handles to lift the cake dish out. Set on a wire rack to cool.
Let the bread cool completely; it should easily release onto a plate for serving. If you want, you could fry bananas to add to the top of the banana bread.
How To Tell When Banana Bread Is Done
It's easy to see how to know when banana bread is done with a kitchen thermometer. Instant Pot banana bread is finished when it reaches an internal temperature of 200°F.
Now, most people use a toothpick to check for doneness, and you can certainly do that. But, the thermometer method is an extremely accurate way to test doneness.
How Much Does Banana Bread Rise
Banana bread will double in size once cooked or baked in a loaf pan. You want to make sure not to overmix the batter before you put it in the pressure cooker. Scrape down the sides of the mixing bowl after you add each egg and gently mix.
How Long Do You Cook Banana Bread Cake
Banana bread cooking time in the Instant Pot is 60 minutes. While this might not seem like much time savings than baking, you won't need to heat your oven. This is a huge help in the summer when you don't want to heat the house.
Cooking banana recipes like this pressure cooker cake is easy in the Instant Pot.
Try These Instant Recipes
Recipe