Some of the links in this post are affiliate links. This means if you click on the link and purchase the item, I will receive an affiliate commission at no extra cost to you. All opinions remain my own.
The Instant Pot makes it easy to prepare all sorts of delicious meals. This article is full of the best Instant Pot Oatmeal recipes that I've made.
It is incredibly simple to make, yet packs a big nutritional punch. Oatmeal is so so versatile and is is a great way to start your day. It is also a perfect choice for a hearty lunch, an energizing mid-afternoon snack, or even as a sweet and satisfying dessert.
The best thing about Instant Pot oatmeal is the limitless choice of topping combinations.
We've gathered a list of our favorite recipes, ranging from classic oatmeal pairings, to some more unexpected flavors. With 8 different delectable options, you can try a new one every day of the week!
We have recipes for both steel cut oats and quick oats. This is a list of 8 Instant Pot Oatmeal Recipes that you're sure to love. It's hard to pick my favorite, because they are all so good.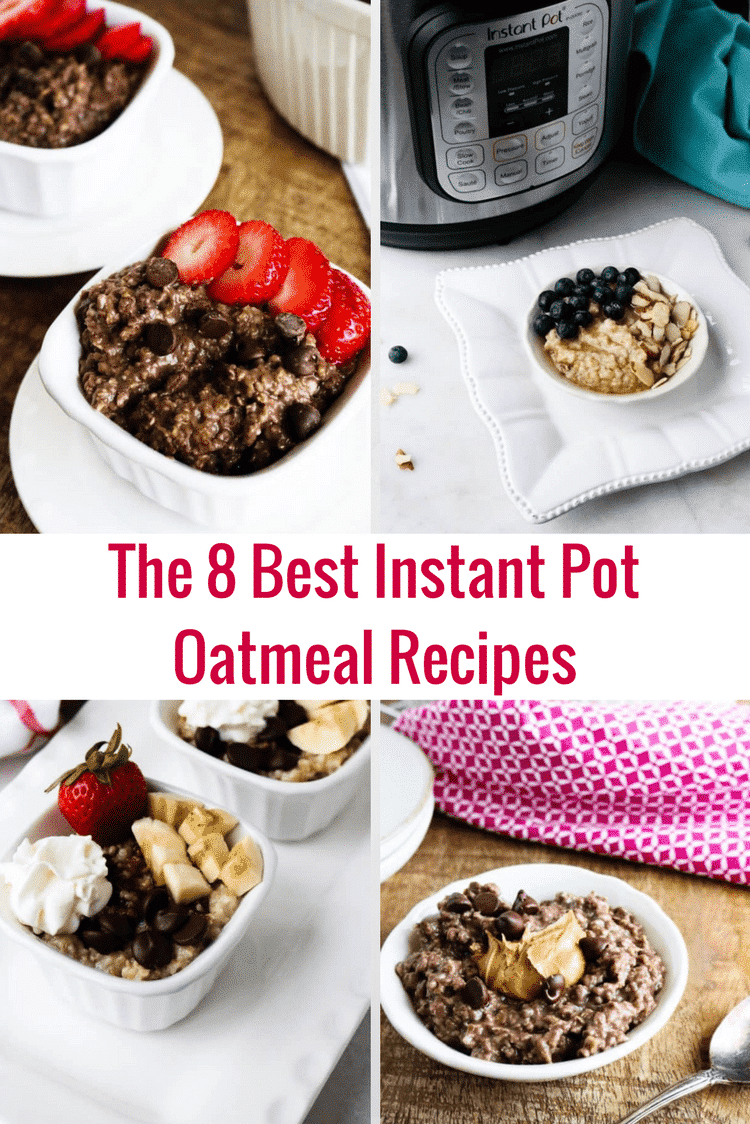 4 Pressure Cooker Oatmeal Recipes with Quick Oats
The oat grain, or groat, may be small, but it is a nutritional powerhouse. Quick oats are rich in protein and fiber, and packed with vitamins and minerals.
Instant Pot Quick Oats — Raisin, Apple and Maple Syrup Flavored
This combination of traditional oatmeal flavors is comforting, satisfying, and delicious. And, this recipe includes a helpful tip for cooking oatmeal in the Instant Pot.
Cooking Oatmeal In Instant Pot
If you're looking for an easy way to cook oatmeal, a pressure cooker the idea way to prepare it. This oatmeal has turned out perfectly every time I have made it.
I use the pot-in-pot method because it prevents oats from sticking on the bottom of the pot. Just add a cup of water to the pot. Then add in the recipe ingredients to a pot that fits inside the inner pot. This method is so much easier than cooking oats on the stove top. Who likes to stand and stir over the stove top?
When you make oatmeal with your pressure cooker, pay close attention to the cooking time on the recipe you are using. Most will be around the same amount of time and cooked on high pressure. When talking about how to release pressure, recipes will call for either a quick release or a natural release.
What Kind of Milk Do You Use to Make Oatmeal
You can use any kind of milk you prefer to make your oatmeal.
I like to use almond milk as often as possible instead of regular milk to make oatmeal.
Some people prefer to mix oatmeal with water and add in a splash of milk right before serving. I have always had great results using milk as the liquid added in the recipe. This is also a good way to add more calcium to your diet.
Should I Make Oatmeal with Milk or With Water
Don't listen to articles or people telling you one way is better than the other. Cooking oatmeal is easy enough that you can make it both ways and decide which way you like it cooked better.
I prefer oatmeal cooked in milk. I think it is creamier and find it to be an amazingly warm comfort food.
Other people like it with water. And that is perfectly fine. And then, there are also people who can't consume milk. For those people, cooking oatmeal in water is a perfect alternative.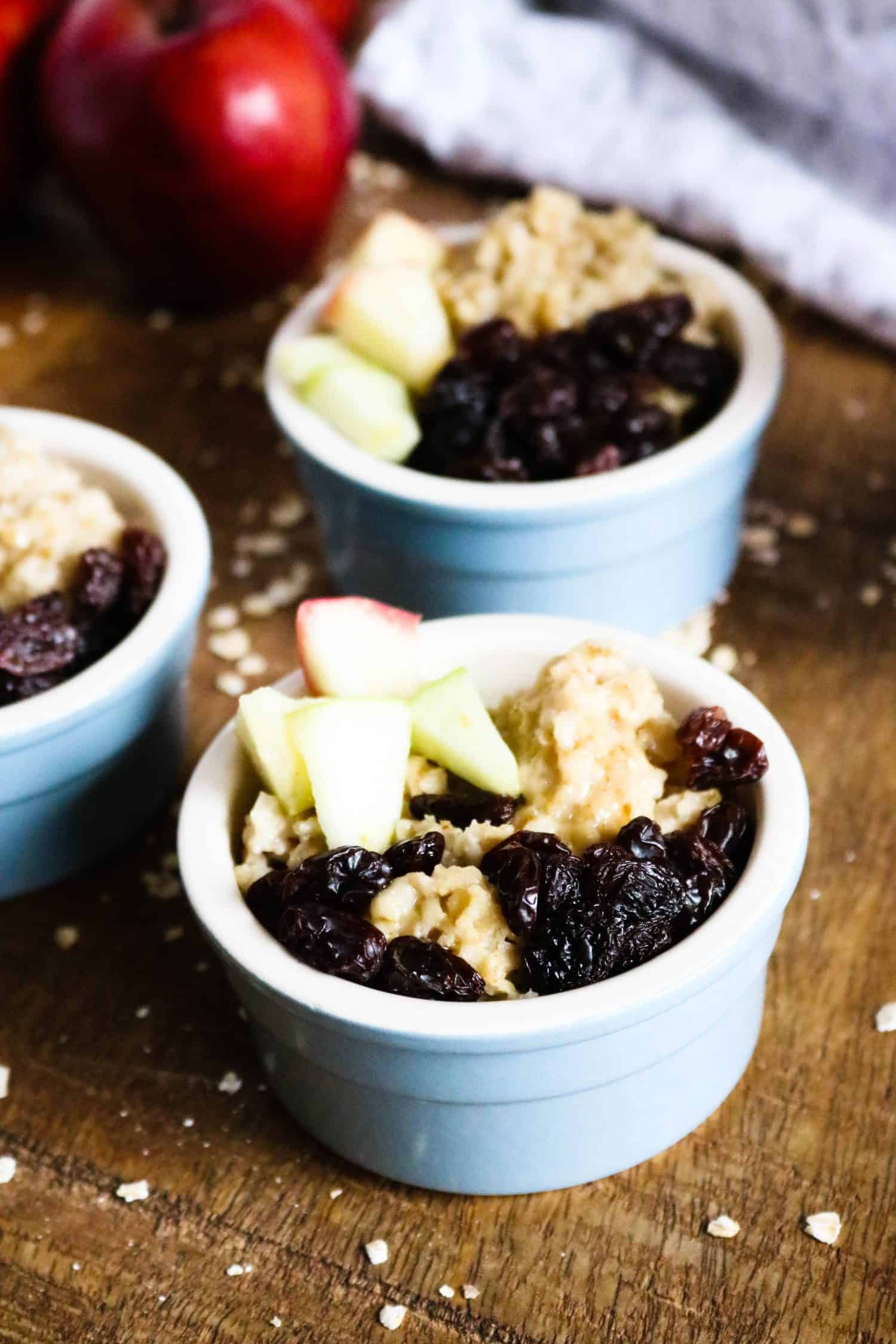 Get more Instant Pot recipes in our Facebook group and by following A Pressure Cooker on Facebook, Pinterest, and Instagram.
Instant Pot Oatmeal Chocolate Peanut Butter Quick Oats
The sweet and salty pairing of chocolate and peanut butter is an all-time classic. With this recipe, you can indulge in the flavors of your favorite peanut butter cup candy, without any of the guilt!
Chocolate chips are one of my favorite mix-ins to use in recipes.
One of the best things about making oatmeal is the ability to add fun ingredients to it. Mix it up. Try adding nuts, bananas, or some extra chocolate chips.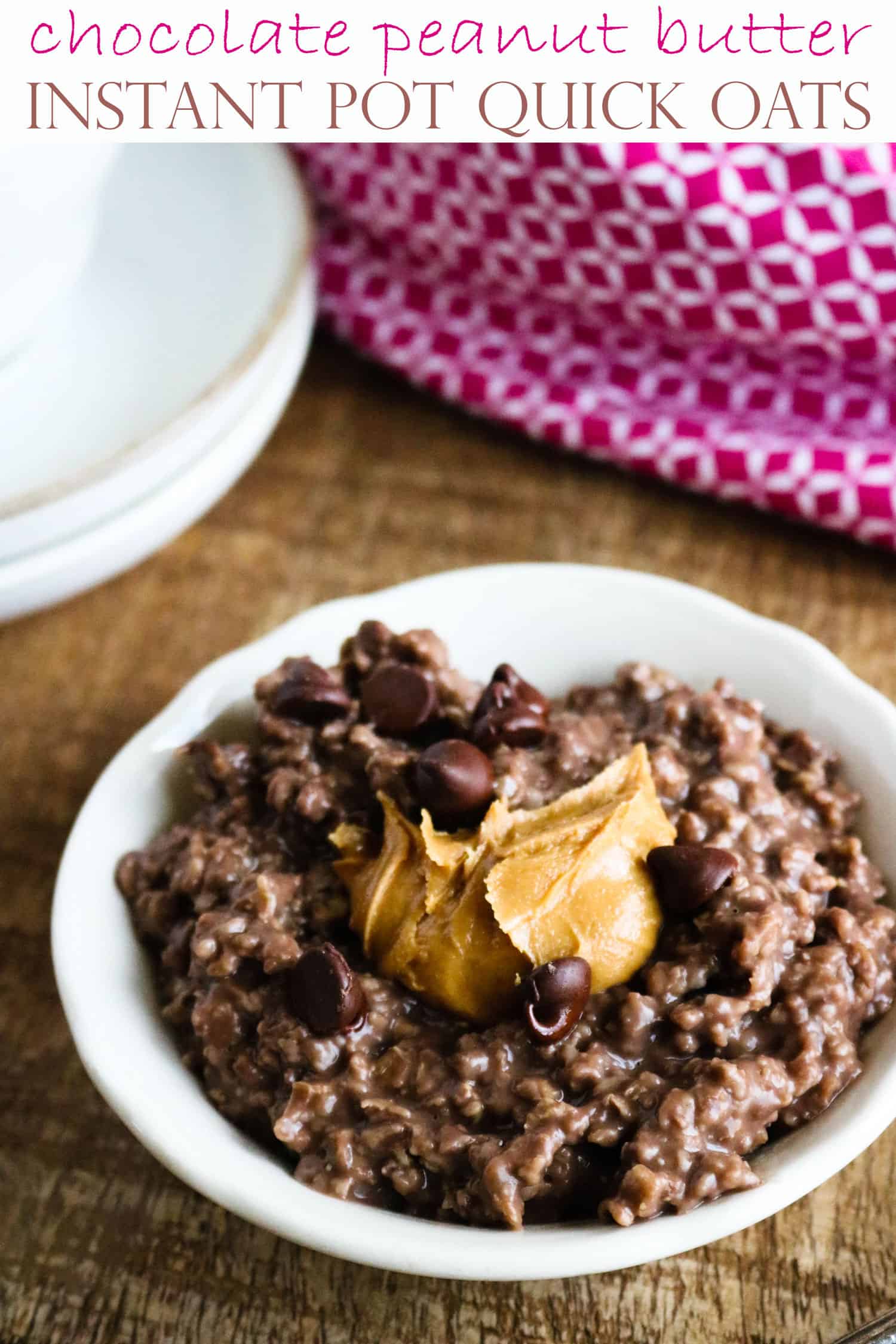 Apple, Walnuts and Honey Instant Pot Quick Oats
Enjoying the flavors of fall couldn't be easier. With the Instant Pot, you can enjoy a comforting, warm bowl of oatmeal in just 5 minutes.
Quick oats are so delicious. They are almost as easy to cook as instant oatmeal, but WAY better. Fresh and tasty ingredients are always better than processed food.
With fresh, whole food ingredients added in, oatmeal is made into an even more well rounded meal.
Mix things up and swap out the apples for pumpkin and add some pumpkin pie spice to the top. Pumpkin Pie Oatmeal would be another delicious fall oatmeal flavor.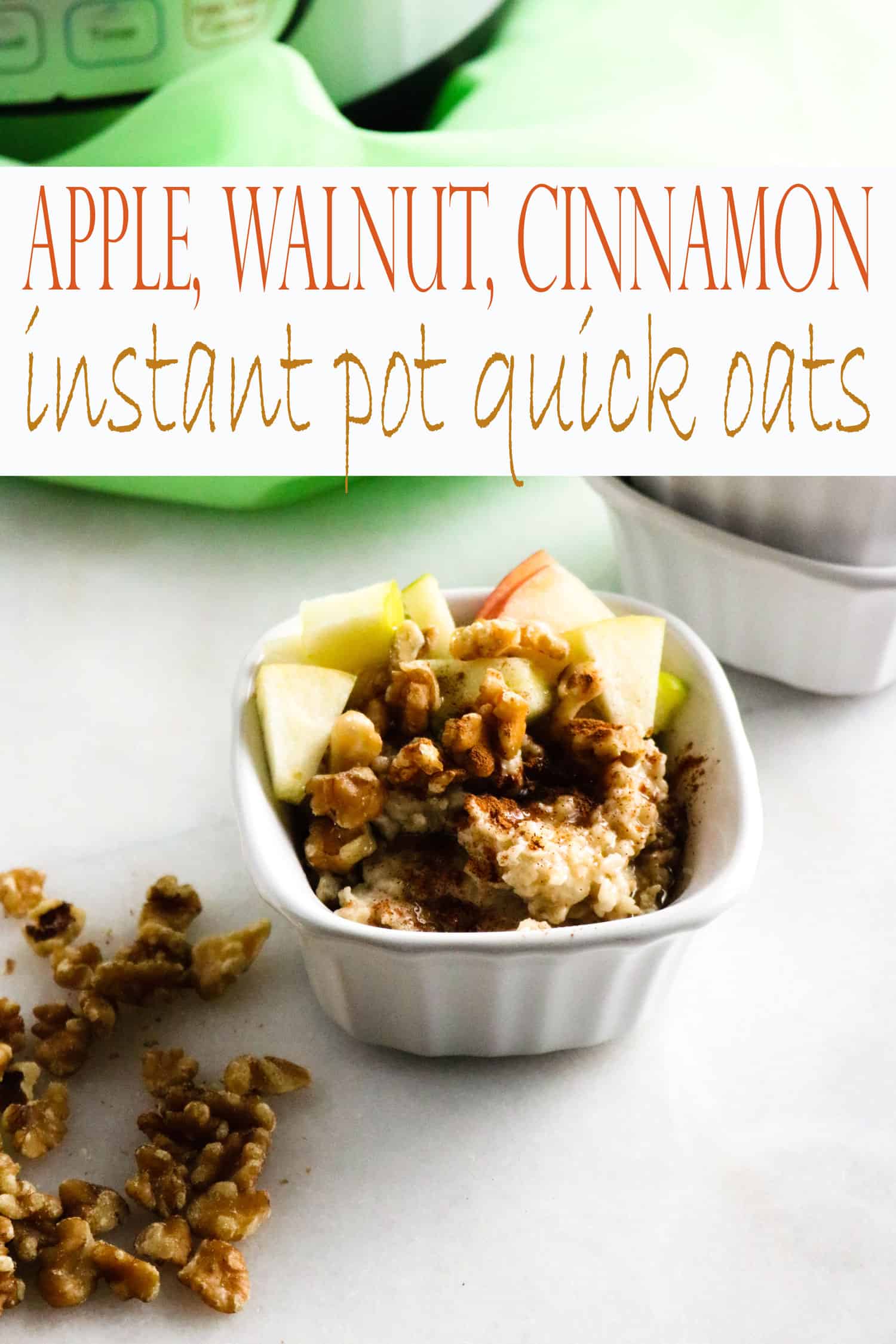 Instant Pot Double Chocolate Quick Oats with Strawberries
Chocoholics, Rejoice! This Instant Pot oatmeal recipe lets you satisfy your chocolate craving while providing many great health benefits. Tastes so decadent.
Use dark chocolate to keep this recipe healthy. Add in strawberries for your morning boost of vitamins. So, so good!
Things you could add to this recipe: blueberries, kiwi, raspberries, coconut, or a splash of milk over the top.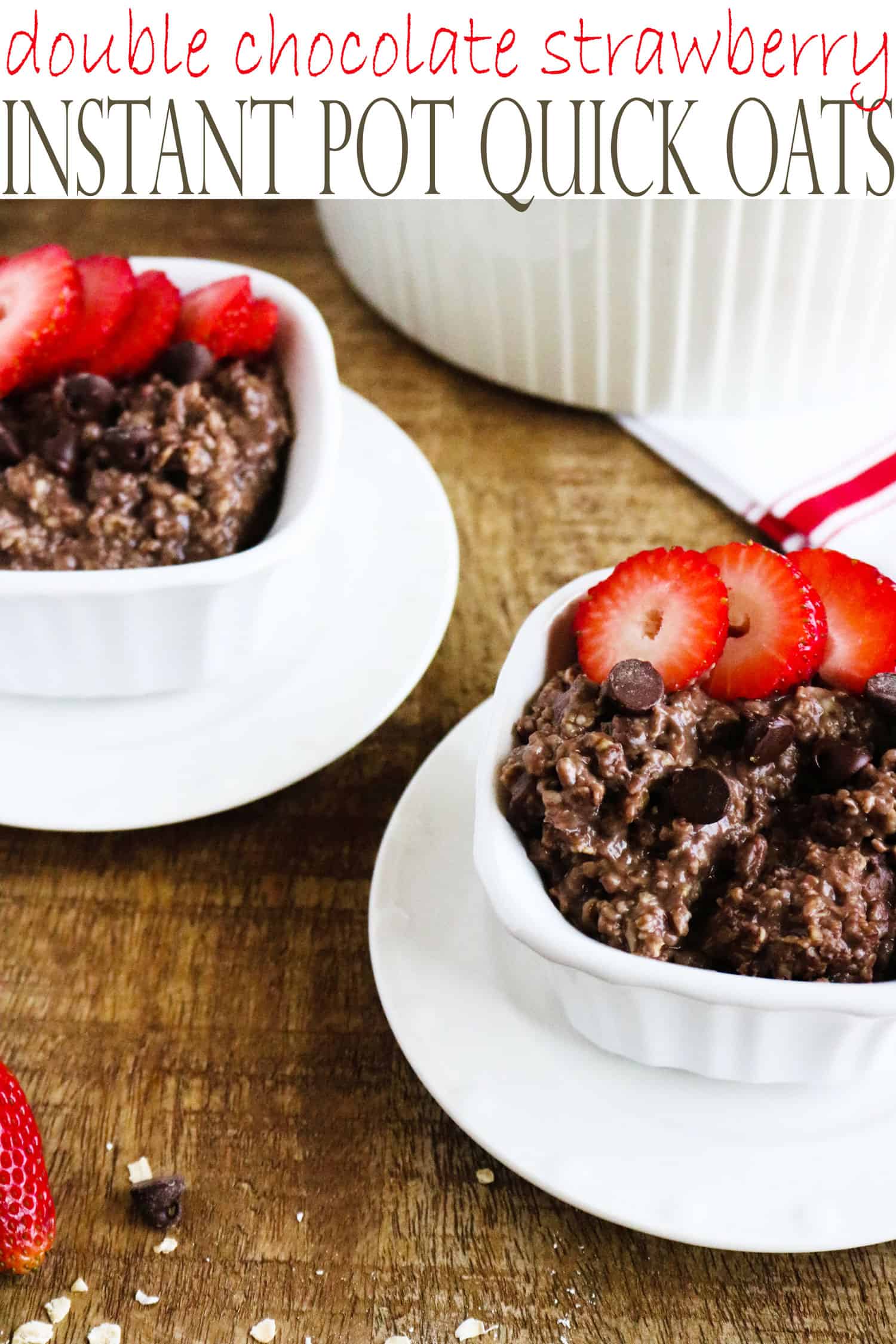 What Instant Pot Accessories Do I Need To Make Oatmeal
4 Instant Pot Oatmeal Recipes for Steel Cut Oats
Steel cut oats are oat groats that have been cut into two or three pieces by a steel blade. Steel cut oats are processed less than quick oats. They also have a lower glycemic index (GI) number, which means they are digested more slowly and provide sustained energy.
Pressure cooking steel cut oats is a good way to cook these oats without tending to them on the stove top. Like Quick Oats, when you cook oatmeal on a burner, you need to stir frequently.
Instant Pot Steel Cut Oatmeal with Blueberries, Bananas and Pecans
This breakfast of champions is healthy, hearty, and thanks to the Instant Pot, so incredibly easy to make. The nuts add a healthy dose of protein and the bananas and blueberries add another level of nutrition excellence.
Starting your day with this combination of ingredients is a recipe for success.
A drizzle of maple syrup or honey would take this bowl of breakfast perfection to the next level.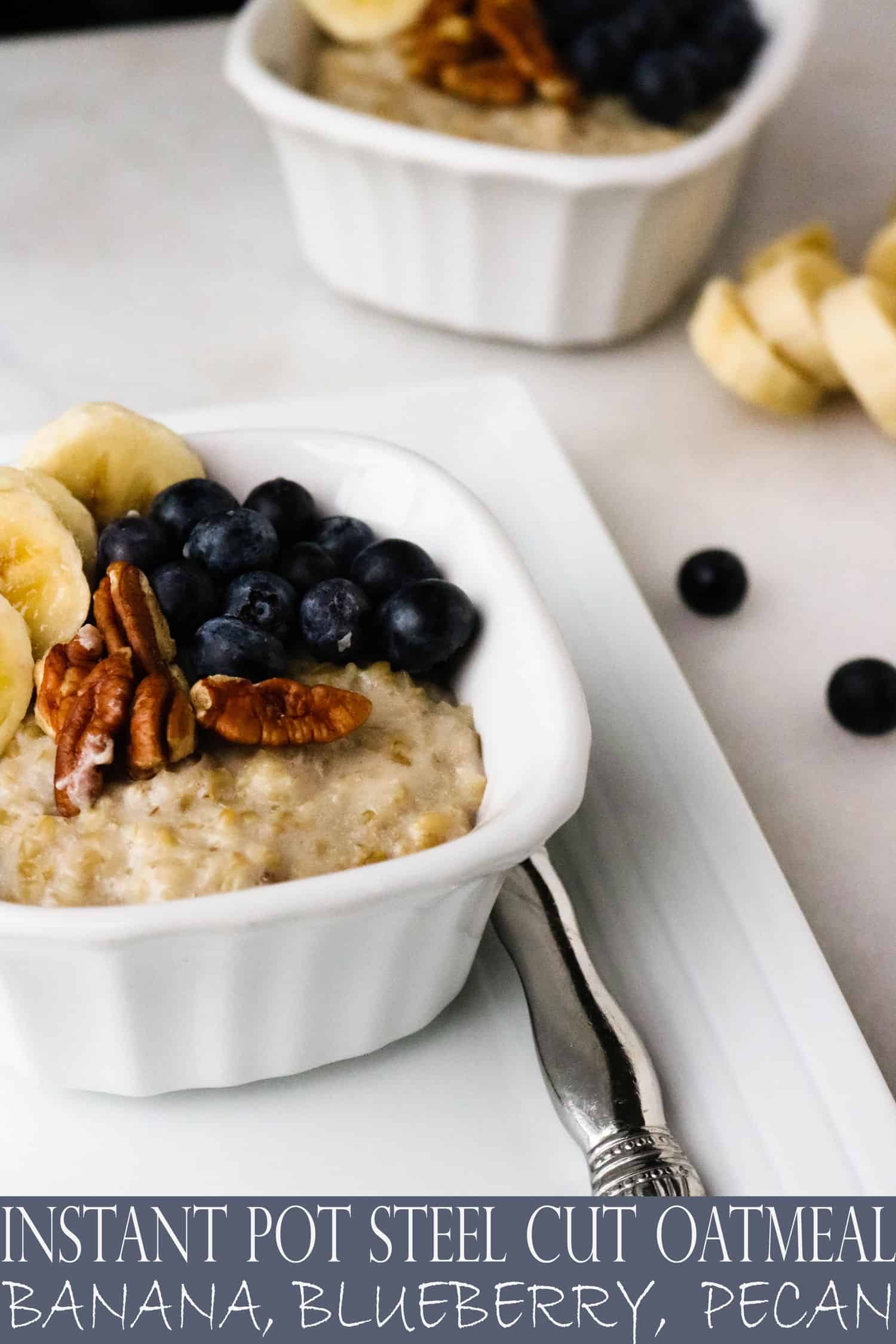 Instant Pot Steel Cut Oats with Strawberry Brown Sugar
The delicious combination of strawberries and brown sugar is an indulgence. It will make you feel like you're enjoying a relaxing Sunday Brunch, even on a busy weekday morning.
If you're looking for brown sugar alternatives, you could try monk fruit or coconut palm sugar. Both are healthy choices and good for a low carb diet.
Remember, oatmeal is a heart-healthy food, so it is already good for your diet. Just make sure the add-in ingredients you use fit the criteria of any diet restrictions you have. You are bound to come up with a ton of oatmeal recipes that will work for you.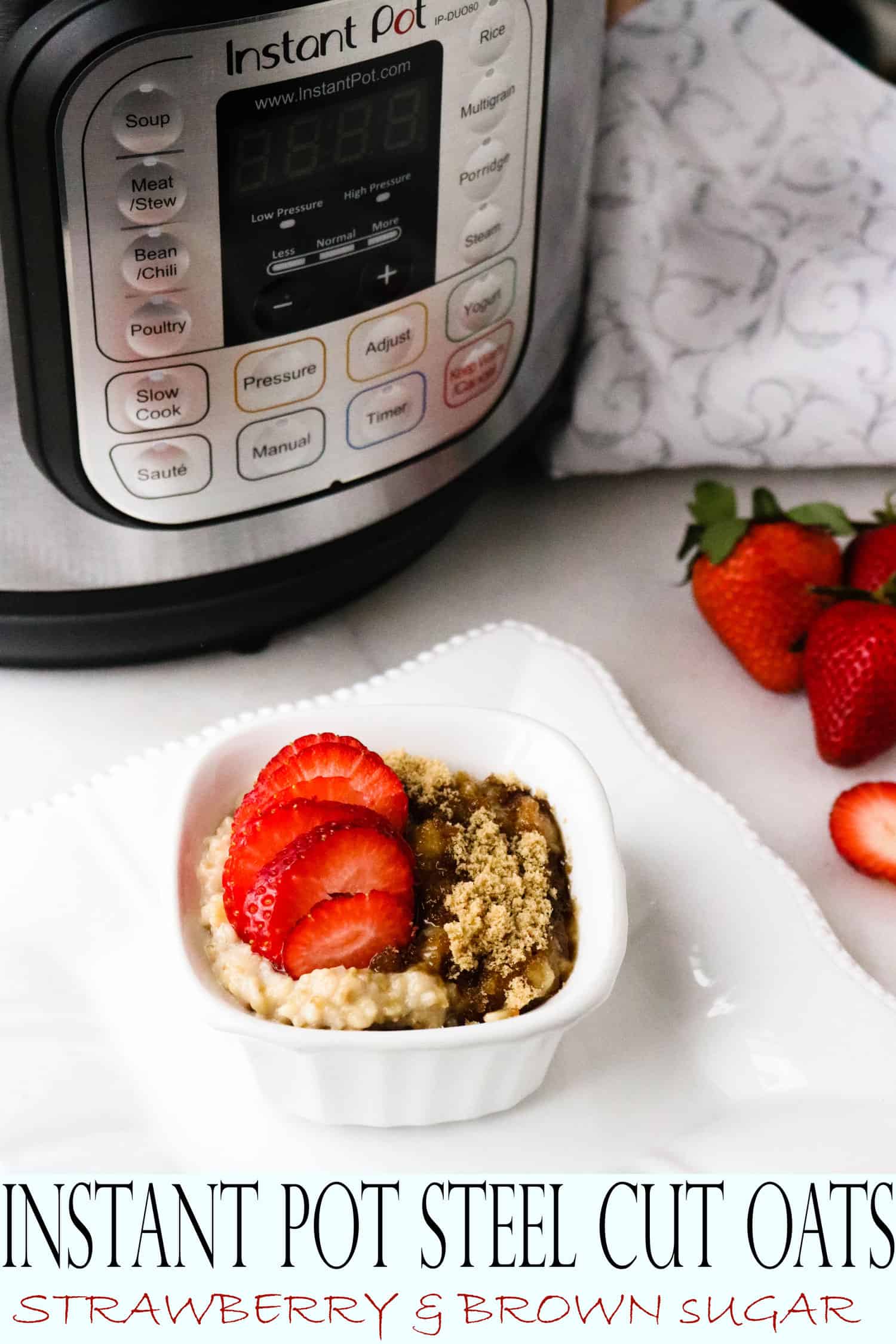 Instant Pot Steel Cut Oats with Blueberries, Almonds and Honey
Starting your day off right has never been easier, thanks to the dynamic superfoods duo of blueberries and almonds. This recipe also provides a great tip for how to easily clean your Instant Pot.
You can add in a little of your favorite sweetener, if desired, or just enjoy the natural sweetness of the blueberries. Either way, this is a flavorful breakfast.
What Can I Use To Clean My Inner Pot
This one is easy once you have the correct cleaning product. Save yourself a headache and buy a bottle of Bar Keeper's Friend. It works like magic and takes very little elbow grease. Your inner pot will shine, and you will likely find other pans with testy stains to clean.
I'm so glad I bought Bar Keeper's Friend. It's now one of my favorite cleaning products.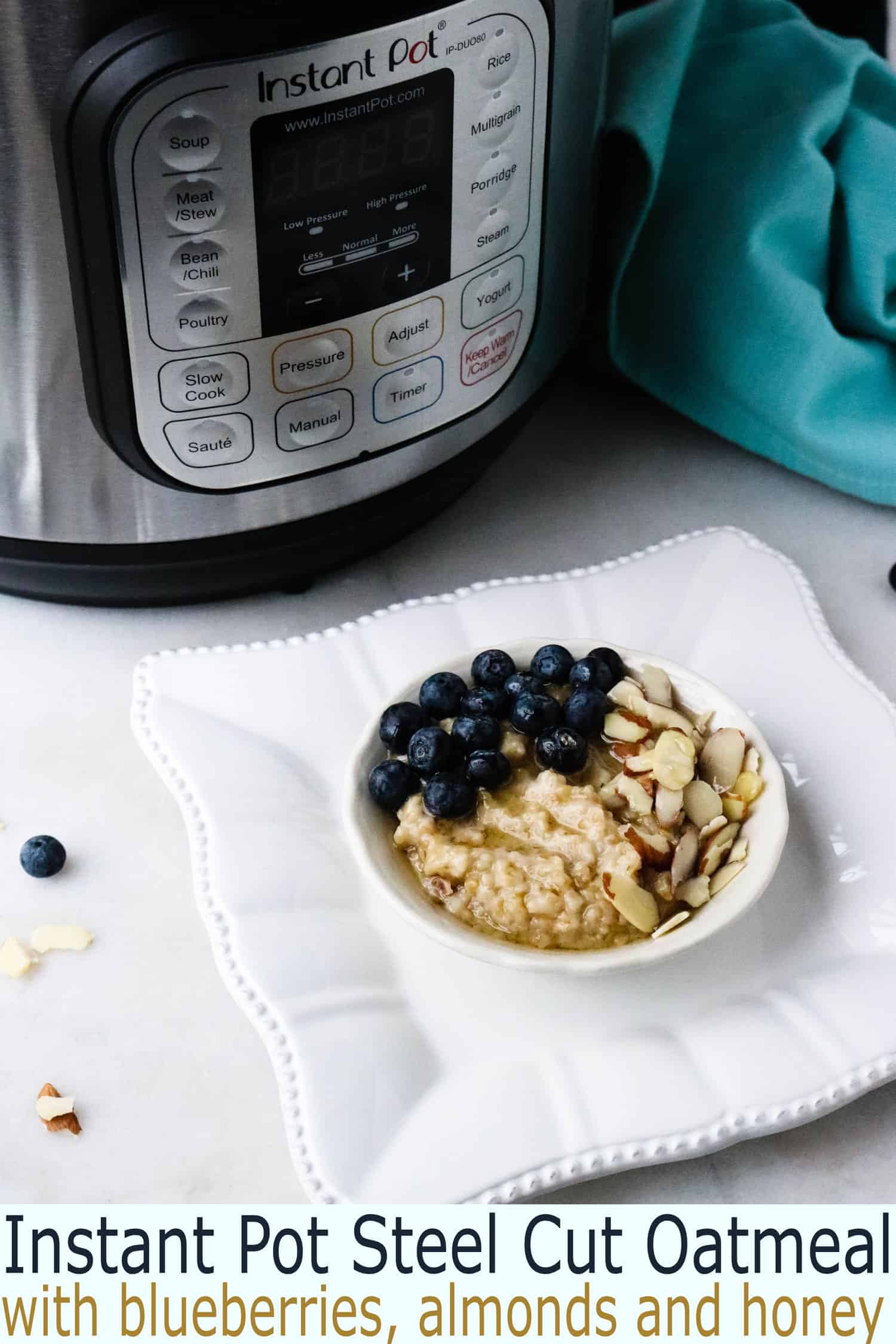 Instant Pot Steel Cut Oats — Banana Split Oatmeal
Classic banana split flavors meet hearty and healthy steel cut oats to make a decadent treat. It's also a good-for-you way to start your day.
This delicious twist on breakfast oatmeal comes complete with chocolate chips, banana slices, strawberries and whipped cream. It is SO delicious.
If you want to mix things up, you could take a twist on Banana Split Oatmeal and make Hot Fudge Oatmeal or Caramel Sundae Oatmeal. They'd both be worth taking a tasted test of.